Posted By
The Team at Dr. Harvey's
September 28, 2016
Babycakes is just about the cutest pup ever and at 15 years old she is still going strong! Her mom, Linda, wrote to tell us all about Babycake's journey and to thank us for our products. We love to hear from fans like this and are so happy that Babycakes has done so well on Dr. Harvey's Canine Health. Enjoy the adorable photos that Linda shared with us and her story in her own words.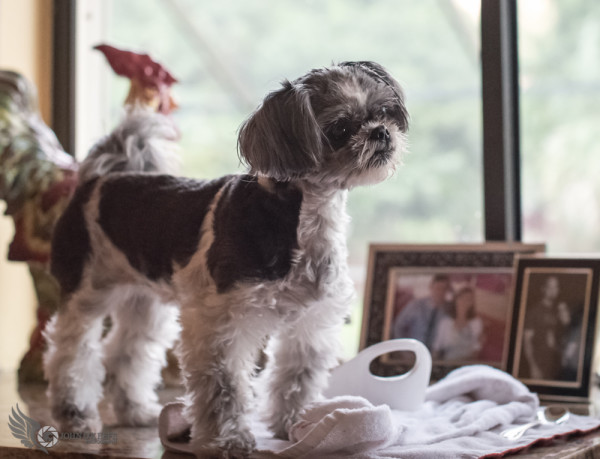 Babycakes Had Pancreatitis
I wanted to say thank you and how much your products have meant to us and our little "Babycakes"…
Our Babycakes has been on Canine Miracle mix for the past 5 years. When she was 10ish, she had a bout with pancreatitis. We tried all kinds of different foods hoping to find one she liked that was low fat and healthy.
Dr. Harvey's Was a Turning Point
Dr. Harvey's really was a turning point. She improved on this diet and never had another problem.
She is now 151/2 and still bright and happy. I have been speaking with Dr. Harvey (yes, this man is so caring and kind he will take the time to get to know your canine companions issues!). He has helped to come up with some supplement ideas and adjusted her protein a bit.
Thank You, Dr. Harvey's!
I am so happy to have found this company and their healthy products. The health benefits are amazing!
Thank you, Dr. Harvey's, from the bottom of our hearts!

Linda O'Keefe and Babycakes

---
Posted By
The Team at Dr. Harvey's
September 21, 2016
Dog mom, Heather Pellerin, was frustrated and upset about her adorable pup, Noah's allergies and skin problems. For years she tried various treatments, medicines, topical ointments and different foods to stop his almost constant itching and redness. Then she found Dr. Harvey's and changed Noah's diet and almost overnight the itching stopped and the redness went away! She shared Noah's before and after photos with us and the story of her journey to find the diet for her beloved companion, that changed his life! Thank you, Heather, for sharing your story with us. We hope your story will help other pet parents who are looking for a solution for their companion.
Dear Dr. Harvey's Team,
For as long as I can remember my 8-year-old French Bulldog mix Noah had struggled with itchy skin, hair loss and CONSTANT scratching. After a few very expensive trips to the vet, Noah was diagnosed with "severe skin allergies". Even though I was happy to have an actual diagnosis the vet explained that allergy testing can be very expensive and usually does not narrow down an exact cause of the allergy issues.
I Felt Hopeless
I felt hopeless and I wanted nothing more than to provide some relief to Noah. I tried topical shampoos, medication (that was surely harmful if he was on it long term) and different brands of kibble. While some provided temporary relief, his itching always came back and sometimes even worse.
Then I Found Dr. Harvey's
While doing research online to figure out how to help my poor baby, I was thankfully able to find the Dr. Harvey's brand. I loved the idea of feeding a home cooked meal with natural organic ingredients. While I didn't think it would completely fix his "allergy" issues I thought it would at least help his skin and feeding him natural ingredients couldn't hurt either.
I Saw Relief in Just 2 Days!
After about 2 days of eating Dr. Harvey's Oracle-Grain-Free food, I not only noticed his skin became less red and inflamed but he also had a whole new outlook on "meal time". I previously thought that Noah picking at his kibble all day was just how he preferred to eat but after two Dr. Harvey's meals, I instantly noticed that he had a great new appreciation for mealtime. He started looking forward to his meals and ate everything in ONE SITTING. I mean there was NO veggie left behind. One week on Oracle relieved his constant itching. And then the scabs under his armpits and on his belly began to heal! I honestly could not believe it!!!!! I have included photos just so you can see the difference this has made in Noah's life!



Thank You for Saving My Dog
I thought that like all our other quick fix remedies (shampoos and meds) that his itching and discomfort would surely be back in a week or two . I can happily say that Noah has been on Dr. Harvey's for THREE years now with NO itching. He is a happier, healthier less itchy dog and my anxiety over his constant scratching has gone away. Thank you for saving my dog and making such a great food!!! We now use Dr. Harvey's Veg-to-Bowl and Paradigm, with the same great results!
---
Posted By
The Team at Dr. Harvey's
September 20, 2016
The wonderful Julie Payne hopes no pet parent ever has to go through what she has with Star, her senior Chihuahua, and her love. Julie first posted this on her Instagram account and then sent us the story of her journey with Star. She found a solution to help her fur baby and wanted to share her experience with other pet parents. Here is her story in her own words.
For More Information and To Order Your Trial Size, Click Here!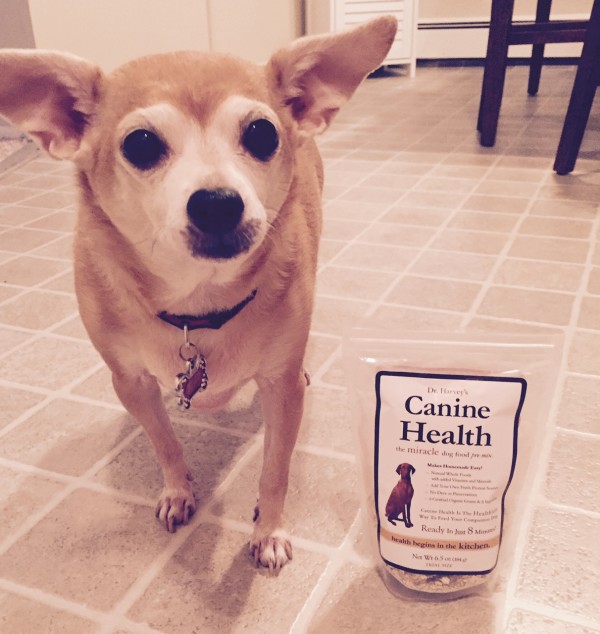 She Slowly Stopped Eating.
This is the story of my journey and I am telling it for other fur parents who may be in my situation. My dog, Star, is Chihuahua and is almost 14 years old and was diagnosed with kidney disease about a month ago. She slowly stopped eating and I felt like she was quickly starting to take a turn for the worse.
I Tried 6 Different Brands of Food. She turned everything down!
Days went by with her eating close to nothing and I bought about 6 different brands of dog food trying to support her new diet plan and she wasn't interested in anything at all, not her old food or new. I was completely devastated and desperate. I spent long periods of time in multiple pet supply stores looking for anything that could give her a balanced meal that she would eat. She turned everything down. I spent hours on the Internet looking for a solution and decided I was going to attempt to make her homemade dog food.
Then I Found Dr. Harvey's-I Was Skeptical…
That's when I found Dr. Harvey's website and found a dog food pre-mix, Canine Health that you just add water, oil, and home-cooked protein to and your dog will have their homemade dog food. Skeptical, since Star refused to eat anything at this point, I still ordered the free trial bag of Canine Health which the website recommended for dogs battling kidney disease.
I Started to Cry Watching Her Eat! I'd Do Anything For My Best Friend.
I prepared her food and put her bowl down and started to cry as I watched my dog eat from her bowl alone without me hand feeding her each piece with praise for the first time in about two weeks. I know it's not a cure for her disease but within days her entire behavior went from weak and sad to energetic and excited about meals.
Within Days Her Behavior Went from Weak and Sad to Energetic & Excited About Meals.
This food, Canine Health is made with fresh real ingredients like oats, carrots, and peas and gives her a well-balanced meal. It does cost more and requires more work than throwing kibble in a bowl but I'd do anything to have extra time with my best friend.
You Can Get a Trial Size Too!
For More Information and To Order Your Trial Size, Click Here!
---
Posted By
The Team at Dr. Harvey's
September 6, 2016
Dr. Harvey's Saves the Day for Six Picky Eaters
Imagine having one dog that is difficult to feed. Now imagine having six dogs that would not eat! Add one highly informed dog mom who wanted to feed her large crew really healthy food and you have quite a dilemma. Enter Dr. Harvey's Veg-To-Bowl and everybody is happy! Read this wonderful story in Carol's own words.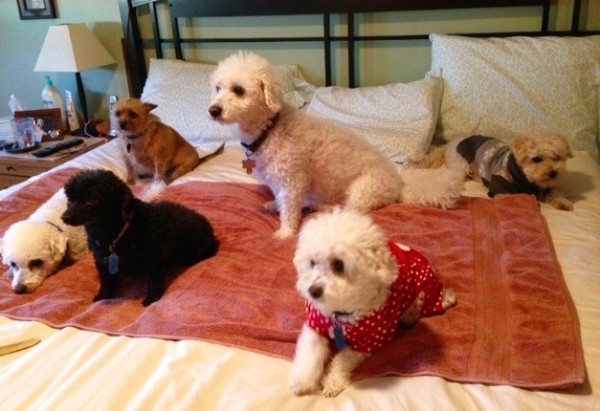 I Have 6 Dogs!
Dear Dr. Harvey,
It has been a long time since I first used your product. When I lived in NJ we used to buy from you for our store and of course I used it for my own dog also. We have moved to North Carolina now and it's been over 8 years. The dog I was using the Veg-To-Bowl has since passed, but I now have 6 more!
I Had Been Looking for a Better Solution
I have become more aware of the ill effects of dog products and was determined to find a better solution. I had subscribed to Truth About Pet Food and realized that your foods are among the few that are indeed a healthy options.
After 1 Month the Difference is Amazing!
I have been using the fine ground Veg-To-Bowl now for about 1 month. I can't tell you what a wonderful change has happened with all 6 of my dogs. Before it was stressful trying to get them to eat, now it is stressful while I make the food. I almost have to sneak around, because as soon as they know it's Dr. Harvey time, well I have 6 dogs all around me, carrying on like they haven't eaten in a very long time.
It's Dr. Harvey's Time!
They all love it, as I'm sure you knew they would. I have also introduced it to my neighbor who has started using it on her very picky dog, and she cannot believe what a joy it is to now feed her and also what a relief to know we are doing the best we can.

Thank you so much for your wonderful Veg-To-Bowl!

Carole Cerase
---
Posted By
The Team at Dr. Harvey's
September 1, 2016
Mugsy's Dad Wrote to Say Thanks!
Loving pet parent, Steve Brown, was seeking help for his buddy, 12-year-old Chihuahua Mugsy. He tried a trial size sample of Dr. Harvey's food, Canine Health, and then wrote to us to let us know the results. We wanted to share his words in hopes that other pet parents might find an answer for their companion who may be suffering, not eating, is a very picky eater or is just in need of a really healthy diet transformation.
For More Information and To Order Your Trial Size, Click Here!
We Thought We Were Going to Lose Him
Mugsy is our 12-year-old miniature Chihuahua. Recently we had to take him to the vet because his kidneys weren't functioning to their fullest capacity. He spent a week at the vet having his kidneys flushed. We thought we were going to lose him. The vet was able to get his kidneys flushed, and sent him home, but he still wasn't acting like he felt any better.
He Was Not Eating the Prescription Food from the Vet
The vet sent some prescription Dog food home with us. Mugsy would hardly eat it. So we did some research online and came across Dr. Harvey's. We decided to get the free trial size and see if he would eat it.
Then We Found Dr. Harvey's!
Mugsy absolutely loves the food! He did not respond well to the prescription dog food we bought from the vet. It made him sick. His appetite was nearly nonexistent. I prepared Dr. Harvey's pre-mix food Canine Health , according to the easy to follow directions, and he ate it like it was his first meal in weeks! We are definitely going to make this his permanent diet. Thank you for possibly saving our baby's life!

For More Information and To Order Your Trial Size, Click Here!
---
Posted By
The Team at Dr. Harvey's
September 1, 2016
You Must Read This from a Very Happy Dog Mom!
June Evans was syringe and hand feeding Enix, because he wouldn't eat! Read her wonderful success story after feeding her beloved pup Dr. Harvey's Canine Health.
For More Information and To Order Your Trial Size, Click Here!
I was Syringe and Hand Feeding for a Month!
Enix loves the Dr. Harvey's Canine Health! I've been syringe and hand feeding him for about a month. The prescription food from the vet made him so nauseous an hour after he would eat it, that he could hardly breathe. I found your dog food online doing a search. I have used the trial package for about 3 days now. The Canine Health gives him no nausea at all! (Except for this morning when he just ate it too quickly).
His Appetite has Improved So Much!
I just put the food down now and he eats it all on his own. I've already ordered another 5-pound bag and it should arrive today. I'm switching my other dog over too. Enix's appetite has improved so much he's looking all over for dropped crumbs of anything -this from a dog I've had to coax to eat since puppyhood.
He is Happier and Calmer
I haven't had his values rechecked yet. He is due to return to the vet in about another two weeks. I know my veterinarian will not like the fact I've switched his diet from the prescription food, but it was either that or put him to sleep, I couldn't stand to see him suffer. The Canine Health seems to make him comfortable too like the complex carbs have a calming effect? I don't know if that's it, but he simply seems a lot calmer and happier, with very little to no nausea.
Thanks again for your inquiry into Enix's health and for your product!
I'm Telling All My Friends
I've already told many of my friends about Dr. Harvey's, and urged them to get a trial sample for their pets'.
Sincerely,
Barbara "June" Evans

For More Information and To Order Your Trial Size, Click Here!
---