Posted By
The Team at Dr. Harvey's
September 6, 2016
Dr. Harvey's Saves the Day for Six Picky Eaters
Imagine having one dog that is difficult to feed. Now imagine having six dogs that would not eat! Add one highly informed dog mom who wanted to feed her large crew really healthy food and you have quite a dilemma. Enter Dr. Harvey's Veg-To-Bowl and everybody is happy! Read this wonderful story in Carol's own words.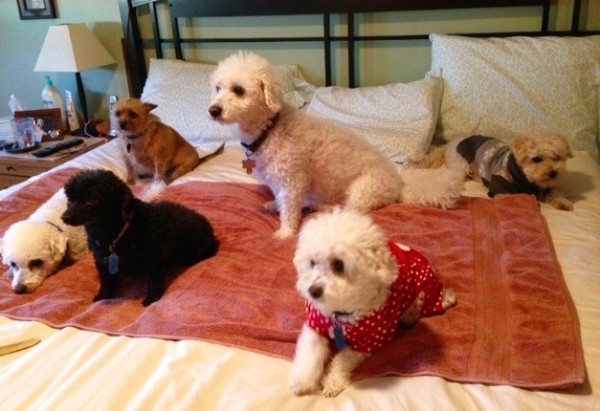 I Have 6 Dogs!
Dear Dr. Harvey,
It has been a long time since I first used your product. When I lived in NJ we used to buy from you for our store and of course I used it for my own dog also. We have moved to North Carolina now and it's been over 8 years. The dog I was using the Veg-To-Bowl has since passed, but I now have 6 more!
I Had Been Looking for a Better Solution
I have become more aware of the ill effects of dog products and was determined to find a better solution. I had subscribed to Truth About Pet Food and realized that your foods are among the few that are indeed a healthy options.
After 1 Month the Difference is Amazing!
I have been using the fine ground Veg-To-Bowl now for about 1 month. I can't tell you what a wonderful change has happened with all 6 of my dogs. Before it was stressful trying to get them to eat, now it is stressful while I make the food. I almost have to sneak around, because as soon as they know it's Dr. Harvey time, well I have 6 dogs all around me, carrying on like they haven't eaten in a very long time.
It's Dr. Harvey's Time!
They all love it, as I'm sure you knew they would. I have also introduced it to my neighbor who has started using it on her very picky dog, and she cannot believe what a joy it is to now feed her and also what a relief to know we are doing the best we can.

Thank you so much for your wonderful Veg-To-Bowl!

Carole Cerase