Posted By
The Team at Dr. Harvey's
November 21, 2015
Watch the emotional, inspiring video and discover why the Martino's and Augie, their award-winning champion Viszla, trust only Dr. Harvey's at mealtime.
"We decided that we were going to do things differently if we ever got another dog."
Like so many pet parents, Jim and Nancy Martino fed their beloved Vizsla a diet of kibble. But at age 11, their companion developed canine cancer and passed away. It was a rough time for the Martino's; one that they determined never to repeat.
That's when the Martino's discovered Dr. Harvey's Canine Health — and even spoke directly with Dr. Harvey, who gladly shared his wealth of knowledge and experience. That settled it. It was time for the Martino's to bring home a new best friend. His name is Augie, he's an award-winning champion, and as you might have imagined: he's a beautiful, energetic Vizsla!
Reflects Nancy: "Before we even brought Augie home as an 8-week old puppy, we decided that this was the food we wanted to feed him."
We Loved Filming Augie
We were lucky to meet Augie's parents ,Nancy and Jim. They came to purchase food and told us their story. They told us about why they chose to feed Augie Dr. Harvey's Canine Health and what a difference it has made in his health.
It was wonderful to hear how healthy Augie is on Dr. Harvey's Canine Health and to see the proof in this beautiful dog. Nancy and Jim wanted to share their story with other pet parents. They wanted others to know that feeding fresh food has made a difference in Augie's life and how feeding Canine Health could make a difference in the lives of other dogs. They wanted to share their story with you.
Feeding A Champion
You will see how strongly Nancy and Jim feel about feeding Augie this way and how clear they are in their feeling that the reason Augie is so happy and healthy is directly related to the food they have chosen to feed him. As Dr. Harvey has always said, "Health Begins in the Kitchen!"
Such a Fun Video to Make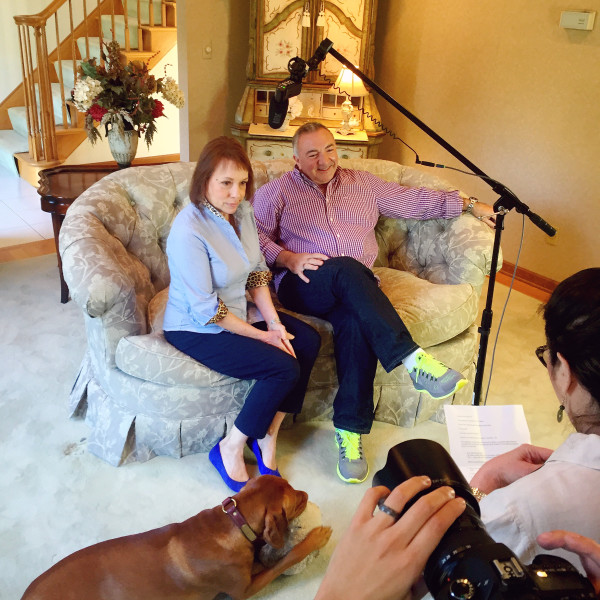 We hope that you enjoy watching this short video and that you experience some of the joy that we had while making it.
Augie is a wonderful, happy and loving dog who was pleased to let us play with him on several shoot days and let us record his daily routine.
The results are here for you to see. Enjoy!
---
Posted By
The Team at Dr. Harvey's
November 5, 2015
Carson's Mom Tells His Story
I've been reluctant to give praise to any food that my little guy Carson will eat, because he's not only a picky eater, but he's always had stomach upset. Every time I thought he was going to eat a food and keep eating it, he'd either turn his nose up to it after a couple of meals or his stomach would get upset and he wouldn't eat any food at all for a few days. He's always been a little guy (3 lbs) and he just turned 15.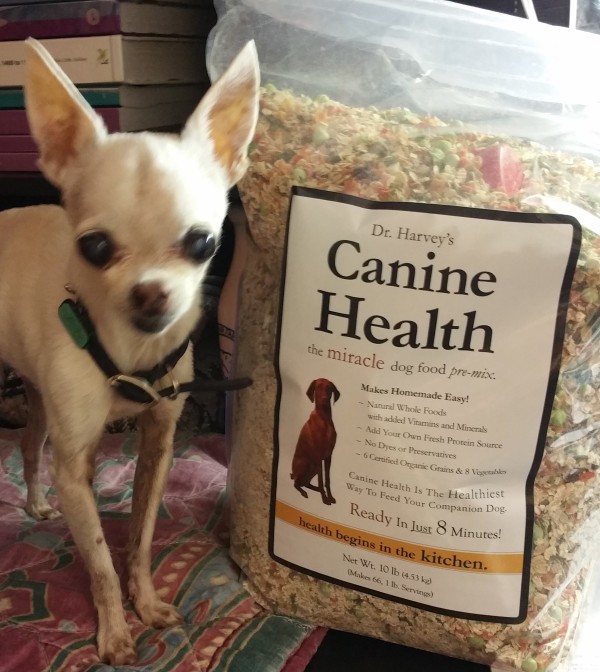 Here We Go Again-So Scary…
A few of months back I thought he had stomach upset again, but this time he had severe diarrhea and some vomiting. He'd been eating a raw food off and on for many years. I didn't make the connection until the food had a recent recall on it. We ended up having to take him to the vet and he was given fluid due to dehydration and medicine for the diarrhea.
I Decided to Try Canine Health
I started feeding him very small amounts of cottage cheese and rice, then I went to small amounts of chicken and rice. I finally decided to try the Canine Health.. I started very small and surprisingly, he was eating it! So, I continued feeding it in very small amounts. I couldn't believe that he continued to eat it. I was just waiting for him to turn his nose up like he has always done. His symptoms cleared and he was eating like I'd never seen him eat before!
This Has Been Unbelievable to Me!
A few months have passed and he's STILL eating Canine Health. I change his protein every week and add in a little less than 1/2 tsp. of Kefir and salmon oil (which I rotate with olive oil and coconut oil). He eats a tablespoon every 3 hours.
He's loosing his eye sight and hearing, but he still wants me to throw his favorite toy for him to get and bring back to me every night.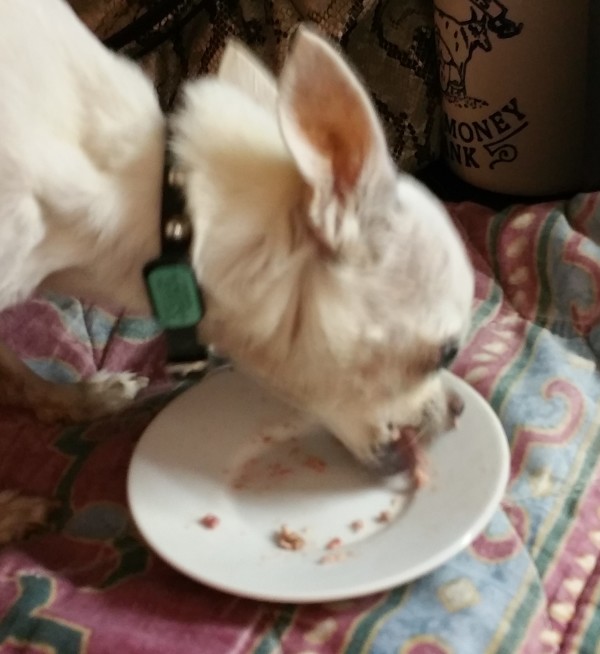 It's Amazing To Me-He Has Never Had an Appetite Like This!
I can't say for sure it was the Canine Health, but I'm pretty darn sure it is because I've had this little guy since he was a baby and he's never in his life had this kind of appetite, and to think that he's 15. Its amazing to me.
At the beginning of this letter I said I was reluctant to give praise about a food. I'm so afraid that he'll up and fall back in to the way he was and not eat and have stomach issues, but it certainly hasn't happened yet, so that's why I felt I was ready to share his story with you.
He Has More Energy and His Eyes are Bright
Everyone says his eyes are bright and his ears are always perky, and he appears to have more energy than before. He has a little sack that he sleeps in all the time during the day and use to stay in it constantly. In fact, I would even say that he had no life, all he did was stay in that sack. Now, he's up and in the kitchen all the time.
My Other Dogs are Eating Canine Health Now Too!
I'm so happy to feed my dogs food from a company that really does care about these guys. My other dogs eat Canine Health now as well and they love it.
Since the recall on the food that Carson was eating I won't even consider feeding my kids anything other than your food. It's pricey for us with having others besides Carson, but just to see how it's changed Carson, there just isn't a price tag for that.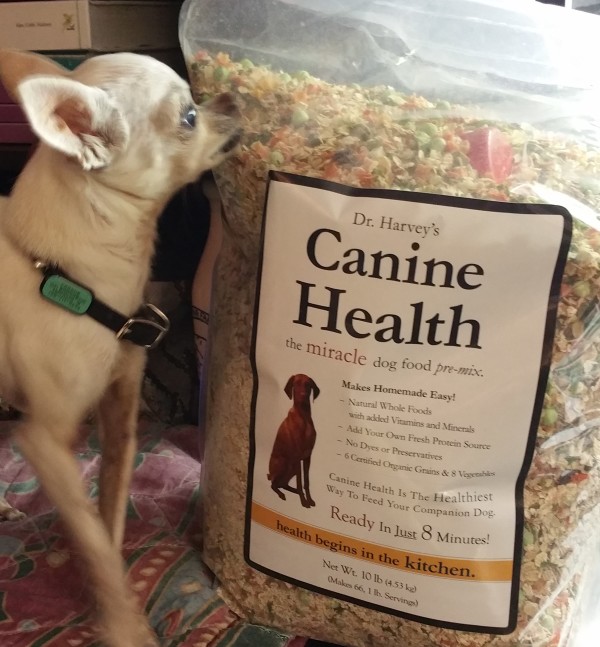 Thank you Dr. Harvey's
Thank you so much for listening and not only making a great food, but going out there and trying to help all those dogs that can't help themselves. You all are a blessing to us humans and our canine babies.
I've attached some pictures of Carson. I know you will be able to appreciate them.
Thanks again!
Michelle Goodman
---
Posted By
The Team at Dr. Harvey's
November 4, 2015
We Had to Share This
We received this email from dog mom, Maria. She included a photo of her English Bulldog, Brando, and one with his crew!
We loved these pics so much that we had to share it.
We also wanted to share his results after eating his new diet!
He Was So Gassy
Dear Dr. Harvey's,
We are feeding our 10 year-old English Bulldog, Brando, Canine Health-The Miracle Dog Food.
We wanted to share our story with you.
Brando was diagnosed with Hypothyroid 4 Years ago. His energy level went from a very active Bulldog to one that would sleep all day.
His coat became very dry and thin, He also started to get extremely gassy.
We changed His food many,many times but nothing helped. Brando has had two surgeries this year as he developed salivary gland infection and a growth on his thyroid. During the last surgery they also removed a lymph node that looked questionable. Fortunately, all biopsy results were negative.
My Vet Recommend Dr. Harvey's Canine Health
Lately Brando has been much more gassier then the past few years. He was also prone to loose stools.
We had a visit with his regular vet. During the exam he noticed another infected salivary gland that will need to be removed.
We also discussed diet change, but not kibble.
Our veterinarian suggested Dr. Harvey's Canine Health-The Miracle Dog Food. .

Brando is the cutie on the far left…
I Saw The Change in One Day on This Food
I noticed a big difference within a day. It's been two weeks on the new food and
Brando looks better than he has in 4 or 5 Years!
He will need surgery soon, but knowing that he's eating a food that will help him heal more quickly means the world to us.
He Loves it!
Less gas and no more loose stools.
Thank You,
Maria Vallillo
---
Posted By
The Team at Dr. Harvey's
November 2, 2015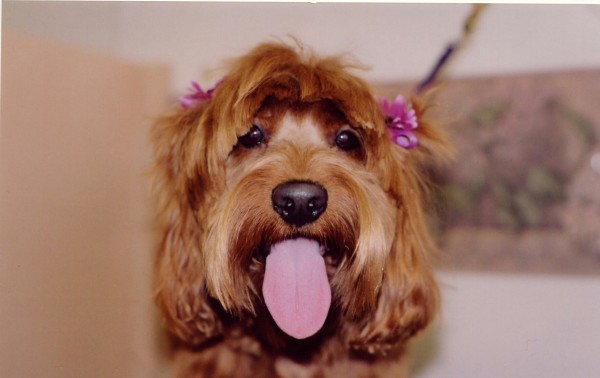 We Were Losing Her
Lucy, our 12 year old cockapoo had been battling diarrhea for months. Our trusted vet put her on antibiotics and prescription dog food.

She was getting worse by the day so I insisted on another blood scan. The dreaded call came the next morning, Lucy's condition had rapidly deteriorated, her liver function was extremely low she would not last another 6 weeks. Really! I did everything the vet told me to do!
Someone Told Me to Call Dr. Harvey
A work associate told me to call Dr. Harvey. I was doubtful, but sent him an email describing her condition and blood and liver levels. He called me! After a wonderful discussion I put her on a plan to make her healthy again.
It Worked! We Have Our Sweet Lucy Back
It worked! Every day has been a little better than the last and within FOUR days her diarrhea had completely stopped and has not come back. It's been 7 weeks.

We have our sweet dog back and it's been an amazing transformation. She has gained most of the weight back and she plays ball, goes for walks, barks at the neighbors who walk by and best of all is very happy. She loves her Dr. Harvey's food, Canine Health, especially on the days that I make it with cod!
Dr. Harvey we can't thank you enough!

THANK YOU FROM THE BOTTOM OF OUR HEARTS!!

The Reynolds Family, Troy, MI
---
Posted By
The Team at Dr. Harvey's
November 1, 2015
We have 30 Years Experience
We have been helping dogs with digestive issues for over 30 years.
While the causes of digestive issues may vary Canine Health can be your solution no matter what the cause.
Your dog may be suffering from:
acute bout of diarrhea
long term loose stools
gas
constipation.
You may have tried everything from:
fasting your dog
chicken and rice
medication
switching foods again and again
And the problem remains. You may have even tried a "prescription diet" that promises to help your dog's problem.
The frustration can be overwhelming when you feel you have tried everything and the problem still remains.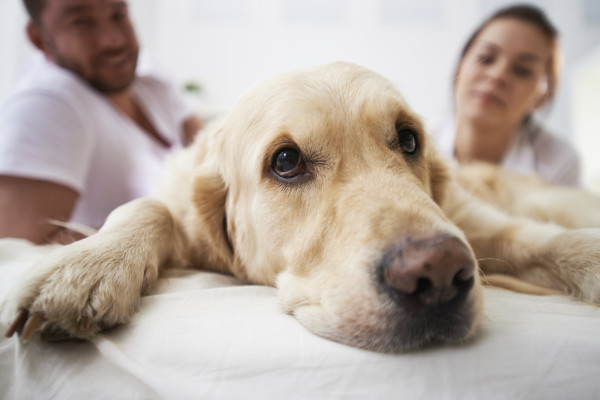 The Answer
Switch to an all-natural diet – A diet made of fresh whole foods will support digestive health.
Canine Health – The Miracle Dog Food will provide a fresh diet that improves health
Works for Acute and Chronic Diarrhea- even with long term problems
See Results in Just days – even in cases that have been a problem for years.
Switching is easy – Canine Health
See smaller well formed stools and even less odor than when feeding processed commercial foods.
Commercial dog foods are lacking in essential nutrients, natural fiber and sufficient moisture to create a healthy digestive tract.
Kibbled foods can cause enormous problems, including digestive stress leading to diarrhea, constipation, gas and other digestive problems.
More effective than any kIbble including ultra-premium brands and prescription diets.
Canine Health is a super food containing 6 organic grains with no wheat, corn or soy and 9 different vegetables and herbs.
Making the Switch is Easy 1,2,3! That's It!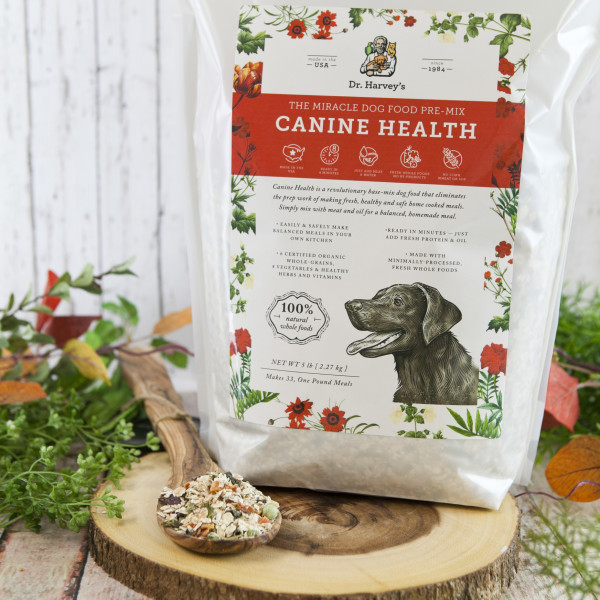 Just add water to the Canine Health
Add your own high quality meat
Add oil
That's it! You have a fresh, wholesome meal for your dog.
This combination of high quality fiber and a variety of vegetables will help bind dogs with diarrhea, but will also help dogs with constipation, gas and other digestive problems.
Canine Health is crafted with science and love and is made in the US in our own factory under the direct guidance of Dr. Harvey.
We also know your dog will love Canine Health even the pickiest eaters love eating fresh real food.
If you are looking for results to help your dog's digestive problems, if you're tired of watching your dog suffer and tired of the constant clean up…Start feeding Dr. Harvey's Canine Health.
It's the very best thing you can do for your dog.
---