Posted By
The Team at Dr. Harvey's
November 5, 2015
Carson's Mom Tells His Story
I've been reluctant to give praise to any food that my little guy Carson will eat, because he's not only a picky eater, but he's always had stomach upset. Every time I thought he was going to eat a food and keep eating it, he'd either turn his nose up to it after a couple of meals or his stomach would get upset and he wouldn't eat any food at all for a few days. He's always been a little guy (3 lbs) and he just turned 15.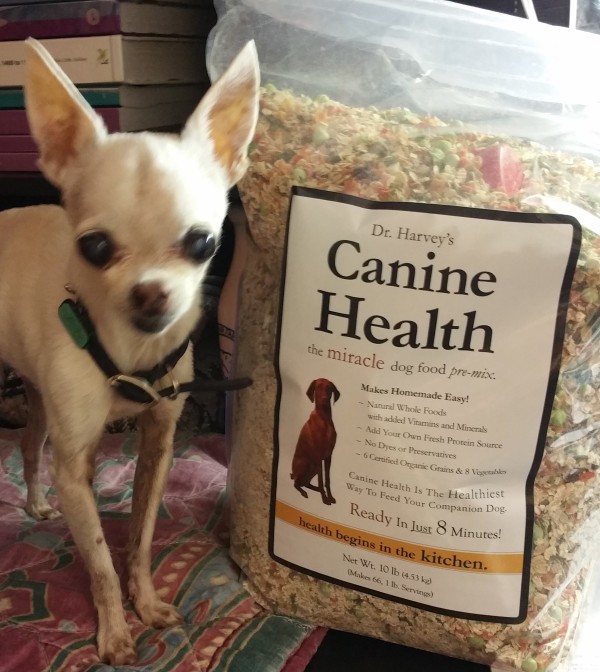 Here We Go Again-So Scary…
A few of months back I thought he had stomach upset again, but this time he had severe diarrhea and some vomiting. He'd been eating a raw food off and on for many years. I didn't make the connection until the food had a recent recall on it. We ended up having to take him to the vet and he was given fluid due to dehydration and medicine for the diarrhea.
I Decided to Try Canine Health
I started feeding him very small amounts of cottage cheese and rice, then I went to small amounts of chicken and rice. I finally decided to try the Canine Health.. I started very small and surprisingly, he was eating it! So, I continued feeding it in very small amounts. I couldn't believe that he continued to eat it. I was just waiting for him to turn his nose up like he has always done. His symptoms cleared and he was eating like I'd never seen him eat before!
This Has Been Unbelievable to Me!
A few months have passed and he's STILL eating Canine Health. I change his protein every week and add in a little less than 1/2 tsp. of Kefir and salmon oil (which I rotate with olive oil and coconut oil). He eats a tablespoon every 3 hours.
He's loosing his eye sight and hearing, but he still wants me to throw his favorite toy for him to get and bring back to me every night.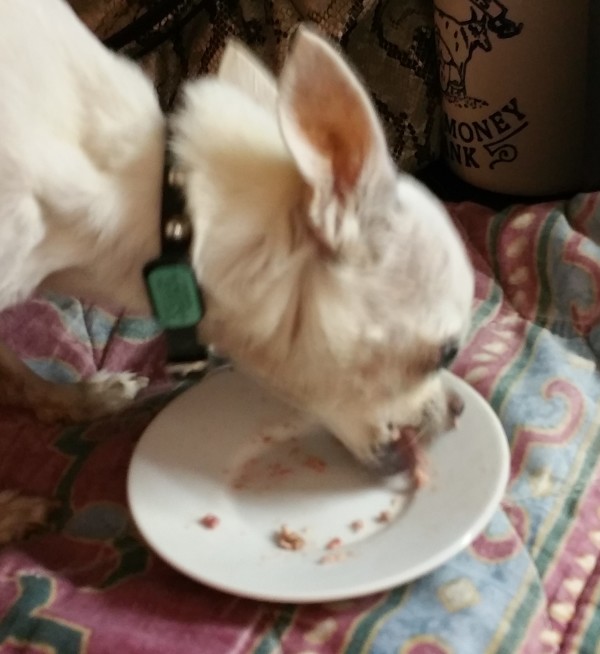 It's Amazing To Me-He Has Never Had an Appetite Like This!
I can't say for sure it was the Canine Health, but I'm pretty darn sure it is because I've had this little guy since he was a baby and he's never in his life had this kind of appetite, and to think that he's 15. Its amazing to me.
At the beginning of this letter I said I was reluctant to give praise about a food. I'm so afraid that he'll up and fall back in to the way he was and not eat and have stomach issues, but it certainly hasn't happened yet, so that's why I felt I was ready to share his story with you.
He Has More Energy and His Eyes are Bright
Everyone says his eyes are bright and his ears are always perky, and he appears to have more energy than before. He has a little sack that he sleeps in all the time during the day and use to stay in it constantly. In fact, I would even say that he had no life, all he did was stay in that sack. Now, he's up and in the kitchen all the time.
My Other Dogs are Eating Canine Health Now Too!
I'm so happy to feed my dogs food from a company that really does care about these guys. My other dogs eat Canine Health now as well and they love it.
Since the recall on the food that Carson was eating I won't even consider feeding my kids anything other than your food. It's pricey for us with having others besides Carson, but just to see how it's changed Carson, there just isn't a price tag for that.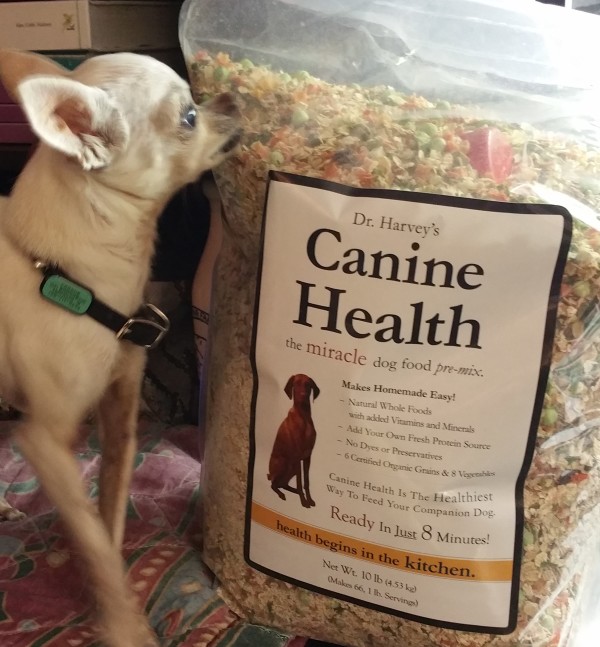 Thank you Dr. Harvey's
Thank you so much for listening and not only making a great food, but going out there and trying to help all those dogs that can't help themselves. You all are a blessing to us humans and our canine babies.
I've attached some pictures of Carson. I know you will be able to appreciate them.
Thanks again!
Michelle Goodman