Posted By
The Team at Dr. Harvey's
November 21, 2019
I Want to Tell Jack's Story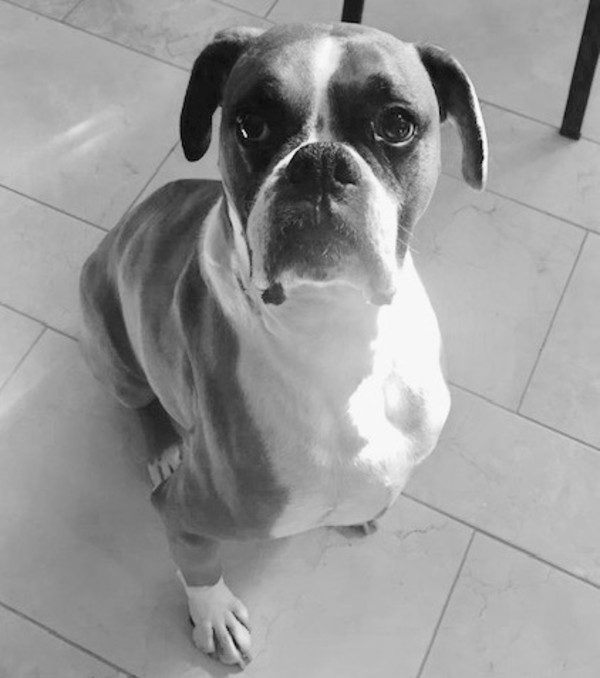 Hi Dr. Harvey's,

Thank you! I really want to share Jack's story!

In early 2017 Jack had a mass removed from the side of his neck, when the results came back, the mass contained cancer cells, but the tissue around it did not, we thought Jack was healthy and hoped for no return. A few short months later, July 2017, I felt a lump in Jack's throat. I brought him to the vet a few days later, they drained the fluid and sent it out for tests, sure enough, the fluid came back cancerous.

A Very Grim Diagnosis
He needed to have surgery immediately to remove his thyroid; before the surgery the vet gave us a 50% chance of Jack surviving. Luckily he made it. After a long healing process, he was back to himself; the vet gave me the devastating news; he recommended Jack to go for chemo. Although the cancerous thyroid was removed, he felt the blood running through may have spread the cancer cells. He gave Jack about 2 years survival rate with chemo and about 1 year without it. Chemo was just not an option for us financially and I felt Jack was completely himself and I knew chemo would ruin him.

We Found Dr. Harvey's
I searched online to provide the best way to keep Jack healthy and to fight this. I came across Dr. Harvey's, I read reviews and ingredients (which I was able to pronounce, and I knew what each ingredient was) and felt Dr. Harvey's was worth a try. I placed my first order for Paradigm in August 2017, we mixed Jack's Paradigm with eggs, chicken, salmon, blueberries, everything natural, he absolutely loved it!

Jack Looks Amazing and No New Masses
Being a larger boxer, he weighed in at about 89 lbs. He always looked healthy, but the vet suggested he should lose some weight. With Paradigm he lost weight, his coat was shiny, and he continued his puppy ways. A year into feeding Jack Paradigm, we felt we overcame a huge hurdle, Jack was still alive, no new masses and he looked better than ever!
Jack is Now 8 Years Old and Living a Great Life
July 2019 marked 2 years since Jack's last surgery, the only thing we changed was Jack's food; I recommend Dr. Harvey's to everyone, I truly believe Dr. Harvey's saved Jack's life, he was given 1-2 years to live, I never thought I would see him make it past 6 year's old. Today, Jack is happy, healthy, 60 lb. Boxer, living a great life and turning 8 years old in February; thank you Dr. Harvey's for giving Jack a second chance!

Brittany Triano and Jack
---
Posted By
The Team at Dr. Harvey's
November 18, 2019
We Received the Dreaded Diagnosis
Dear Dr. Harvey's,

I had to write this review of not only Paradigm but also the Solaris. My Rottweiler, Bear, was diagnosed on August 14, 2019 with Osteosarcoma in his left shoulder.
I chose not to amputate as Bear had previous FHO surgeries and he was coming up on 10 years old.
I Began Researching Diet and Nutrition
I was told that Bear had only 4-6 months to live and to start him on Osteoclair. Thanks to an amazing tech at the vet she also told me to change his diet. I was initially skeptical about herbs and a diet change but, once I began researching Raw and Keto diets for dogs with cancer, I was horrified to learn what is in the dog food and the dog treats I had been giving my dogs.
I Switched My Dogs to Dr. Harvey's and Saw the Changes Immediately
I switched Bear to Dr. Harvey's Paradigm and my little guys to Canine Health right away. My little Min Pin was always having stomach issues and my other Min Pin had bad dandruff. I'm happy to say my little one's stomach issues are gone, and their coats have never been softer and shinier!
The Tumor Shrunk! My Vet Could Not Believe it!
Bear had a 3 month check up at the vet on 11/13/19 and I was sure after what I was told at his initial diagnosis that I would be receiving bad news and would have to put him down. I was told not only has the cancer NOT spread but his tumor has actually shrunk!!!! The vet could not believe it, and neither could I.
I was told to keep doing what I am doing and recheck him in 3 months.
Thank you Dr. Harvey's!
I am forever grateful to Dr. Harvey's Paradigm. Bear is doing amazing and looks great!
Thank you from the bottom of my heart,
Kimberleigh McMahon, Fia, Enzo, Rico, Nala, and Bear
---
Posted By
The Team at Dr. Harvey's
November 2, 2019
From Puppy Mill to Loving Home
Dear Dr. Harvey,

I wanted to share Sophie's incredible story with you.
I adopted Sophie in August of 2013. She was a puppy mill breeder.
I rescued her after the puppy mill was shut down in Arkansas. She had never been out of the puppy mill, had puppies for almost 4 years and was possibly 5 years old based on a vet's assumption. I got her from a local rescue who had her in foster care.
The Vet Gives Me Devastating News
Last March 2019 I felt a strange lump on one of her mammary glands. I took her to the vet and it was biopsied and came back as possibly cancerous.
She had an enlarged heart condition and had to go to OK STATE UNIV for a heart evaluation before we could do surgery. Once she was cleared for surgery, it was done in April of 2019. The tumor came back malignant and had long tentacles the vet could not find the source of origin. Things didn't seem very hopeful.
My Research Led Me to Dr. Harvey's
There was not going to be any chemotherapy due to her being perhaps 11 years old and having an enlarged heart.
I was told she could take Previcox a high dosage anti-inflammatory and that she probably had about six months or so to live. I started researching a new diet for her and came across Dr. Harvey's Paradigm . I called to ask about it and Dr. Harvey not only called me back but discussed the results from the vet of Sophie's blood and urine lab results. When he called me and we discussed the regimen of Paradigm, Solaris Supplement, Sunrise, Sunset and the Health and Shine oils or a high-quality salmon oil and CoQ10.
He explained to me about carbs and how dangerous they are for cancer patients. I took his opinions to my vet and the nutritional info from the product line and received my vet's okay to feed her that regimen. She began eating the food and the supplements in April of 2019. I avoid giving her anything for treats other than a little piece of cooked chicken every now and then.
She is Doing So Well
When tested in August her lymph nodes were not swollen and there were no cancer cells in the fluid drawn from them. An X-ray of her did not show any tumors anywhere. She will go back next month for another fluid test and X-ray.

She has more energy than she did before. She skips to go outside and although she's always been a very quiet dog due to her forced caged lifestyle until she was rescued, she is very excited to eat, and she loves Paradigm. I do the protein rotation as suggested. Salmon, Chicken, Beef and Turkey are the proteins I use.
Thank You So Much Dr. Harvey
I don't know how long she will be able to fight off the cancer, but I do know this… she has had an excellent quality of life on this regimen and she is a very happy little dog. I feel I have done the best by her to make her days worthwhile and I attribute a large part of it to the fact that she is eating a high-quality food that is helping her immune system. I am grateful that Dr. Harvey cared.

Sincerely and gratefully yours,

Cyndy West
UPDATE

!!
Update! Extra good news!

Sophie was tested again today 7 months post op
No tumors on the full body x-ray!
And her lymph nodes are tiny, not swollen and they don't believe there will be any
cancer cells in the fluid taken.

I believe Dr Harvey's Paradigm and Solaris are to be highly recommended for cancer dogs.

I am going to give Solaris to my dog who is suspected for Cushing's now.
---