Posted By
The Team at Dr. Harvey's
January 23, 2016
With Love From Pumpkin
Pumpkin's mom, Sue, reached out to us to tell us that Pumpkin wanted to tell her story "in her own words". We were so touched when we received the story of Pumpkin's journey and how Canine Health was the miracle she needed. Here is Pumpkin's story.
My Name is Pumpkin
My name is Pumpkin and I am a most loved and spoiled, happy, and very grateful 10 year old Golden Retriever! I am so inspired to share my story of love, survival, and gratitude with you! Let's wind back the clock 6 years ago to when I was 4 years old…
How My Troubles Began
It was Good Friday 2010, a beautiful Spring day! I enjoyed a long afternoon walk with Mom and Grandma! We came home and I got a refreshing drink and snack. I proceeded to take a nap as Mom and Grandma enjoyed lunch and good conversation. They said their goodbyes after a nice visit, and then Mom ran some errands. When she returned home after a few hours, she took me for a quick walk and then fed me my dry kibble and then BOOM…..I was out…. Literally passed out for about 2 minutes. I didn't know what hit me! Before I knew it, I came to…in none other than, the dreaded vets office!!! I heard him speaking in hushed tones to Mom something about a Grand mal seizure…and as I understand it….that is why I was out cold….some kind of short circuit happened in my brain!!! The vet drew blood from my arm and ruled out many possibilities as to why I had this terribly scary seizure. He concluded it was of "idiopathic"origins; meaning he just didn't know why it happened. He suggested Mom and Dad keep a watchful eye on me for any more seizures and that if they became more frequent, to perhaps, put me on medicine.
Things Get Worse
The very next day I started having diarrhea and vomiting. My Mom and Dad withheld food for 24 hours as advised by my doctor. After that 24 hour period, which felt like an eternity, I was allowed to eat small portions of boiled chicken and rice. As good as it tasted going down, I just couldn't keep it down…if you know what I mean! So this is where my spiral downward begins to pick up speed! My poor Mom and Dad! They tried EVERYTHING….every commercial dog food on the market that sounded heathy…they gave me. Nothing worked…. I still had terrible diarrhea and vomiting! Many trips to my vet getting one test after another….more blood work, x-rays, exams, looking for blockages…nothing, negative, nada! My vet did ask for a stool sample and discovered I had hookworm and roundworm despite my being given an Ivermectin heart worm medicine….it failed me!!! My parents immediately switched me over to Milbemycin, another kind of heart worm medicine that kicked my worm issue, but not my diarrhea and vomiting. And my seizures were occurring weekly!
My Mom and Dad Never Gave Up
To our dismay, this continued for approximately 8 months! Mom and Dad were steadfast in their quest for a diagnosis and cure! I was truly fed up at this point and felt like I was dying….in that time period, I went from a healthy 86 pound Golden to a 60 pound shadow of my former self! People around us were suggesting they end my misery….if you know what I mean! Mom and Dad wouldn't even consider that as an alternative. No, they KNEW in their hearts there was a cure for me and they NEVER stopped searching… And I am eternally grateful to them and love them forever for not giving up on me. And not to mention I am one tough cookie! I put up a good fight! But I must say, this whole journey was a labor of LOVE between me, Mom, and Dad!
No Prescription Diet for Me!
My vet recommended I start a course of anti-seizure medicine along with a prescription food diet. Mom and Dad refused to feed me the Rx vet prescribed food which its first ingredient was CORN!!!!! Please don't get me started down that road!!!! Suffice it to say, it was nothing more than a bunch of processed filler ingredients with a fancy name and price tag to match! Just like every other commercial dog food, I know it wouldn't have helped me at all.
It's Called The Miracle Dog Food for a Reason!
So, that very same day, Mom and Dad turned to the internet and did an all out search for a natural, healthy dog food. That's when they found Dr. Harvey's Canine Health-The Miracle Dog Food They ordered my first bag and after my first DELICIOUS meal, my diarrhea and vomiting stopped!!!! It was my miracle elixir!!! I have been eating and loving my 3 squares a day ever since and I have been diarrhea and vomit free!!!
Thank you Dr. Harvey's… You Saved My Life!
That was 6 years ago…in that time I have put weight back on, I feel great, I am so happy, and am so excited to celebrate my 10th birthday on the 31st of this month! Life is good; in fact it's delicious all thanks to you, Dr. Harvey! I have survived against all odds and I am forever grateful for the love and steadfast determination of my Mom and Dad to restore my health, and to you, Dr. Harvey's! You saved my life!

With my Love and Gratitude,
Pumpkin
---
Posted By
The Team at Dr. Harvey's
January 4, 2016
Itching, Scratching, Redness, Hot Spots,
Itchy skin, redness and allergies are some of the most common problems we see in dogs. These conditions are also the most frequently sited reasons for a trip to the vet and can be among the most frustrating problems for pet parents and their dogs.
Short Term Results- Antibiotics and Steroids
Medications including antibiotics and steroids, can negatively effect the immune system and they give only temporary relief. Dogs are often given multiple rounds of these drugs and the problem keeps coming back. That's because medications only mask the problem and don't get to the root cause.
Diet-The Most Common Cause of Allergies
Amazingly the most common cause of skin problems and itching is often overlooked.
Diet is the single most common cause of skin problems, itching, scratching and redness, inflammation, paw biting, rashes and hot spots.
It may be hard to believe that just by switching to a new all natural and fresh food diet, that your dog, who may have been itching for years, will get better.
But we have seen thousands of dogs improve. simply by making this switch, This means feeding food that is completely free of preservatives, dyes and chemical additives. Not only is it important to completely eliminate these additives from your dog's diet, you need a diet that allows you to rotate proteins, has minimally processed ingredients and is rich in essential fatty acids.
Switching to the Right Diet is Easy
Dr. Harvey's Veg-to-Bowl makes switching to this type of diet easy and safe and the results are nothing short of amazing. Pet parents are thrilled with the results. After watching their dog suffer needlessly, they now have a dog that is free from itching and redness. Your dog feels better and so do you. Switching to this diet can also give your dog a bright, shiny coat and healthy skin.
Veg-to-Bowl is made from 9 different dehydrated and freeze dried vegetables, organic herbs and vitamins. To this you add fresh high quality meat and oil. You will be giving your dog the healthiest meal possible. Pet parents report the clearing of allergic symptoms, redness, inflammation and itching. Fresh whole foods can make a remarkable difference in your dog's health and longevity.
Making Veg-to-Bowl is really easy to feed. Just add water to rehydrate the veggies, add raw or lightly cooked fresh meat and oil and serve your dog a meal that provides everything that they need for good health.
All dogs love to eat Veg-to-Bowl, even the pickiest eaters.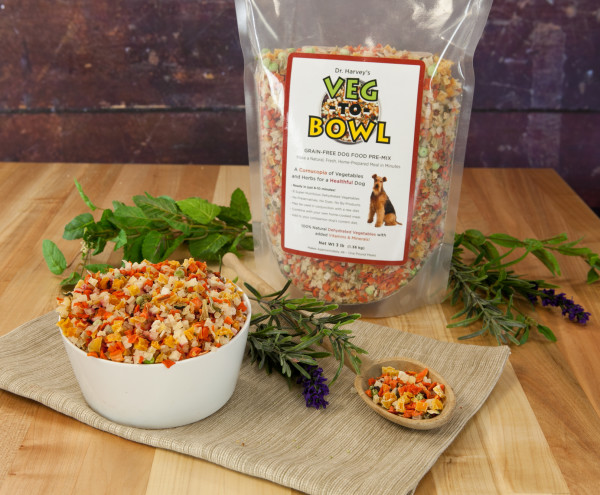 There is NO Commercial Dog Food that Offers This
Commercial dog foods are laden with preservatives and other additives that can cause these problems and are toxic to your dog. Even the ultra- premium kibble and so called "prescription" diets contain these additives and will not alleviate the problem.
Holistic veterinarians recommend a diet that mimics a dog's natural diet, normalizing and strengthening your dog's digestive and immune systems. They recommend adding a good balance of essential fatty acids, and other immune-normalizing and strengthening nutrients, Dr. Harvey's Veg-to-Bowl provides this kind of diet. A natural diet can reduce stress on the body, while allowing a natural reduction of inflammatory conditions and a lower risk of infection.
Two Other Ways to Help Your Dog
A fresh food diet can help from the the inside out. In addition to feeding Dr Harvey's Veg-to-Bowl and eliminating all commercial foods and treats these two products can be very helpful:
Dr. Harvey's Organic Healing Cream
Dr. Harvey's Organic Healing Cream can be applied for immediate topical relief of redness and itching. This miracle cream contains soothing herbs in a base of organic Shea butter and has been shown to help on all skin issues from rashes and hot spots to cuts, scrapes and dryness.
Dr. Harvey's Organic Healing Cream is easy to apply and safe for dogs even when licked.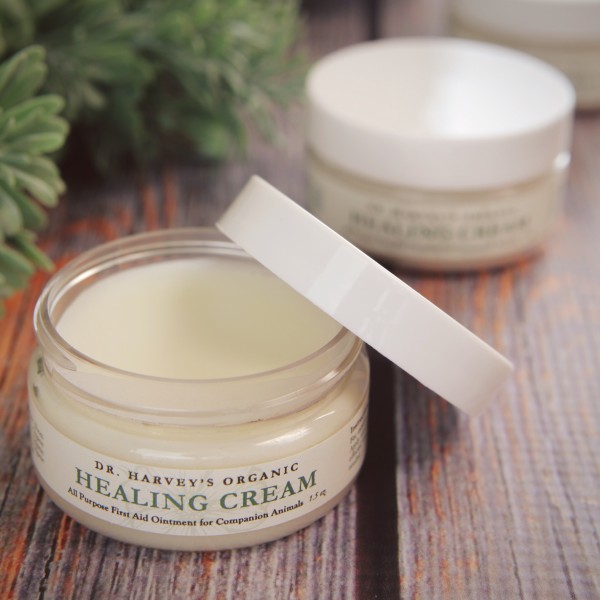 Health and Shine
And don't forget to add Health and Shine, our pure salmon oil capsules that are rich in Omega 3's so vital to your dog's overall good health a great addition that can improve skin and coat and reduce inflammation and itching.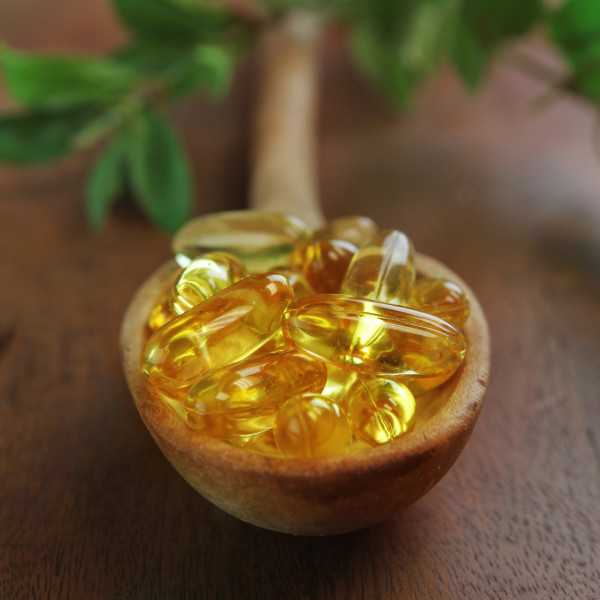 Make the Switch for Your Dog
Don't wait to start your dog on this wonderful, healing diet and watch the scratching, itching and redness disappear.
If your dog is experiencing itching, skin irritation or redness, dandruff , bumpy skin or body odor, switch to Veg-to-Bowl and see for yourself, what a difference it will make in your life and the life of your companion.
---