Posted By
The Team at Dr. Harvey's
January 2, 2018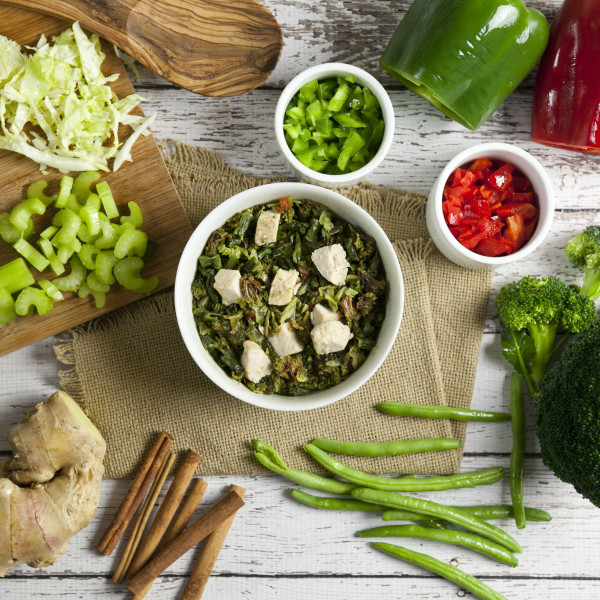 What is a Ketogenic Diet?
This diet is high in fat, supplies adequate protein and is low in carbohydrates. This combination changes the way energy is used in the body. Fat is converted in the liver into fatty acids and ketone bodies. Another effect of the diet is that it lowers glucose levels and improves insulin resistance. An elevated level of ketone bodies in the blood, a state known as ketosis, leads to a reduction in the occurrence of epileptic seizures, may inhibit the growth of cancer cells and helps regulate diabetes and obesity.
There is a great deal of scientific evidence that this diet may help certain conditions such as seizures, and other neurological conditions, cancer, obesity and diabetes in both humans and animals.
Paradigm is the perfect base food and makes feeding a ketogenic diet so easy to do.
This Diet Can Change Your Dog's Life
Our mission has always been to provide information that will help pet parents to make the best choices when deciding on how to feed their companion animals and achieve optimal wellness. Paradigm is our newest base food for making a home made, fresh food diet that is easy to make, contains very low carbohydrate ingredients and can be prepared to make healthy ketogenic meals for dogs.
We provide foods that are often the solution to a guardian's quest to find nutritional answers to chronic or recurring health problem. To that end, we have, for over 30 years, provided foods that help pet parents feed their companions a daily diet that is made from fresh, safe and healthy ingredients. We have seen miraculous improvements in so many dogs, cats and birds and we have helped healthy animals to remain healthy.
In our quest to provide continuing education and cutting edge information on animal nutrition we continue to search for the newest research available.
Help with Cancer
The Keto Pet Sanctuary is a state of the art facility that provides a variety of alternative therapies for dogs with cancer. Dogs at the sanctuary are fed a diet that is high in fat, uses moderate amounts of protein and is very low in carbs. The diet is meant to slow or halt the growth of cancer, based on the theory that cancer cells feed on sugar (including carbohydrates that break down to sugar) and will not survive on fat.
The results are promising and sometimes miraculous.
For more information on the Keto Pet Sanctuary
Carbs and Cancer-the Connection
Rodney Habib, pet nutrition expert and researcher, recently spoke about findings from Veterinary Oncologists showing that there is a strong correlation between too much sugar, high carbohydrate and high starch diets and cancer. He recently completed a documentary called, "The Dog Cancer Survival Series." He has traveled the world looking for nutritional studies that provide alternative nutritional diets for dogs with cancer. These nutritional modalities include raw food and fresh food, caloric restriction, metabolic therapies and ketogenic diets.
In a recent video, renown holistic veterinarian, Dr. Karen Becker, explained, "Everyone is talking about the damaging effects of high starch, high carb diets, pro-inflammatory diets. We know that these diets can contribute to diabetes, obesity, and arthritis. We know that there is an absolute correlation to the amount of sugar that a mammal eats and their predisposition to cancer.
We know that's true." Food matters… According to some experts, there is no question about the correlation between carbs and sugar that could be a cause and exacerbating cancers.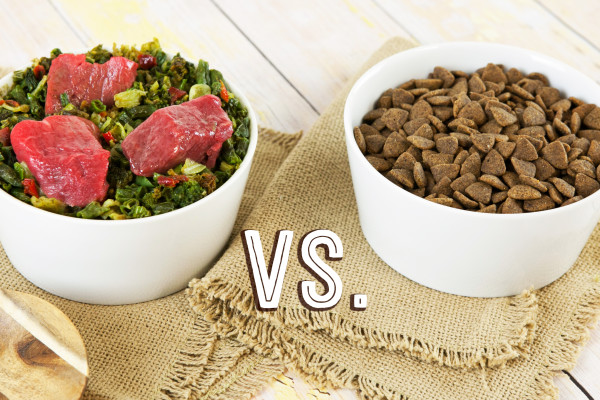 Help with Canine Super Nutrition
Add these to Paradigm to make a complete meal for your dog.
High-quality fresh protein in moderate amounts including:
• Beef
• Turkey
• Chicken
• Eggs
• Lamb
• Fish
Fats that can be added include:
• Coconut Oil
• MCT oil
• Hemp Oil
• Butter or Ghee
• Flax Seed Oil
• Fish Oil
• Olive Oil
A diet rich in green low-carbohydrate and other low-glycemic vegetables can be helpful.
Recommended vegetables are:
• Broccoli
• Green Beans,
• Cabbage
• Celery
• Red Bell Peppers
Sea vegetables that are rich in vitamins and minerals such as:
• Kelp
• Spirulina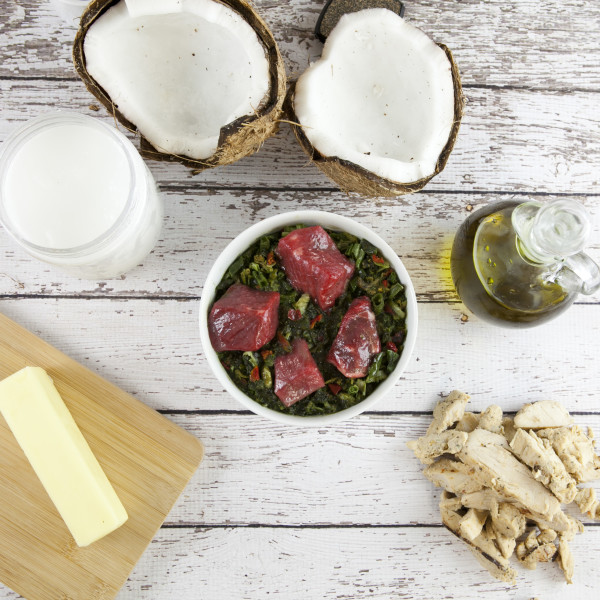 Help with Diabetes
While diabetes in dogs is a serious and complex condition, there is evidence to show that a diet that is low in carbohydrates can help to normalize blood sugar levels and encourage weight loss. We encourage pet parents who have a dog that has been diagnosed with diabetes to consider a nutritional intervention using a diet that is low in carbohydrates.
Dr. Karen Becker explains:
" … 90 percent of pet foods out there contain totally inappropriate ingredients that are not nourishing and actually create low-grade inflammatory processes, diabetes, and obesity. All the same health issues occurring in the pet world are occurring in the human realm in terms of overall health.
Sugar, of course, causes an insulin release. Insulin then causes blood sugar to drop. Cortisol is then released to rebalance blood sugar. So dogs and cats are dealing with this whole cycle of carbohydrate ingestion, insulin release, and cortisol release."
Dr. Becker concludes that animals were not meant to eat the high carb diets that most commercial pet foods offer.
Help with Weight Loss
Obesity in dogs is at near epidemic levels in the US. If you have ever had a dog that is overweight, you know how difficult it can be to reverse the condition. Obesity in dogs can lead to the development of a host of health problems including, diabetes, joint problems, and cardiovascular disease. Obesity is not just a vanity problem; it is in fact, a serious condition in dogs that adversely effect your dog's health and longevity. Lower carbs and feeding fresh food will help to normalize your dog's weight. Paradigm is perfect for this.
Ingredients that Sustain Health
In addition to considering a low carbohydrate diet for your dog there are herbs that Dr. Harvey includes to boost the immune system, encourage healing and help to increase overall good health.
These ingredients include:
• Turmeric
• Ginger
• Red Clover
• Milk Thistle
• Dandelion
• Slippery Elm
• Cinnamon
• Medicinal Mushrooms, including chaga, turkey tail, shitaki, and reishi
Click here to See Dr. Harvey's Solaris-mushroom and herbal immune system supplement: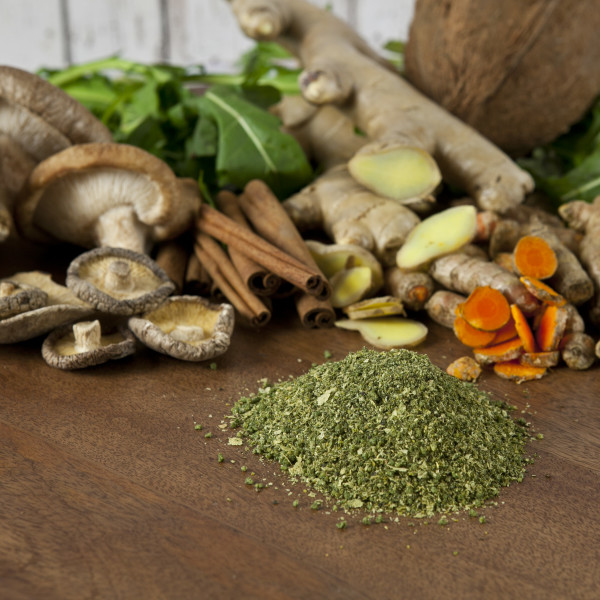 Giving Your Dog the Best Chance
There is no question that what you feed your dog can change their well-being and their outlook for a long and healthy life. When confronted with health challenges, using nutritional tools can help your dog to heal sometimes from even the most difficult of diagnosis.
How we think about feeding our companion animals needs a new paradigm and there is now a body of research that concludes that feeding your dog fresh meals that consist of high-quality proteins, healthy fats and low amounts of carbohydrates can encourage healing and promote wellness.
Dr. Harvey's Takes a Closer Look
Based on the findings of distinguished researchers now published in the research literature on the benefits of a low carb diet for the care of dogs and cats with cancer, diabetes, and obesity, we are working to educate pet parents worldwide.
Paradigm can be used for dogs who have health challenges that would benefit from a ketogenic diet, as well as for healthy dogs looking to maintain optimal wellness.
Don't Wait Another Day!
The sooner you start your pup on a diet of fresh foods and low carbs the sooner you will have your best friend on road to good health. Paradigm is easy to prepare and it's the very best food you can give to your dog.
---
Posted By
The Team at Dr. Harvey's
December 27, 2017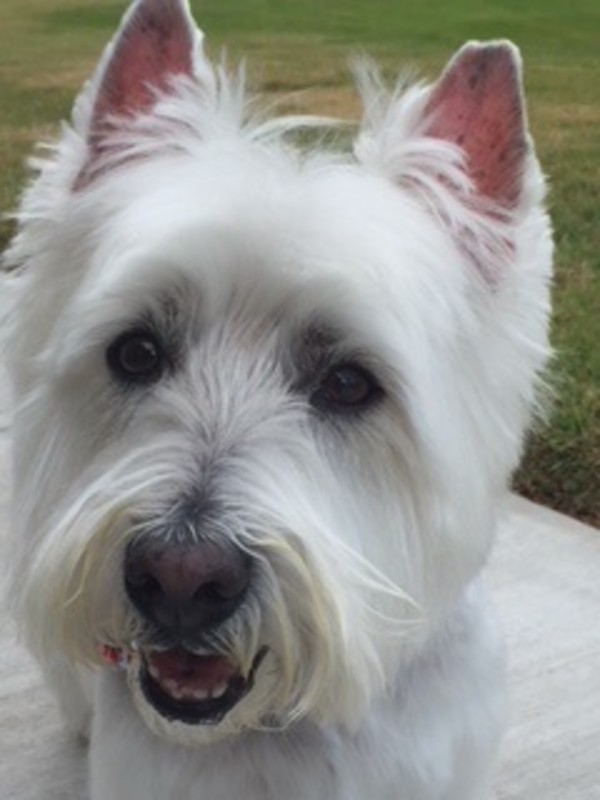 Beazer
LOVES

His New Food
Dear Dr. Harvey's Team, Thanks for asking how Beazer liked the food! He LOVES it! I am so happy… as feeding him since his diagnosis of diabetes 2 years ago had been a struggle.
I had allergy testing done a couple years ago, as he was always itchy (Westie). After many years of steroid use to treat itchy skin, ….I feel certain that's why Beaz developed diabetes.
Exasperation! His Blood Sugars Were Never Controlled
I had allergy tests done, and …. its THREE pages long. In short he's allergic to almost all outside grasses, trees and such.. and almost all meats! Historically, I would find a food that might work, they would include some
potato, corn, or filler, that he is allergic to. I was getting more and more exasperated… as his sugars were never really controlled… a "good" read for him was in the 200s.. not optimal!
Amazing Results After Feeding Paradigm
After only 5 days on the Paradigm, his glucose was at 170 when he was 7 hour post insulin!!! Never happens!! I was elated.
I am planning to do a glucose curve then the new bag arrives. I am so hopeful!

Thanks so much… as Beazer is a true "case"! I'm including a recent picture of Beazer, who will be 14 years on February 5th!

My Very Best,

Lisa
---
Posted By
The Team at Dr. Harvey's
November 28, 2017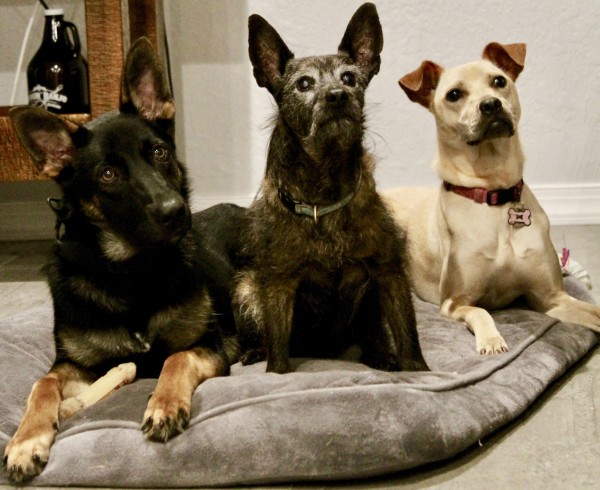 He Got Better Practically Overnight!
Almost 20 days into your food recommendations and liver support and CoEnzymeQ10, Tigger practically changed overnight. He is eating well. He loves the diet and is acting like a young dog even ready to start walking with me again. I am just so thankful for your help. He's my best friend and buddy.
My Tigger-A Fearful Boat Dog
Tigger was 6 1/2 months old when I rescued him. He was a typical terrier handful. During his first 9 years as a boat dog, I was excited he could read the the waters and loved to ride the bow as if he was surfing watching for big waves to hit the bow, looking for the schools of dolphins or the dreaded swans. You see, when he first met a swan it was a big white bird and it attacked him as we walked down on the dock ,after that every big white roundish thing he was fearful of and there are huge white fenders hanging on almost every boat we pass.

He Developed a Cough that Baffled the Vet
He started on Dr. Harvey's food as a puppy, I had lost too many animal friends to health problems and just knew it was going to be better for a youngster to eat healthy. He also had calming herbs that helped with his fears. He had been abused badly before I rescued him.
As time went on it became difficult for me to store the food on a boat and we switched to kibble, but as Tigger aged he developed a cough. The doctors were baffled and finally I just realized he seemed to be worse when seasons changed and I had a feeling grains may be a trigger as well for his cough.
Dr. Harvey to the Rescue
I decided to try Dr Harvey's food again and when I called to ask if he had a supplement for coughs, Dr. Harvey got right on the phone. He listened while I explained Tiggers medical history and suggested blood work to have done at my vets and to send results to him. Dr. Harvey called me back as soon as he read the reports and advised me on feeding and supplements with in a few days Tigger was responding and prancing around like a puppy happy.
He had been on 2-4 medications and coughing all night long as well and not sleeping well because I think is tummy was hurting him he vomited often.After a
Whole month treating his liver and feeding him Veg-to-Bowl as directed by Dr Harvey. He is stronger sleeps all night and NO MORE COUGH.
.
Dog Whisperer
Dr.Harvey cares. He is dedicated and knowledgeable in a field that is so difficult we can tell our doctors how we feel, but out pets can't.
I think Dr Harvey can talk to the animals just like the story goes.
So Thankful to Have My Best Friend Healthy Again
Tigger is 17 years old and is my rock. He knows when I am sad and stays by my side when I am down or not feeling well. Now I can do that for him because of Dr Harvey's.
I will take him down to the docks today his nose will lift to the sky as he smells the sea air and we will sit and look for the dolphins and even the dreaded white swans. s we can enjoy all of our years together with friends and life on a boat.
---
Posted By
The Team at Dr. Harvey's
November 14, 2017
Early Renal Failure at 18 Months
I wanted you to know about the journey of my silly St. Bernard, Dora the Explorer, who has a funny smaller nostril on one side. At only 18 months old, I thought the elective surgery to open it up so she could breathe better (and so I would not have to pick so many boogers!) would be a great idea. I asked the Vet to do the pre-surgery blood work so I would "have a base line." Before I even got home, I received a call stating that she has "early renal failure." To say I was shocked is an understatement. Of course, she still has her tiny nostril, as a side note!
All Roads Led Me to Dr. Harvey's
The Vet immediately put her on fluids to cleanse her kidneys and recommended I put her on the Hills Prescription Diet immediately to help her kidneys. I did that and in the meantime, I began researching canine kidney disease. All roads led me to Dr. Harvey! I called him. He requested the test results so we could discuss her best nutritional options. Of course, I was impressed that he called me, he wanted to see the results (not just sell a product) and then took time more than once to fine tune her diet!
Kidney Health Supplement
He recommended that I read and learn. I did! He told me to study Rehmannia. I slowly moved Dora off the Hills and onto the Canine Health Diet with cooked protein, wild Salmon Oil, and Rehmannia capsules in the doses Dr. Harvey recommended for her weight and test results. After 30 days, all measures but her Creatinine came into the normal range. That measure went up just a little. At that point, Dr. Harvey recommended I study Raw Green Tripe and start to feed that to Dora as well. I have added that into a mostly raw diet switching here and there since it is quite expensive. A few weeks later, his Kidney Health Supplement which contains Rehmannia, was available. I switched her from the capsules to that powder.
The Vet is Amazed! Today all of her numbers are
NORMAL
At our Vet appointment today, my Vet was amazed that ALL of her numbers are now in the NORMAL zone and he actually asked me what I as feeding her. Many measures were high in August. Creatinine was a little higher in October (everything else normal.) It is now November and everything is normal! I will continue to do what I am doing and praise God and Dr. Harvey for their love and concern for our pet! Dora seems happy, healthy, energetic, and more! She runs the hills on our property nearly daily and puts on way more miles on our hikes than I do! Thank you!
Sincerely, Jenny Lance and Dora
---
Posted By
The Team at Dr. Harvey's
September 26, 2017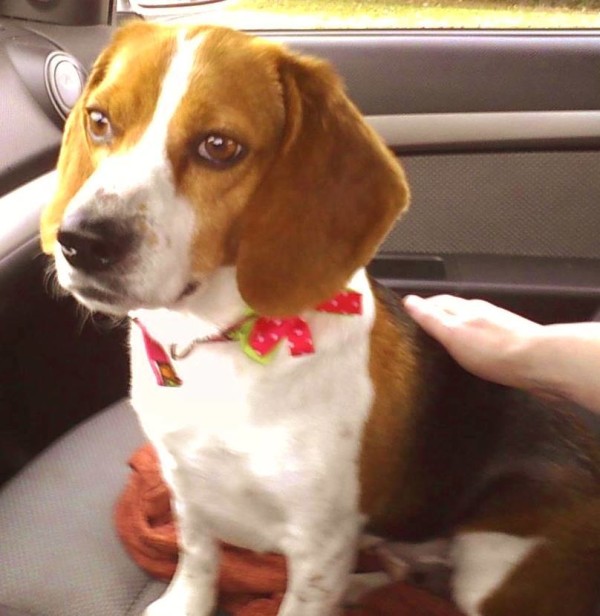 Meet Karma
Meet Karma, our 4-year-old rescue beagle.  We rescued Karma 2 years ago after someone hit her & left her to die on the side of the road.  By the time someone found her, her broken hip had already started to heal.  Once we rescued her, we found out she had heart worms.  It was heart breaking to watch her go through treatments.
It took her a very long-time stop being afraid of shadows from lamps.  She's come so far over the last 2 years & she's grown into the sweetest dog.  
And Then…Aggressive Breast Cancer
My husband & I moved to Charleston, SC from Wilmington, NC four months ago. Two weeks after we moved, Karma got a very aggressive form of breast cancer.  We gave her a bath one night & felt no abnormalities.  The next day she had a 3″ × 1″ area on her belly that had numerous malignant tumors.  We were devastated.  It literally happened over night.  She had absolutely no symptoms & if anything, she was the happiest she's ever been.   Given her young age & lack of symptoms, we agreed to pursue treatment which we knew would most likely be surgery.
We took her to a walk-in clinic & the second the vet saw the tumors she said we needed to operate ASAP.  She recommended a local vet that she knew personally that had more affordable prices.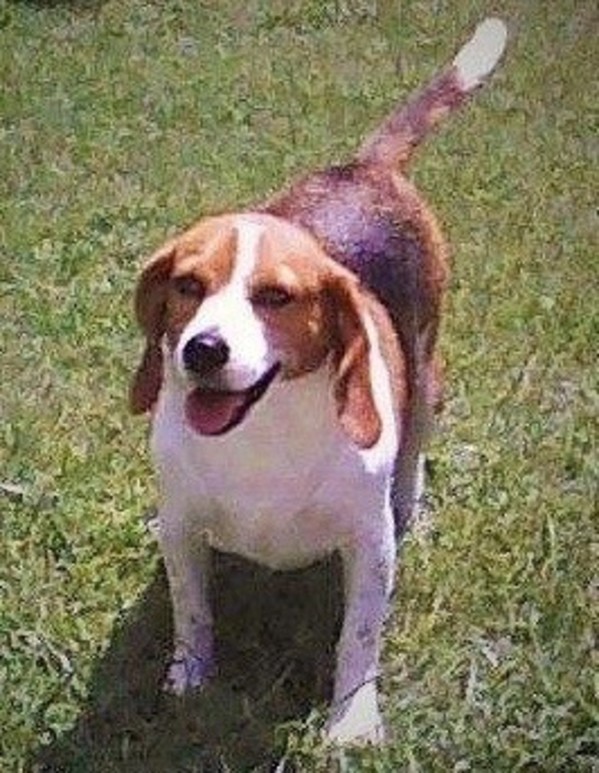 We Were Devastated
We got Karma an appointment 2 days later and the vet said that we literally caught it as fast as we could & she was able to perform surgery on Karma the following day. 
During this time, I researched what causes cancer & how cancer cells grow.  We were feeding her Blue Buffalo because we thought it was a good brand.  But then I learned more than I cared to about processed food & realized that if there's anything I can do to help her get better it is to change what she eats & get her exercising.
We Did Our Research
I started researching recipes & came across Dr. Harvey's new Paradigm food.  I was so happy to find a product with actual healthy food & no preservatives.  I love everything about this product.
Karma's been on her new healthy living & diet with Paradigm for almost 2 months now. *She absolutely loves this food & I love cooking it for her.*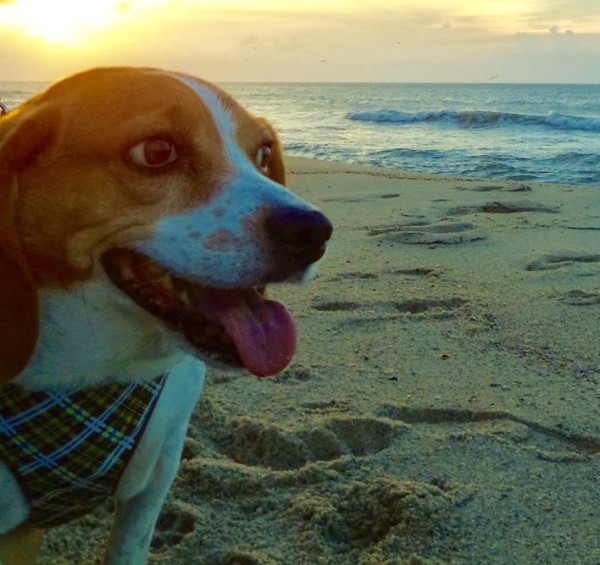 She Is Doing So Well Now
She went to the vet a couple weeks ago & she even lost 2 pounds!  The vet was very impressed with how well Karma is doing. :)
We love Dr. Harvey's & Paradigm food!
Thank you so much,
Tavia Pyatt  and Karma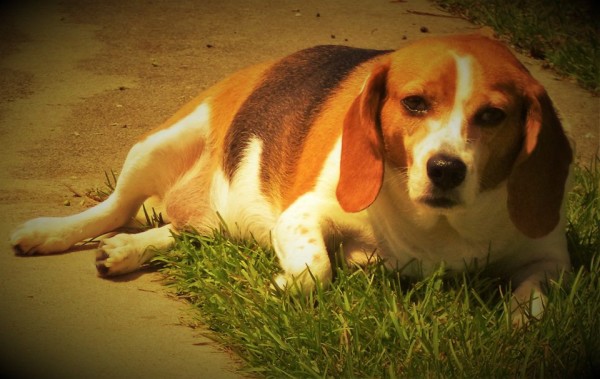 ---
Posted By
The Team at Dr. Harvey's
August 16, 2017
His Numbers Were Not Getting Better
Hi Dr. Harvey's, We wanted to reach out to you to let you know our story and our journey with Captain and his diabetes.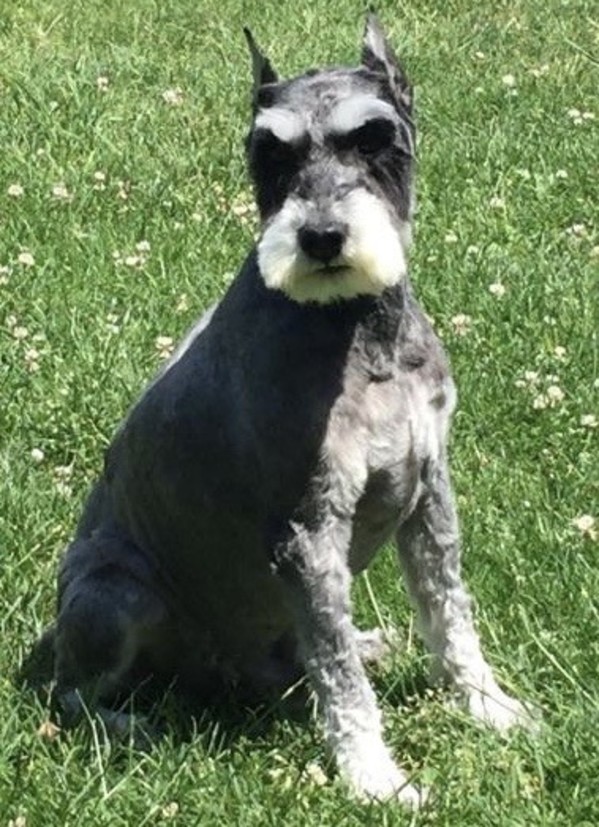 Our dog Captain is a 10 year old Miniature Schnauzer who become diabetic just over a year ago. Our early start was with the prescription dog food our Vet recommended for Diabetic Canines. It did not take long to realize his glucose numbers were not stabilizing, in fact they got worse.
The Food Was Converting to Sugar!
We realized they got worse because the ingredients for this food contain foods that convert to sugar. Shame on the food company. We went to a animal nutritionist in New Jersey and she started us on the path of a custom home made meal plan for Captain. His number improved but we weren't satisfied. My wife is extremely smart and, in my opinion truly understands more that even I give her credit for sometimes. Pam started tinkering with the meal plan and soon his numbers greatly improved. She so smart.
Then We Found Dr. Harvey's
However, we were pointed in the direction of Dr. Harvey for his solution by our groomer, Chris, from The Good Life Mobile Dog Grooming in Nanuet, New York. She was the one who introduced us to your products. We are very grateful to her for this recommendation! She is the best and most knowledgeable groomer ever! Keeping up with home based created food and securing fresh ingredients all the time is a bit trying for our family. However, we won't compromise on what Captain needs. People that know us will tell you when it comes to Captain we say "Whatever it takes". We long ago always knew that a dog should be eating what a dog should be eating and the commercial dog foods are garbage.
We Ordered Paradigm
When we ordered our first order of Paradigm we couldn't wait until we got it. It helped us be able to feed Captain a bit easier with the very ingredients we were feeding him ourselves. (Somewhat). In addition, it has come to light that we may be over do it with protein. As I understand it can lead to a whole new set of issues. It is our hope that Paradigm will be our Miracle…because we deserve one.
This Has Helped to Stabilize His Numbers!
Captain is now on the Paradigm food and he adjusted his intake and this was able to stabilize his glucose numbers.
He is doing just fine!
OK I will get off my soapbox,
Pam & Fred Ostrofsky
We are Part of The Revolution!
PS sorry for the long winded email. So many pet parents don't understand the feeding revolution.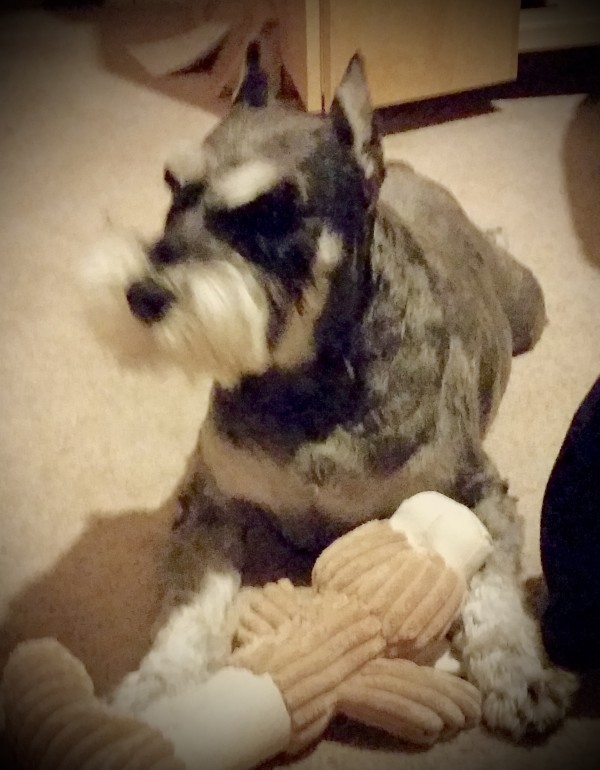 ---
Posted By
The Team at Dr. Harvey's
August 10, 2017
All of the pups in this beautiful family of Italian Greyhounds are benefiting from Dr. Harvey's foods. They wanted to let us know and to share their enthusiasm for their new diet!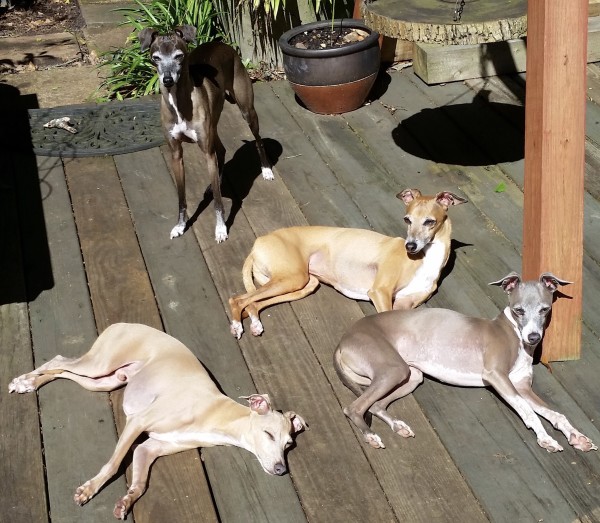 Soda Pop Loves Dr. Harvey's
Dear Dr. Harvey's,
Soda Pop loves his new food! He has actually slowed down on gulping his food. He wants to savor every bite! You would never know that he has eaten out of his bowl it is so clean from him licking. I tell Soda he can't lick the color off!! Lol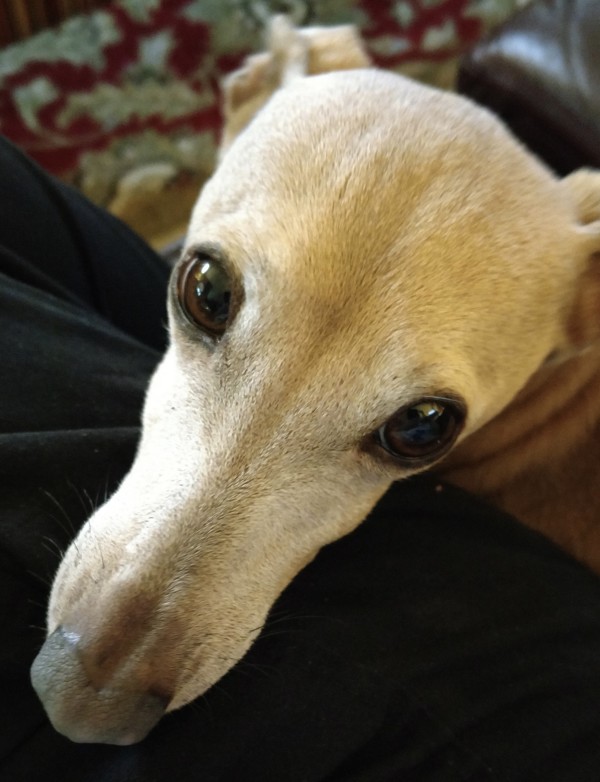 Everybody Is Getting Dr. Harvey's!
I have ordered a bag of Paradigm but haven't received it yet. Also I ordered the grain-free Veg-to-Bowl for our other 3 Iggys. They really like it too.
Please keep Soda Pop in your prayers that he has beaten the Mast Cell monster. With the help of Paradigm, I know his chances have increased!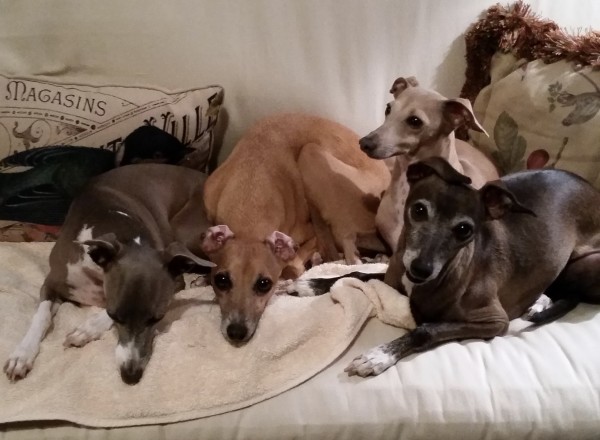 Sincerely,
Dana Clements
---
Posted By
The Team at Dr. Harvey's
August 8, 2017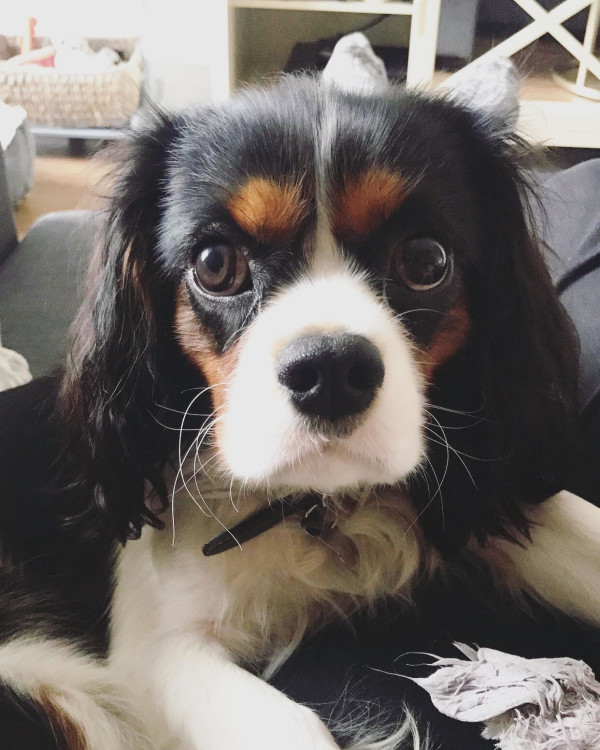 I Was Skeptical
Thank you for checking in! We couldn't be happier with the way Louis is doing since we've made the switch to Dr. Harvey's! I was skeptical at first because we have tried SO many different food options and so many medicines and Louis would still always have diarrhea.
I Almost Gave Up
I was beginning to think we'd never have a solution and he would just have to be on antibiotics long term which i definitely did not want to do.
It has been a month since we started him on Dr. Harvey's and (knock on wood) he has had solid stool ever since!! It is such a relief not having to worry about it everyday and I can tell he is feeling so much happier and healthier. He has gained the weight that he lost and barks at me the whole time I'm preparing the food he loves it so much!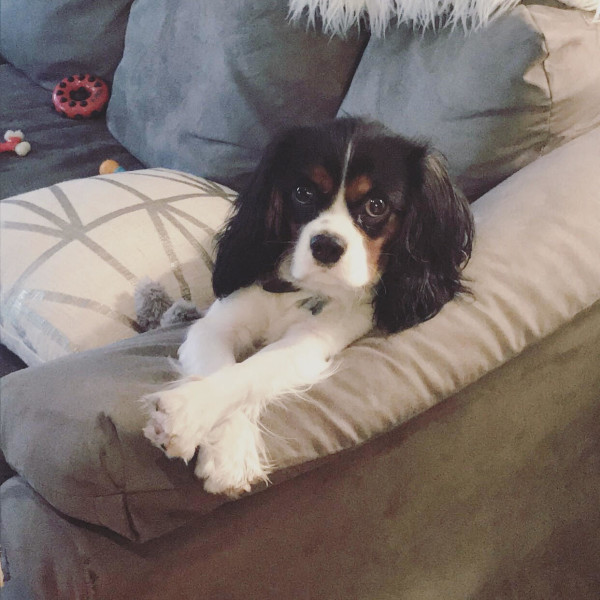 All I Can Say Is Thank You
Thank you, thank you is all I can say! I'm telling all of my dog-mom and dad friends that they need to make the switch to Dr. Harvey's. I could never go back to commercial after seeing how much healthier Louis is on Dr. Harvey's!
My Very Best,
Meghan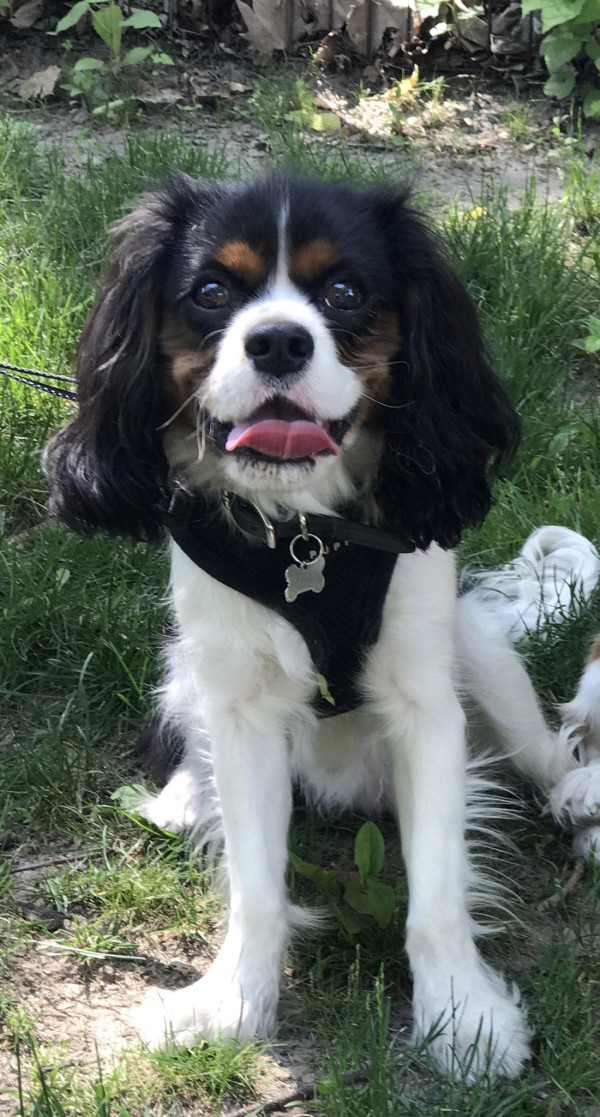 ---
Posted By
The Team at Dr. Harvey's
August 3, 2017
My Rescued Daisy Was So Sick
Hi Dr. Harvey's,
I obtained Daisy, a 12 year old Lhasa Apso, as a rescue. When she came to me, she was blind and deaf and covered with sores from her untreated medical conditions. In addition to medical treatment, I knew a most critical component in her recovery pull be getting her on a very healthy food regimen. I was already familiar with Dr. Harvey's quality, since I have been feeding it to my bird for many years as recommended by our vet.
She Loves The Food and She is Healthy!
It was a logical step to put Daisy on Dr. Harvey's to optimize her chances of recovery. She loves the food! Three months later, through a combination of good veterinary care and excellent nutrition, Daisy is a hearing, seeing, and very healthy member of our family! She has no skin problems, no digestive issues, and is growing a beautiful coat! A week ago, Daisy's former owner came to see her in a attempt to take her back. However, once she saw Daisy's improved condition and healthy regiment, she realized that Daisy was in good hands, and did what was best for her pup-signed her over to me and Dr. Harvey's all-natural diet!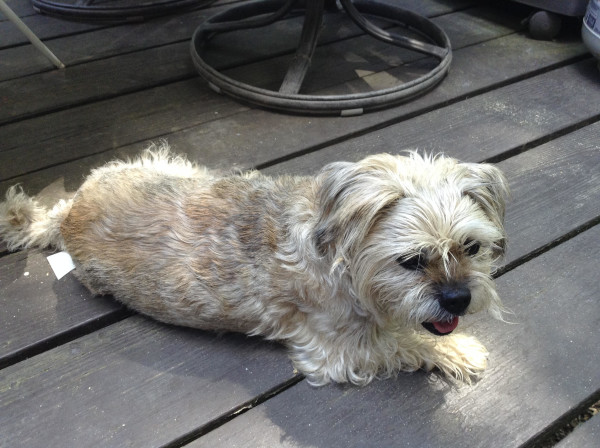 Thank Dr. Harvey
With proper medical care and Dr. Harvey's great nutrition, we expect to have Daisy around for many more years.
Thank you!
Sincerely Yours,
Linda Widdowson and Daisy
---
Posted By
The Team at Dr. Harvey's
June 29, 2017
Nothing makes us happier than when a pet parent feels compelled to write to us and tell us how their precious companion's health improved after using our food and talking to Dr. Harvey. This has to be one of our favorites. Banjo's mom, Terri, wrote to tell us about this adorable 12-year-old Shih Tzu and how he improved so dramatically after changing Banjo's diet!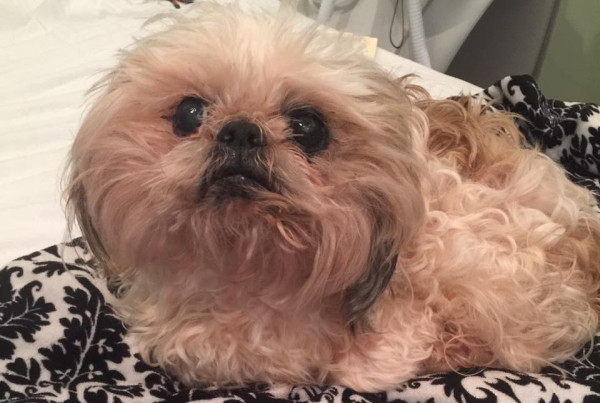 I Had to Write to You
Dear Dr. Harvey,
I have been trying to find where I can leave you reviews and I can't seem to find anywhere so I am emailing you and you can feel free to post it wherever you would like to. You have been such a help to us and we are so thankful!
Banjo's Diagnosis-Our Hearts Were Broken
Our little 12-year-old Shih Tzu, Banjo, was diagnosed with renal failure as well as anemia. Our hearts were broken and we were, of course, doing everything the vet advised us to do. He was getting worse and worse and we really felt we were a few days away from losing him. Dr. Harvey's food ad popped up after doing some research and we decided to purchase his Canine Health-The Miracle Dog Food. Our little guy loved it.
We Changed His Food and Then We Called Dr. Harvey
A few days later I decided to call and hopefully speak with Dr. Harvey himself. What a wonderful, kind man. Dr. Harvey advised us of multiple things we needed to do that our local vet had never mentioned as well as things that our vet didn't even know anything about. We made the changes immediately and Banjo started to look brighter and more alert.
In Just 6 Days He Was Back to Himself!
Within 6 days our little guy was himself again. I cannot begin to tell you how sick he was…he could hardly stand to urinate, he wasn't even holding his urine, his appetite was not good, he was incredibly lethargic, etc. After just 6 days of eating Dr. Harvey's food (he advised us of exactly how much protein to add), as well as implementing the other things he told us about and he did a complete turnaround.
It Was A Miracle
It was honestly miraculous! Now we speak to Dr. Harvey about once per week and he continues to guide us. What a blessing this man is. He has restored my faith in the kindness of people, and reminded me that there is still a lot of good left in the world.
Thank You From Banjo!
Thank you, Dr. Harvey, from the very bottom of our hearts. And if Banjo could talk, I promise he would tell you that he loves you and thank you so much!
Terri McConnell, Jason McConnell and Banjo
*UPDATE ON
BANJO

-7/9/17

This food is simply incredible . We have a 12 yr old Shih Tzu with compromised kidneys . We started him on this food , as well as a few other things Dr Harvey recommended and the change in his health and energy has simply been miraculous. I also just have to say that he is eating more now than he did before he got sick ..Dr Harvey advised us how much of our own quality protein to add . Our Banjo LOVES this food ! I can't say enough wonderful things about this food and about Dr Harvey as well.
Terri McConnell

I would just like to add that when we found this food, Banjo was so sick he wasn't eating on his own.

I had to mix this food with more water and blend it so that I could feed him with a syringe. After a few days I noticed that Banjo was licking the end of the syringe indicating that he wanted to eat this food. I mixed some up according to the directions and didn't blend it and he ate a lot! That was a couple of months ago and he is still enjoying this food and is so much better. His vet cannot believe his recovery! It is truly a miracle and we are so thankful for this food and everything that Dr. Harvey and his team have done to help our little guy get better!

Jason McConnell
---