Posted By
The Staff at Dr. Harvey's
November 1, 2010
They found us and now we have found them!
The Green Connoisseur, subtitled " Your Escort to a Luxurious and Eco-Conscious Lifestyle" is an extremely informative website for all things green. Recently we were approached by one of the staff writers from the Green Connoisseur asking if she could write an article about Dr. Harvey's.
Below is the lovely article that Lucy Brake wrote and posted about Dr. Harvey's products. After reading, please take a moment to visit The Green Connoisseur
to discover insightful info on health, nutrition and living an ecologically responsible life.
Treat Your Pet!
Feathered and Furry Eco-Luxury
For many of us, our family pet is a really important member of our home. We want to make sure our dog, cat or bird is getting the best nutrition available without compromising the environment. Dr. Harvey's has created nutritional food and grooming treatments for our pets that are kind to the planet. You don't have to compromise your furry and feathered friend's diet and health in order to treat them to a bit of green luxury.
The Vision Behind the Finest Green Pet Nutrition
Over 30 years ago, a successful nutritionist and animal lover, Dr Harvey, came to the realisation that we were feeding our pets blatantly unhealthy diets. These traditional pet foods contained lots of nasty chemicals, preservatives, dyes and colouring agents. He was concerned that these sub-optimal diets meant that our animals were becoming unnecessarily ill, lowering their quality of life and shortening their life spans. From this concern, came the concept of all-natural food for pets.
The team at Dr Harvey's believes that feeding animals food made from chemical-laden ingredients is the number one reason for the rapid rise in degenerative diseases. Healthy products for pets means that they can maintain a strong immune system, avoid diseases and aliments caused by pet food filled with chemicals and also achieve optimal health throughout their lives. Dr Harvey's champions healthy, natural and chemical-free food for our pets. They also make all their products locally in the USA and are therefore able to keep transportation-related emissions to a minimum. "Our team is committed to helping guardians give their companion animals the very best food there is, made from the best ingredients, and using the best processes." says Dr Harvey's.
Food Fit for a King
All of their product lines are prepared with fresh, organic and natural principles in mind. This means that only the highest quality ingredients are used without any processed elements to be seen anywhere on the menu. The Healthy Formulations created by Dr Harvey's offers fine healthy food as well as safe all-natural products for dogs, cats, birds and horses. These formulations are also kind to the environment. To keep animal companions happy and healthy, the team at Dr Harvey's develops products which include chemical-free grooming solutions, essential supplements and vitamins as well as nutritious chews and treats. Their yummy looking freeze dried treats for dogs and cats contain no dyes, colouring agents or preservatives. Additionally, they are free or any fillers with no extra salt or sugar.
Dr Harvey's has been producing luxury all-natural companion food for many years. They package their food and grooming products in eco-friendly containers and have managed to do this without compromising on the ease of use or the ability to keep the product fresh.
The Dr Harvey's range of nutrition and grooming products means your pets can have a longer, happier and healthier life with less impact on the environment. You can now take even more pleasure in the joy they bring to your life.
---
Posted By
Neil Sattin- The Natural Dog Blog
October 18, 2010
We have been working with the wonderful trainer and natural dog enthusiast, Neil Sattin, for the last few months. His blog The Natural Dog Blog should be on your list of "must read" blogs. Below is a review he posted on Dr. Harvey's Power Patties. Enjoy!
In my review last month I mentioned that I had a secret weapon when it comes to doggie treats. I call it my "secret weapon" because at this point most people don't recognize what I'm giving their dog when I first use it (that's the "secret" part), and because (knock on wood) I have NEVER had a dog refuse
to eat this special treat (that's the "weapon" part). In fact, they usually come back, eagerly, for seconds and thirds. What do I use? Dr. Harvey's Freeze-Dried Tripe Power Patties
I was actually contacted by Wendy Shankin-Cohen of Dr. Harvey's (slogan: Fine Health Foods for Companion Animals) awhile back, when I was doing the writing and pre-production for my instructional DVD set. She was wondering if she could send me some products for my review, and I said "yes" with a caveat that it would probably be awhile before I got around to checking it out. A box arrived in the mail, with an assortment of their products, but the pace of life at the time (young baby Zella about to be born) kept me from really paying much attention.
Destiny, meet freeze-dried tripe
However, one day I was headed out to a lesson, and I didn't have any hot dogs in the fridge. First impressions can be everything with dogs and humans, so whenever I meet a new (hungry) dog I like to have something especially tasty in my pouch for our first contact. I mentioned something to my wife about having to allow some time to go to the store en route, and she casually asked "how about that box of treats and food that you just got in the mail?"
Sometimes – actually frequently – the universe lines up to give you exactly what you need. And then my wife clubs me over the head to remind me. In this case, it was a pouch-full of freeze dried tripe.
I can't remember which dog was the first lucky recipient. What I DO remember is that from that moment on, I always made sure I had some of these tripe treats with me whenever I went out for a lesson.
Perfect Training Treat: Thy name be "Tripe"
From my perspective, they're a perfect treat. It's simply tripe* (nothing added), which as I understand (from Dr. Harvey Cohen himself) has the perfect balance of calcium and phosphorus for a dog's digestive system, along with omega-3 and omega-6 fatty acids, and a whole mess of other nutrients. So they're VERY healthy for dogs. Because they're freeze-dried, they're not messy, and you can also easily break apart a single "power patty" to give you multiple treating opportunities (or for smaller dogs). So they're convenient. And, as I said – dogs LOVE them. Seemingly without exception.
As I mentioned, nearly two years has passed since then. I guess it was finally time to let you all in on the secret to great rapport with a new dog. And you thought it was all the meditation that I've been doing! Well, knowing how to "Be the Moose" does help. And so does a fistful of freeze-dried tripe. Please feel free to head over to the Dr. Harvey's site to find out more about their power patties and the other products that they offer.


Just kidding. Don't do this!
This is actually part-one of my review of Dr. Harvey's. I've been conducting a trial recently using their "Canine Health" dog food premix, in conjunction with a cooked fresh meat diet for Nola. And I've got even more good things to say – coming soon. All-in-all, I'm impressed with the Dr. Harvey's company – both in terms of their commitment to healthy dogs, and in terms of their commitment to providing their customers with the knowledge necessary to make the right decisions for themselves and their pets.
The tripe comes from cows raised here in the

USA

, without chemicals or injections, and is freeze-dried in a small plant specifically for Dr. Harvey's – then packaged by hand.
Neil's Website is full of training tips and other wonderful information please visit Neil Sattin's Natural Dog Blog
---
Posted By
The Staff at Dr. Harvey's
July 11, 2010
Alicia Silverstone is a woman with a message. She is an advocate for animals and animal rescue and has strong views on diet and nutrition. Her wonderful and informative book
The Kind Diet
helps everyone to examine their food intake and helps to move us towards a totally meatless diet without being judgmental. She has patience with those of us who need to take our time to make such changes. She outlines how to move towards a vegan lifestyle and how it has benefited her on a personal level.
A Fan of Dr. Harvey's
Alicia's book has almost an entire page on how to feed pets. She has been a proponent of Dr. Harvey's Canine Health for many years and she generously mentions this in the book.

Recently she reiterated how she feeds her own animals with Dr. Harvey's in a blog post on her Kind LIfe Website
We thought we would share the book and Alicia's active website with you. We thought you would want to read her blog. There are many helpful tips for finding a healthy lifestyle in her writings and her blog is very active. While you may not agree with everything she has to say, there is much to learn by reading about all that she has experienced and how she feels about animals.
---
Posted By
The Staff of Dr. Harvey's
January 26, 2010
Here's What's New At Dr. Harvey's!
We feel so fortunate that we get to do what we love to do every day.
One of the best parts of being Dr. Harvey's is hearing from our customers about what a difference Dr. Harvey's has made in the lives of their companions. We try to post as many of your stories as we can on our website. We feel that sharing these emails and letters may help someone who is looking for an answer for their own companion.
We now have a way to bring some of these stories to you in new format. The first in a series of "Dr. Harvey's Personal Profiles" is up and running on our website. Please take a moment to watch.
We are also doing a series of "how to" videos. Check out the first in the series. Watch a quick guide to making Canine Health.
Keep checking the website for new videos. There will be more to come in the next few weeks and months.
It's great to be able to bring these videos to you. Please share the info with those who you think may need to know.
Watch Julie and Rikishi's Story
---
Almost every day, I get an email or a call regarding the controversy surrounding the use of grains in dog food.
In an earlier post here I discussed the use of raw diets and grains I explained why we see that some dogs do exceeding well on whole organic grains as a small percentage of their total daily intake. The quality and type of grains is also very important. In our manufacturing process we use only certified organic grains. We do not use corn, wheat or soy and the grains that we use are rare and highly absorbable.
Meet The Great Dane Lady
I recently came across an article written by the Great Dane Lady, Linda Arndt, who is a well respected Great Dane breeder and researcher. Her site is full of excellent information for Great Dane guardians, but many of her gems of wisdom are applicable for all dogs.
Why Grains can be Good and Necessary
While I do not agree with all of her recommendations for feeding. I think her understanding of why some grain in the diet is spot on.
Below are her thoughts on grain-free diets:
Things to Ponder About Grain Free Diets- by Linda Arndt
I get many emails asking my opinion of the new grain-free diets on the market. These are new foods and actually a spin-off of the BARF- biologically appropriate raw foods movement.
The growing holistic pet food industry has much competition these days, so they are looking for ways to reinvent the wheel and here you have it, the new grain-free diets!
What the Public Wants
After all, if "the public wants grain-free diets, certainly they know what is best for their pets – right? Wrong". Just because the public wants it, is not a good enough reason to manufacture it. "Just because it is a grain-free diet, does not mean it is appropriate for your dog's individual situation."
Propagation of Myths
Thanks to knee-jerk reactions and the propagation of nutritional myths on the internet, grains in pet foods have a bad reputation. Grains are carbohydrates and carbohydrates are not necessarily bad. Just because it is a grain-free diet does not mean there are no carbohydrates in the grain-free food. Instead they substitute potatoes, sweet potatoes, yams and tapioca, as other carb sources yet tapioca is a questionable ingredient for pets. More feed trials are needed on these foods.
So when people think they are using a grain-free diet, it still has carbohydrates in it and in many cases potato carbohydrates are worse for allergies, systemic yeast infections, diabetic and cancer diets – worse than quality whole ground grains used in the proper proportion.
Not a Black and White Issue
My point here is this, like most things in life, this grainless diet topic is not a black and white issue. There are many things we need to consider before using a grain-free diet for our pet's current health situation. Now the good thing about the grain-free diets is that they are generally made by very good holistic companies like Dr Harvey's Veg-To-Bowl among others.
More Research is Needed
Most grain-free diets have not been around long enough to see how they will do in 3-4 generations. And feed trials, if actually done, are very limited. That is, other than Dr. Wysong's diets because he is a pioneer in the field of nutrition and his products have longevity and feed trial research done on them. He is one of my heroes and I appreciate all he has done to educating us about pet and human nutrition.
No Grain-Free for Puppies
I do not recommend grain free diets for weaning or growth in any breed and especially for large and giant breeds. Actually, I do not recommend a grain free diet be fed as the "total diet" to any healthy breed. I even have reservations about them used totally as a cancer diet due to the high calcium levels. They are really meant for very specific uses and often for short term use – each animal's situation would have to be considered before I could ever recommend a total grainless diet to my puppy buyers.
I think grainless food is fine to use as a 5%-10% component to the adult diet using a super premium or holsitic food as the 90-95% basis of your program. For puppies past 6 months of age I would only use a couple spoonful mixed with a high quality kibble such as the Wellpet line (Eagle and Wellness foods).
Once the puppy is past the difficult growth stages (weaning – 6 months) then it is ok to increase the amount fed of a grainless diet.
It is IMPOSSIBLE regulate growth patterns on raw or grain fee diets in order to avoid developmental orthopedic diseases such as; HOD, Knuckling Over/Bowing (Carpel Flexural Deformity) OCD, and Pano.
So Are Grains Good or Bad?
There is some notion out there in cyberspace that grains are bad, when in fact grains are only bad when they were used as the basis for commercial foods, in other words grain is listed first on the label - now that's bad. In super premium and holistic lines, grains are used as carbohydrate components, not as protein and not as filler, and that is good thing. Plus the quality of grains use in holistic and super premium lines is grade#1 Human Grade or Organic. This means low gluten components in the grains.
fractionated (not ground whole)
when they are not human grade or organic
when they are the basis for commercial dog foods (grain listed first instead of meat protein based).
Grain Bashing
The biggest grain bashing problem was started by a West Coast dog food company years ago, and it had to do with corn and allergies. The fact is Human Grade #1 corn is one of the best natural sources of coat and skin conditioners like Omega 6, and it is low in gluten. It has an overall digestibility is 90% and carbohydrate digestibility is 99%.
Research
In 2005 one of the most respected holistic dog food companies decided to pull the corn from their foods only because they had pressure from consumers to do so. This decision to remove the corn was not based in any kind of research, but just because they bowed to public pressure. They removed the corn and now had a "grain-less" holistic food which is what the public clamored for in a pet food.
Grain-Free is Not Always Best
After test feeding the diet over a long period of time they witnessed several changes in the dogs energy levels, coat and body weight. All were negative effects. The dogs had significant weight loss, it took much more food to maintain the dogs weight, coats became brittle and the dog's energy levels plummeted, real working dogs were lacking in endurance. After seeing this results over many months of feed trial research, they decided to put the Grade 1# whole corn back into their holistic diet – as a carbohydrate source, and after thousands of bags were sold not one allergy was reported.
Diabetic Dogs and Grain-Free Food
I have found in dealing with dogs that are diabetic or have cancer, that when we totally remove the grain from the diet, their energy level plummets. So using a very high quality, high protein/fat diet with some component of whole grain is actual a good thing. Remember if it is ground whole, the fiber is intact – if there is natural fiber present, the grain does not convert to sugar in a flash, it burns slow and steady and sustains energy levels and appetites.
Why Grains Can Help Dogs
Dr. Harvey addresses this issue in his article: "Grain to Provide Storage Glycogen"
As Dr. Harvey states "Every athlete knows that taking in pasta or grain loading prior to an athletic event, provides the necessary storage glycogen for the athlete to have sufficient glucose for muscle performance for the duration activity. This glucose is necessary for all muscle function."
Quality Grains with a Protein Base
He goes on to talk about the value of whole grains, precooked and/or freeze dried grains in a diet. The key is the diet should NOT be grain based, but instead should be based in protein from quality meat sources.
Dr. Harvey says "Some dogs do well on a completely grain-free diet, and for them I made Veg-to-Bowl , a grain-free mix of wonderful dehydrated and freeze-dried veggies. This mixture blended with meat and oils makes a wonderful grain-free meal. "
Why I Agree with Dr. Harvey
He then expresses the same opinion that I have in that "some dogs do better with grains, in fact, in my experience; many, many dogs improve dramatically when using our Canine Health which has a whole grain component.
We like to call the grains we use the Noble Grains and they can be mixed with raw or cooked meat".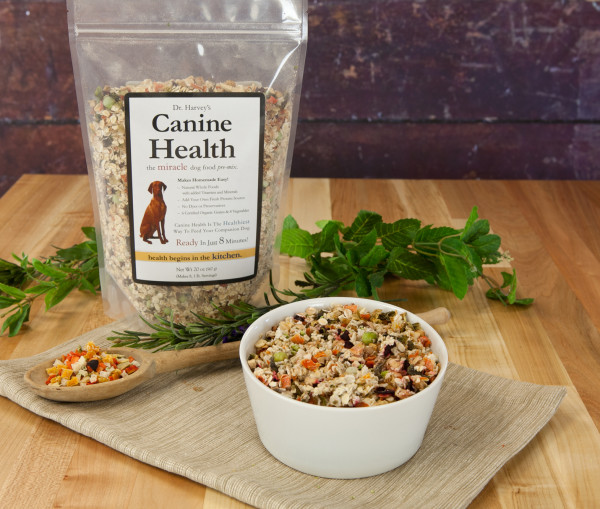 Dr. Harvey's company is not the only company to have found this out in feed trials. PHD – Perfect Healthy Diet has also put whole grain back into the dry food because the dogs in feed trials did not maintain stamina when working and lost weight quickly, having difficulty in maintaining their ideal weight.
GRADE, QUALITY and AMOUNT and KIND of grain is the key – remember whole intact grains have all the fiber (in tact) so it is not a fast sugar burn as is refined carbohydrates.
Grain Can Help Brain Function and Athletic Performance
Dr. Harvey goes on to point out, "Nature made all muscle and brain function (99%) using glucose and oxygen. Carbohydrates, such as grains, are stored in the liver as glycogen, this is then released as glucose in the blood as the body requires it".
He goes on to say "I see that dogs do incredibly well and thrive on 6-10% grain in their diet. Dogs are able to utilize the glucose from grains, as athletes do when they are performing"
Why I like Dr. Harvey's
Dr. Harvey has developed 2 organic pre-mixes Canine Health, and Veg-to-Bowl, (no grain) to offer the easiest, safest and most convenient way to feed a complete raw diet. Just add water, meat and oil to either of our pre-mixes and you have a complete raw meal for your dog or cat. He also has available Power Patties – Freeze Dried Tripe.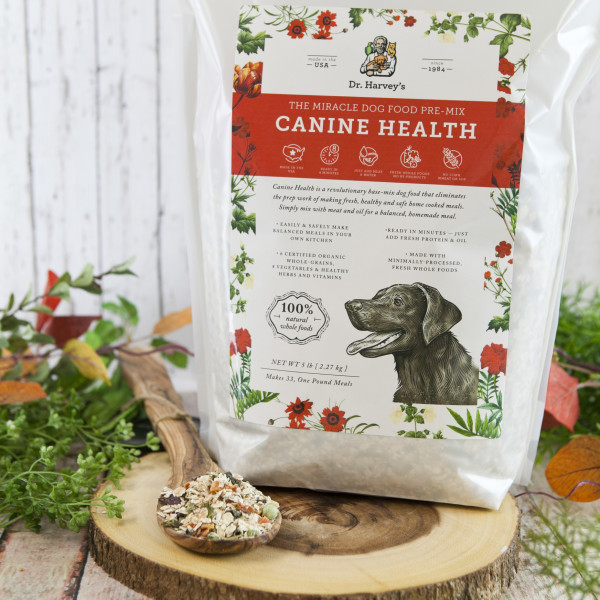 More from the Great Dane Lady
Please visit her website for health related issues. It's a great source.
More information can be found on her extensive website
Remember Dogs are Individuals
Not every diet is right for every dog. Some dogs do very, very well on some grains and others need to eat a totally grain-free diet. That is why we offer two pre-mixes, Canine Health which includes 6 organic grains, vegetables and herbs and Veg-to-Bowl which is a cornucopia of vegetables and herbs. Both pre-mixes allow you to tailor your dog's diet to give them optimal nutrition.
Pre-Mixes Make Life Easier
Preparing home-made food for your dog can be a daunting process. The purpose of our pre-mixes, with or without grain, are to make this process easy and delicious. Just add meat and oil to prepare a wonderful home-cooked meal for your dog. What could be easier or better?
To learn more about grain-free diets> Click Here.
To learn more about Dr. Harvey's Canine Health-The Miracle Food> Click Here
---
Posted By
The Staff at Dr. Harvey's
August 21, 2009
Dr. Harvey will be speaking at two great events in the next few weeks. He would love to meet you in person.
Now is your chance to ask all of your questions, face-to-face.
They both look like great events, so if either one is in your area, please come and say hello. We would love to meet you there!
The Fido Festival USA
August 28th-30th
Woodstown, NJ
This looks like great fun. Lots of dogs, people, great events and informative speakers. Dr. Harvey will be speaking on Saturday the 29th. He will be speaking on The Natural and Holistic Feeding of Companion Animals
Click here for all the information and schedule of events on their website
The Integrative Health Pet Expo
September 10th-11th
Fitchburg, MA
This event has wonderful speakers and is the prelude to the Holistic Veterinarian Conference.
For more information please click here to visit their website for all the details
We hope to see many of you there!
---
Posted By
The Staff of Dr. Harvey's
July 23, 2009
Dr. Harvey's for Horses
We are very excited to announce that Dr. Harvey's has launched a complete line of Herbal Essentials for Horses. Dr. Harvey has created an entirely natural, chemical–free line of products for horses. Using the finest organic and 100% all natural ingredients, Dr. Harvey has formulated Organic Hoof Cream, Herbal Liniment,Organic Healing Cream, Herbal Protection Spray, Herbal Shampoo and Herbal Protection Shampoo all designed to protect horse and rider from the dangerous toxins used in chemically based horse products.
A Dream Realized
For many years, Dr. Harvey has been troubled by the amount of chemicals that are routinely used as a frequent part of equine care. He wanted to create products that would spare horses as well as humans from the dangers of toxic products. From fly sprays to topical treatments, Dr. Harvey believes that too many horses and their people are exposed to toxins from inhaling chemical sprays and from topical treatments that are absorbed through the skin. These types of chemical laden products put animals and humans at risk for serious systemic health issues and can be harmful to long-term good health.
Herbs–All–Natural and Organic
Dr. Harvey wanted to find the very best in nature to create the Equine Line bearing his name. These safe and effective products are the first of their kind using herbs to promote healing and optimal health in horses and to protect them from the use of products containing harmful toxic chemicals.
How Chemicals Can Effect Equine Health
Toxic Sprays and treatments that are absorbed through the skin and inhaled into the lungs of horses and humans can cause severe allergic reactions as well as long-term health problems. These consequences can be entirely avoided by using products that are pure gentle and chemical-free.
One Happy Doctor
Dr. Harvey is very pleased to have created The Equine Line. The realization of this quest, to make the finest all-natural products for horses has been very fulfilling for him and our entire team. Dr. Harvey is sincerely happy to offer these healthful products for horses.
Playing Favorites
While Dr. Harvey loves the entire Equine line, he says his favorites are the Organic Hoof Cream and the Herbal Liniment. We think the Herbal Protection Spray is great and we have all used the Healing Cream for our dogs for years.
Herbal Shampoos Without
SLS
We also think both the Herbal Shampoo and the Herbal Protection Shampoo are truly superb. Our shampoos do not contain Sodium Laurel Sulfate or SLS often used in shampoos and known to be a toxic ingredient.
One of a Kind–Herbal Ear Wash for Horses
This is the first product of its kind. This formula is made with antibacterial, anti-fungal and antiseptic herbs in a base of Witch Hazel. Dr. Harvey's Herbal Ear Wash will not only clean your horse's ears, it will help heal abrasions and protect against infection.
Only the Best for You and Your Horse
We, at Dr. Harvey's, are happy to make this contribution to equine care, knowing that it will help to make a difference in the health of horses, people and the planet.
---
Posted By
Wendy Shankin-Cohen
June 27, 2009
A Tribute to a Very Brave Dog
It has taken me a long time to be able to write this story, but I am ready now. I wanted to honor the memory of one of our very best friends. We have been involved in rescue for many years, and although we have loved all of our dogs and each one was so special in their own way, there was something about Mugsy.
The Call
We first heard about Mugsy when a friend from our local SPCA called us to ask if we would consider fostering a Doberman Pinscher that had just been given up at the facility. At the time, we had a pretty full house and the thought of taking on another big dog was a bit daunting. Little did I know that Mugsy would become my full-time job for the next few years.
Our friend explained that Mugsy was a 10-year old Doberman with a very severe case of Lick Granuloma, a devastating condition that is often caused by neglect. She went on to say that the Vet who had checked him out was in favor of amputating his leg, as he doubted that is would ever heal. Harvey and I discussed the situation and decided to see the dog.
The Story of Abuse
We were told the horrific story of this older dog, who had once been a show dog. The story was that the owner married and his wife gave birth to triplets. With the arrival of the triplets the couple could not care for Mugsy, who was relegated to the basement and a life of crate imprisonment. Neglected and bored, Mugsy began to eat his paws. The man, eventually was convinced that he had to give up the dog.
Love at First Sight
We arrived that night at the SPCA expecting to find an old broken-down dog. We walked into the back room and there in a crate was a sad, frightened dog. But he was absolutely gorgeous! The open wounds on two of his paws were horrific, but all I can remember were his eyes. I fell into his two big, black pools and through them I saw a broken, but beautiful spirit.
Taking Mugsy Home
Harvey and I did not discuss whether to take Mugsy home with us that night. It was understood. There was nothing to discuss, we were both in love with him. His paws were covered in white socks, but I would soon learn that 10 pairs of socks that they handed my at the shelter would not be sufficient. Not even close. I would try every solution I could think of during the next few months to keep Mugsy away from his paws, the white socks, just wouldn't do it.
Warning: This Photo May Be Hard To See
This photo shows one of Mugsy's paws when we brought him home. His paws were permanently deformed and the wounds were so deep you could see bone. I know that it is difficult to look at, but I want people to understand how neglect can cause such a terrible condition. In addition to the obvious wounds, he was emotionally traumatized and had explosive diarrhea. I immediately started him on Canine Health and saw the miracle that so many had told me about. The diarrhea stopped completely in 2 days.
Keeping Him From Hurting Himself
Because Lick Granuloma causes a dog to continuously chew on their own paws, my first challenge was to keep the wounds covered. I tried everything, from multiple pairs of socks covered with plastic bags to bandaging, to dog shoes called Muttluks (which were very, very helpful, I went through many pairs of them). We used several different types of E collars on and off, but Mugsy, like a drug addict, would always find a way to get to the wounds and reopen them. I would come downstairs to find blood all over my kitchen and his sweet loving face looking up at me saying "Please don't be angry Mom, I can't help it."

That began the 24 hour watch.
The Second Call
The SPCA called to ask how Mugsy was doing and how long we could foster him. We told him that Mugsy had found his forever home.
Mugsy Becomes a Celebrity
We had to watch Mugsy 'round the clock, so he came to work with us every day. He became quite famous in our town. People loved him and looked out for the giant Doberman with the booties. Our local newspaper even wrote a story about him. People always said that we were his angels, but I always knew that he was ours. Dogs like Mugsy come into your life for a reason. He helped to teach me patience and challenged me emotionally on so many levels. He was a teacher.
How to Help Him? – Food, Homeopathy, Herbs and Love
There is very little written about curing Lick Granuloma. So we had to use every bit of knowledge that we had to help him to heal. Mugsy was on a very intense regimen. In addition to eating Canine Health exclusively, we were using homeopathy and a combination of herbs and supplements every day. We gave him essential fatty acids, Bee Pollen and used our Healing Cream. These wounds had to heal. Mugsy was constantly at risk of infection.
Little by little we began to see the wounds heal. It was wonderful to watch him get better in every way. But just as the wounds would begin to heal, he would find a way to reopen them and we would have to start all over. Amputation was never a consideration for me.
Reiki and Healing
At about the same time as we received our gift of Mugsy, we received the gift of a wonderful friendship from a woman named Carol Allen. She told us she was a Reiki practitioner for animals and that she wanted to work on Mugsy. She fell in love with him too and we came to love and respect her work and her relationship with Mugsy. Carol came to see him almost every day and the Reiki helped him to be calmer and that allowed the healing.
A Grand Challenge -A Very Brave Boy
Mugsy endured so much in his life. The pain of loss, the pain of neglect and the physical pain that was self-inflicted. But he knew that he was loved. He was so much work, but he gave us so much. Almost three years after that first night at the SPCA, Mugsy didn't seem himself. He was with us at work as he was every day. I rushed him to the Vet, but he was gone by the time we arrived. We will always miss him. He was such a very brave boy and although his physical wounds never totally healed, his emotional and spiritual life was filled with love.
---
Posted By
The Staff of Dr. Harvey's
May 14, 2009
Flea and Tick Season- Our Solution- Just in Time
Dr. Harvey's is Pleased to Offer a Safe Herbal Alternative to Chemical Products.
Dr. Harvey has spent over two years in developing this unique line of herbal products.
The products include Herbal Protection Shampoo, Herbal Protection Spray and
Herbal Protection Concentrate Dip. Just in time for flea and tick season.
In addition, Dr. Harvey has formulated an Herbal Ear Wash that is absolutely remarkable and an Herbal Shampoo that you will want use exclusively with your precious canine companions.
Dr. Harvey's Herbal Grooming Essentials
All of Dr. Harvey's skincare products feature organic herbals and pure, human-grade ingredients and are perfect for dogs with dry, allergy-prone skin and of course perfect for normal skin as well. These custom designed formulas are gentle, free from SLS, DEA and parabens. Dr. Harvey's products are earth-friendly, biodegradable, made in the USA and never, ever tested on animals (except our own, who are always willing test dogs. If it's not good enough for our companions, it's certainly not good enough for yours)
Chemical Free Protection
These products are formulated to protect, using all-natural, chemical-free ingredients and to groom your companions in a healthful non-chemical way.
This extra gentle, sulfate-free conditioning shampoo is formulated especially for companion animals. It is perfect for all dogs. It is wonderful for animals who suffer with sensitive or allergy-prone skin.
Totally unique, luxurious and superbly gentle, sulfate-free conditioning shampoo. Defense Shampoo is formulated especially for companion animals. Defense Shampoo is perfect for all dogs and specific for animals that suffer with sensitive or allergy-prone skin.
Eco-Safe
Dr. Harvey's formula is eco-safe and environmentally friendly because it is made with a chemical-free base and pure essential oils and extracts. Each ingredient is chosen specifically to soothe and moisturize dry, itchy skin and will produce a shiny, healthy coat.
No Synthetic Ingredients
Dr. Harvey's Shampoos contain no synthetic ingredients or synthetic preservatives. May be used frequently for cleansing without fear of toxic chemical reactions. These effective chemical-free shampoos are made to help protect your companions.
It can be used in conjunction with Herbal Protection Spray and Herbal Protection Concentrate Dip.
A gentle chemical-free spray that is safe and effective. May be sprayed before and after the walk and used on collars, leashes and bedding.
Avoid the dangers of using chemicals on your companions.
Dr. Harvey's Herbal Protection Spray is a breakthrough in herbal essentials for your dog.
Dr. Harvey's Herbal Ear Wash is a unique blend of soothing and healing herbal extracts in a base of witch hazel. This amazing formula will protect your dogs ears without the use of chemicals. The formula is anti-fungal, antibacterial and antiviral.
Gentle Yet Effective
Will Loosen and Clean Ear Wax
Will Reduce Odor
Heals Abrasions
Reduces Risk of Ear Infections
A Gentle All Natural Holistic Alternative to Harsh Chemical Dips
Dr. Harvey's Herbal Protection Concentrate Dip can mixed with water or shampoo and for protection. Made with concentrated herbal extracts. This concentrate is safe and very effective.
We are very excited about presenting these new formulas to you. These products are part of our mission which has always been to make the finest, safest foods, treats,supplements and grooming aids for your companions dogs,cats and birds.
All of our Herbal Essentials are made in the USA.
What You Should Know About Flea and Tick Product-Click here
EPA Warning About Chemical Flea and Tick Products-Click Here



---

Choosing my favorite herbs from the hundreds of herbs that I know and love, is like trying to choose my favorite child; impossible. But over the many years that I have worked with herbs for healing, there are three herbs that possess particular properties that continue to amaze me. These three herbs have been used for thousands of years in many cultures. They have repeatedly revealed to me the powers that they possess.



Of course, I have seen many other herbs do miraculous things, but I want to begin by telling you about Astragalus, Calendula and Milk Thistle.
Astragalus
Astragalus has been used in traditional Chinese medicine for thousands of years. I use it primarily for boosting the immune system.
Immune Function
One of the key uses for Astragalus is to improve immune function. Astragalus also has antiviral properties. I have found it very useful for dogs and cats that have a compromised immune system. It is very useful for animals that have suffered an illness or may be recovering from surgery or injury.
Astragalus is often used in conjunction with other herbs to strengthen the body against disease. For humans it can be taken regularly as a preventative during cold and flu season.
Astragalus may help protect the body from disease as it contains antioxidants, which protect cells against damage caused by free radicals.
Astragalus has antibacterial, and anti-inflammatory properties.
The root of the Astragalus is the part that is used for healing purposes.
Astragulus can be used as an extract or a powder and can be found all health food stores.
I use Astragulus as part of our Emune-Boost Supplement formula for dogs and cats.
Calendula
In my opinion there is no better topical healing herb than Calendula. When looking for an herbal remedy to treat skin or wounds, think about this wonderful herb.
Calendula has a long history of use as a wound-healing and skin-soothing botanical. This lovely marigold-like flower contains a substance that promotes healing. Calendula also has anti-inflammatory, anti-fungal and antibacterial properties. It is most often used topically for lacerations, abrasions, and skin infections.
I have seen wounds, rashes and hot spots clear up with amazing rapidity with this wonderful and safe herb. Calendula is an important element in our Healing Cream.
Milk Thistle
Milk Thistle has been used medicinally for over 2,000 years. It is primarily used for liver and gallbladder disorders. Milk Thistle's active component is called silymarin. Silymarin is extracted from the seeds of Milk Thistle.
Milk Thistle protects and regenerates the liver. It is one of the best examples of herbal preventative medicine that we have today, as it not only protects each cell of the liver from incoming toxins, but also simultaneously encourages the liver to cleanse itself of damaging substances, drugs, medications, mercury and heavy metals, pesticides, and environmental toxins. That is why it often used as a "liver cleanse". Milk thistle can be helpful and restorative for dogs and cats that have been on medication or have suffered from illness or any stress to the liver.
Protecting The Liver
As the liver is the major organ of filtration in the body, using milk thistle for dogs or cats who have been eating a commercial pet food diet can assist the liver in eliminating the toxic preservatives contained in these foods.
One of the special qualities of Milk Thistle is that it cleanses and detoxifies a liver that is working too hard by strengthening and tonifying this most important organ.
Milk thistle can be given as a liquid extract or as a powder and is available in all natural health food stores.
Herbal healing is a wonderful gift from nature. Once you see the benefits of using herbs, you will be compelled to learn more. While it may not always be possible to avoid the use of pharmaceuticals, there are times when herbs can offer a safe alternative and have far fewer side effects. Herbs can be beneficial for your companion animals and for everyone in your family.
---