Posted By
The Team at Dr. Harvey's
March 3, 2019
Madeline was Diagnosed with Colon Cancer
Dear Dr. Harvey,
I have been meaning to post my experience with my dog, Madeline for a few months now. The story just keeps getting better – so that is a good thing.
For all of your current customers and anyone pondering whether or not to begin using Dr. Harvey's food for "companion" animals – don't waste another minute – go for
It!! Madeline was diagnosed with colon cancer in late July, 2017.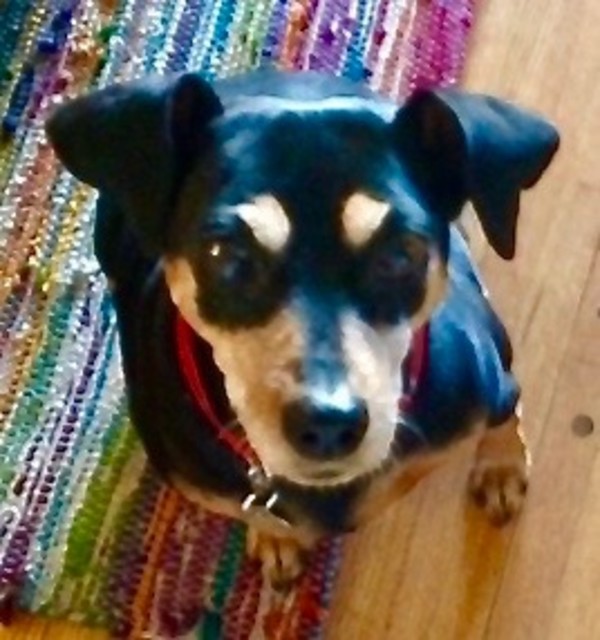 She Had Lost So Much Weight
I took her to a vet specializing in oncology and found out that she was going to need an operation.
Madeline was operated on August 30, 2017. Dr. Tony Cambridge of Veterinary Surgical Specialists operated on her. Madeline had been weighing about 20-21 pounds – a little
Chubby for her size – although she is bigger than most Miniature Pinschers — she had been dumped in my neighborhood in 2008 with cataracts on both eyes – totally blind.
I tried to find her owners for a couple of months – but to no avail – I had already become attached thus I had her cataracts removed by Eyecare for Animals in Tustin, CA. in 2008.
My vet estimated Madeline's age at that time as around 4 or 5. She was always a very active dog and quite comical.
I Thought I Was Feeding Her A Healthy Diet
I fed her primarily a "high end kibble" a brand that I had always heard was the highest quality of the dry dog food. I did give her chicken as treats and Charley Bear treats from time to time. In early 2017 she started losing weight. I thought she needed to lose some weight and I had been more careful in her feeding as many times she would finish her food and then go and finish my other dog's food! So, I had started to monitor that behavior. I thought at first that was the reason she was losing weight. I started noticing in late spring that she was straining when trying to have a bowel movement. By late June or early July, 2017 she was walking like a little crab all bent over and she only weighed 12.5 pounds.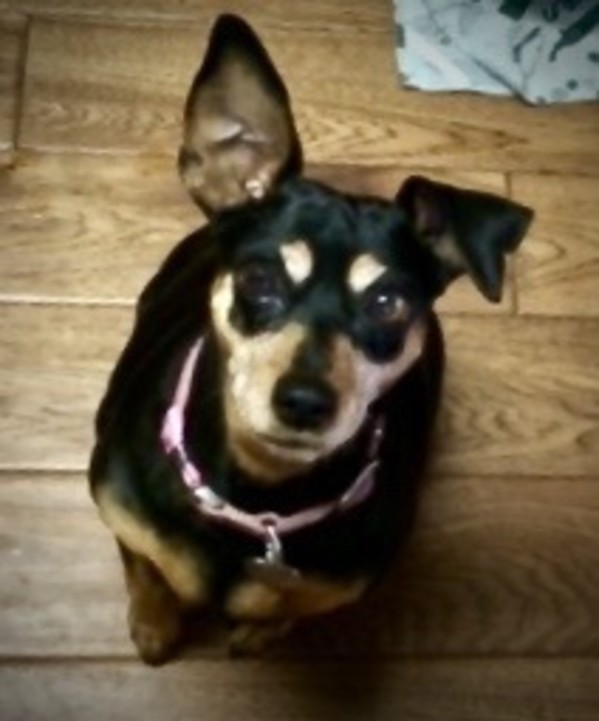 My Vet Told Me Madeline was on the Way Out
OK – so she had the operation and Dr. Cambridge advised me that it had spread to one of her lymph nodes and in his experience the cancer would return in 4-6 months. The vets had offered follow-up treatment – chemo (which had no history of curing colon cancer in animals).
I decided to try to find a natural remedy as I thought she was too old to go through chemo and all of that – plus she was so skinny. I should've taken a picture of her
at that time so you could see how she looked – it was pitiful and my normal veterinarian said Madeline was on her way out.
Enter Dr. Harvey
I forget how found him but it was while browsing on the internet. When I noticed Dr. Harvey's website -
I started reading all the testimonials. I couldn't believe how many testimonials there were. I was hopeful. I noticed that Dr Harvey would even call you if you needed to talk to him.
So, I called Dr. Harvey and he called me back and gave me some direction. He also encouraged me to read up on ketogenic diets and cancer. I started feeding Madeline Paradigm in September 2017 along with the recommended amount of high quality protein (organic, pasture raised and wild fish along with Organic hemp oil or coconut oil). I did not stray from that diet at all – I was very disciplined about it and still am. Her weight steadily increased and she quit walking like a little crab.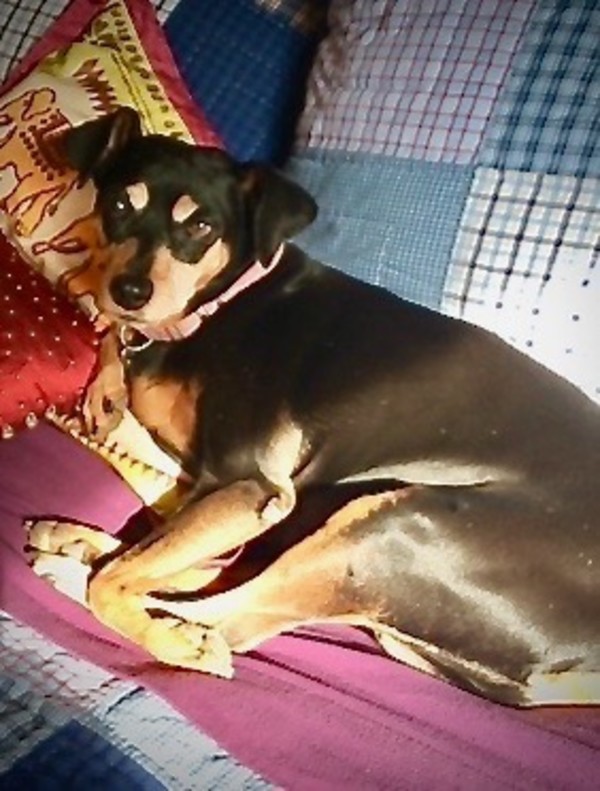 My Vet Was Totally Amazed at What He Saw
August 30, 2018 I took her back to see Dr. Cambridge and he was amazed. As he had told me that nothing was going to cure Madeline. I also told him in detail what I was feeding her and all about Dr Harvey – -of course the vets think I'm a little zealous about it but I could care less. The picture below taken a couple of weeks ago, is Madeline feasting on 1 scoop of Paradigm and 1 scoop of Veg to Bowl and she still loves it.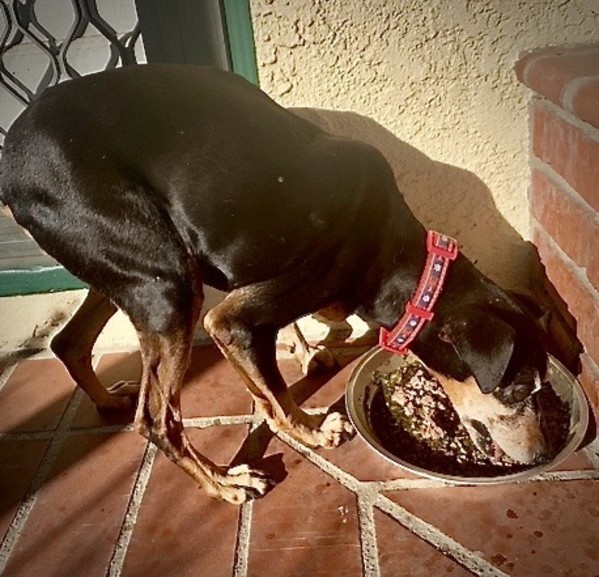 She was strictly on Paradigm for over 1 year – about 3 months ago she seemed to want a little change – so I started mixing Paradigm and Veg-to-Bowl. (I consulted with Dr. Harvey about this.) I promised Dr Cambridge I would see him at the 2 year mark which will come up this August. I don't want to jinx it, but I am totally confident that we will make that August appointment. Madeline is pretty much blind and deaf at this point – so I think she must be at least 15 or 16 years old.
But her poops are amazing – no straining and she eliminates about 4 times daily. She is old so I know she won't last forever but she has a great appetite – she has control
of her basic functions – (no accidents in the house) and she is a happy old dog.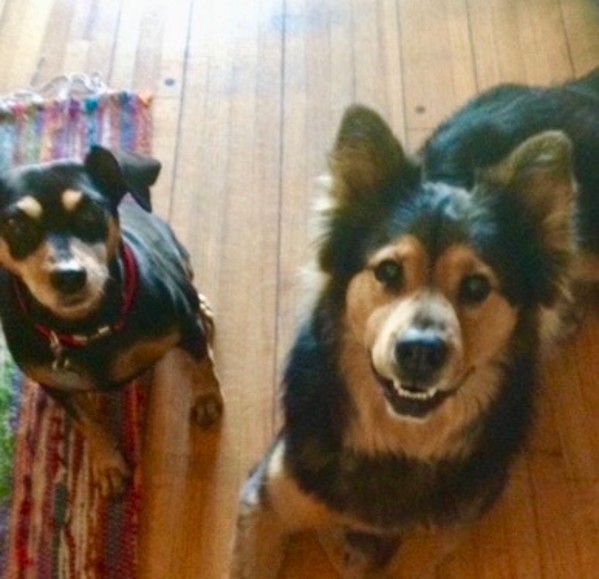 Thank You Dr. Harvey!
I cannot say enough about Dr Harvey. I have spoken to him several times and he always calls me back and his staff is also very friendly and helpful. I started this journey with a little hope but being a Cancer Tumor Registrar myself I know if a lymph node is involved, then the cancer is almost sure to return with a vengeance. But after 1 year and 6 months Madeline is cancer free. Thank you, Dr.Harvey for your years of research and your dedication to our beautiful pets.
Sincerely yours,
Donna Betts and Madeline
---