Posted By
The Team at Dr. Harvey's
November 28, 2017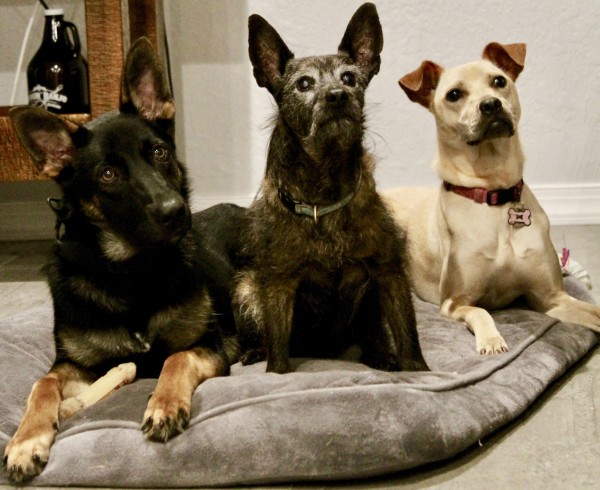 He Got Better Practically Overnight!
Almost 20 days into your food recommendations and liver support and CoEnzymeQ10, Tigger practically changed overnight. He is eating well. He loves the diet and is acting like a young dog even ready to start walking with me again. I am just so thankful for your help. He's my best friend and buddy.
My Tigger-A Fearful Boat Dog
Tigger was 6 1/2 months old when I rescued him. He was a typical terrier handful. During his first 9 years as a boat dog, I was excited he could read the the waters and loved to ride the bow as if he was surfing watching for big waves to hit the bow, looking for the schools of dolphins or the dreaded swans. You see, when he first met a swan it was a big white bird and it attacked him as we walked down on the dock ,after that every big white roundish thing he was fearful of and there are huge white fenders hanging on almost every boat we pass.

He Developed a Cough that Baffled the Vet
He started on Dr. Harvey's food as a puppy, I had lost too many animal friends to health problems and just knew it was going to be better for a youngster to eat healthy. He also had calming herbs that helped with his fears. He had been abused badly before I rescued him.
As time went on it became difficult for me to store the food on a boat and we switched to kibble, but as Tigger aged he developed a cough. The doctors were baffled and finally I just realized he seemed to be worse when seasons changed and I had a feeling grains may be a trigger as well for his cough.
Dr. Harvey to the Rescue
I decided to try Dr Harvey's food again and when I called to ask if he had a supplement for coughs, Dr. Harvey got right on the phone. He listened while I explained Tiggers medical history and suggested blood work to have done at my vets and to send results to him. Dr. Harvey called me back as soon as he read the reports and advised me on feeding and supplements with in a few days Tigger was responding and prancing around like a puppy happy.
He had been on 2-4 medications and coughing all night long as well and not sleeping well because I think is tummy was hurting him he vomited often.After a
Whole month treating his liver and feeding him Veg-to-Bowl as directed by Dr Harvey. He is stronger sleeps all night and NO MORE COUGH.
.
Dog Whisperer
Dr.Harvey cares. He is dedicated and knowledgeable in a field that is so difficult we can tell our doctors how we feel, but out pets can't.
I think Dr Harvey can talk to the animals just like the story goes.
So Thankful to Have My Best Friend Healthy Again
Tigger is 17 years old and is my rock. He knows when I am sad and stays by my side when I am down or not feeling well. Now I can do that for him because of Dr Harvey's.
I will take him down to the docks today his nose will lift to the sky as he smells the sea air and we will sit and look for the dolphins and even the dreaded white swans. s we can enjoy all of our years together with friends and life on a boat.
---
Posted By
The Team at Dr. Harvey's
November 14, 2017
Early Renal Failure at 18 Months
I wanted you to know about the journey of my silly St. Bernard, Dora the Explorer, who has a funny smaller nostril on one side. At only 18 months old, I thought the elective surgery to open it up so she could breathe better (and so I would not have to pick so many boogers!) would be a great idea. I asked the Vet to do the pre-surgery blood work so I would "have a base line." Before I even got home, I received a call stating that she has "early renal failure." To say I was shocked is an understatement. Of course, she still has her tiny nostril, as a side note!
All Roads Led Me to Dr. Harvey's
The Vet immediately put her on fluids to cleanse her kidneys and recommended I put her on the Hills Prescription Diet immediately to help her kidneys. I did that and in the meantime, I began researching canine kidney disease. All roads led me to Dr. Harvey! I called him. He requested the test results so we could discuss her best nutritional options. Of course, I was impressed that he called me, he wanted to see the results (not just sell a product) and then took time more than once to fine tune her diet!
Kidney Health Supplement
He recommended that I read and learn. I did! He told me to study Rehmannia. I slowly moved Dora off the Hills and onto the Canine Health Diet with cooked protein, wild Salmon Oil, and Rehmannia capsules in the doses Dr. Harvey recommended for her weight and test results. After 30 days, all measures but her Creatinine came into the normal range. That measure went up just a little. At that point, Dr. Harvey recommended I study Raw Green Tripe and start to feed that to Dora as well. I have added that into a mostly raw diet switching here and there since it is quite expensive. A few weeks later, his Kidney Health Supplement which contains Rehmannia, was available. I switched her from the capsules to that powder.
The Vet is Amazed! Today all of her numbers are
NORMAL
At our Vet appointment today, my Vet was amazed that ALL of her numbers are now in the NORMAL zone and he actually asked me what I as feeding her. Many measures were high in August. Creatinine was a little higher in October (everything else normal.) It is now November and everything is normal! I will continue to do what I am doing and praise God and Dr. Harvey for their love and concern for our pet! Dora seems happy, healthy, energetic, and more! She runs the hills on our property nearly daily and puts on way more miles on our hikes than I do! Thank you!
Sincerely, Jenny Lance and Dora
---