Posted By
The Team at Dr. Harvey's
October 22, 2016
We have to thank Laura Suffridge, not only for sharing Ricky's story but for her courageous fight to rescue him and bring him back to health. This is her amazing story, in Laura's own words. Ricky is so adorable and so lucky to have found a forever home to live and begin to thrive. We think Ricky is just the cutest pup ever!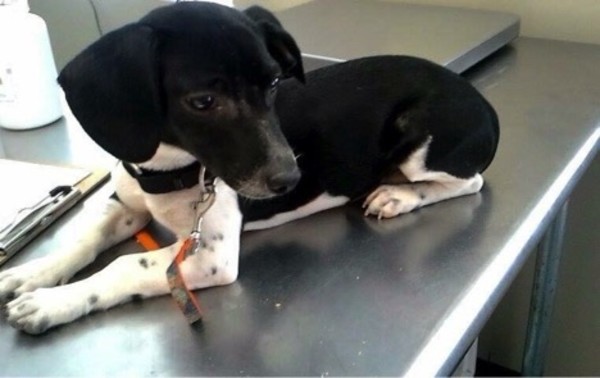 What it means to rescue a very sick pup
My first impression of Ricky was in an online video posted by a friend of mine who fosters and relentlessly cares for senior and special needs rescues. He was just a puppy, and her plea was for someone to adopt this little survivor. Some unseen force ordered me to take him, even with the looming uncertainties that come along with a distemper survivor—will his neurological condition continue to go downhill?
Will he continue to survive? Our household already had 3 big dogs and 2 cats who think they're big, and after asking my friend to bring Ricky over for a test run, I immediately wondered what the heck I was thinking. I soon found out his whole story and knew that I had to be the one to make sure it continued.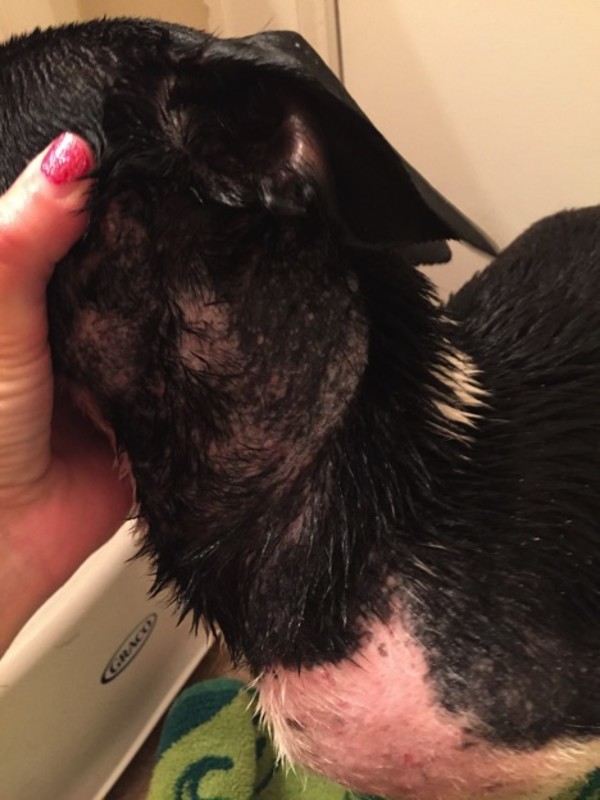 Distemper and Demodex Mange
Ricky was brought into one of the local animal shelters here in the Houston area at around 2 months old, along with his mother. My friend, who works with rescues in the Northeast, had pulled Ricky from the shelter and was preparing to send him on a transport run bound for Maryland with other rescued pups. Just days before his transport, Ricky started showing signs of distemper, which automatically ruled out transport. Over the next couple of weeks, Ricky endured pneumonia that required treatments in a breathing chamber, Demodex mange, and other issues that required a constant barrage of medication and vet care.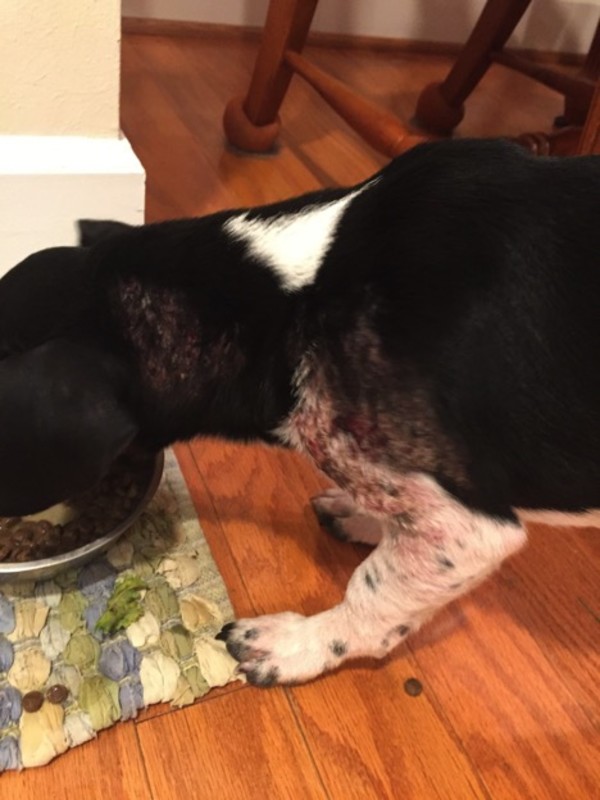 What to do with a weakened immune system?
By the time I got him, he had all the tell-tale signs of a distemper survivor: neurological tics, a motion with his mouth like he was constantly chewing gum, infection around the eyes that seemed impossible to get rid of, and horrible rancid death breath. He was lethargic and was content just staying curled up on the dog bed all the time—not what I expected from a 3 month-old puppy. Then, just in time for Christmas about a month after arriving at our house, the Demodex mange returned. He had been on antibiotics since before I got him, and with the recurrence of mange, I was desperate for something to add to his conventional veterinary treatments that would strengthen his immune system and wean him off of the prescriptions so that he could get back to being a puppy.
Then I found Dr. Harvey's E-mune Boost Supplement
My research brought me to Happy Dog Naturals for the mange treatment, and as part of the treatment, one of the suggested products on their website was Dr. Harvey's E-mune Boost Supplement. Even after Ricky's mange was gone and he had finished his prescriptions, I continued the E-Mune Boost supplement, hoping that it would help with his ongoing eye infections and maybe his bad breath.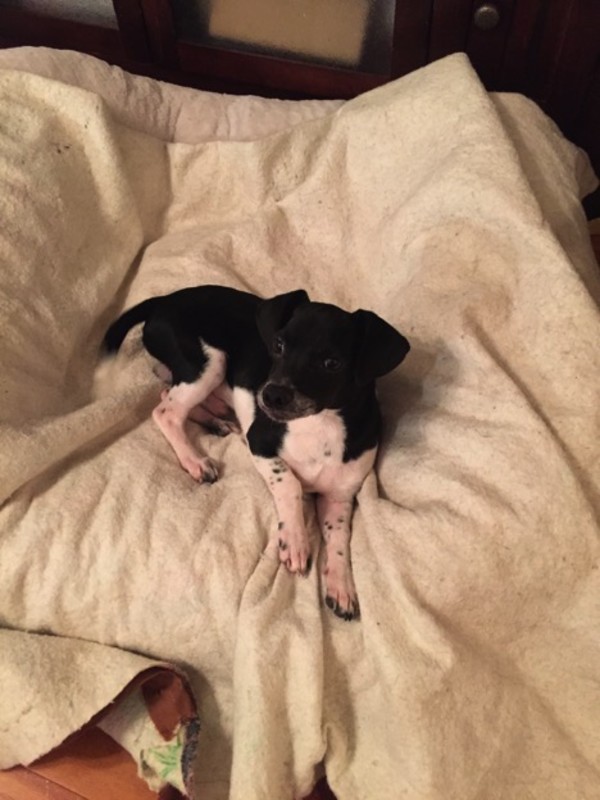 He's So Much Better!
Much to my amazement, it did just that and more. Ricky's coat looks great, his breath is bearable, his eyes are clear and bright, and he is full of life and energy. Whenever I run out of E-Mune Boost, there is a noticeable slow-down in Ricky's energy level, his eyes seem to start getting goopy, and his tics seem to be more severe. As we're celebrating Ricky's 1st birthday and nearing the anniversary of him joining our family, I pray that Dr. Harvey's continues to make this great product so that Ricky can continue his story as the happy little dog he has become.
Thank you,Dr.Harvey's!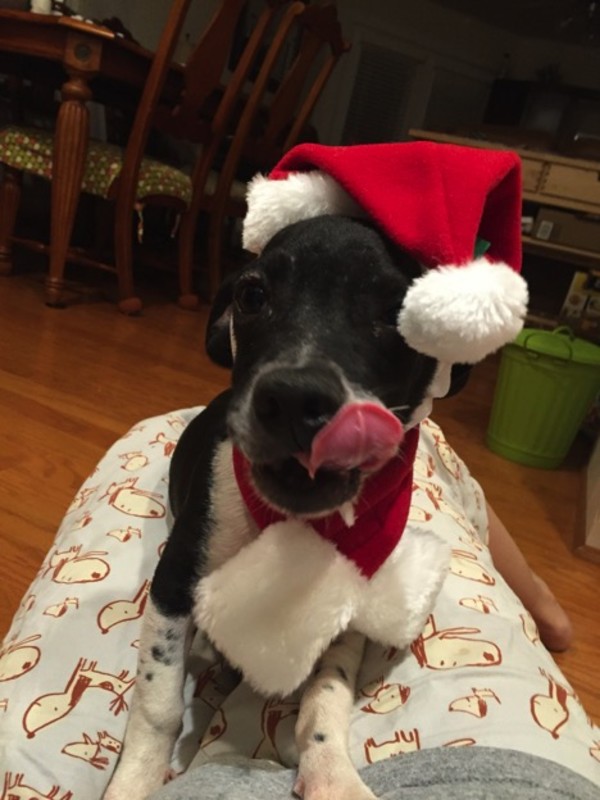 ---
Posted By
The Team at Dr. Harvey's
October 13, 2016
In her own words…Thank you Rachel, for sharing Swannie's story with us.
I Was So Glad to Find Your Food
I am happy to share my dog's story on your website. It was the stories on your site and on Amazon that inspired me to give your food a try.
The stories I read on Dr. Harvey's site gave me hope. Since my goal was to get her well, the idea of feeding her a fresh, wholesome diet made more sense to me than feeding the canned prescription food.
Swannie was Diagnosed with Early Signs of Kidney Failure
My 13-year-old Corgi, Swannie, started showing early signs of kidney failure last spring. By the end of the summer, her kidney values were elevated enough to prompt my vet to recommend a change in her diet. The vet suggested a prescription food and I followed his advice. The moment I opened the first can I knew that particular food was going to cause more harm than good and began searching online for an alternative.
We Saw the Difference in Short Time
After only 8 weeks eating Dr. Harvey's Canine Health, Swannie's blood work showed no signs of kidney failure. In fact, my vet said he saw nothing on the report that caused him any concern.
Thank You Dr. Harvey's!
My girl has always been a great eater but now she absolutely loves her food. And I love knowing that I'm providing her with a diet that is making her feel better, giving her more energy, and giving us more time with her. I can't thank Dr. Harvey's enough for providing this life-giving food.

Sincerely yours,

Rachel Powers and Swannie

For More Information and To Order Your Trial Size, Click Here!
---