Posted By
The Team at Dr. Harvey's
April 6, 2020
The wonderful and brave Marilyn Neville from The Bollinger County Stray Project reached out to us and posted Pee Wee's amazing journey on their Facebook page. We wanted to share this wonderful success story with you. This is Pee Wee's story in her own words. Tissues ready…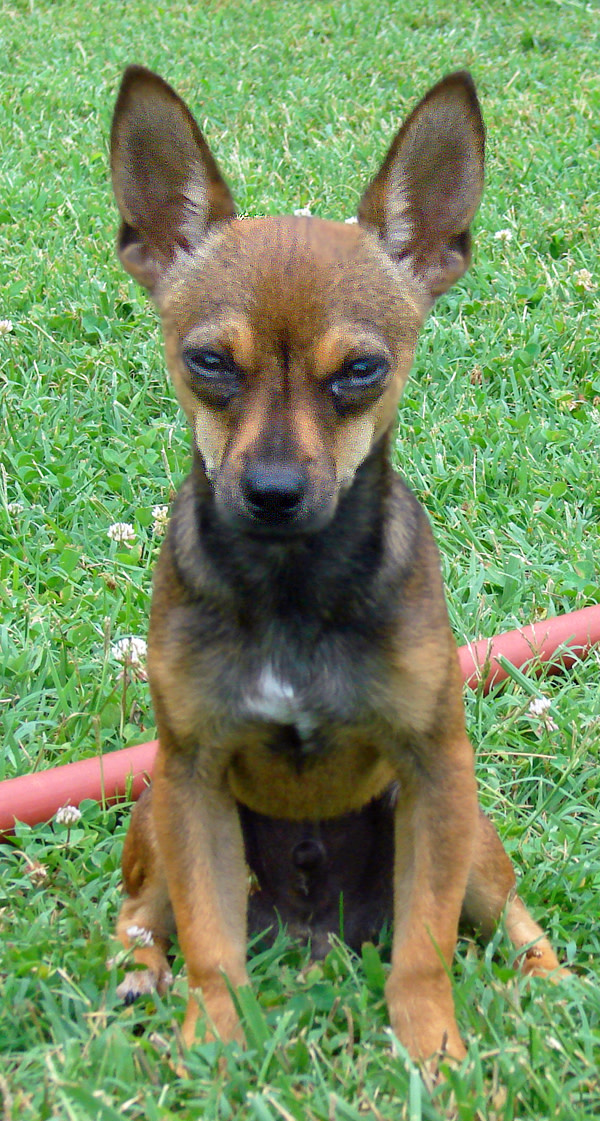 How Did We Do It?
Our Pee Wee: rising from the dead from renal failure, now running, playing, carrying heavy chew toys again with ease and heck, shocking to see him so happy again. It all started before Thanksgiving when we learned his severe lethargic behavior, lost interest in eating, and smelly breath was not due to heart failure, but to renal failure. Three times, maybe four, we considered taking 11 year-old Pee Wee to the vet to be euthanized.
We Were Told There Was Nothing We Could Do For Him
For 3 or 4 years we had been treating Pee Wee with about $100 a month heart medication. So naturally we were dismayed when, after a vet visit, we were told there was nothing more to do for him. We were told to go home, and soon he would totally give up eating.

Then we would have to end the suffering. We were lost.
He Stopped Eating
It was the holidays when he stopped eating, I took him to Dr. Retz, and she ran a blood panel and learned that the extra bad breath and now black colored teeth were the result of renal failure! ! !
Months earlier Dr. Retz had me give his heart meds in a reduced dose of Lasix which had helped. Then she had me half his pink heart pill to divide doses to twice daily instead of just in the morning.
I Had to Keep Pee Wee Alive for My Husband
THEN we had another challenge; keeping Pee Wee alive while my husband, Michael, was learning his heart was sick and he might need heart surgery. During those few weeks of testing and doctor visits for Michael, we learned that he needed a pacemaker.
I felt I HAD to keep Pee Wee alive because he IS Michael's love pup, Michael's shadow….
I Began Giving Pee Wee IV Fluids
I had to give Pee Wee IV fluids three times a week. The needle is huge. Three sticks of 10cc warm IV fluid to a Chihuahua who had to be muzzled and was crying. I also had to feed him a mash of KD diet WITH a feeding syringe (because he hated it), which would cause him to choke. I also had to give his pills mashed with water in a feeding syringe. That also would cause choking at times.
I Had To Find Another Answer!
I HAD to find a food he would eat and a different way to keep him alive with a a better quality of life._
Searching on the Internet I found many homemade foods and the University nutritionists offered help, but the one recommended to me wanted so much money and then extra $100 per recipe. ARE YOU KIDDING? How much money would we be able to spend on this sick little guy? I did not know if he would even eat their recipes.
All the articles I read said dogs with renal failure are picky and need lots of variety because THEY HAVE NO INTEREST IN EATING.
And then…I Found Dr. Harvey's
Well……….. I found a comment online about Dr. Harvey's and a blend he has where you add your own meat and how so many people were seeing great results.
I ordered my first 5-pound bag before Christmas.
He not only ate it, but he started to thrive.
The Dr. Harvey's Team Gave Me All The Help I Needed
I was COACHED by one of their specialists (LORI CARSCADDEN) who works with special needs clients. I gave her Pee Wee's weight and she taught me how to feed him and when to feed him.
The Improvement Was So Fast and So Amazing
We saw Pee Wee improve SO QUICKLY and to an almost shocking degree, that I can say he is healthier than he has been for probably 6-10 months ! ! ! ! ! ! ! ! !
He gets a B-12 shot from me every Monday, about 2/10 of a CC with an insulin size needle. No pain. Lots of gain!
He gets 1/3 of the protein he normally would eat. I chop his dry food, Dr Harvey's Canine Health, in a food processor so it is better digested. I use extra lean ground beef or GROUND skinless chicken thigh for his meat (which I grind). There is a reason for those two protein choices.
Dr. Harvey's and Dr. Retz Saved our Little Pee Wee's Life
Dogs with renal failure are often also anemic. I can tell when I forget to give the B-12 shot to him.
Dr. Harvey's and Dr. Colleen Retz saved little Pee Wee's Life
Every month since we have run blood tests to check his results. Every month he has improved.
ANYONE with a dog suffering from Renal Failure should at least talk to Dr. Harvey's staff about a possible RECIPE FOR SUCCESS.
Please Share This Information with Your Veterinarian
SHARE this information with your vet. I am sure you will be glad you did. Pee Wee has been on the diet for over 3 months and he is so happy! And so are we!
I see now, I see the proof that what you feed your dog makes a huge difference in their health.
Thank You From The Bottom of My Heart
We will be forever grateful for your help.
Sincerely yours,

Marilyn Neville
The Bollinger County Stray Project