Posted By
The Team at Dr. Harvey's
March 2, 2018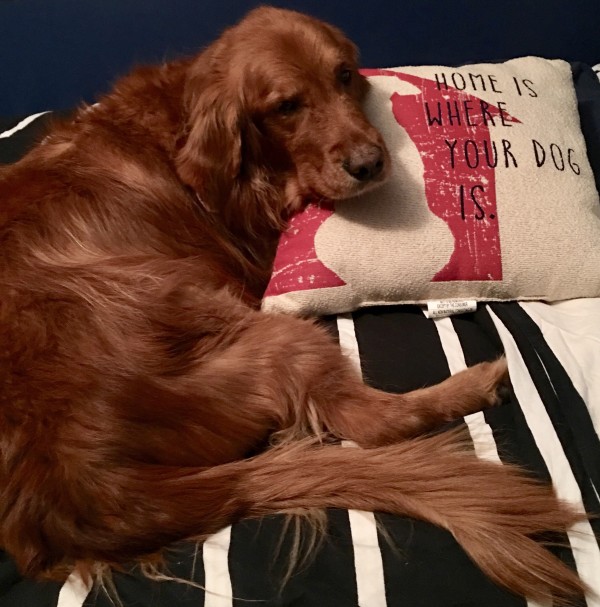 Maggie Is Battling Lymphoma
First, I just wanted to tell you how much my 10-year-old Golden Retriever, Maggie, loves Paradigm! She has been battling T-Cell Lymphoma for 18 months now. She was diagnosed in June, 2016. It was found early on. After 6 months of blood monitoring her levels were creeping up so she has been on a compounded chemo drug called Chlorambucil. At that point, she was eating Fromm and had been for years. She would occasionally get bouts of unexplained diarrhea but not very often.
A Pet Parent's Worst Nightmare
Finally, in July, 2017 after having excellent blood work, she started acting lethargic and not wanting to eat. These are a dog owner's worst nightmare. I took her to the vet and again, all blood work was fine. She then started vomiting undigested food. I took her back and she had an ultrasound, which was inconclusive. We thought maybe there was an obstruction somewhere, so we opted for exploratory surgery. The doctor opened her up and found her colon to be in her words, "The most dilated colon she's seen in 15 years of being a vet." She cleaned out the colon and the intestines and found nothing remarkable. After the surgery, she recovered well, and I gave her bland home cooked food for a while.
Then We Found Paradigm
During this process I found your food at Bentley's Pet Shop and I talked to the shop owner and researched Paradigm. She has been eating it ever since and hasn't had a single issue whatsoever. She is even at a healthy weight and her coat is shiny again. For 9 years she was always wishy washy about eating and now she can't wait to eat! Thank you for making such fine products!

Thank you!
Maggie's Mom, Karen Claus