Posted By
The Team at Dr. Harvey's
June 29, 2017
Nothing makes us happier than when a pet parent feels compelled to write to us and tell us how their precious companion's health improved after using our food and talking to Dr. Harvey. This has to be one of our favorites. Banjo's mom, Terri, wrote to tell us about this adorable 12-year-old Shih Tzu and how he improved so dramatically after changing Banjo's diet!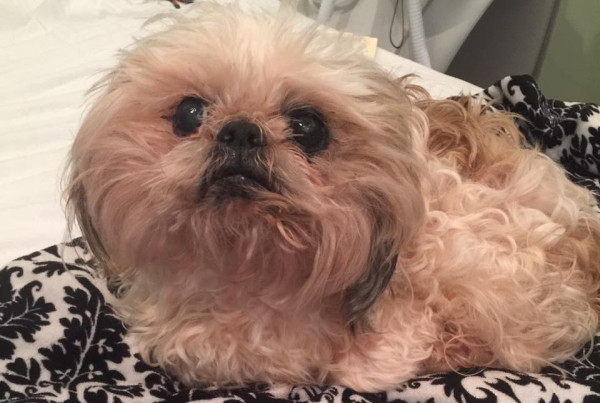 I Had to Write to You
Dear Dr. Harvey,
I have been trying to find where I can leave you reviews and I can't seem to find anywhere so I am emailing you and you can feel free to post it wherever you would like to. You have been such a help to us and we are so thankful!
Banjo's Diagnosis-Our Hearts Were Broken
Our little 12-year-old Shih Tzu, Banjo, was diagnosed with renal failure as well as anemia. Our hearts were broken and we were, of course, doing everything the vet advised us to do. He was getting worse and worse and we really felt we were a few days away from losing him. Dr. Harvey's food ad popped up after doing some research and we decided to purchase his Canine Health-The Miracle Dog Food. Our little guy loved it.
We Changed His Food and Then We Called Dr. Harvey
A few days later I decided to call and hopefully speak with Dr. Harvey himself. What a wonderful, kind man. Dr. Harvey advised us of multiple things we needed to do that our local vet had never mentioned as well as things that our vet didn't even know anything about. We made the changes immediately and Banjo started to look brighter and more alert.
In Just 6 Days He Was Back to Himself!
Within 6 days our little guy was himself again. I cannot begin to tell you how sick he was…he could hardly stand to urinate, he wasn't even holding his urine, his appetite was not good, he was incredibly lethargic, etc. After just 6 days of eating Dr. Harvey's food (he advised us of exactly how much protein to add), as well as implementing the other things he told us about and he did a complete turnaround.
It Was A Miracle
It was honestly miraculous! Now we speak to Dr. Harvey about once per week and he continues to guide us. What a blessing this man is. He has restored my faith in the kindness of people, and reminded me that there is still a lot of good left in the world.
Thank You From Banjo!
Thank you, Dr. Harvey, from the very bottom of our hearts. And if Banjo could talk, I promise he would tell you that he loves you and thank you so much!
Terri McConnell, Jason McConnell and Banjo
*UPDATE ON
BANJO

-7/9/17

This food is simply incredible . We have a 12 yr old Shih Tzu with compromised kidneys . We started him on this food , as well as a few other things Dr Harvey recommended and the change in his health and energy has simply been miraculous. I also just have to say that he is eating more now than he did before he got sick ..Dr Harvey advised us how much of our own quality protein to add . Our Banjo LOVES this food ! I can't say enough wonderful things about this food and about Dr Harvey as well.
Terri McConnell

I would just like to add that when we found this food, Banjo was so sick he wasn't eating on his own.

I had to mix this food with more water and blend it so that I could feed him with a syringe. After a few days I noticed that Banjo was licking the end of the syringe indicating that he wanted to eat this food. I mixed some up according to the directions and didn't blend it and he ate a lot! That was a couple of months ago and he is still enjoying this food and is so much better. His vet cannot believe his recovery! It is truly a miracle and we are so thankful for this food and everything that Dr. Harvey and his team have done to help our little guy get better!

Jason McConnell