Health and Shine - Omega-3
Health & Shine Omega-3 is a premium fish oil supplement for dogs made from 100% wild caught mackerel, herring, anchovies and sardines caught in the clean, cold and pristine waters of Iceland.
Promotes healthy skin and a rich and beautiful coat; prevents dry skin, itchy dandruff, and shedding
100% wild-caught Mackerel, Herring, Anchovies & Sardines
Rich in Omega-3 fatty acids that are vital for strong joints, a healthy heart and the maintenance of brain and eyes
Great for homemade or raw diets, comes with a pump dispenser providing a mess-free alternative to capsules; purified for no fishy odor
Exceptional and unique blends that pair perfectly with Dr. Harvey's dog foods
Mackerel Oil, Sardine Oil, Herring Oil, Anchovy Oil
We're Sorry. This Item Is Sold Out.
---
---
We searched far and wide for the purest, Wild-Caught fish oils so you could
 bring out the full shine in your companion dog.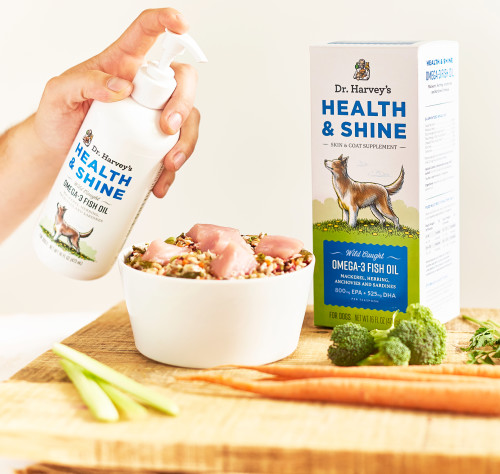 The Skinny on Omega-3 Fatty Acids
Your dog relies on Omega-3 fatty acids for many things, including vision and brain development in young puppies, helping manage inflammation in skin and joints, heart health, and a whole host of other physiologic functions.
Because dogs, as well as humans, are incapable of producing Omega-3 fatty acids on their own, they must get them through their diet.
Omega-3 fatty acids help manage inflammation, especially in the skin and joints.
The best sources of Omega-3 fatty acids are Fish Oils, like Dr. Harvey's Health and Shine.
Omega-3 Fatty acids have been shown to:
Have anti-inflammatory properties
Lower the risk of heart disease, cancer, arthritis
Made with Safe & Sustainable Fish
Not only is Health and Shine made from the highest quality fish oil available, our oils are made with cold-water Icelandic fish using certified sustainable fishing methods.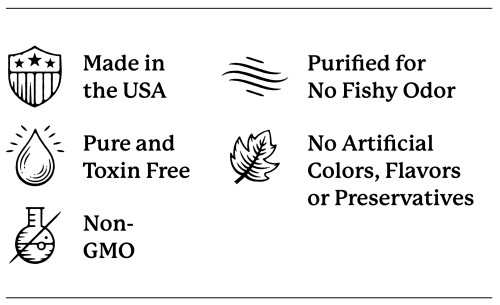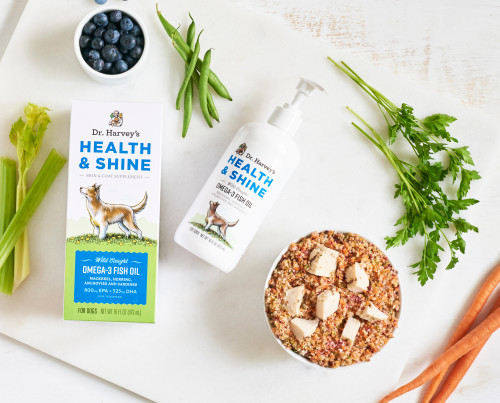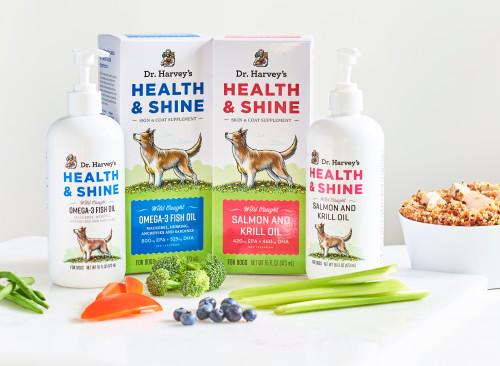 Which Formula Should I Choose?
If you've been feeding our dog foods, you know that we recommend variety in your dog's diet. This is exactly the reason we're offering two different formulas. Variety is key!
Both formulas offer a multitude of health benefits & there is no right answer to which formula you should choose.
They can be used together or can be alternated to offer the greatest nutritional variety.
Both formulas make a great topper as dogs love the taste!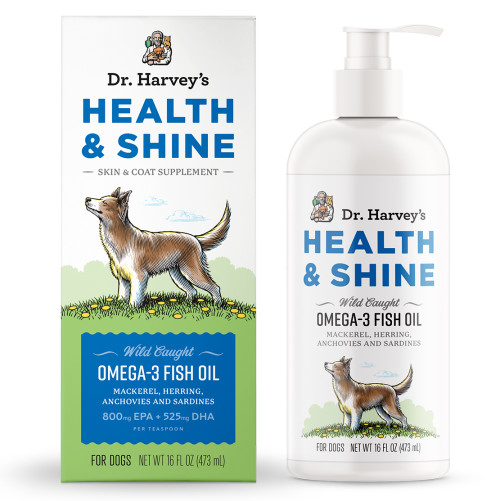 Omega-3 Fish Oil Formula
Calorie Content (metabolized energy (ME)as fed): 10,000 Kcal/kg (46 Kcal/teaspoon).
1 pump is approximately ½ teaspoon.
Ingredients: mackerel oil, sardine oil, herring oil, anchovy oil.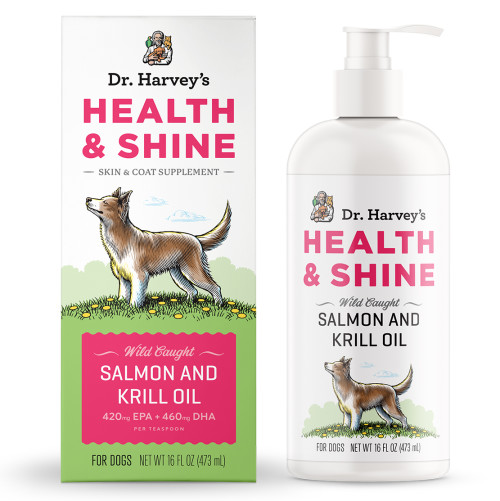 Salmon + Krill Oil Formula
Calorie Content (metabolized energy (ME)as fed): 9,000 Kcal/kg (41 Kcal/teaspoon).
1 pump is approximately ½ teaspoon.
Ingredients: salmon oil, krill oil.
Feeding Directions (Per Day):
Shake well before use. Best if mixed directly with food. 1 pump is approximately ½ teaspoon.
For animal use only. Keep out of reach of children and pets to avoid unintended consumption. This product is intended for intermittent or supplemental feeding only.
Each 16 oz bottle contains approximately 190 pumps.