Posted By
The Team at Dr. Harvey's
January 19, 2019
This Food is a Game Changer!
Beesly is loving this food!! It has been a game changer in both of our lives. He has never been a very good eater. He's 3 years old and for the past 3 years I have struggled with his eating habits and worried a lot about his health and nutritional status. I've had many vet checks and there is nothing wrong with him.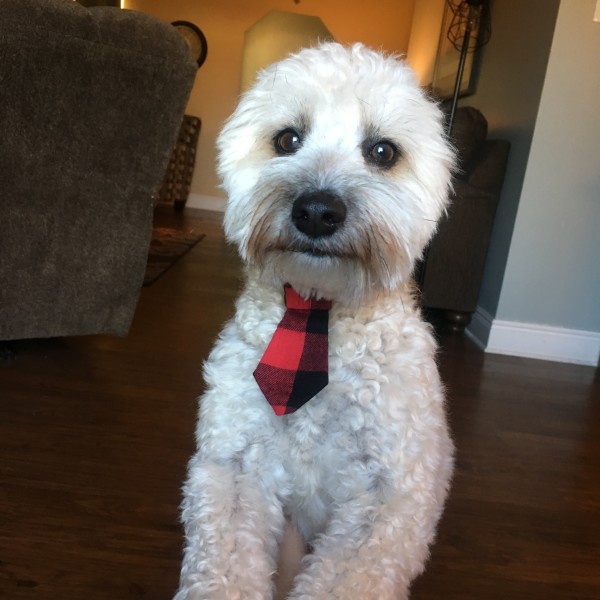 My Dog Did Not Like Dog Food
Beesly just doesn't like most dog foods and never eats the same food twice. I had tried every type of kibble, wet food, refrigerated fresh food, homemade dog food, food toppers, you name it! Nothing was working and I was starting to panic!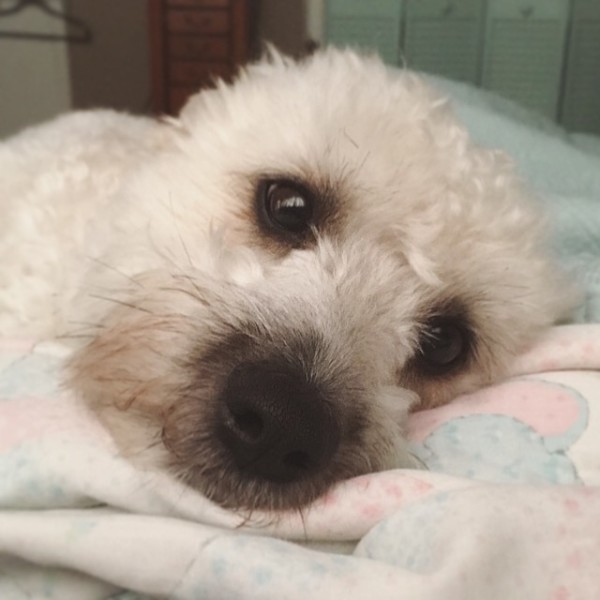 My Homework Lead Me to Dr. Harvey's
I started researching any last attempts at feeding ideas before seeking out another veterinary visit and that's when came across Dr. Harvey's on a forum for picky dogs.
I immediately ordered my sample bag.
He Fell in Love and So Did I
Beesly fell in love instantly and so did I! The first night he devoured his meal. The feeding guide is so easy to follow. I was expecting him to get tired of eating this and lose the excitement that he had on night one, but every single night for a week he chowed down like I've never seen before!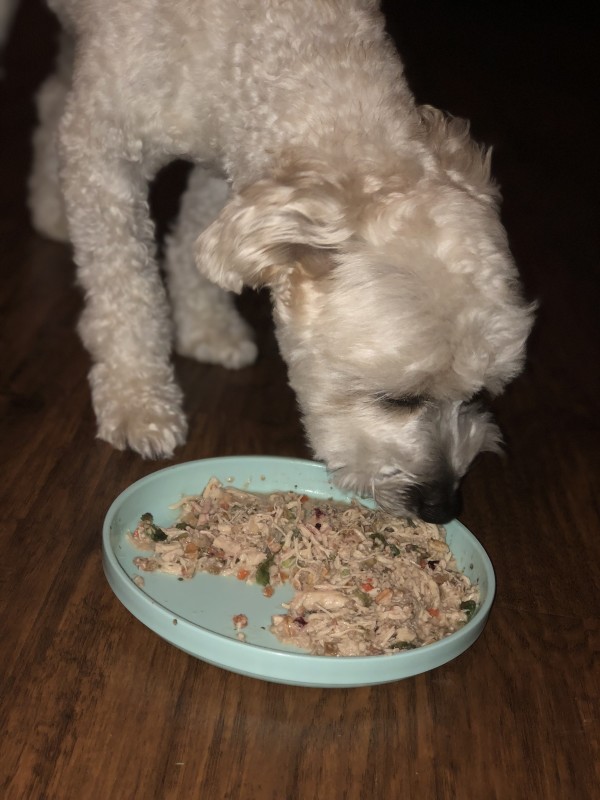 I'm a Believer Now!
So I'm a believer now, I ordered a bag and he's been loving this food for almost 2 weeks now. It's so crazy to see a dog who could not have cared less about meal time now sitting there at 6 pm letting me know he's ready for his food. It makes my heart so happy to know he's finally getting what he needs and he's enjoying it. It really is miracle dog food. I will absolutely recommend this food to any of my fellow dog parents! Thank y'all so much from myself and from Beesly!
Sincerely, Meryl Englert and Beesly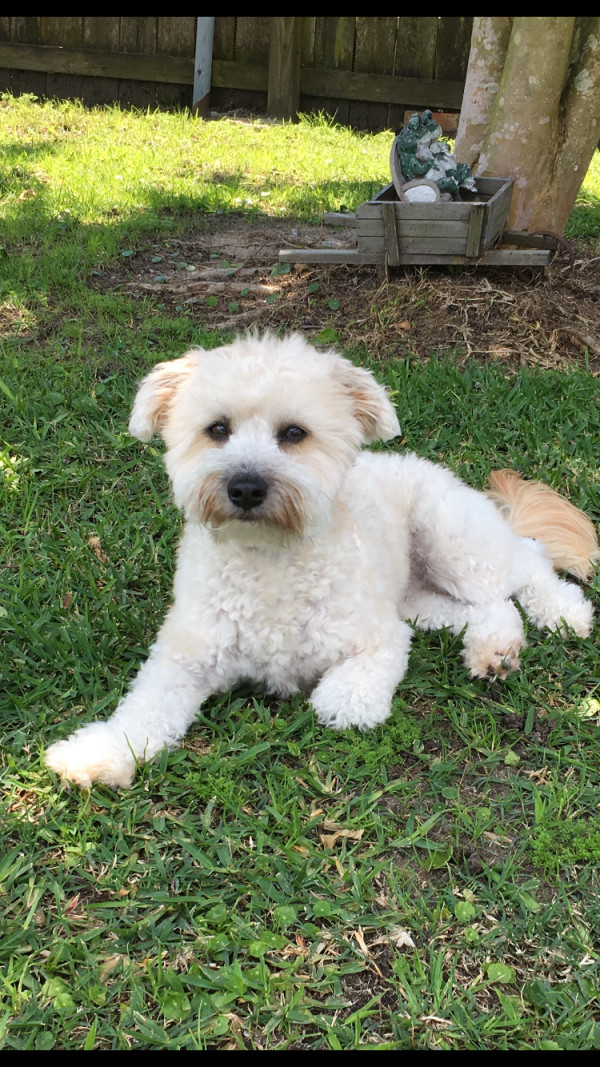 ---
Posted By
The Team at Dr. Harvey's
May 18, 2018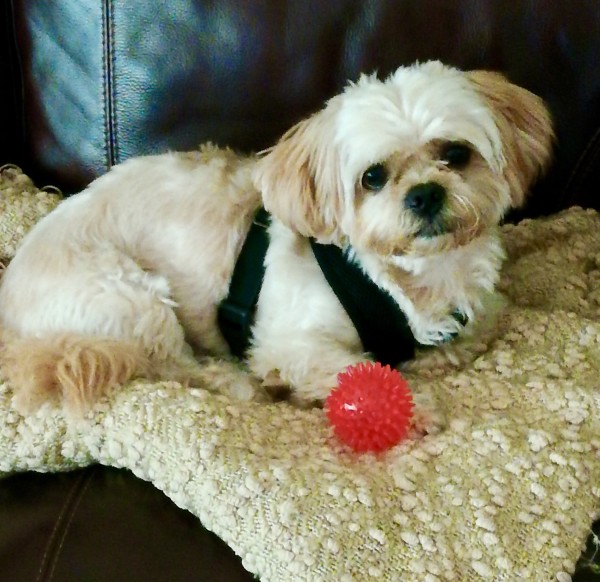 Our New Rescue Refused to Eat!
Our dog Murphy was rescued in December. They found him abandoned in a home in North Georgia. We figured he would be "thrilled" with premium dog food and fresh cooked chicken spread across the top. He was very picky and only ate the chicken, so switched to another premium dog food. And then switched again for a third time. This went on for 3 months…. he walked up to his food, sniffed, and walked away.
We Found Dr. Harvey's and He Licked the Bowl Clean!
Then one day I was perusing the Shih Tzu site on Facebook and I saw an ad for Dr. Harvey's. Reading the positive reviews prompted me to order the free sample and it arrived in a few days. I was excited yet apprehensive due to my many previous failures. I fixed the food according to directions and held my breath. My cute Shih Tzu walked up to the food, sniffed it, looked at me, then sniffed it again….and then began eating! He actually ate the whole bowl of veggies and chicken. Licked the bowl clean!
It Smells So Good
I could not wait until the next meal to see if it happened again. It did! And again, and again. Of course, I was thrilled, as was my dog, Murphy. So now I feed him this twice a day, with chopped chicken, fish, or beef mixed into the veg-to- bowl. It smells so good I feel like I, too, could eat it! Seriously!
Thank You- We are Both So Happy!
This was a great find for me because none of the premium dog foods interested my boy. Murphy had dental problems when rescued and had about 4-5 teeth pulled. So, eating the hard-crunchy dog food, (softened with warm water), was difficult for him. I am so happy that I stumbled across this fantastic product for our sweet rescue. (and he, obviously, is very happy, too!)
Thank you so much for the free sample…. Murphy and I are both relieved his eating problem has been solved!

Sincerely,

Marilyn McGrath and Murphy
---
Posted By
The Team at Dr. Harvey's
March 13, 2018
A Pet Parent's Real Struggle with a Diabetic Dog
When your dog has diabetes the challenge to keep your dog balanced and healthy is a daily struggle. It is a difficult disease to manage and often causes additional problems such as blindness, pancreatitis and as with Paris, stroke. When we received this amazing email from Lori, Paris's mom. We thought other pet parents who may also be struggling should know about her experience. She sent us BEFORE and AFTER PHOTOS.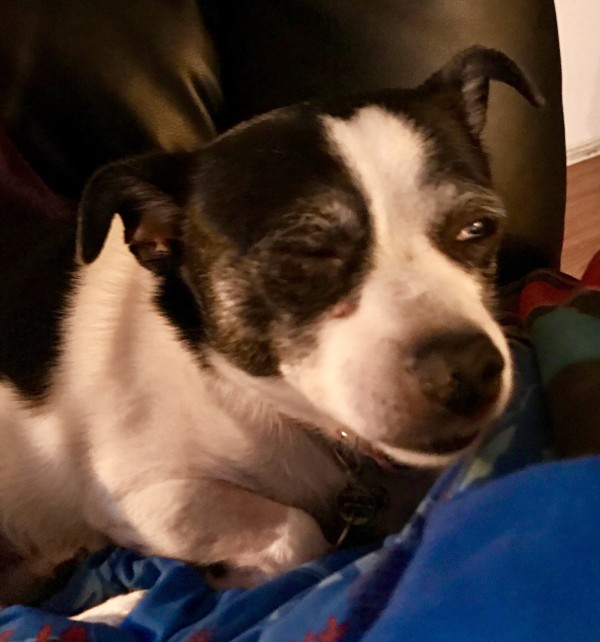 My Diabetic Dog Suffered a Stroke
I wish you knew the 10-year struggle I've went through to feed this Chihuahua. Recently, my diabetic dog suffered a stroke and could not recover properly.
Her veterinarian said her food would play a huge role in her recovery, but I literally almost cried trying to find something she would eat which also met her dietary needs (which is a very small selection of prepared products).
Her Vet Said Food Would Play a Huge Role in Recovery,
It got to where she was becoming malnourished so for a while it was scary! Finding a food that she will eat or CAN eat has been difficult, to say the least. So needless to say, it makes me deliriously happy to tell you she BEGS for this. Just knowing that it's obviously healthier for her makes me very glad to have found this product, Paradigm.

Thank You So Much-You Probably Saved My Dog's Life!
I also bought some Veg-to-Bowl for my two other Chihuahuas and they love it too. So, I cannot say enough great things. Thank you so much for the initial sample and for probably saving my dog's life. Take a look at the difference in her before and after photos! Love Lori and Paris
---
Posted By
The Team at Dr. Harvey's
March 16, 2017
So Many Compliments After a Very Rough Start
Hello Dr. Harvey and Staff,

I wanted to take the time to give you an update on our now 9-year-old Boston Terrier, Logan. He has been on your Canine Health Mix since he was 8 months old. Logan was a picky eater due to his problem with chewing food and having brachycephalic reconstructive surgery.

Over the course of his wonderful years and numerous compliments from vet specialists on his form, muscle build, phenomenal shiny tuxedo coat, and of course his awesome personality it has to be all thanks to you and your formula!
Now that He is a Senior…
Being the older "American Gentleman" now, we have placed him on your Golden Years Supplement for the past year along with Coenzyme Q10 as we have been informed that he has a low-grade heart murmur and we can certainly see the difference since starting these supplements!

I only hope that others can see the wonders that your formulas can do and have done for my Logan.
He's 9 but really has the life of a 2-year-old pup. Thank you so much for keeping up the great formulas and products, and always sharing your stories, but most of all thank you for saving our Logan and his health. Without you, Logan would be on countless medications!
We Always Want Only the Best for Him!
We take pride in Logan's health and finding the best alternatives

Dr. Harvey's food and supplements gave us hope for Logan when all else failed including vet suggestions. In spite of what the vets want us to feed our fur babies, I honestly believe it is junk food. The motto for nutritionists is "if you can't pronounce the name on the label don't eat it!" I firmly believe in that.

I hope other pet parents can turn to your products like we have done with our fur baby.

Love,
Patricia & Scott Medeiros proud parents to Logan
PS. We've attached some photos of our bundle of love
---
Posted By
The Team at Dr. Harvey's
September 20, 2016
The wonderful Julie Payne hopes no pet parent ever has to go through what she has with Star, her senior Chihuahua, and her love. Julie first posted this on her Instagram account and then sent us the story of her journey with Star. She found a solution to help her fur baby and wanted to share her experience with other pet parents. Here is her story in her own words.
For More Information and To Order Your Trial Size, Click Here!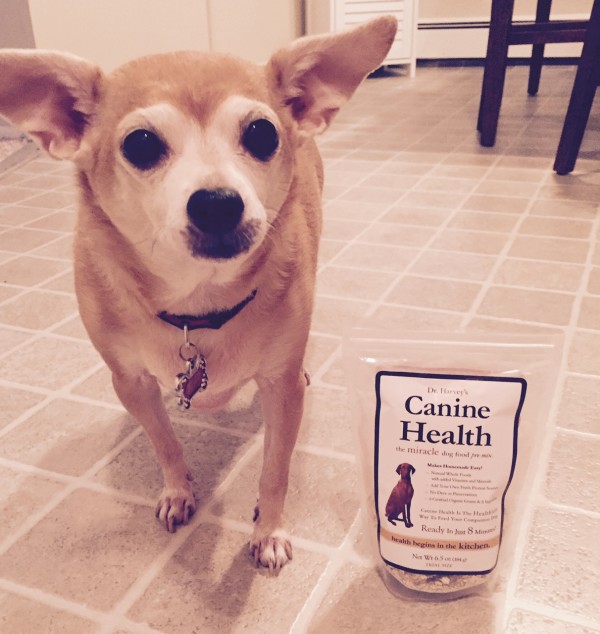 She Slowly Stopped Eating.
This is the story of my journey and I am telling it for other fur parents who may be in my situation. My dog, Star, is Chihuahua and is almost 14 years old and was diagnosed with kidney disease about a month ago. She slowly stopped eating and I felt like she was quickly starting to take a turn for the worse.
I Tried 6 Different Brands of Food. She turned everything down!
Days went by with her eating close to nothing and I bought about 6 different brands of dog food trying to support her new diet plan and she wasn't interested in anything at all, not her old food or new. I was completely devastated and desperate. I spent long periods of time in multiple pet supply stores looking for anything that could give her a balanced meal that she would eat. She turned everything down. I spent hours on the Internet looking for a solution and decided I was going to attempt to make her homemade dog food.
Then I Found Dr. Harvey's-I Was Skeptical…
That's when I found Dr. Harvey's website and found a dog food pre-mix, Canine Health that you just add water, oil, and home-cooked protein to and your dog will have their homemade dog food. Skeptical, since Star refused to eat anything at this point, I still ordered the free trial bag of Canine Health which the website recommended for dogs battling kidney disease.
I Started to Cry Watching Her Eat! I'd Do Anything For My Best Friend.
I prepared her food and put her bowl down and started to cry as I watched my dog eat from her bowl alone without me hand feeding her each piece with praise for the first time in about two weeks. I know it's not a cure for her disease but within days her entire behavior went from weak and sad to energetic and excited about meals.
Within Days Her Behavior Went from Weak and Sad to Energetic & Excited About Meals.
This food, Canine Health is made with fresh real ingredients like oats, carrots, and peas and gives her a well-balanced meal. It does cost more and requires more work than throwing kibble in a bowl but I'd do anything to have extra time with my best friend.
You Can Get a Trial Size Too!
For More Information and To Order Your Trial Size, Click Here!
---
Posted By
The Team at Dr. Harvey's
September 10, 2015
It Started with a Severe Stomach Upset
I am sending you this email to send praises about your Canine Health-Miracle Dog Food
My Maggie May started with a severe stomach upset in May of this year. I had her to the vet twice with this one incident that ended up being Colitis. It was horrible.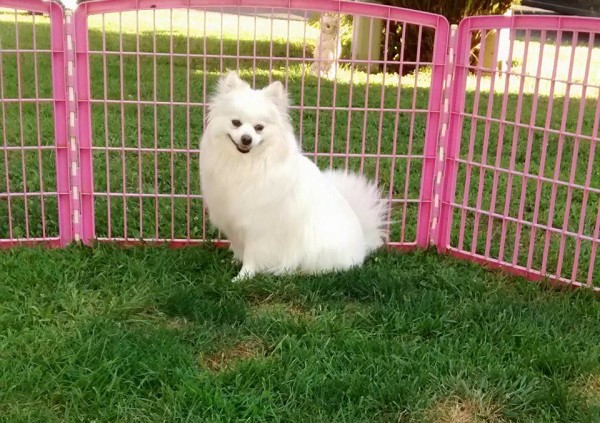 Nothing Was Helping
Two rounds of antibiotics and probiotics and it seemed like it just kept coming back. I have been a customer of Baron's K9 Country Store here in Bel Air, Maryland for 10 years. This is my second Pomeranian in those 10 and a half years. I had noticed her breath was a little stinky, especially in the mornings and also she had really bad brownish, orange tear stains, but I thought with her being white, it just came along with the territory of owning a white dog. When the stomach issue started I thought a stomach upset is not uncommon, but then the bloody diarrhea was cause for alarm and I took her to the vet.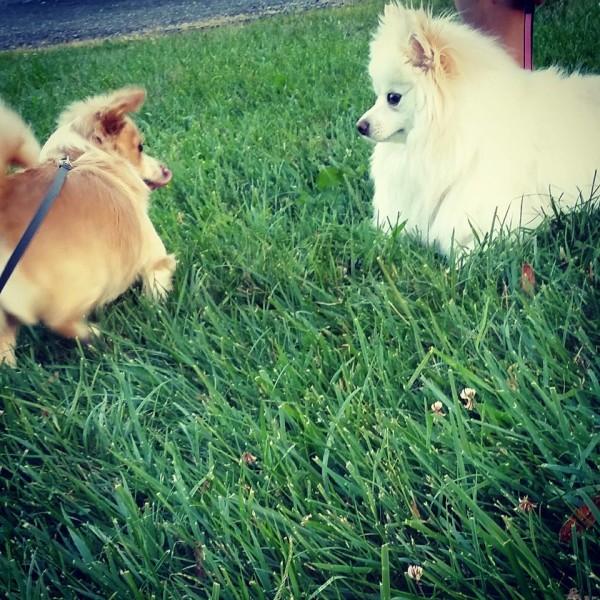 Her Colitis Cleared Up in 48 Hours!
Needless to say as soon as the antibiotics were done it started again so they resumed another course. I knew this was way too much antibiotics, but followed the instructions of my vet. In the meantime, I went to Baron's K-9, my local pet store, and mentioned what was going on. Karen, the salesperson, there recommended your food. She gave me samples and instructions. Maggie absolutely loved the food from the start and her Colitis cleared up within 48 hrs and we have not had any problems since!
No More Picky Eater, No More Bad Breath, Tear Stains Gone-Amazing!
She always picked at her food and sometimes wouldn't eat at all and now lets just say she looks forward to every meal. I break her portions down to in the morning and at night and she is one happy girl. Her whole demeanor changed and her coat got even prettier.
Her stinky breath is gone and I noticed her tear stains became clear. I've enclosed some pictures to show you. In one photo you can see her eyes are clear (after),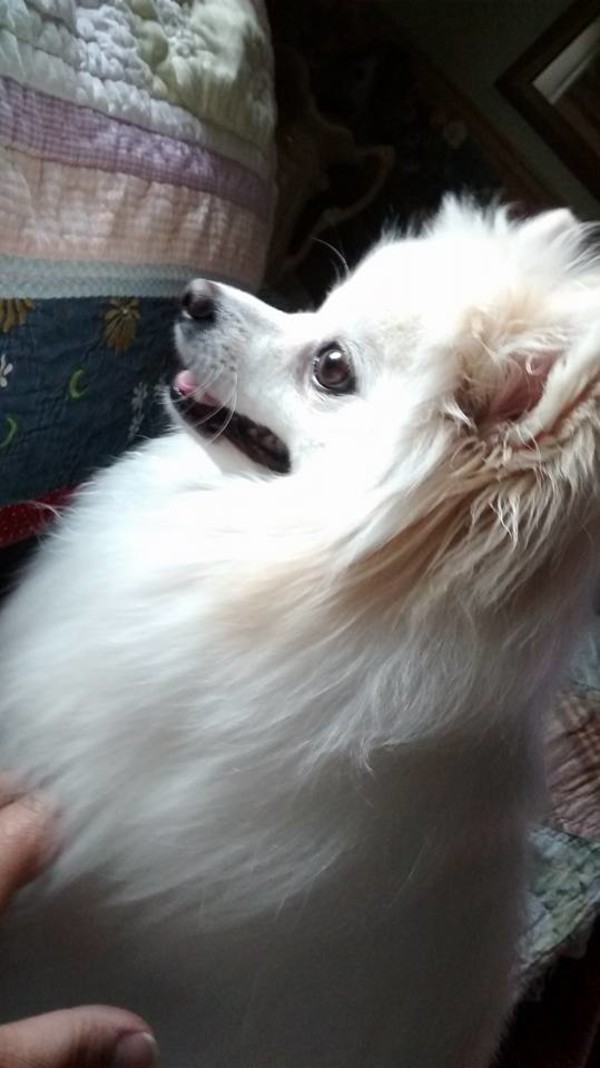 In the second photo you can see how her eyes looked with the tear stains before the new diet! (before)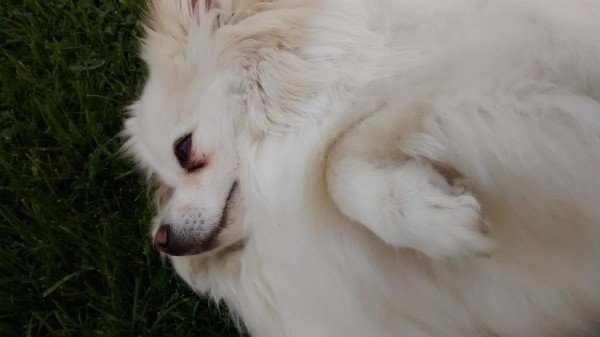 The Change is Truly a Miracle
I also bought her Dr. Harvey's Coconut Smiles and the Sweet Potate'r treats which are a major hit as well. I can't thank you enough for creating such a wonderful diet for dogs. I think yours is the best by far as far as the results I have seen before my own eyes. The change is truly a "miracle" and my girl is proof of that. Please know I recommend your products all the time. The preparation process is so easy and so well worth it for my dog to feel her very best. She is only 2 years and 7 months old and I want her to enjoy every minute of her life and be as healthy as possible. Thank you so much for your time in reading my story. I will be trying your shampoos and other products as well as I feel completely confident.
Truly Satisfied Customer,
Sheila Brown
---