Posted By
The Team at Dr. Harvey's
June 11, 2020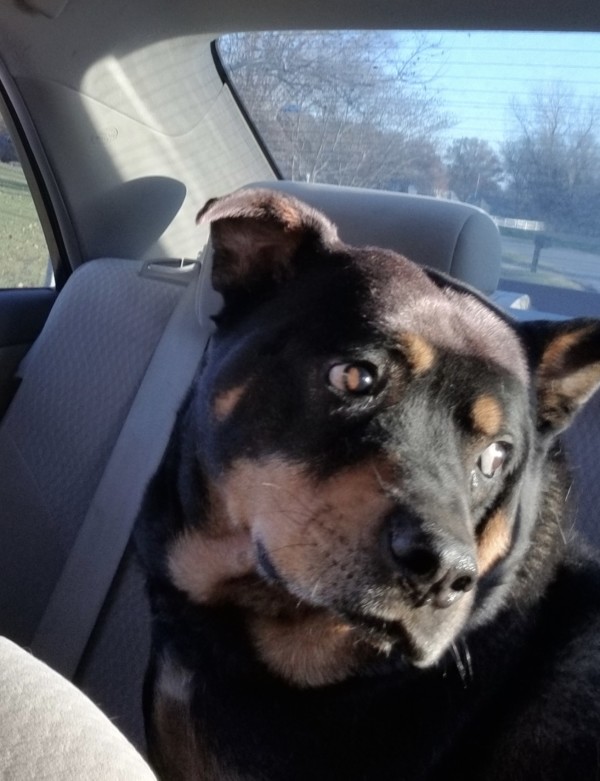 Max and Paul Both Needed Help
Dr. Harvey's is amazing! My dogs go nuts at mealtime now. I have two on Paradigm and the rest on Canine Health. My two on Paradigm are Paul and Max. Paul (Super Dog-below)

recently had a tumor removed and the biopsy said it was cancerous. It was caught early and localized, so thankfully surgery was all he needed.
I Did My Research to Find an Answer
Since doing research and reading other pet parents' stories, I learned Paradigm is good to feed dogs with that diagnosis. I want to do everything I can to prevent anything else from popping up! I know nutrition is crucial to their health!
Max was Diagnosed with Diabetes
Max is a rescued Rottweiler who survived heartworm treatment as a puppy, then last year was diagnosed with diabetes. Two months ago, he diagnosed with Cushing's. He can't seem to catch a break! We could not get his blood sugar under control until the past two weeks, when we began Dr Harvey's. On Paradigm (great for diabetes, too) and his numbers are literally half of what they were. He's happier and gets super excited when I'm preparing his meal.
Vet Approved and Less Insulin
He's already showing more alertness and energy! He finishes transitioning from kibble (I went slow since he has chronic conditions) to only Paradigm tomorrow, so when it's Paradigm only, I'm sure it will go down even more. His doctor (who approved this diet) wants me to do a glucose curve the end of the week because he said he won't need as much insulin! Yay!
We Are So Grateful and Had to Share
Thank you, Dr Harvey! This food makes my fur babies feel good and happy and I feel like I'm doing everything I can to keep them healthy and with me longer!
Love, Laura, Max and Paul
---
Posted By
The Team at Dr. Harvey's
November 21, 2019
I Want to Tell Jack's Story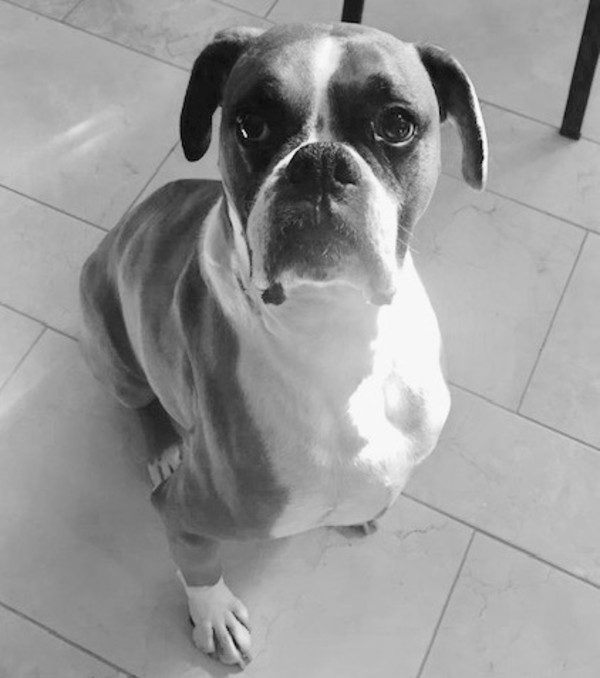 Hi Dr. Harvey's,

Thank you! I really want to share Jack's story!

In early 2017 Jack had a mass removed from the side of his neck, when the results came back, the mass contained cancer cells, but the tissue around it did not, we thought Jack was healthy and hoped for no return. A few short months later, July 2017, I felt a lump in Jack's throat. I brought him to the vet a few days later, they drained the fluid and sent it out for tests, sure enough, the fluid came back cancerous.

A Very Grim Diagnosis
He needed to have surgery immediately to remove his thyroid; before the surgery the vet gave us a 50% chance of Jack surviving. Luckily he made it. After a long healing process, he was back to himself; the vet gave me the devastating news; he recommended Jack to go for chemo. Although the cancerous thyroid was removed, he felt the blood running through may have spread the cancer cells. He gave Jack about 2 years survival rate with chemo and about 1 year without it. Chemo was just not an option for us financially and I felt Jack was completely himself and I knew chemo would ruin him.

We Found Dr. Harvey's
I searched online to provide the best way to keep Jack healthy and to fight this. I came across Dr. Harvey's, I read reviews and ingredients (which I was able to pronounce, and I knew what each ingredient was) and felt Dr. Harvey's was worth a try. I placed my first order for Paradigm in August 2017, we mixed Jack's Paradigm with eggs, chicken, salmon, blueberries, everything natural, he absolutely loved it!

Jack Looks Amazing and No New Masses
Being a larger boxer, he weighed in at about 89 lbs. He always looked healthy, but the vet suggested he should lose some weight. With Paradigm he lost weight, his coat was shiny, and he continued his puppy ways. A year into feeding Jack Paradigm, we felt we overcame a huge hurdle, Jack was still alive, no new masses and he looked better than ever!
Jack is Now 8 Years Old and Living a Great Life
July 2019 marked 2 years since Jack's last surgery, the only thing we changed was Jack's food; I recommend Dr. Harvey's to everyone, I truly believe Dr. Harvey's saved Jack's life, he was given 1-2 years to live, I never thought I would see him make it past 6 year's old. Today, Jack is happy, healthy, 60 lb. Boxer, living a great life and turning 8 years old in February; thank you Dr. Harvey's for giving Jack a second chance!

Brittany Triano and Jack
---
Posted By
The Team at Dr. Harvey's
November 18, 2019
We Received the Dreaded Diagnosis
Dear Dr. Harvey's,

I had to write this review of not only Paradigm but also the Solaris. My Rottweiler, Bear, was diagnosed on August 14, 2019 with Osteosarcoma in his left shoulder.
I chose not to amputate as Bear had previous FHO surgeries and he was coming up on 10 years old.
I Began Researching Diet and Nutrition
I was told that Bear had only 4-6 months to live and to start him on Osteoclair. Thanks to an amazing tech at the vet she also told me to change his diet. I was initially skeptical about herbs and a diet change but, once I began researching Raw and Keto diets for dogs with cancer, I was horrified to learn what is in the dog food and the dog treats I had been giving my dogs.
I Switched My Dogs to Dr. Harvey's and Saw the Changes Immediately
I switched Bear to Dr. Harvey's Paradigm and my little guys to Canine Health right away. My little Min Pin was always having stomach issues and my other Min Pin had bad dandruff. I'm happy to say my little one's stomach issues are gone, and their coats have never been softer and shinier!
The Tumor Shrunk! My Vet Could Not Believe it!
Bear had a 3 month check up at the vet on 11/13/19 and I was sure after what I was told at his initial diagnosis that I would be receiving bad news and would have to put him down. I was told not only has the cancer NOT spread but his tumor has actually shrunk!!!! The vet could not believe it, and neither could I.
I was told to keep doing what I am doing and recheck him in 3 months.
Thank you Dr. Harvey's!
I am forever grateful to Dr. Harvey's Paradigm. Bear is doing amazing and looks great!
Thank you from the bottom of my heart,
Kimberleigh McMahon, Fia, Enzo, Rico, Nala, and Bear
---
Posted By
The Team at Dr. Harvey's
September 24, 2019
Hello,
I would like to tell you my dog Penny's cancer success story:
Penny Was Diagnosed with Osteosarcoma
My rescue dog, Penny, was diagnosed with osteosarcoma in mid 2018. It is a very aggressive cancer that usually has a poor prognosis. We opted for amputation to alleviate the pain, but did not want to do chemo or radiation.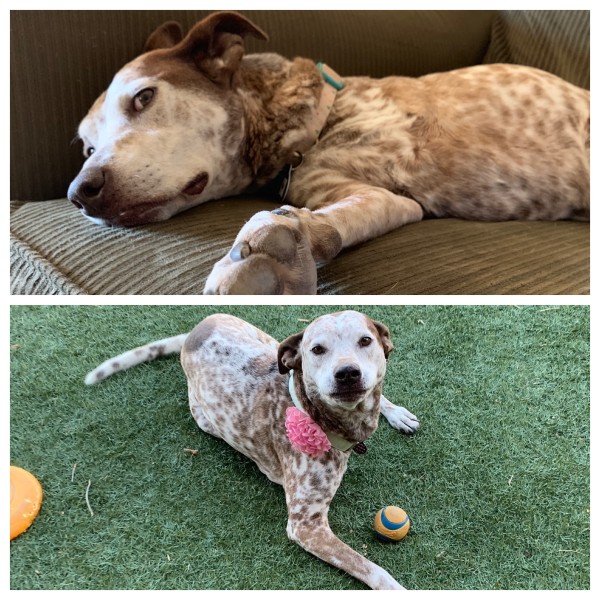 Fortunately, We Found Paradigm
We were introduced to Paradigm the day of her diagnosis by a local pet store associate and have used it ever since. We have also recently added in Veg-to-Bowl as well. This along with specific supplements for cancer and detox, a raw food diet, and acupuncture we have done a total holistic approach for her cancer treatment.
She Was Given Only 2-3 Months to Live
Well let me tell you-the vets gave us 2-3 months at most but here she is over a year later! She is happy and checks out healthy at the vet with all lab work and x-rays. The general vet as well as the oncologist are in awe every time they see her. And she will be celebrating her 9th birthday next week! I am so thankful for Paradigm and all of the Dr. Harvey's formulas. I tell as many people as I can about your products and Penny's story. She and our 6 other animals will continue to eat them every single day!
I Am So Thankful for Dr. Harvey's Formulas
Sincerely,
April Polichette
---
Posted By
The Team at Dr. Harvey's
March 3, 2019
Madeline was Diagnosed with Colon Cancer
Dear Dr. Harvey,
I have been meaning to post my experience with my dog, Madeline for a few months now. The story just keeps getting better – so that is a good thing.
For all of your current customers and anyone pondering whether or not to begin using Dr. Harvey's food for "companion" animals – don't waste another minute – go for
It!! Madeline was diagnosed with colon cancer in late July, 2017.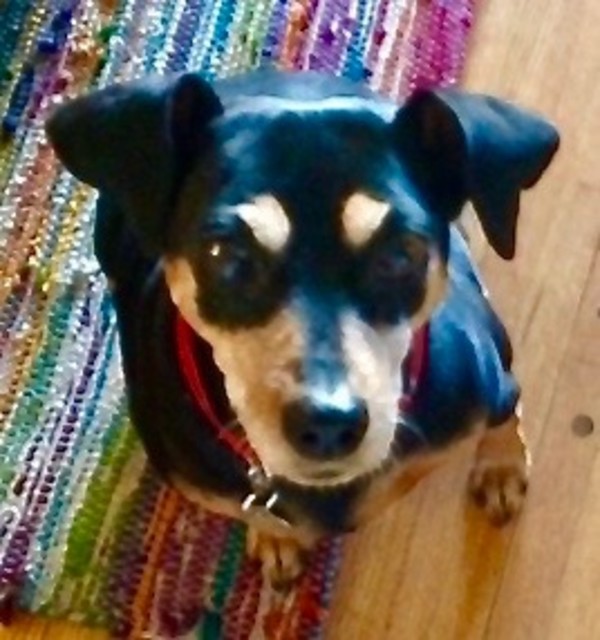 She Had Lost So Much Weight
I took her to a vet specializing in oncology and found out that she was going to need an operation.
Madeline was operated on August 30, 2017. Dr. Tony Cambridge of Veterinary Surgical Specialists operated on her. Madeline had been weighing about 20-21 pounds – a little
Chubby for her size – although she is bigger than most Miniature Pinschers — she had been dumped in my neighborhood in 2008 with cataracts on both eyes – totally blind.
I tried to find her owners for a couple of months – but to no avail – I had already become attached thus I had her cataracts removed by Eyecare for Animals in Tustin, CA. in 2008.
My vet estimated Madeline's age at that time as around 4 or 5. She was always a very active dog and quite comical.
I Thought I Was Feeding Her A Healthy Diet
I fed her primarily a "high end kibble" a brand that I had always heard was the highest quality of the dry dog food. I did give her chicken as treats and Charley Bear treats from time to time. In early 2017 she started losing weight. I thought she needed to lose some weight and I had been more careful in her feeding as many times she would finish her food and then go and finish my other dog's food! So, I had started to monitor that behavior. I thought at first that was the reason she was losing weight. I started noticing in late spring that she was straining when trying to have a bowel movement. By late June or early July, 2017 she was walking like a little crab all bent over and she only weighed 12.5 pounds.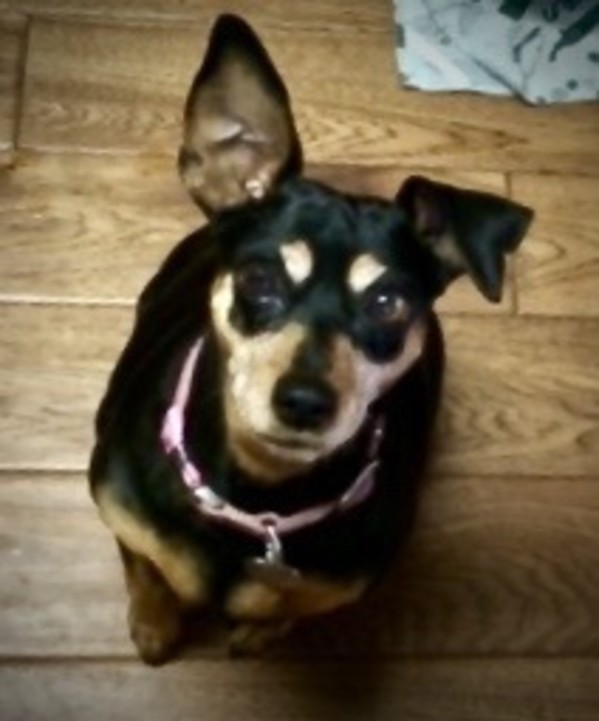 My Vet Told Me Madeline was on the Way Out
OK – so she had the operation and Dr. Cambridge advised me that it had spread to one of her lymph nodes and in his experience the cancer would return in 4-6 months. The vets had offered follow-up treatment – chemo (which had no history of curing colon cancer in animals).
I decided to try to find a natural remedy as I thought she was too old to go through chemo and all of that – plus she was so skinny. I should've taken a picture of her
at that time so you could see how she looked – it was pitiful and my normal veterinarian said Madeline was on her way out.
Enter Dr. Harvey
I forget how found him but it was while browsing on the internet. When I noticed Dr. Harvey's website -
I started reading all the testimonials. I couldn't believe how many testimonials there were. I was hopeful. I noticed that Dr Harvey would even call you if you needed to talk to him.
So, I called Dr. Harvey and he called me back and gave me some direction. He also encouraged me to read up on ketogenic diets and cancer. I started feeding Madeline Paradigm in September 2017 along with the recommended amount of high quality protein (organic, pasture raised and wild fish along with Organic hemp oil or coconut oil). I did not stray from that diet at all – I was very disciplined about it and still am. Her weight steadily increased and she quit walking like a little crab.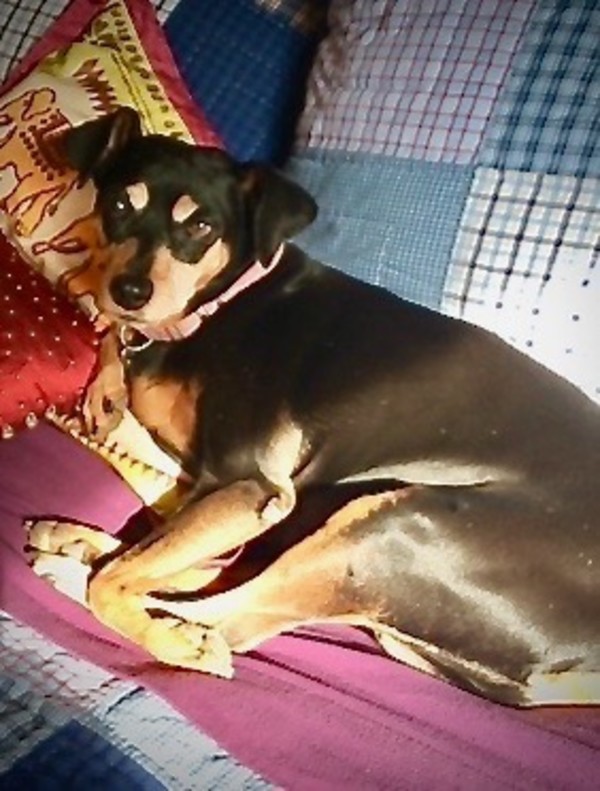 My Vet Was Totally Amazed at What He Saw
August 30, 2018 I took her back to see Dr. Cambridge and he was amazed. As he had told me that nothing was going to cure Madeline. I also told him in detail what I was feeding her and all about Dr Harvey – -of course the vets think I'm a little zealous about it but I could care less. The picture below taken a couple of weeks ago, is Madeline feasting on 1 scoop of Paradigm and 1 scoop of Veg to Bowl and she still loves it.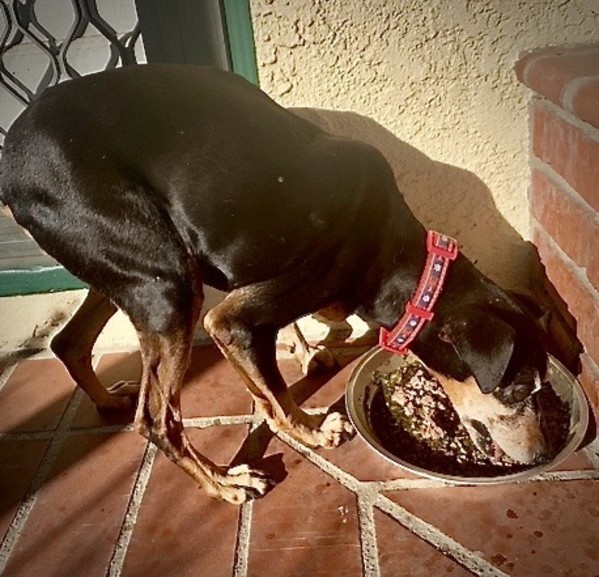 She was strictly on Paradigm for over 1 year – about 3 months ago she seemed to want a little change – so I started mixing Paradigm and Veg-to-Bowl. (I consulted with Dr. Harvey about this.) I promised Dr Cambridge I would see him at the 2 year mark which will come up this August. I don't want to jinx it, but I am totally confident that we will make that August appointment. Madeline is pretty much blind and deaf at this point – so I think she must be at least 15 or 16 years old.
But her poops are amazing – no straining and she eliminates about 4 times daily. She is old so I know she won't last forever but she has a great appetite – she has control
of her basic functions – (no accidents in the house) and she is a happy old dog.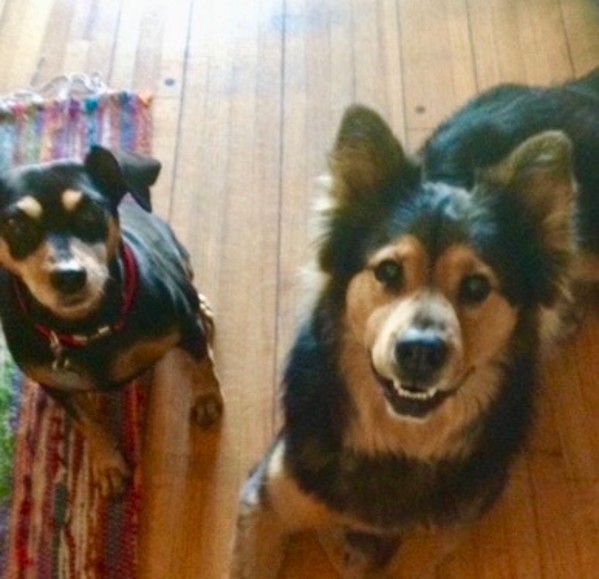 Thank You Dr. Harvey!
I cannot say enough about Dr Harvey. I have spoken to him several times and he always calls me back and his staff is also very friendly and helpful. I started this journey with a little hope but being a Cancer Tumor Registrar myself I know if a lymph node is involved, then the cancer is almost sure to return with a vengeance. But after 1 year and 6 months Madeline is cancer free. Thank you, Dr.Harvey for your years of research and your dedication to our beautiful pets.
Sincerely yours,
Donna Betts and Madeline
---
Posted By
The Team at Dr. Harvey's
January 7, 2019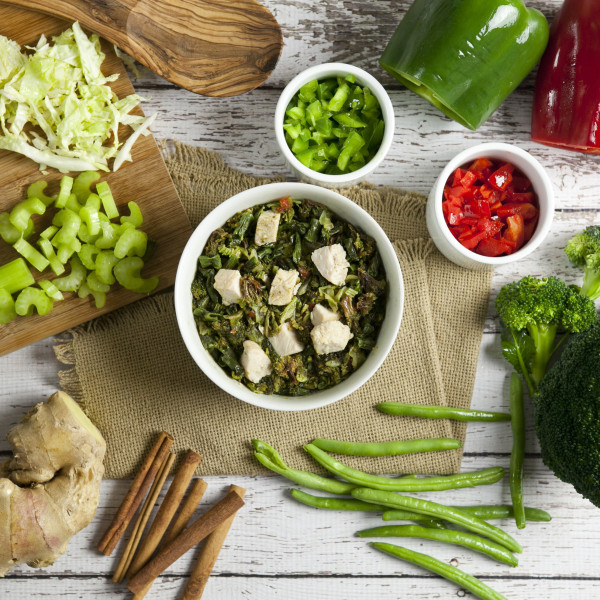 Cutting Edge Nutrition
At Dr. Harvey's, our mission has always been to provide information that will help pet parents to make the best choices when deciding on how to feed their companion animals and achieve optimal wellness.
We provide foods that are often the solution to a guardian's quest to find nutritional answers to chronic or recurring health problem. To that end, we have, for over 30 years, provided foods that help pet parents to feed their companions a daily diet that is made from fresh, safe and healthy ingredients. We have seen miraculous improvements in so many dogs, cats and birds and we have helped healthy animals to remain healthy.
In our quest to provide continuing education and cutting edge information on animal nutrition we continue to search for the newest research available.
What is a Ketogenic Diet?
This diet is high in fat, supplies adequate protein and is low in carbohydrates. This combination changes the way energy is used in the body. Fat is converted in the liver into fatty acids and ketone bodies. Another effect of the diet is that it lowers glucose levels and improves insulin resistance. An elevated level of ketone bodies in the blood, a state known as ketosis, leads to a reduction in the occurrence of epileptic seizures, may inhibit the growth of cancer cells and helps regulate diabetes and obesity.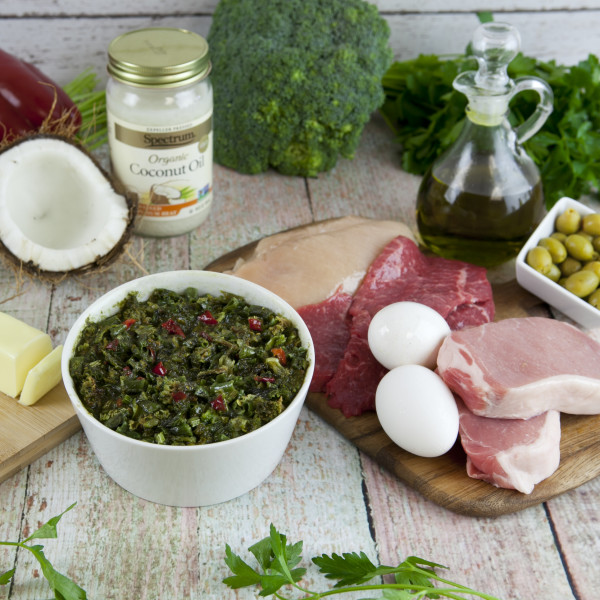 Help with Cancer
At the Keto Pet Sanctuary known for it's cutting edge work with Keto and cancer, they feed dogs a high-fat, adequate protein, and low-carbohydrate ketogenic diet.
The Keto Pet Sanctuary is a state of the art facility that provides a variety of alternative therapies for dogs with cancer. Dogs at the sanctuary are fed a . diet that is high in fat, uses moderate amounts of protein and is very low in carbs. The diet is meant to slow or halt the growth of cancer-based on the theory that cancer cells feed on sugar (including carbohydrates that break down to sugar) and will not survive on fat.
The results are promising and sometimes miraculous.
Carbs and Cancer-the Connection
Rodney Habib, pet nutrition expert and researcher, recently spoke about findings from Veterinary Oncologists showing that there is a strong correlation between too much sugar, high carbohydrate and high starch diets and cancer. He is currently working on a documentary called, "The Dog Cancer Survival Series." He has traveled the world looking for nutritional studies that provide alternative nutritional diets for dogs with cancer. These nutritional modalities include raw food and fresh food, caloric restriction, metabolic therapies and ketogenic diets.
What Holistic Veterinarians are Sayiing
In a recent video, renown holistic veterinarian, Dr. Karen Becker, explained, "Everyone is talking about the damaging effects of high starch, high carb diets, pro-inflammatory diets. We know that these diets can contribute to diabetes, obesity, and arthritis. We know that there is an absolute correlation to the amount of sugar that a mammal eats and their predisposition to cancer.
We know that's true." Food matters… According to some experts, there is no question about the correlation between carbs and sugar that could be a cause and exacerbating cancers.
Help with Canine Nutrition
High-quality fresh protein in moderate amounts including:
• Beef
• Turkey
• Chicken
• Eggs
• Lamb
• Fish
Fats that can be added include:
• Coconut Oil
• MCT oil
• Hemp Oil
• Butter or Ghee
• Flax Seed Oil
• Fish Oil
• Olive Oil
A diet rich in green low-carbohydrate and other low-glycemic vegetables can be helpful.
Recommended vegetables are:
• Broccoli
• Green Beans,
• Cabbage
• Celery
• Red Bell Peppers
Sea vegetables that are rich in vitamins and minerals such as:
• Kelp
• Spirulina
Help with Diabetes
While diabetes in dogs is a serious and complex condition, there is evidence to show that a diet that is low in carbohydrates can help to normalize blood sugar levels and encourage weight loss. We encourage pet parents who have a dog that has been diagnosed with diabetes to consider a nutritional intervention using a diet that is low in carbohydrates.
Dr. Karen Becker explains:
" … 90 percent of pet foods out there contain totally inappropriate ingredients that are not nourishing and actually create low-grade inflammatory processes, diabetes, and obesity. All the same health issues occurring in the pet world are occurring in the human realm in terms of overall health.
Sugar, of course, causes an insulin release. Insulin then causes blood sugar to drop. Cortisol is then released to rebalance blood sugar. So dogs and cats are dealing with this whole cycle of carbohydrate ingestion, insulin release, and cortisol release."
Dr. Becker concludes that animals were not meant to eat the high carb diets that most commercial pet foods offer.
Help with Weight Loss
Obesity in dogs is at near epidemic levels in the US. If you have ever had a dog that is overweight, you know how difficult it can be to reverse the condition. Obesity in dogs can lead to the development of a host of health problems including, diabetes, joint problems, and cardiovascular disease. Obesity is not just a vanity problem; it is in fact, a serious condition in dogs that adversely effect your dog's health and longevity.
Ingredients that Sustain Health
In addition to considering a low carbohydrate diet for your dog there are herbs that Dr. Harvey includes to boost the immune system, encourage healing and help to increase overall good health.
These ingredients include:
• Turmeric
• Ginger
• Red Clover
• Milk Thistle
• Dandelion
• Slippery Elm
• Cinnamon
Giving Your Dog the Best Chance
There is no question that what you feed your dog can change their well-being and their outlook for a long and healthy life. When confronted with health challenges, using nutritional tools can help your dog to heal sometimes from even the most difficult of diagnosis.
How we look at feeding our companion animals needs a new paradigm and there is now a body of research that concludes that feeding your dog fresh meals that consist of high-quality proteins, healthy fats and low amounts of carbohydrates can encourage healing and promote wellness.
What About Pancreatitis?
We have found that dogs who are prone to pancreatitis do very well, even with higher fat in the diet, when on a very low carbohydrate diet. Dogs prone to this serious condition do very well on the ketogenic diet and with our Paradigm as a base.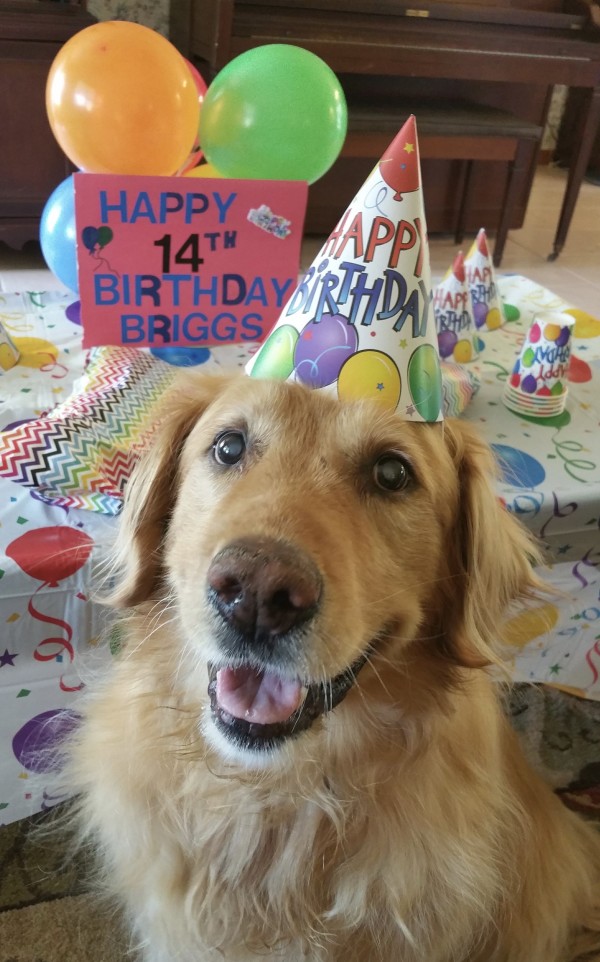 Is a Keto Diet Good for Healthy Dogs?
Quick Answer: Absolutely. Using Dr. Harvey's Paradigm for a healthy dog is a great option. Paradigm is a great base for a ketogenic or low-carb diet. Adding additional healthy fats and healing herbs to fresh meat makes a perfect healthy diet for any dog. Starting your dog on this type of balanced homemade diet is easy and fun. If you are trying to give your dog the very best and "kick the kibble" habit, Paradigm is a great solution.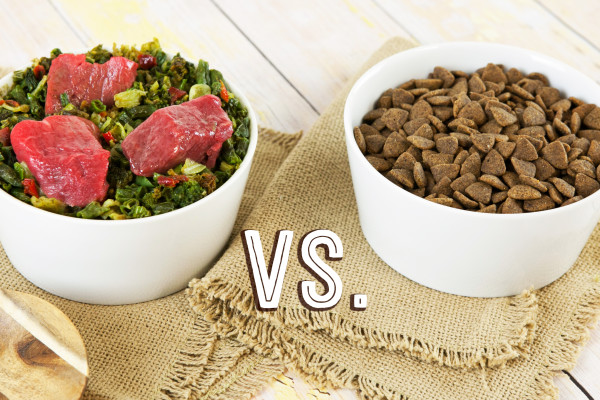 Dr. Harvey's Takes a Closer Look
Based on the findings of the distinguished researchers studying the benefits of a ketogenic diet and on the findings now published in the research literature on the benefits of a low carb diet for the care of dogs with cancer, diabetes, and obesity, we are working to educate pet parents worldwide. We are working to provide the very best information and solutions for your companion dogs.
---
Posted By
The Team at Dr. Harvey's
November 25, 2018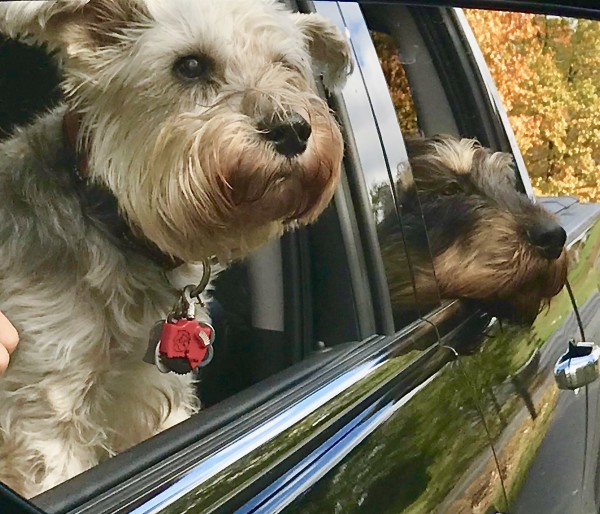 Sam Loves Paradigm
Sam LOVES Paradigm! He was starting to get a little finicky about eating, which he has never been, so I was getting concerned. He is a senior, age 14 and a half, and was diagnosed with diabetes in 2016, when he was 12. Since I have to give him insulin injections twice daily, I was obviously worried that he might stop eating…which would mean I couldn't give him his insulin as needed.
I Did My Research
After doing some research I came across Dr. Harvey's Paradigm, read the information and client testimonials, and ordered a trial size bag. I started off just giving Sam a little bit, mixed with his prescription kibble from the vet. At first, he didn't know what he was getting and was a little taken aback (he went blind from diabetic cataracts about 18 months ago, so he uses his sense of smell to navigate his world, even more than the usual dog.)
Sam's Blood Sugar Values Dropping and Stabilizing
By the second feeding he was pretty enthusiastic, and he now gobbles it up, licking the sides of the bowl. He only gets a tiny bit of the prescription kibble now, and I was pleasantly surprised to see his blood sugar values dropping and stabilizing after about a week of eating Paradigm. I actually had to reduce his insulin dose by 1/2 unit, then another 1/2 unit a couple of days later, so he wouldn't become hypoglycemic. So he is now taking one less unit of insulin, his blood glucose values have been excellent and well within optimal range for a diabetic dog (80 – 200 mg/dl.)
Thank you Dr. Harvey's!
Thank you so much for making a high-quality, green superfood for dogs who need less carbs — which the veterinary diet is full of! I never understood how that was supposed to help! The only reason I made it work, I think, is because I monitored Sam's blood glucose at least twice daily, did regular glucose curves at home, and strictly controlled his portion size.
Our Seniors Deserve the Best!
I'm very happy that we discovered Dr. Harvey's. Our senior dogs deserve all the love and care we can provide, after being such faithful companions to us for so many years. Sam is a very special dog! In the picture I attached, he is with his big "sister," Scout, an Otterhound (Sam is a schnauzer.)
Sincerely yours,
Suzanne Cannon, M.S., M.A.
---
Posted By
Guest Post Contributor, Julia Roach DVM
August 14, 2018
Common Sense Feeding
Feed your dog a fresh high-quality diet!
Seems too simple, right?
Makes sense, maybe?
It wasn't until my discovery of Dr. Harvey's Paradigm did I have an "aha moment." And only after finding Dr. Harvey's Paradigm did I realize that it is simple and that it is common sense to feed my dogs a fresh high-quality diet.
I thought I was Feeding a High Quality Diet!
Prior to Paradigm, I thought I already was feeding my dogs a high-quality diet (a prescription dry food labeled for arthritis). I thought I was providing my elderly dogs with the best that was available. I had fed this prescription diet continuously for 10 years! However, even with the prescription diet and vet recommended supplements for joint problems, their arthritis continued to get worse.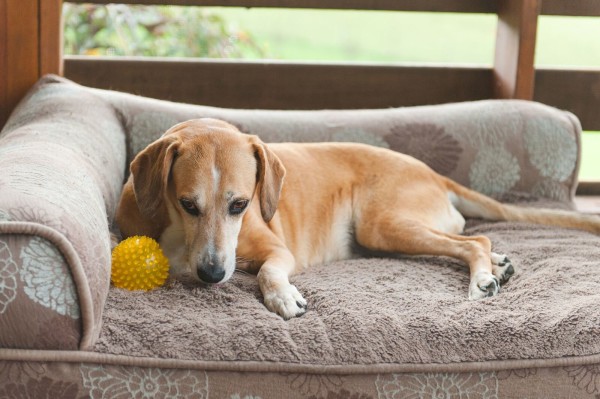 So Many Health Benefits!
I originally switched to Paradigm for my dogs' Mental Health. I then realized all of the other health benefits it provided.
Since switching to Paradigm, these are the changes I saw and continue to see:
They

LOVE

dinner time; it's a major event that my dogs look forward to! Looking back, I feel that they ate their dry food out of hunger and nothing more. My dogs truly enjoy their meals; there's no turning back now!

Weight-loss. I realize now that my dogs were in a never ending cycle of weight-gain and pain when they were fed their "high-quality" dry food. The pain from their arthritis kept my dogs inactive, hence the weight gain. And then the weight gain caused their arthritis to increase, hence the inactivity.
How did Paradigm help? Paradigm doesn't contain refined carbohydrates. The carbohydrates that are used are low-glycemic carbohydrates in the form of dehydrated herbs and vegetables.
Increased activity level. Without the excess weight, my dogs are eager to exercise. They no longer dread the nightly walk; in fact they now insist on it! The pep in their step helps me too, as I have to walk faster to keep up with the crew!
Decreased pain from activities. Even after their fast-paced, longer evening walks, I no longer have to reach for

NSAIDS

(pain pills) when we get home. Refined carbohydrates are associated with inflammation, and since Paradigm does not contain refined carbs, my dogs' inflammation has decreased.
Increased muscle tone. My elderly puppies hind limbs' muscle tone increased as their activity levels increased. They went from flabby to chic!
Increased overall health, mentally and physically.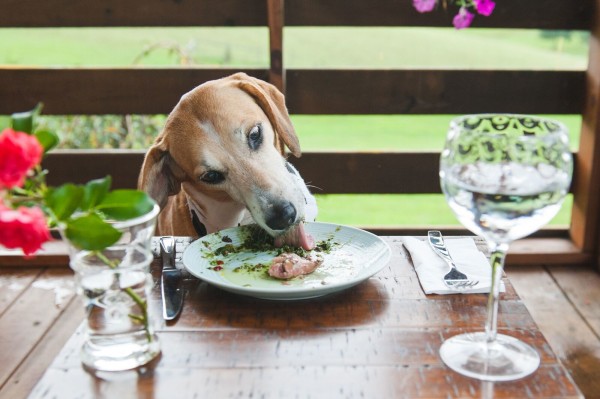 What I Add to Paradigm…
One final note, I only feed grain-free, grass-fed, pastured-raised meats. Not only is it a more humane link of the food chain, but it is also more nutritious for dogs. My staples are pasture-raised chicken thighs, chicken livers and eggs.
The Proof is in the Photos!
The pictures shown here are of my dog, Roni. I included a 'before' picture of her on her dog bed to show you how she didn't have any true interest in balls anymore, before Dr. Harvey's. The jumping photo below, is obviously the "after Dr. Harvey's shot"!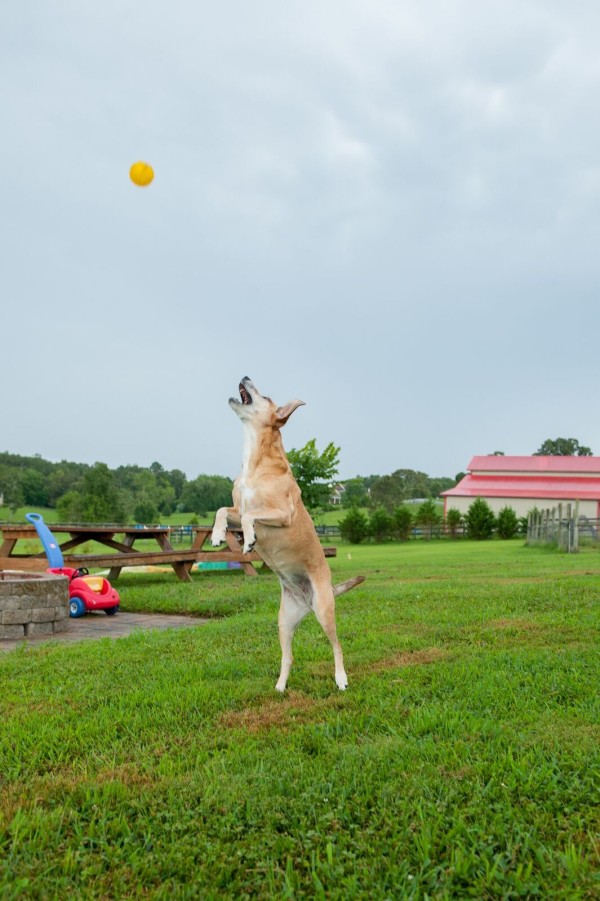 ---
Posted By
The Team at Dr. Harvey's
July 31, 2018
He Almost Died!
Hi Dr. Harvey's,

I wrote to you recently with an update on our 1.5 year old Bichon, Luca, but I wanted to share a before and after photos. The inset is Luca in January. He was down to 14.2 pounds (he's a big Bichon). He was skin and bones and was hospitalized after several bouts of severe vomiting. He almost died.
He Was So Sick
He was diagnosed with IBD with many different cells being found in the biopsies. He was so sick. On top of it all, the weight loss had been happening gradually which indicated he also had absorption issues. He was gaining no benefit from his food. Now the uncontrollable vomiting.
My Research Led Me to Dr. Harvey's-Look at Him Now!
Once stable and released, I went on the hunt for the right diet for him. I had always fed him human grade foods but many of the ingredients did not agree with him.Enter Dr Harvey's Paradigm and look at him now! He is over 17 pounds and gaining (should be 18 pounds or so), full of energy and personality. I mix in eggs, cod or salmon and he LOVES it! He has had no vomiting at all and frankly shows no signs of the IBD at this time.
Thank you Dr. Harvey's!
We cannot thank Dr Harvey enough for his guidance and helping us discover the right protocol for our handsome boy. The green superfood is a true winner.

Best,
Linda Cassola
---
Posted By
Guest Post Contributor, Julia Roach DVM
June 26, 2018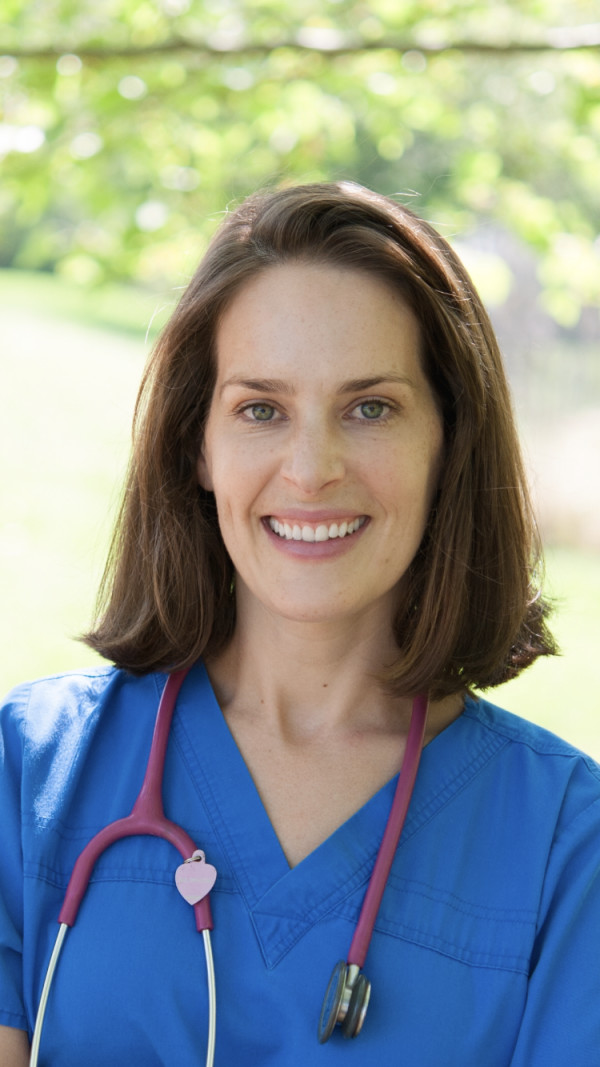 We could not have been more pleased when Dr. Roach reached out to us to tell us about how she discovered Dr. Harvey's and how it had helped her dog, Muttley. She wanted to share her personal journey with other pet parents in hopes that her experience could help others to find nutritional solutions for their dogs. Here is her story in her own words.
Discovering Paradigm
Dr. Harvey's Paradigm has truly changed my dog's quality of life. I diagnosed my oldest dog, Muttley, with cognitive dysfunction syndrome (the dog version of dementia), along with other health ailments. Although Paradigm has tremendously improved his other medical conditions, such as alleviating his arthritis, increasing his energy level and helping his ability to lose weight, my focus in this post will be his mental health.
Muttley's Anxiety Had Become Severe
Unfortunately, with cognitive disorders, concurrent anxiety-related conditions are common. Muttley's anxiety had become so severe that I tried every pharmaceutical medication that I thought would help, but there were no significant signs of improvement. Being a veterinarian, I felt hopeless not being able to help my own dog. Then I discovered Dr. Harvey's Paradigm.
Could Diet Make a Difference?
Let me back up to why I went searching for a diet like Paradigm in the first place. My husband and I decided to try a ketogenic diet for our overall health, and more specifically, to increase my energy level. After three weeks of strictly sticking to this diet, my energy level was truly remarkable. I was also amazed at all the other health benefits that came with following a ketogenic diet. Being on this diet paralleled with my attempts at finding Muttley relief from his anxiety. I began to wonder what benefits Muttley could experience being on a similar diet.

My Research Led Me to Dr. Harvey's Paradigm
As I researched ketogenic diets for dogs, I came across several that required me to make the entire meal from scratch. Being a mother of two toddlers, I knew that was not a realistic option. I then came across Dr. Harvey's website, and Paradigm was exactly what I was looking for! I felt confident it was at least worth a try, and I ordered a bag.
Muttley was Truly Suffering
At this point, Muttley was riddled with anxiety. He was having severe anxiety attacks daily. During the day, I would have to keep Muttley right by my side or he would go outside and pace. When he did lay down, he would lick his dog bed obsessively. At night, he would not leave my side until I went to bed, and even then, he couldn't sleep throughout the night. I would wake up to him staring at me, panting heavily, and trembling.
Paradigm Made a World of Difference
My bag of food arrived and after only two days, Muttley slept throughout the night. Prior to Paradigm, he had not slept throughout the night for as long as I could remember. As I continued feeding him Paradigm, he stopped having his daily anxiety attacks. He would relax on his bed during the day instead of trying to pace outside. He no longer licked his bed. He will occasionally follow me around at night when I'm doing my nightly chores, but if I bring his dog bed and place it so he can see me, he will lay on it and fall asleep. Most incredibly, however, I have also weaned him off all his medications! It has been six months since I started Paradigm and he has yet to have any relapses or set-backs.
I Have Switched All of My Dogs to Dr. Harvey's
Once I realized how beneficial Paradigm was to Muttley's health, I switched all four of my other dogs onto the diet, and to no surprise, Paradigm has undeniably improved their overall health. I use Paradigm as the base of their meals and I add in my choice of proteins and healthy oils. Inside the bag is a simple instruction guide that tailors to the age and weight of any dog. With the help of Dr. Harvey's, not only am I able to make homemade meals with ease, but I also feel that they are getting the "best of the best."
We are so Happy to Have Found Dr. Harvey's
Since then, Dr. Harvey's was kind enough to send me their other lines of food (Canine Health, Veg-to-Bowl, Veg-To-Bowl Fine Ground and Oracle Grain-Free), treats, and a variety of their supplements. My five dogs happily agree to participating in the food trials!

Julia Roach, DVM
---