Posted By
The Team at Dr. Harvey's
April 6, 2020
The wonderful and brave Marilyn Neville from The Bollinger County Stray Project reached out to us and posted Pee Wee's amazing journey on their Facebook page. We wanted to share this wonderful success story with you. This is Pee Wee's story in her own words. Tissues ready…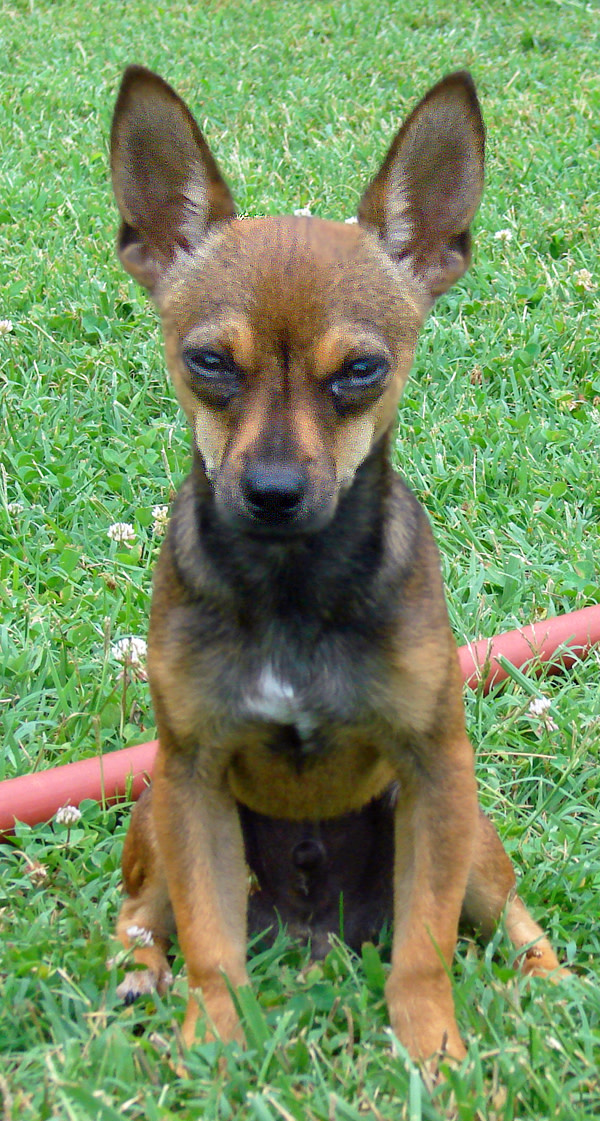 How Did We Do It?
Our Pee Wee: rising from the dead from renal failure, now running, playing, carrying heavy chew toys again with ease and heck, shocking to see him so happy again. It all started before Thanksgiving when we learned his severe lethargic behavior, lost interest in eating, and smelly breath was not due to heart failure, but to renal failure. Three times, maybe four, we considered taking 11 year-old Pee Wee to the vet to be euthanized.
We Were Told There Was Nothing We Could Do For Him
For 3 or 4 years we had been treating Pee Wee with about $100 a month heart medication. So naturally we were dismayed when, after a vet visit, we were told there was nothing more to do for him. We were told to go home, and soon he would totally give up eating.

Then we would have to end the suffering. We were lost.
He Stopped Eating
It was the holidays when he stopped eating, I took him to Dr. Retz, and she ran a blood panel and learned that the extra bad breath and now black colored teeth were the result of renal failure! ! !
Months earlier Dr. Retz had me give his heart meds in a reduced dose of Lasix which had helped. Then she had me half his pink heart pill to divide doses to twice daily instead of just in the morning.
I Had to Keep Pee Wee Alive for My Husband
THEN we had another challenge; keeping Pee Wee alive while my husband, Michael, was learning his heart was sick and he might need heart surgery. During those few weeks of testing and doctor visits for Michael, we learned that he needed a pacemaker.
I felt I HAD to keep Pee Wee alive because he IS Michael's love pup, Michael's shadow….
I Began Giving Pee Wee IV Fluids
I had to give Pee Wee IV fluids three times a week. The needle is huge. Three sticks of 10cc warm IV fluid to a Chihuahua who had to be muzzled and was crying. I also had to feed him a mash of KD diet WITH a feeding syringe (because he hated it), which would cause him to choke. I also had to give his pills mashed with water in a feeding syringe. That also would cause choking at times.
I Had To Find Another Answer!
I HAD to find a food he would eat and a different way to keep him alive with a a better quality of life._
Searching on the Internet I found many homemade foods and the University nutritionists offered help, but the one recommended to me wanted so much money and then extra $100 per recipe. ARE YOU KIDDING? How much money would we be able to spend on this sick little guy? I did not know if he would even eat their recipes.
All the articles I read said dogs with renal failure are picky and need lots of variety because THEY HAVE NO INTEREST IN EATING.
And then…I Found Dr. Harvey's
Well……….. I found a comment online about Dr. Harvey's and a blend he has where you add your own meat and how so many people were seeing great results.
I ordered my first 5-pound bag before Christmas.
He not only ate it, but he started to thrive.
The Dr. Harvey's Team Gave Me All The Help I Needed
I was COACHED by one of their specialists (LORI CARSCADDEN) who works with special needs clients. I gave her Pee Wee's weight and she taught me how to feed him and when to feed him.
The Improvement Was So Fast and So Amazing
We saw Pee Wee improve SO QUICKLY and to an almost shocking degree, that I can say he is healthier than he has been for probably 6-10 months ! ! ! ! ! ! ! ! !
He gets a B-12 shot from me every Monday, about 2/10 of a CC with an insulin size needle. No pain. Lots of gain!
He gets 1/3 of the protein he normally would eat. I chop his dry food, Dr Harvey's Canine Health, in a food processor so it is better digested. I use extra lean ground beef or GROUND skinless chicken thigh for his meat (which I grind). There is a reason for those two protein choices.
Dr. Harvey's and Dr. Retz Saved our Little Pee Wee's Life
Dogs with renal failure are often also anemic. I can tell when I forget to give the B-12 shot to him.
Dr. Harvey's and Dr. Colleen Retz saved little Pee Wee's Life
Every month since we have run blood tests to check his results. Every month he has improved.
ANYONE with a dog suffering from Renal Failure should at least talk to Dr. Harvey's staff about a possible RECIPE FOR SUCCESS.
Please Share This Information with Your Veterinarian
SHARE this information with your vet. I am sure you will be glad you did. Pee Wee has been on the diet for over 3 months and he is so happy! And so are we!
I see now, I see the proof that what you feed your dog makes a huge difference in their health.
Thank You From The Bottom of My Heart
We will be forever grateful for your help.
Sincerely yours,

Marilyn Neville
The Bollinger County Stray Project
---
Posted By
The Team at Dr. Harvey's
April 6, 2020
Hello Dr. Harvey's
6 months ago, we took our dog Konan to the doctor and found out that he had the beginning stages of Kidney disease. His levels were well within the range where a diet change needed to happen. We purchased the prescription food from the Vet and started to give it to him. We were not excited about the food they offer, and I decided to seek an alternative.
Dr. Harvey's to the Rescue
After researching I found Dr. Harvey's, I decided to give it a try. Yes, it is more expensive than our regular food, but he is my first kid and my buddy. The routine we came up with was to give him his old man food (Natural Balance, Older Adult) in the morning and then the Canine Health in the evening. After emailing with the Dr. Harvey's team, we came up with the protein he should have would be an egg white. That is what we have done for the last 6 months. It has changed him; he is like a puppy again! He runs and jumps and is so excited. We were calling him old man before, now he is a puppy again.
Our Vet was Amazed-She Had Never Seen this Before
Last week I took Konan to the doctor to get his levels checked to see how he was doing by the numbers. I am ecstatic to report that his levels went from being in the mid-range of having kidney disease to in the high side of the normal range for any dog! His urine still shows the kidney disease, which is normal.
His Vet was astonished, she came out and asked me what we were doing and wrote down Dr. Harvey's so she could look it up.
She said she has never seen this happen before and was amazed at how well he looked.
She also said that his bones and muscle all looked good, which was surprising because these can start to deteriorate with this disease. My dog will be 13 next month and is expected to live another 4 or so years. Here is to a Happy and Healthy next 4 years and hopefully more.
We Could Not Be Happier with Konan's Progress
Thank you, Thank you!!!

Sincerely yours,
April Post and Konan
---
Posted By
The Team at Dr. Harvey's
January 22, 2020
We Want to Share our Story with Everyone
Hello Dr. Harvey's

We just wanted to write to your company to say thank you for your amazing product! Our dog, Shiloh was diagnosed with kidney failure last year. She came home from the hospital and initially liked her wet/dry kidney food but soon was refusing to eat it. Everyday we were struggling with getting her to eat and could see the impact it was having on her health.
We Found Dr. Harvey's and She Loved It!
Then, we came across Dr. Harvey's when doing some research online on how to make our own dog food. We bought some and she has loved it ever since! With the help of Dr. Harvey's food and her IV fluid treatments her kidney's have remained stable.
Shiloh's Kidney's are Now Stable.
We no longer have to worry if she will eat that day, and you have made our lives so much easier!

We cannot thank you enough for helping Shiloh!!
The Sorge Family
---
Posted By
The Team at Dr. Harvey's
December 16, 2019
Canine Health Has Been a Godsend for My Senior
Good morning Dr. Harvey's

I'm writing this review of your Canine Health dog food because it has been a Godsend for my 15-year-old toy poodle Georgia.
She was in renal failure in August and I was researching how to help her when I stumbled across your website. I bought a trial size of your Canine Health dog food because of how picky my Georgia girl is most days. When it arrived, I made her a meal and she wouldn't eat it. I was giving her lots of treats because she wasn't eating her dog food and didn't realize the mistake, I was making with the high protein in her treats and dog food. I struggled for the next 2 months trying to get her to eat something. Her incontinence continued and she drank lots of water and didn't feel good.
She Was Given 6 months to Live
I took her back to the Vet in October and there wasn't much change in her renal function. I was desperate at this point and the Vet said little to no protein at this point. He said there's not much else to be done she has 6 months or less to live.
I was so broken-hearted thinking I would lose my sweet Georgia girl soon.
I Fed Canine Health and Was Amazed at the Difference
I took her off all treats and made her another meal with your dog food, Canine Health, and Behold! She ate it!! I was so excited. And within a few days of eating your dog food her incontinence stopped and she began to perk up with energy! I couldn't believe it! She stopped gulping water and began to enjoy our walks again. I've been amazed at the difference in her. I bought a bag of the Canine Health at that point.
I Went Back to the Vet-Praying for a Miracle!
I took her back to the Vet on December 4th and was praying hard for a miracle. Then the Vet came back in the room and showed me her lab results ALL within normal range. Her kidneys were working! I was so excited; I hugged the Vet and began crying tears of joy. I was overwhelmed with emotion. I hugged my baby and said a thank you prayer to God and walked out into the hallway. I stood there crying and noticed an older couple standing nearby crying with fur all over them. It broke my heart because I knew they had just said goodbye to their furbaby. I cried sad tears at this point for their loss. I was an emotional mess but so very thankful to still have my Georgia girl.

Thank you Dr. Harvey's!
Words cannot adequately express the gratitude I have for your company and your products. Even though I was a little skeptical when I bought the trial size I'm sold now!
Thanks so very much to your staff and Dr Harvey!

Merry Christmas,
Angie Koehler
---
Posted By
The Team at Dr. Harvey's
May 30, 2018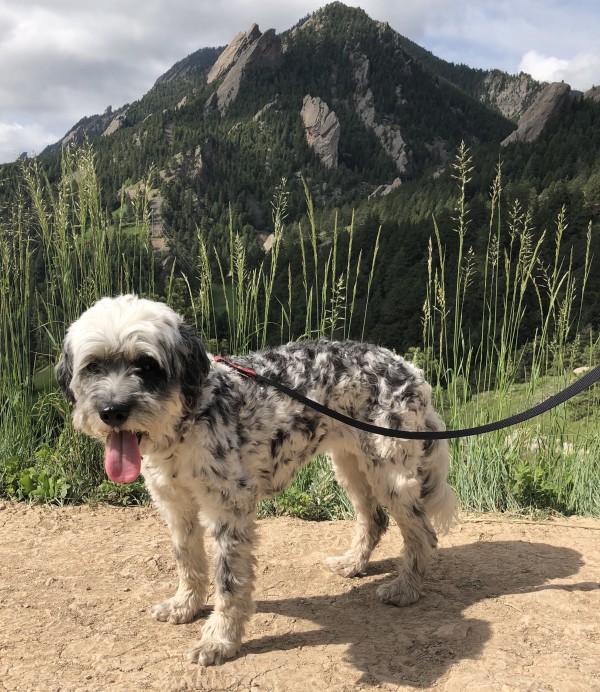 A True Miracle!
Canine Health is what I've tried so far and it has truly been a miracle. I'll be honest I wasn't expecting significant results because I had already had my dog on a homemade diet with a vitamin mix.
Better in Just One Day
However, she was struggling with chronic diarrhea for over 6 weeks and nothing I tried was helping, except antibiotics. Within one day on Canine Health she was back to normal! She has kidney so I'm going to stick with Canine Health or Veg-to-Bowl.
We Could Not Be Happier!
Please share our experience with other pet parents. We want everyone to know about Dr. Harvey's!
I only wish I had known about Dr. Harvey's sooner!

Thanks so much!
Emily Spears and Pepper
---
Posted By
The Team at Dr. Harvey's
May 10, 2018
High Kidney Levels
I just wanted to let you know how much I appreciate your food! My husband and I have a 10 or 11 year old terrier mix named Juno who went in for blood work to make sure we could put her under for teeth cleaning. The results revealed her kidney levels were high.
No Prescription Food for Juno!
The vet suggested putting her on a prescription diet i.e. Science Diet. Well, I did not want that, I have heard many horror stories about that! My fur baby's health means a lot to me. So, at the beginning we were feeding her homemade food such as turkey, broccoli and rice, but then her teeth were getting worse. We needed to feed her dry food to help remove tartar etc. So, we researched high and low for a good high quality dry food that was made in the US.
Her Levels Improved Drastically
Well, I guess that wasn't good either, because after feeding her Canine Health, her kidney levels drastically improved. She also had energy like she had when she was younger. We could tell she was feeling better! I was baffled that even with the expensive "high quality" dry food her health was declining. Not sure what it is, but Dr. Harvey thank you so much!!! Not sure what we would do without you!

Thank you!
Misty Angulo and Juno
---
Posted By
The Team at Dr. Harvey's
April 27, 2018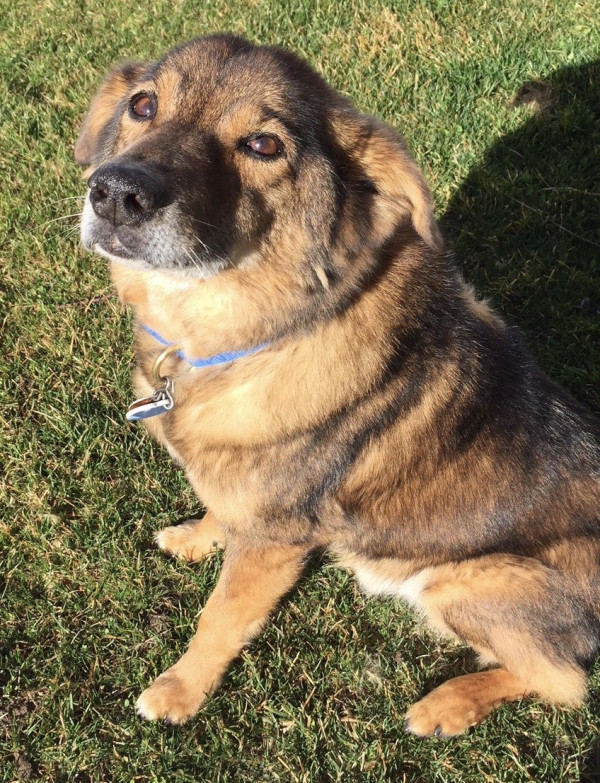 He Was Diagnosed with Kidney Disease
My fifteen year old dog, Otto, was diagnosed with kidney disease almost two years ago, My vet insisted that he needed to be on a prescription diet even though I do not like the ingredients in these diets. This diet was high in fat and he developed pancreatitis. She then put him on another prescription diet; which caused stomach upset.
So Happy I Found Dr. Harvey's
I am glad that I found Dr. Harvey's Canine Health. My dog has been on this since about August, 2016. His kidney blood test indicators stabilized while they were actually increasing on the prescription diet. His creatinine values have been steadily decreasing since he started Canine Health.
My Vet Could Not Believe His Age!
My dog loves Canine Health. He is energetic, and his coat looks great. After using this food for while I brought him to a new vet and she was really surprised that he was as old as he is!
---
Posted By
The Team at Dr. Harvey's
March 18, 2018
We Were Told To Prepare for the Worst
About a month ago my little girl became extremely sick with no warning signs, after visiting our local vet we discovered she was suffering from an inflamed liver, her kidney levels were extremely high, and she was suffering from pancreatitis. We were told to prepare for the worst being that she is 10 years old and most likely would not recover.
She Refused to Eat
After spending three days at the vets on IV fluid and medications we were allowed to bring her home but on a NF kibble diet and a ton of supplements and antibiotics. Things seemed better for a few days, but she refused to eat the hard-dry RX formula of food. For years we have fed her nothing but Blue Buffalo as I always had the perception that they were a quality food.
She Started to Relapse
After a few days of being home she started to relapse and started vomiting every time she ate and again we were told to keep feeding her the Rx diet and to prepare for the worst. I did not want to give up on my little girl, but I did not want to see her in pain either, after days of research I happened to come upon Dr. Harvey's website.
Then I Found Dr. Harvey's
I spent hours going over reviews on Amazon and Facebook and in a leap of faith I placed an order for Dr. Harvey's Canine Health Miracle Dog Food. It has been three weeks and I am happy to say that I have my little girl back, better than ever. She is her normal spunky self again thanks to Dr. Harvey's. I cannot begin to thank you for saving my Baby Girl. I truly believe if it was not for this amazing food she would not be with us today. We will continue on this diet and at this point we have stopped all the supplements the vet recommended and switched to Dr. Harvey's Kidney Health Supplement along with the Canine Health Miracle Dog Food.
Thank you for Saving My Baby Girl
I am happy to report that she is back to her old self with even more spunk then before. Thank You again for helping my little girl. Attached are a few pictures of my Baby Girl.

Baby Girl is a 10-year-old Doxin-West Highland mix, and we look forward to many happy years to come.

Thank You Dr. Harvey,
Timothy W. Gutliph
---
Posted By
The Team at Dr. Harvey's
June 29, 2017
Nothing makes us happier than when a pet parent feels compelled to write to us and tell us how their precious companion's health improved after using our food and talking to Dr. Harvey. This has to be one of our favorites. Banjo's mom, Terri, wrote to tell us about this adorable 12-year-old Shih Tzu and how he improved so dramatically after changing Banjo's diet!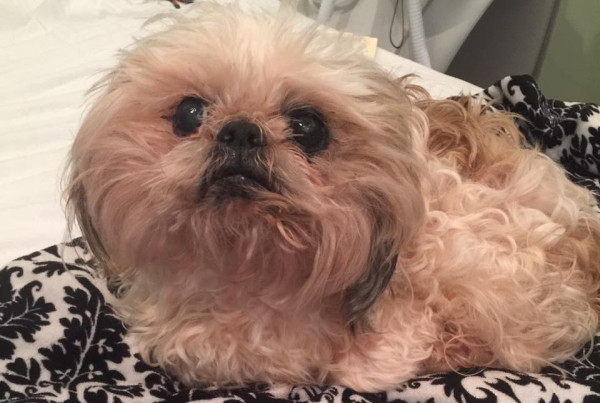 I Had to Write to You
Dear Dr. Harvey,
I have been trying to find where I can leave you reviews and I can't seem to find anywhere so I am emailing you and you can feel free to post it wherever you would like to. You have been such a help to us and we are so thankful!
Banjo's Diagnosis-Our Hearts Were Broken
Our little 12-year-old Shih Tzu, Banjo, was diagnosed with renal failure as well as anemia. Our hearts were broken and we were, of course, doing everything the vet advised us to do. He was getting worse and worse and we really felt we were a few days away from losing him. Dr. Harvey's food ad popped up after doing some research and we decided to purchase his Canine Health-The Miracle Dog Food. Our little guy loved it.
We Changed His Food and Then We Called Dr. Harvey
A few days later I decided to call and hopefully speak with Dr. Harvey himself. What a wonderful, kind man. Dr. Harvey advised us of multiple things we needed to do that our local vet had never mentioned as well as things that our vet didn't even know anything about. We made the changes immediately and Banjo started to look brighter and more alert.
In Just 6 Days He Was Back to Himself!
Within 6 days our little guy was himself again. I cannot begin to tell you how sick he was…he could hardly stand to urinate, he wasn't even holding his urine, his appetite was not good, he was incredibly lethargic, etc. After just 6 days of eating Dr. Harvey's food (he advised us of exactly how much protein to add), as well as implementing the other things he told us about and he did a complete turnaround.
It Was A Miracle
It was honestly miraculous! Now we speak to Dr. Harvey about once per week and he continues to guide us. What a blessing this man is. He has restored my faith in the kindness of people, and reminded me that there is still a lot of good left in the world.
Thank You From Banjo!
Thank you, Dr. Harvey, from the very bottom of our hearts. And if Banjo could talk, I promise he would tell you that he loves you and thank you so much!
Terri McConnell, Jason McConnell and Banjo
*UPDATE ON
BANJO

-7/9/17

This food is simply incredible . We have a 12 yr old Shih Tzu with compromised kidneys . We started him on this food , as well as a few other things Dr Harvey recommended and the change in his health and energy has simply been miraculous. I also just have to say that he is eating more now than he did before he got sick ..Dr Harvey advised us how much of our own quality protein to add . Our Banjo LOVES this food ! I can't say enough wonderful things about this food and about Dr Harvey as well.
Terri McConnell

I would just like to add that when we found this food, Banjo was so sick he wasn't eating on his own.

I had to mix this food with more water and blend it so that I could feed him with a syringe. After a few days I noticed that Banjo was licking the end of the syringe indicating that he wanted to eat this food. I mixed some up according to the directions and didn't blend it and he ate a lot! That was a couple of months ago and he is still enjoying this food and is so much better. His vet cannot believe his recovery! It is truly a miracle and we are so thankful for this food and everything that Dr. Harvey and his team have done to help our little guy get better!

Jason McConnell
---
Posted By
The Team at Dr. Harvey's
April 30, 2017
I Had To Write to You
Good Morning, I wanted to write to you and tell you… Thanks for EVERYTHING!
Dr. Harvey has been helping my Chadwick and I really appreciate every moment of his time. I have never had an experience quite like it, we have been blessed with great vets, but Dr. Harvey is more than that he is a great human being who really cares. Chadwick has been eating the Fine Ground Veg-to-Bowl for about a month, to say he is picky is an understatement.
Chadwick Loves the Food!
He LOVES Dr. Harvey's Fine Ground Veg-to-Bowl! Chadwick is 11 years old and a two-time cancer survivor and has had some kidney issues and is now battling some liver function issues. His kidney issues were quickly rectified with Dr. Harvey's and I know we will also get to the bottom of his liver issues with Dr. Harvey's help.
You Are Always There for Me
Dr. Harvey is always there to speak with me and calm me down and we couldn't be more grateful for his products and his guidance. I am looking forward to trying the new Paradigm food as well :)
Thanks so very much,
Kristen H. Zachariev and Chadwick
---