Posted By
The Team at Dr. Harvey's
April 6, 2020
The wonderful and brave Marilyn Neville from The Bollinger County Stray Project reached out to us and posted Pee Wee's amazing journey on their Facebook page. We wanted to share this wonderful success story with you. This is Pee Wee's story in her own words. Tissues ready…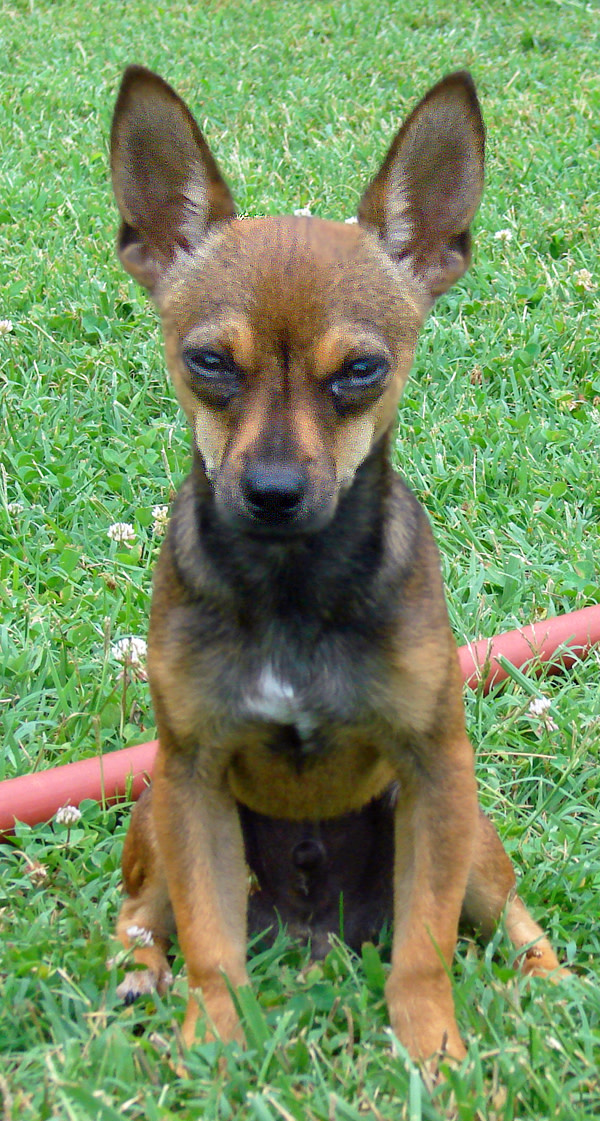 How Did We Do It?
Our Pee Wee: rising from the dead from renal failure, now running, playing, carrying heavy chew toys again with ease and heck, shocking to see him so happy again. It all started before Thanksgiving when we learned his severe lethargic behavior, lost interest in eating, and smelly breath was not due to heart failure, but to renal failure. Three times, maybe four, we considered taking 11 year-old Pee Wee to the vet to be euthanized.
We Were Told There Was Nothing We Could Do For Him
For 3 or 4 years we had been treating Pee Wee with about $100 a month heart medication. So naturally we were dismayed when, after a vet visit, we were told there was nothing more to do for him. We were told to go home, and soon he would totally give up eating.

Then we would have to end the suffering. We were lost.
He Stopped Eating
It was the holidays when he stopped eating, I took him to Dr. Retz, and she ran a blood panel and learned that the extra bad breath and now black colored teeth were the result of renal failure! ! !
Months earlier Dr. Retz had me give his heart meds in a reduced dose of Lasix which had helped. Then she had me half his pink heart pill to divide doses to twice daily instead of just in the morning.
I Had to Keep Pee Wee Alive for My Husband
THEN we had another challenge; keeping Pee Wee alive while my husband, Michael, was learning his heart was sick and he might need heart surgery. During those few weeks of testing and doctor visits for Michael, we learned that he needed a pacemaker.
I felt I HAD to keep Pee Wee alive because he IS Michael's love pup, Michael's shadow….
I Began Giving Pee Wee IV Fluids
I had to give Pee Wee IV fluids three times a week. The needle is huge. Three sticks of 10cc warm IV fluid to a Chihuahua who had to be muzzled and was crying. I also had to feed him a mash of KD diet WITH a feeding syringe (because he hated it), which would cause him to choke. I also had to give his pills mashed with water in a feeding syringe. That also would cause choking at times.
I Had To Find Another Answer!
I HAD to find a food he would eat and a different way to keep him alive with a a better quality of life._
Searching on the Internet I found many homemade foods and the University nutritionists offered help, but the one recommended to me wanted so much money and then extra $100 per recipe. ARE YOU KIDDING? How much money would we be able to spend on this sick little guy? I did not know if he would even eat their recipes.
All the articles I read said dogs with renal failure are picky and need lots of variety because THEY HAVE NO INTEREST IN EATING.
And then…I Found Dr. Harvey's
Well……….. I found a comment online about Dr. Harvey's and a blend he has where you add your own meat and how so many people were seeing great results.
I ordered my first 5-pound bag before Christmas.
He not only ate it, but he started to thrive.
The Dr. Harvey's Team Gave Me All The Help I Needed
I was COACHED by one of their specialists (LORI CARSCADDEN) who works with special needs clients. I gave her Pee Wee's weight and she taught me how to feed him and when to feed him.
The Improvement Was So Fast and So Amazing
We saw Pee Wee improve SO QUICKLY and to an almost shocking degree, that I can say he is healthier than he has been for probably 6-10 months ! ! ! ! ! ! ! ! !
He gets a B-12 shot from me every Monday, about 2/10 of a CC with an insulin size needle. No pain. Lots of gain!
He gets 1/3 of the protein he normally would eat. I chop his dry food, Dr Harvey's Canine Health, in a food processor so it is better digested. I use extra lean ground beef or GROUND skinless chicken thigh for his meat (which I grind). There is a reason for those two protein choices.
Dr. Harvey's and Dr. Retz Saved our Little Pee Wee's Life
Dogs with renal failure are often also anemic. I can tell when I forget to give the B-12 shot to him.
Dr. Harvey's and Dr. Colleen Retz saved little Pee Wee's Life
Every month since we have run blood tests to check his results. Every month he has improved.
ANYONE with a dog suffering from Renal Failure should at least talk to Dr. Harvey's staff about a possible RECIPE FOR SUCCESS.
Please Share This Information with Your Veterinarian
SHARE this information with your vet. I am sure you will be glad you did. Pee Wee has been on the diet for over 3 months and he is so happy! And so are we!
I see now, I see the proof that what you feed your dog makes a huge difference in their health.
Thank You From The Bottom of My Heart
We will be forever grateful for your help.
Sincerely yours,

Marilyn Neville
The Bollinger County Stray Project
---
Posted By
The Team at Dr. Harvey's
January 22, 2020
We Want to Share our Story with Everyone
Hello Dr. Harvey's

We just wanted to write to your company to say thank you for your amazing product! Our dog, Shiloh was diagnosed with kidney failure last year. She came home from the hospital and initially liked her wet/dry kidney food but soon was refusing to eat it. Everyday we were struggling with getting her to eat and could see the impact it was having on her health.
We Found Dr. Harvey's and She Loved It!
Then, we came across Dr. Harvey's when doing some research online on how to make our own dog food. We bought some and she has loved it ever since! With the help of Dr. Harvey's food and her IV fluid treatments her kidney's have remained stable.
Shiloh's Kidney's are Now Stable.
We no longer have to worry if she will eat that day, and you have made our lives so much easier!

We cannot thank you enough for helping Shiloh!!
The Sorge Family
---
Posted By
The Team at Dr. Harvey's
April 19, 2018
She is My Baby
Hi Dr. Harvey's,
This is my baby girl Chloe. She is a 9 year old Pomeranian who has always been extremely healthy. I have a complete physical performed on her and her brother Apollo once a year, along with blood work. To say they are like my children is an understatement.
A little over 4 years ago I lost my only child. Her name was Cassi. I have survived, one day at a time, with the help of my canine children, who allow me to mommy them as much as I want and need. Most people would think I spoil them, but they give me so much more than I give them. Unfortunately, in wanting to make them as happy as possible, until recently I did not feed them a proper diet, in fact, it was pretty bad. Mostly treats, including chicken and duck jerky, cookies and candy not containing chocolate…yeah, it was bad.

As their annual blood work kept coming back normal and they had no apparent health problems, as recent as January 26, 2018 I wasn't concerned.
Suddenly She Was Very Sick
On Wednesday, March 28th, I noticed Chloe straining a bit to defecate. The next day, it was much worse. She was straining very hard yet producing no results. Later that night, she began vomiting. The next morning I had her at her veterinarian's office before they even opened. Her vet wanted to sedate her to perform an enema, and even though she was extremely lethargic, she was uncontrollable when her vet tried to examine her. I was told I'd have to leave her there for the procedure and would be called the it was over. Unbeknownst to me, blood work was ordered before the procedure was to performed.
Her Kidneys Were Failing
Mid-morning I received a phone call from the vet. Chloe had pancreatitis and her kidneys were failing. She was not stable enough to be sedated. Her vet wanted to keep her overnight to give her IV fluids. I was hysterical. I went back to the clinic and waited until I could talk to the vet in person. She asked about possible contact with toxins such as pesticides, grapes, anything. My dogs are supervised 24/7, there was no way either of them had been poisoned. The vet diagnosed her with Chronic Renal Failure which didn't make sense because her kidney values had been normal two months previously.
I Was Frantic
The next morning, Saturday the 31st of April, I picked her up after spending a long sleepless night crying, praying and researching the internet for information. Chloe seemed to feel better after 24 hours of fluid treatment, or maybe she was just happy to see Mommy. The vet made no mention of further blood work, so I asked her to repeat it to see if the fluids had helped, and she did. I was sent home with a case of canned prescription dog food, medications to soften her stool, stimulate her appetite, ease nausea and antibiotics. She refused her food and fought taking her medication. As the day wore on, she again became lethargic. The next day she was worse, lethargic and weak. She's a tiny girl, naturally thin, and had not passed stool in 5 days, had not eaten in 4 days. I became frantic. I was grinding her pills and mixing with fluid to force her medication down her throat with a syringe. I pureed the dog food with extra water and force fed her with a syringe to get some calories in her.
I Was Not Ready to Give Up
The next day the vet called with the results of the blood work I had asked for. The 24 hour IV fluid drip had improved her numbers slightly, very slightly. She offered me no treatment options, basically told me to just try to keep her comfortable and enjoy the time I had left with her. I told her I wanted to start subcutaneous fluid therapy at home, so she agreed and I took Chloe back in to learn how to administer the fluids and buy supplies.I got the distinct impression the vet felt Chloe was dying and that I was clinging to unrealistic hope. However, after all I had learned and was learning, I was not ready to give up.
I Could See She Was Declining-Then I found Dr. Harvey's
Over the next few days, Chloe was still declining, and I was losing faith in her traditional treatments. I had been researching alternative treatments and incorporating them into her routine.I found Dr. Harvey's website and called the company to get advice about which products to buy. To my surprise, Dr. Harvey himself called me back. I only knew the kidney values, and that was because I had asked the vet for them. Dr. Harvey gave me instructions and asked me to get copies of her blood work reports and e-mail them to him. I drove to the clinic and requested the paperwork and was absolutely flabbergasted at what I saw. In addition to her extremely high kidney values, her liver enzymes were through the roof as well, but that had never even been mentioned to me. I e-mailed Dr. Harvey the results and again he called me with instructions for liver support.
She Began to Get Better!
Day by day Chloe began feeling better until she reached the point where she seemed like her old self, happy, energetic.

Yesterday I returned to the clinic to purchase more fluids and supplies and requested another blood panel so I could see for myself where we were. I will never again unquestionably trust anyone with the health of my dogs. She told me she would have the results either later in the day or this morning.
The Vet Called She Was Amazed
She called this morning, amazed. Chloe's kidney function results are within normal range! Her liver function results are still elevated, but I have only been following Dr. Harvey's instructions for 3 days as I had to order a supplement and wait for it to arrive. I am expecting the same success with her liver as she has experienced with her kidneys.

Chloe is still adjusting to her new diet. It takes some coaxing, as well as hand feeding, to get healthy food into her because she has lived most of her life eating treats…but she is coming around and eats more than I expected. She even ate some the very first time I offered it to her, which surprised me.
Thank You, Thank You…
Dr. Harvey and his staff have been wonderful to me. I don't have words to express how much gratitude I have.

Thank you,
Very Happy Mommy of Chloe and Apollo
---
Posted By
The Team at Dr. Harvey's
March 18, 2018
We Were Told To Prepare for the Worst
About a month ago my little girl became extremely sick with no warning signs, after visiting our local vet we discovered she was suffering from an inflamed liver, her kidney levels were extremely high, and she was suffering from pancreatitis. We were told to prepare for the worst being that she is 10 years old and most likely would not recover.
She Refused to Eat
After spending three days at the vets on IV fluid and medications we were allowed to bring her home but on a NF kibble diet and a ton of supplements and antibiotics. Things seemed better for a few days, but she refused to eat the hard-dry RX formula of food. For years we have fed her nothing but Blue Buffalo as I always had the perception that they were a quality food.
She Started to Relapse
After a few days of being home she started to relapse and started vomiting every time she ate and again we were told to keep feeding her the Rx diet and to prepare for the worst. I did not want to give up on my little girl, but I did not want to see her in pain either, after days of research I happened to come upon Dr. Harvey's website.
Then I Found Dr. Harvey's
I spent hours going over reviews on Amazon and Facebook and in a leap of faith I placed an order for Dr. Harvey's Canine Health Miracle Dog Food. It has been three weeks and I am happy to say that I have my little girl back, better than ever. She is her normal spunky self again thanks to Dr. Harvey's. I cannot begin to thank you for saving my Baby Girl. I truly believe if it was not for this amazing food she would not be with us today. We will continue on this diet and at this point we have stopped all the supplements the vet recommended and switched to Dr. Harvey's Kidney Health Supplement along with the Canine Health Miracle Dog Food.
Thank you for Saving My Baby Girl
I am happy to report that she is back to her old self with even more spunk then before. Thank You again for helping my little girl. Attached are a few pictures of my Baby Girl.

Baby Girl is a 10-year-old Doxin-West Highland mix, and we look forward to many happy years to come.

Thank You Dr. Harvey,
Timothy W. Gutliph
---
Posted By
The Team at Dr. Harvey's
June 29, 2017
Nothing makes us happier than when a pet parent feels compelled to write to us and tell us how their precious companion's health improved after using our food and talking to Dr. Harvey. This has to be one of our favorites. Banjo's mom, Terri, wrote to tell us about this adorable 12-year-old Shih Tzu and how he improved so dramatically after changing Banjo's diet!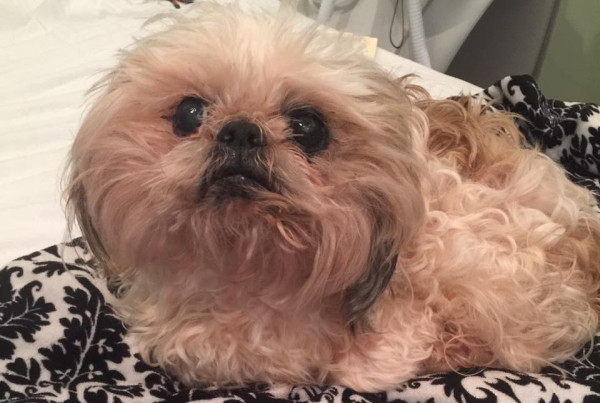 I Had to Write to You
Dear Dr. Harvey,
I have been trying to find where I can leave you reviews and I can't seem to find anywhere so I am emailing you and you can feel free to post it wherever you would like to. You have been such a help to us and we are so thankful!
Banjo's Diagnosis-Our Hearts Were Broken
Our little 12-year-old Shih Tzu, Banjo, was diagnosed with renal failure as well as anemia. Our hearts were broken and we were, of course, doing everything the vet advised us to do. He was getting worse and worse and we really felt we were a few days away from losing him. Dr. Harvey's food ad popped up after doing some research and we decided to purchase his Canine Health-The Miracle Dog Food. Our little guy loved it.
We Changed His Food and Then We Called Dr. Harvey
A few days later I decided to call and hopefully speak with Dr. Harvey himself. What a wonderful, kind man. Dr. Harvey advised us of multiple things we needed to do that our local vet had never mentioned as well as things that our vet didn't even know anything about. We made the changes immediately and Banjo started to look brighter and more alert.
In Just 6 Days He Was Back to Himself!
Within 6 days our little guy was himself again. I cannot begin to tell you how sick he was…he could hardly stand to urinate, he wasn't even holding his urine, his appetite was not good, he was incredibly lethargic, etc. After just 6 days of eating Dr. Harvey's food (he advised us of exactly how much protein to add), as well as implementing the other things he told us about and he did a complete turnaround.
It Was A Miracle
It was honestly miraculous! Now we speak to Dr. Harvey about once per week and he continues to guide us. What a blessing this man is. He has restored my faith in the kindness of people, and reminded me that there is still a lot of good left in the world.
Thank You From Banjo!
Thank you, Dr. Harvey, from the very bottom of our hearts. And if Banjo could talk, I promise he would tell you that he loves you and thank you so much!
Terri McConnell, Jason McConnell and Banjo
*UPDATE ON
BANJO

-7/9/17

This food is simply incredible . We have a 12 yr old Shih Tzu with compromised kidneys . We started him on this food , as well as a few other things Dr Harvey recommended and the change in his health and energy has simply been miraculous. I also just have to say that he is eating more now than he did before he got sick ..Dr Harvey advised us how much of our own quality protein to add . Our Banjo LOVES this food ! I can't say enough wonderful things about this food and about Dr Harvey as well.
Terri McConnell

I would just like to add that when we found this food, Banjo was so sick he wasn't eating on his own.

I had to mix this food with more water and blend it so that I could feed him with a syringe. After a few days I noticed that Banjo was licking the end of the syringe indicating that he wanted to eat this food. I mixed some up according to the directions and didn't blend it and he ate a lot! That was a couple of months ago and he is still enjoying this food and is so much better. His vet cannot believe his recovery! It is truly a miracle and we are so thankful for this food and everything that Dr. Harvey and his team have done to help our little guy get better!

Jason McConnell
---
Posted By
The Team at Dr. Harvey's
December 4, 2015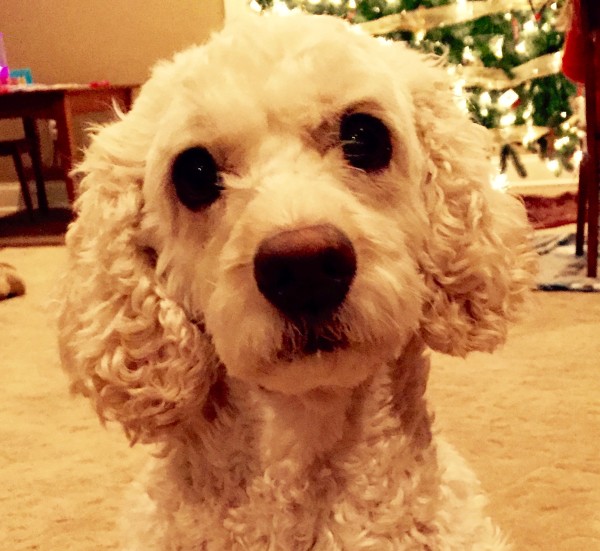 Dog mom, Amy Colella wrote to say thanks for helping her beautiful dog, Toby. We could not be happier that he is doing so well. We wanted to share her story of Toby's journey. We know that other pet parents are searching for answers to find health for their companions and we hope that by sharing these stories they will find the solutions that they need. Here is Toby's story in Amy's own words.
We heard the dreaded words, "Early Kidney Disease"
Toby is our 11 year old Cockapoo. In October of 2015, Toby had blood work done to check an elevated calcium level from the is previous lab work in March. Well, that re-check of the calcium turned into concern over his liver and kidney function. I was told to bring him that week for an ultrasound and urinalysis. The ultrasound didn't show much, however given his lab values and urinalysis I was told he had early kidney disease and should put him on a "kidney diet".
We Were Feeding "Premium" Kibble
For 11+ years I had fed this dog "premium" kibble and now I was presented with one option… give him a different kibble with lower protein and phosphate that was definitely NOT "premium".
My Research Took Me to Dr. Harvey's
In doing my own research online, I came across Dr. Harvey's. The next morning I called and spoke with a representative at Dr. Harvey's and then spoke with Dr. Harvey himself. He guided me on which food would work best and suggested a few supplements to add as well.
I Noticed the Change in Just Days!
Toby has been eating Veg-to-Bowl for about 7 weeks. I noticed significant changes within days. He was no longer licking his paws constantly and he had much more energy!
The Vet Says No More Kidney Diet Needed!
Toby returned for blood work today and his labs were back to normal ranges!!!!
Our veterinarian actually said he no longer needed a "kidney" diet.
My other dog Duncan is enjoying Dr. Harvey's as well. Duncan would walk away from the "premium" kibble and now he sits in the kitchen just waiting for his food.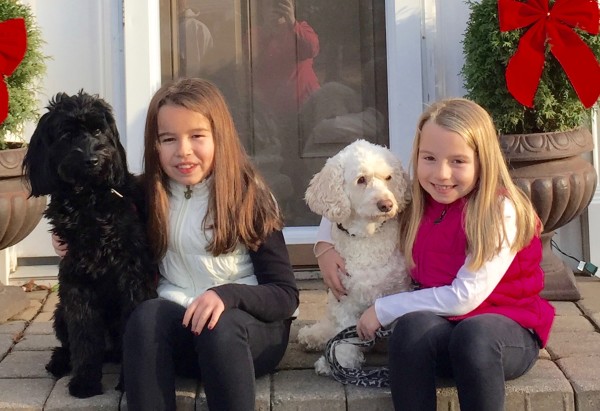 Thank you Dr. Harvey and team!
The Colella Family
---