Posted By
The Team at Dr. Harvey's
January 19, 2019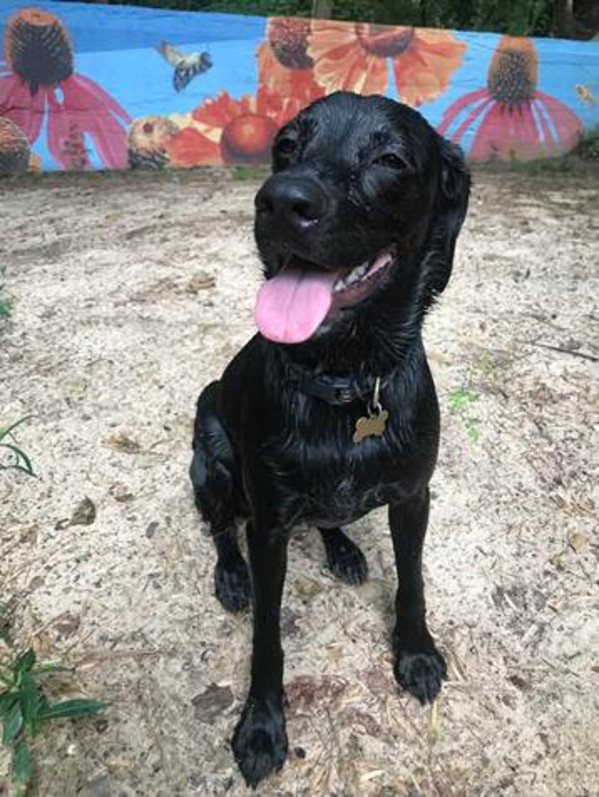 This Dog Mom is Sincerely Grateful
Dear Dr. Harvey & Team,
My dog Hampton and I want to send our sincere appreciation to you all for creating a dog food that truly has the best interest of a dog in mind.
I Tried Everything and I Mean Everything!
Hampton has suffered from chronic diarrhea since I adopted him over a year ago. I've tried everything, I mean EVERYTHING to help out Hamp – no dog food (prescription, "allergy free" or top-rated brand), medication or blood test solved the problem. Being health-conscious individual myself, I always had a feeling that homemade dog food was the way to go. After countless hours of research, I came across your brand, which I was happy to find takes out all of the guesswork associated with making your own dog food.
Diarrhea Gone!
Hampton has only been on the food for a few days and already his diarrhea is cured! I cannot even explain the feeling of joy I experienced when I saw for the first time since bringing him home a normal, healthy looking stool! I honestly didn't think it was possible – it really is a miracle!
Peace of Mind
Thank you all SO much for the tummy relief and peace of mind! I look forward to spreading the word to fellow puppy parents about this product.
Sincerely,
Nikki Ballweg & Hampton
---
Posted By
The Team at Dr. Harvey's
September 11, 2018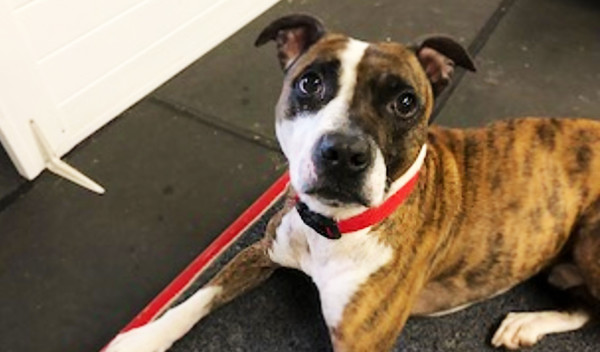 He Was Abandoned by his Owner
Bonham is a boxer/pit bull mix, approximately 7 years old.
I first met him about 3 1/2 years ago when his "then owner", was looking for some training help with separation anxiety. A very friendly dog with a ton of drive and not nearly enough stimulation to keep his mind occupied!
Long story short, Bonham's owner decided to move to Texas last December and leave him behind at the boarding kennel where I first met him. He was taken in officially by a Doberman rescue as a courtesy and I was his point of contact at the kennel.
His Digestion was a Very Big Problem
I kept getting reports from the staff that Bonham was having soft, loose & sometimes bloody stool. He would also vomit on outings we would go on, particularly in the car.
Two different fecal tests came back negative. All along I felt it was the food he was on which was kibble. Not the best or the worst. I also felt it was due to kennel stress, he had been there for 10 months!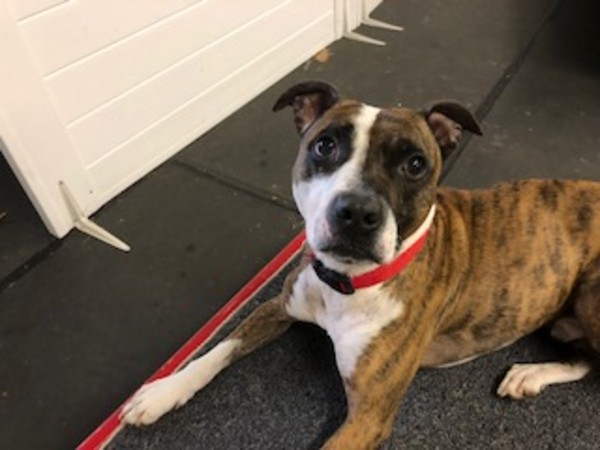 I Tried Everything and then…
Metronidazole & forti flora helped slightly & I put him on rice & ground meat. As soon as the kibble was added back in to his diet, his stool became loose again.
My friend Julie owns a holistic pet store called Doggy Dao & Cat's Meow & I always get great advice from her on nutrition. I asked her advice & she recommended Dr Harvey's.
I have to admit I didn't think of it myself but I should have. Years ago I had a Great Dane with inflammatory bowel disease & Dr Harvey's was a huge help getting Hagrid back on track with his digestive issues.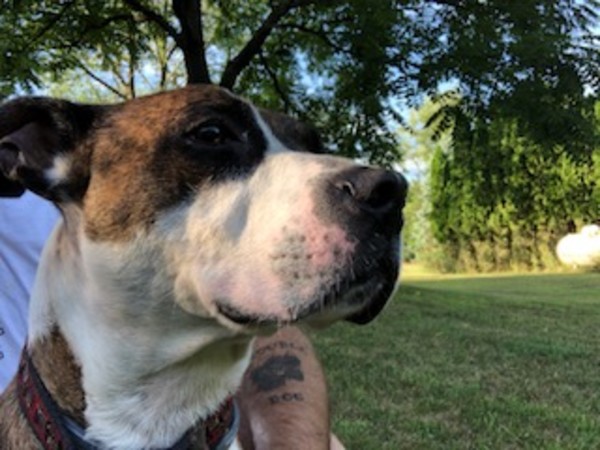 Canine Health was Recommended-The Results were Amazing!
I started Bonham on Dr Harvey's Canine Health on July 26th.
I can't believe the difference in Bonham's stool in a matter of only 6 days! It went from a loose, floppy, mucus like poop to picture perfect rock solid stool!
Bonham is Getting a New Home!
We are in the process of officially adopting Bonham & bringing him into our house to live with our other 4 dogs & 5 cats.
I can't thank you enough for the approach you take with your foods. I wish more companies did! Mostly Bonham thanks you for making his belly feel better!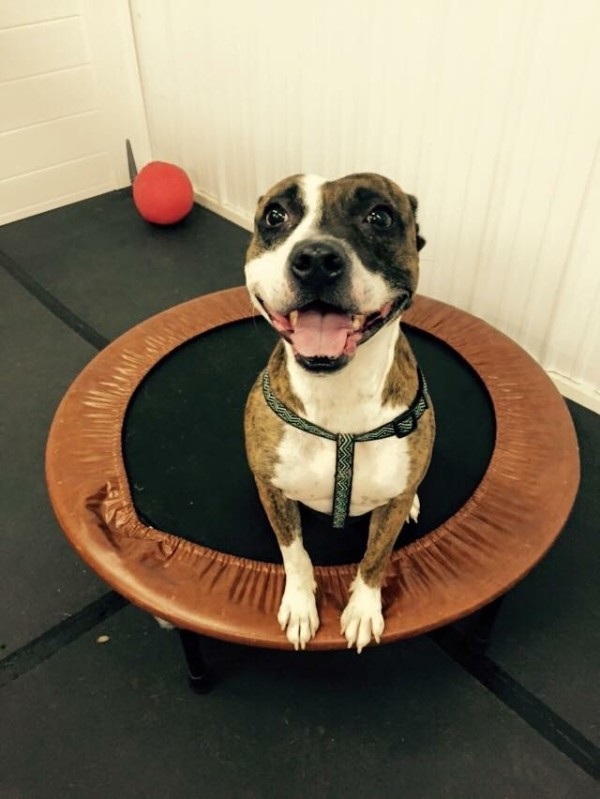 Happy Endings are the Best!
Thank you Dr Harvey & Staff!
Bonham & Bob Hafer!
---
Posted By
The Team at Dr. Harvey's
May 30, 2018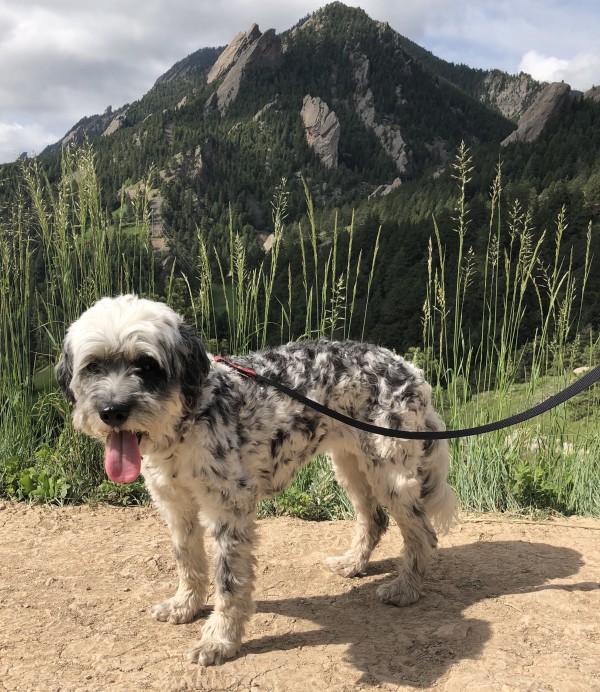 A True Miracle!
Canine Health is what I've tried so far and it has truly been a miracle. I'll be honest I wasn't expecting significant results because I had already had my dog on a homemade diet with a vitamin mix.
Better in Just One Day
However, she was struggling with chronic diarrhea for over 6 weeks and nothing I tried was helping, except antibiotics. Within one day on Canine Health she was back to normal! She has kidney so I'm going to stick with Canine Health or Veg-to-Bowl.
We Could Not Be Happier!
Please share our experience with other pet parents. We want everyone to know about Dr. Harvey's!
I only wish I had known about Dr. Harvey's sooner!

Thanks so much!
Emily Spears and Pepper
---
Posted By
The Team at Dr. Harvey's
April 22, 2018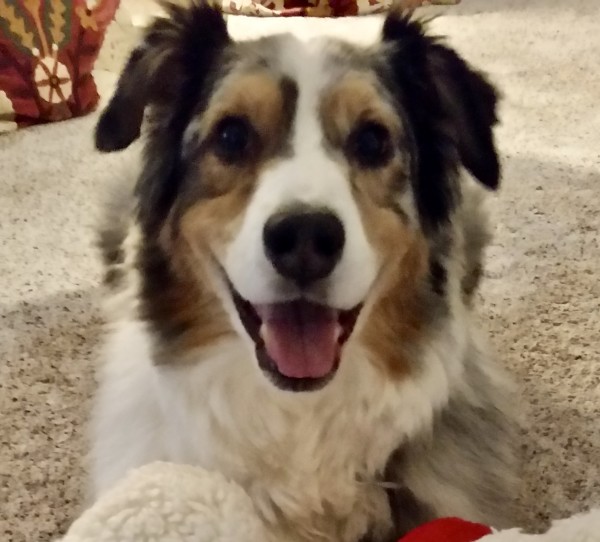 Thank you
I just wanted to thank you for getting the Paradigm shipped to us so quickly. We were able to continue feeding it to our Smokey without interruption.
Our Smokey Has Liver Cancer
Smokey is our 12 1/2-year-old Australian Shepherd. In December, he was diagnosed with liver cancer and estimated that he would live 6 months. We have been trying different high protein low carb foods since then trying to control the cancer growth. He has been having bouts of diarrhea which we suspect are related to the liver issues.
Our Vet Recommended Paradigm
About a month ago, I contacted our vet, and I told her I was ready to start cooking for our boy. She carries Paradigm and suggested that we try it.
His Stomach Calmed Down
The results were almost instant. Stomach calmed down, large healthy stools and we stopped the metronidazole. We mix it with ground sirloin for the protein (I cook the sirloin) and olive oil. He absolutely loves it.
We know that our days with our boy are few, but your food mix has made all the difference for his last few months with us. When our next furry friend comes along, we will definitely look at what products of yours we should use from the very beginning.
Thanks again -

Debbie Fairfax
Indiana
---
Posted By
The Team at Dr. Harvey's
August 8, 2017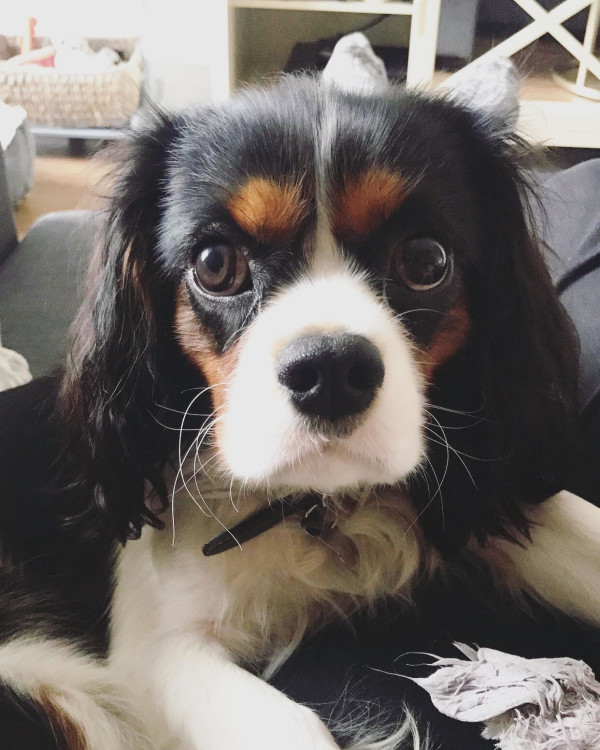 I Was Skeptical
Thank you for checking in! We couldn't be happier with the way Louis is doing since we've made the switch to Dr. Harvey's! I was skeptical at first because we have tried SO many different food options and so many medicines and Louis would still always have diarrhea.
I Almost Gave Up
I was beginning to think we'd never have a solution and he would just have to be on antibiotics long term which i definitely did not want to do.
It has been a month since we started him on Dr. Harvey's and (knock on wood) he has had solid stool ever since!! It is such a relief not having to worry about it everyday and I can tell he is feeling so much happier and healthier. He has gained the weight that he lost and barks at me the whole time I'm preparing the food he loves it so much!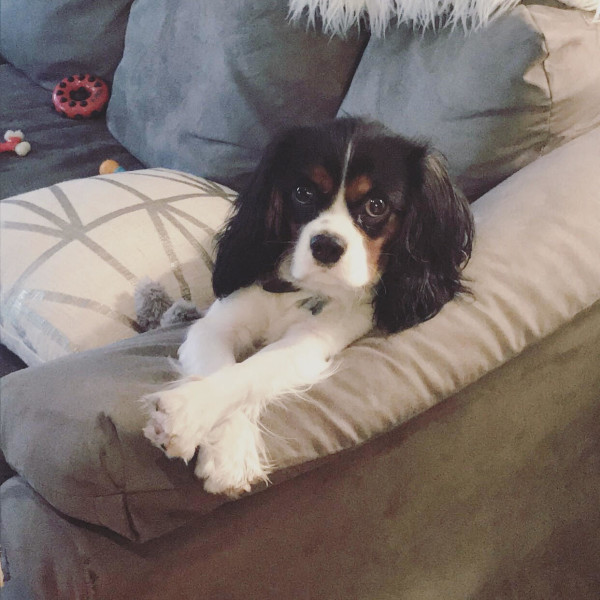 All I Can Say Is Thank You
Thank you, thank you is all I can say! I'm telling all of my dog-mom and dad friends that they need to make the switch to Dr. Harvey's. I could never go back to commercial after seeing how much healthier Louis is on Dr. Harvey's!
My Very Best,
Meghan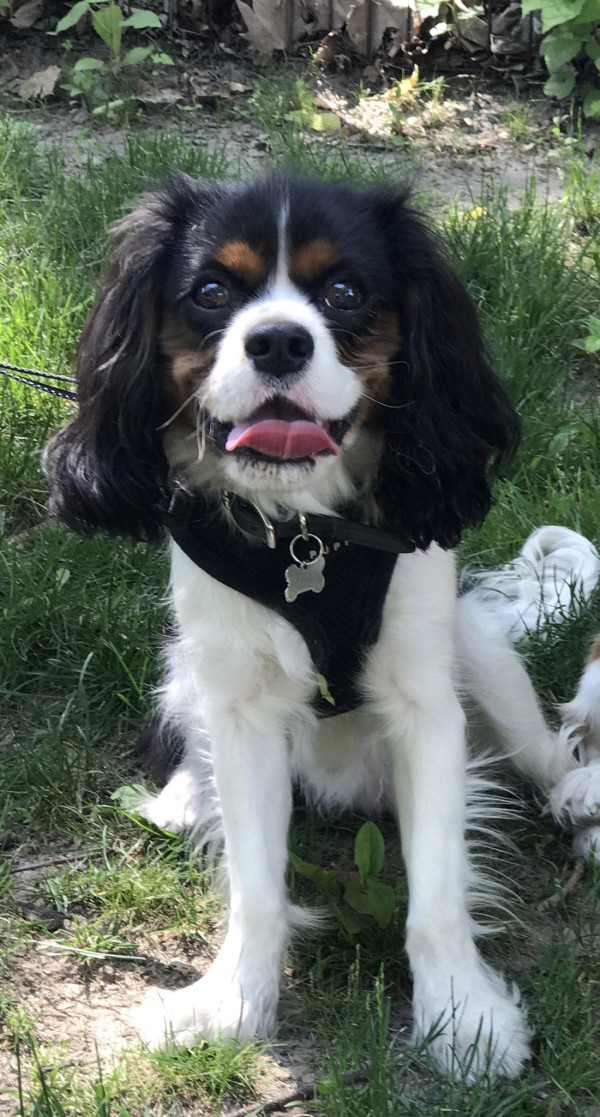 ---
Posted By
The Team at Dr. Harvey's
January 5, 2017
We Had to Write to You!
Dear Dr. Harvey,

My name is Sondra Marcus, my husband and I share our home with 3 beautiful babies.
Suki— the matriarch, she is a 4lb. Japanese Chin 10 years old.
Joy— Cavalier King Charles 8 years old
Lily— Afghan Hound 15-month-old
Feeding "The Girls" was a Constant Battle
I have been cooking for my girls for 10 years. It all started when we discovered our "Chin" was a very picky eater.
It has been a constant battle to get her to eat.
6 months ago, Lily came into our lives. I asked the breeder what Lily had been eating…she told me, and I had it at the house when Lily arrived.
The first night I offered her the food (kibble) she just picked at it…..and her bowel movements were not formed…I paid little attention, after all, she was in a new home. Well, this went on for the next 3 months! I had her to the vet to check for parasites or anything that might be the cause of her constant loose stools. I finally decided to do some research on dog allergies and found that grains can sometimes be the problem. I then went on the website that rates dog food.
No More Runs with Runs Be Done!
Your products caught my eye. Why? They are raw and all-natural. I went immediately to your website and ordered the "Veg to Bowl" fine ground as well as "Runs Be Done". The results were amazing! I followed the simple instructions and added the raw meat. For the first time in 10 years. Suki licked her bowl clean and so did Lily, within a few days Lily's stools were formed! Joy was finally satisfied and not begging for more food.
We Love Your Food and Supplements
The girls are now on not only "Runs Be Done", but several other of your herbal supplements. The Health and Shine is amazing…
Joy who has never had a shiny coat, is now like a mirror. Lily's coat is like silk.*
Joy has such spring in her step.
Suki is acting like a 6-month-old puppy, she's running, spinning and chasing her 2 sisters.
Our groomer can't get over how their coats have improved and how great they look!
We are So Happy That the Girls are Better!
All 3 of them stand in the kitchen at 4 pm, (their dinner hour) as I prepare their dinner, they are talking to me!
My husband and I are so happy that they are so happy and healthy.
We now have the girls on your treats as well; they dance when they get the Sweet Potatoes and love the Coconut Smile and tripe Power Pops.


We want to say "thank you" Dr. Harvey for all your dedication to these beautiful 4-legged humans, who are angels from heaven.

Sincerely,

Sondra Marcus
---
Posted By
The Team at Dr. Harvey's
November 9, 2016
Thank you for your note!
First, I wanted to thank you for the note enclosed with the sample of Dr. Harvey's Canine Health. I was at my wit's end with Mac at that point and I appreciated the sentiment so before I even tried the sample, I went and purchased a 10-pound bag of Canine Health in the hopes that it would work!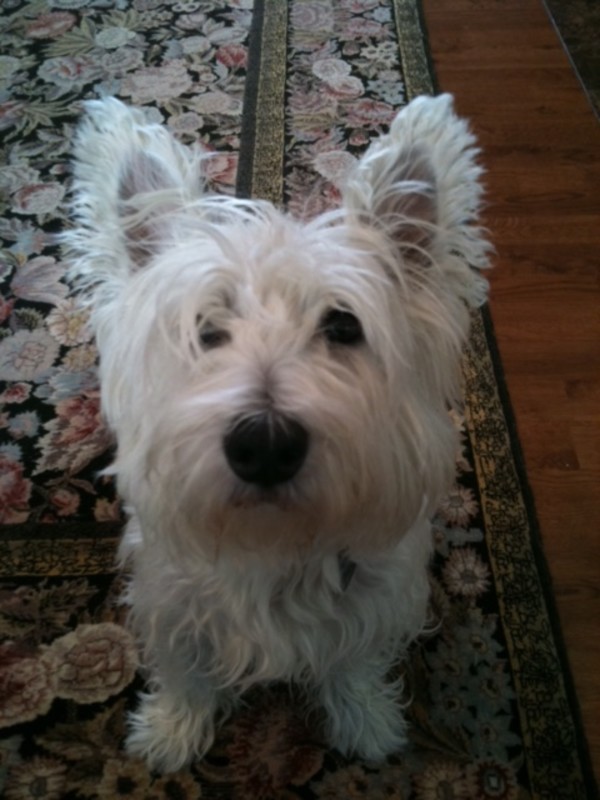 Kidney Diagnosis-Loose Stools
Since the diagnosis of Renal Disease, we've had our ups and downs. He's lost weight and he was only a 19-pound dog to start with. We give him fluids subcutaneously every other day and I had tried a homemade low phosphorus diet mixed with the Prescription Low Residue, which worked for a little bit, but he was still having problems with a loose stool and pooping in the house. On the good news side, with the fluids and the diet his kidney numbers came down. They were still not within normal range but they were better.
My goals are to first get a solid stool and then try to get more weight on him without impacting the kidney numbers.
Finally!
I switched him to Canine Health (without the protein or oil) last Thursday and I'm very happy to say that since Sunday, he's had a solid stool.
(My husband and I only seem to talk about the dog's poop anymore! ☺) He loves the food and can't wait for me to put it down, so we have no problem with him eating. He actually barks at me to hurry up and get his food!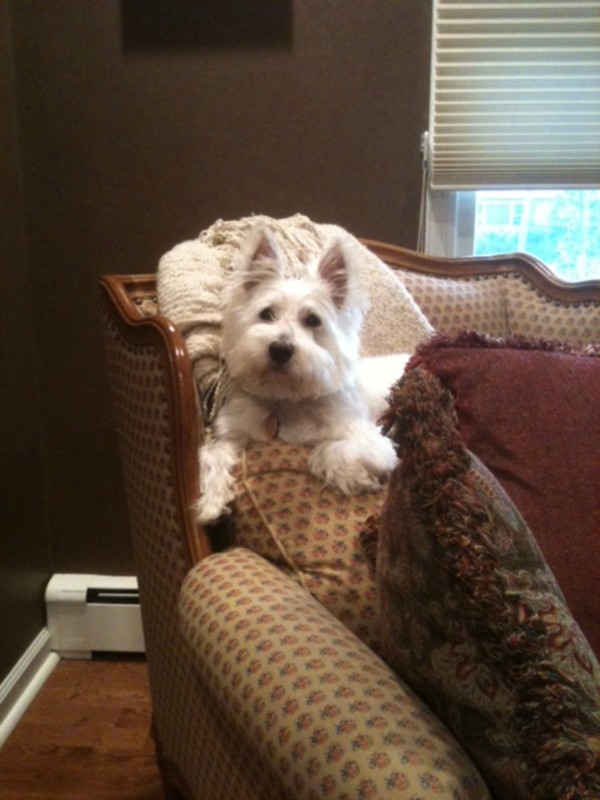 Now that I have that solid stool I'm going to see about introducing the oil and protein to the Canine Health and then try to get him off the low residue entirely.
Thank you!
Thank you so much for your interest. And again, thank you for your initial note with the sample of Canine Health, it really meant a lot to me.
Sincerely, Joanne Powers
PS…
I also wanted to mention that MacTavish seems to have more energy this past week, and I'm chalking it up to Dr. Harvey's!
You Can Get A Trial Size Too!
For More Information and To Order Your Trial Size, Click Here!
---
Posted By
The Team at Dr. Harvey's
December 15, 2015
Are you thinking of opening your heart and home to a rescue dog? Go for it!
You'll profoundly change your new companion's life – and your own!
That's what pet parent, Aidan Schroeder, did when she went to her local shelter, and welcomed two adorable rescue pups — "Salt" and "Pepper" — into her family. And to make the story even more wonderful, they're brother and sister!
However, before the trio could get settled in and start their happy new life together, Aidan ran into a serious and dangerous problem: both pups had diarrhea. She tried everything she knew to put an end to it, but NOTHING worked.
Fortunately, that's when Aidan discovered the healing power of feeding fresh with Canine Health.
Read her inspiring letter below and learn how she, Salt and Pepper achieved "peace at last"!
Dear Dr. Harvey,
Hi there, I purchased Canine Health a couple of weeks ago. I am so glad your ad popped up in front of me when it did. I wanted you to know. I wanted to share our story with you.
We Could Not Go Through a Week without A Bout of Diarrhea
I can't say enough good stuff about this food. I have two rescue pups that just turned a year old. They are brother and sister Pit Bull mixes who had a rough start to life and I assume were malnourished in the womb as well, based on their many health and emotional issues. I've had them for 6 months and through this time; we haven't gone a week without consecutive days of diarrhea.
We Tried Everything
They've been treated with antibiotics, probiotics, yogurt, pumpkin, rice water, everything the vets could think of for "shelter gut". I finally got them somewhat stable (we could go 3-4 days without an episode and the episodes only lasted a day) with homemade turkey and rice supplemented with a limited protein turkey-only kibble, but we still had issues weekly and they were always scratching and biting themselves.
We Were Also Dealing with Eye and Ear Infections
The female, Pepper, had recurring ear infections and her eyes were always goopy. The male, Salt, is naturally super anxious and skittish and when he'd get ill all over the house, he'd be even more upset by the aggravated humans cleaning up the hellacious mess so it was sort of a vicious cycle. Not a very fun start to their lives with us!
I Was Constantly Searching for Answers- I didn't Want a "Semi-Fix"
I was constantly researching what I could try and one day Dr. Harvey's food prep video popped up in my Facebook newsfeed. I went to the site and poked around. Even after reading all the testimonials, I was nervous to try something new yet again because I was spending so much on the special kibble with limited success and I really didn't want another "semi-fix".
They Love It
Looking back, I wish I'd bought the 10 pound bag the first day I saw it! I was able to switch the dogs over pretty much immediately with no ill effects. They LOVE this stuff, which is surprising because it looks like weird veggie oatmeal. But when the kettle goes on, they're glued to my side until the stuff is cooled and ready to eat.
No Diarrhea Since Day One
They've never been healthier. We've had no diarrhea since day one (and believe me, I am FAR TOO AWARE of their every movement. I'm really looking forward to new hobbies!) Their coats, which I thought were just naturally coarse and wiry, are so soft and shiny now. Pepper's ears have cleared up and her eyes are improving dramatically.
They Just Feel Better and It Shows
Their constant scratching has decreased a lot and Salt even seems calmer and less twitchy, which is simply amazing. I think it has everything to do with the fact that they both feel great and their humans are finally at ease. And they've ONLY been eating this stuff for TWO WEEKS. I can't wait to see how much better they get!
Health Really Does Begin in the Kitchen and I Have Proof
All this to say: Dr. Harvey's Canine Health The Miracle Food is truly fantastic. It cures what ails dogs, I have proof. It improves their health and well being beyond what you would expect for mere food. Health really does begin in the kitchen! My pups will never eat processed kibble again. I only wish I'd known of this food for all my previous dogs.
Peace at Last-Thanks Dr. Harvey!
You've completely repaired my household and improved the lives of everyone in it.
Peace at last.

Thank you so very much,

Aidan Schroeder
---
Posted By
The Team at Dr. Harvey's
November 4, 2015
We Had to Share This
We received this email from dog mom, Maria. She included a photo of her English Bulldog, Brando, and one with his crew!
We loved these pics so much that we had to share it.
We also wanted to share his results after eating his new diet!
He Was So Gassy
Dear Dr. Harvey's,
We are feeding our 10 year-old English Bulldog, Brando, Canine Health-The Miracle Dog Food.
We wanted to share our story with you.
Brando was diagnosed with Hypothyroid 4 Years ago. His energy level went from a very active Bulldog to one that would sleep all day.
His coat became very dry and thin, He also started to get extremely gassy.
We changed His food many,many times but nothing helped. Brando has had two surgeries this year as he developed salivary gland infection and a growth on his thyroid. During the last surgery they also removed a lymph node that looked questionable. Fortunately, all biopsy results were negative.
My Vet Recommend Dr. Harvey's Canine Health
Lately Brando has been much more gassier then the past few years. He was also prone to loose stools.
We had a visit with his regular vet. During the exam he noticed another infected salivary gland that will need to be removed.
We also discussed diet change, but not kibble.
Our veterinarian suggested Dr. Harvey's Canine Health-The Miracle Dog Food. .

Brando is the cutie on the far left…
I Saw The Change in One Day on This Food
I noticed a big difference within a day. It's been two weeks on the new food and
Brando looks better than he has in 4 or 5 Years!
He will need surgery soon, but knowing that he's eating a food that will help him heal more quickly means the world to us.
He Loves it!
Less gas and no more loose stools.
Thank You,
Maria Vallillo
---
Posted By
The Team at Dr. Harvey's
September 10, 2015
It Started with a Severe Stomach Upset
I am sending you this email to send praises about your Canine Health-Miracle Dog Food
My Maggie May started with a severe stomach upset in May of this year. I had her to the vet twice with this one incident that ended up being Colitis. It was horrible.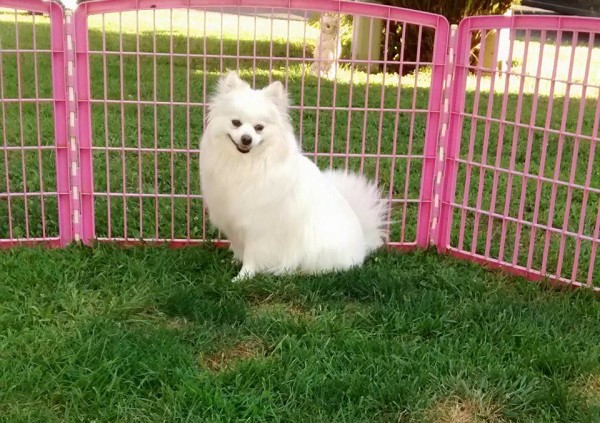 Nothing Was Helping
Two rounds of antibiotics and probiotics and it seemed like it just kept coming back. I have been a customer of Baron's K9 Country Store here in Bel Air, Maryland for 10 years. This is my second Pomeranian in those 10 and a half years. I had noticed her breath was a little stinky, especially in the mornings and also she had really bad brownish, orange tear stains, but I thought with her being white, it just came along with the territory of owning a white dog. When the stomach issue started I thought a stomach upset is not uncommon, but then the bloody diarrhea was cause for alarm and I took her to the vet.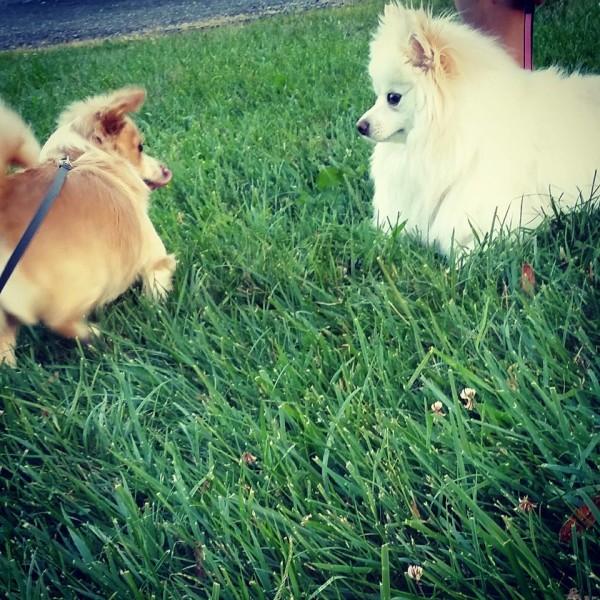 Her Colitis Cleared Up in 48 Hours!
Needless to say as soon as the antibiotics were done it started again so they resumed another course. I knew this was way too much antibiotics, but followed the instructions of my vet. In the meantime, I went to Baron's K-9, my local pet store, and mentioned what was going on. Karen, the salesperson, there recommended your food. She gave me samples and instructions. Maggie absolutely loved the food from the start and her Colitis cleared up within 48 hrs and we have not had any problems since!
No More Picky Eater, No More Bad Breath, Tear Stains Gone-Amazing!
She always picked at her food and sometimes wouldn't eat at all and now lets just say she looks forward to every meal. I break her portions down to in the morning and at night and she is one happy girl. Her whole demeanor changed and her coat got even prettier.
Her stinky breath is gone and I noticed her tear stains became clear. I've enclosed some pictures to show you. In one photo you can see her eyes are clear (after),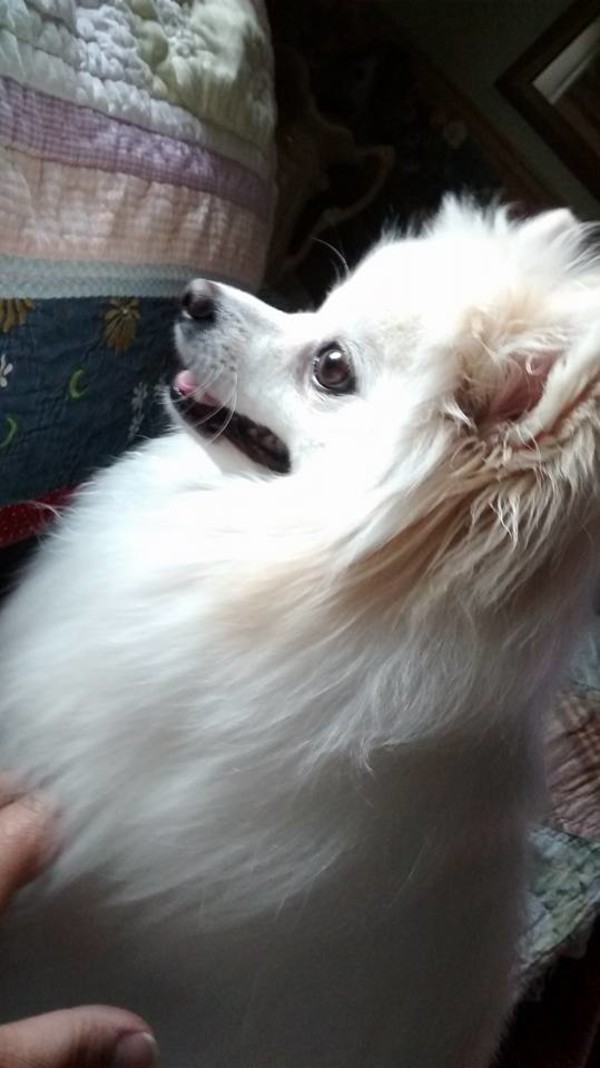 In the second photo you can see how her eyes looked with the tear stains before the new diet! (before)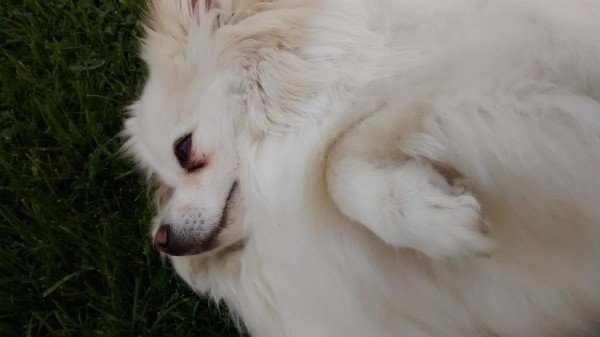 The Change is Truly a Miracle
I also bought her Dr. Harvey's Coconut Smiles and the Sweet Potate'r treats which are a major hit as well. I can't thank you enough for creating such a wonderful diet for dogs. I think yours is the best by far as far as the results I have seen before my own eyes. The change is truly a "miracle" and my girl is proof of that. Please know I recommend your products all the time. The preparation process is so easy and so well worth it for my dog to feel her very best. She is only 2 years and 7 months old and I want her to enjoy every minute of her life and be as healthy as possible. Thank you so much for your time in reading my story. I will be trying your shampoos and other products as well as I feel completely confident.
Truly Satisfied Customer,
Sheila Brown
---