Posted By
The Team at Dr. Harvey's
November 4, 2015
We Had to Share This
We received this email from dog mom, Maria. She included a photo of her English Bulldog, Brando, and one with his crew!
We loved these pics so much that we had to share it.
We also wanted to share his results after eating his new diet!
He Was So Gassy
Dear Dr. Harvey's,
We are feeding our 10 year-old English Bulldog, Brando, Canine Health-The Miracle Dog Food.
We wanted to share our story with you.
Brando was diagnosed with Hypothyroid 4 Years ago. His energy level went from a very active Bulldog to one that would sleep all day.
His coat became very dry and thin, He also started to get extremely gassy.
We changed His food many,many times but nothing helped. Brando has had two surgeries this year as he developed salivary gland infection and a growth on his thyroid. During the last surgery they also removed a lymph node that looked questionable. Fortunately, all biopsy results were negative.
My Vet Recommend Dr. Harvey's Canine Health
Lately Brando has been much more gassier then the past few years. He was also prone to loose stools.
We had a visit with his regular vet. During the exam he noticed another infected salivary gland that will need to be removed.
We also discussed diet change, but not kibble.
Our veterinarian suggested Dr. Harvey's Canine Health-The Miracle Dog Food. .

Brando is the cutie on the far left…
I Saw The Change in One Day on This Food
I noticed a big difference within a day. It's been two weeks on the new food and
Brando looks better than he has in 4 or 5 Years!
He will need surgery soon, but knowing that he's eating a food that will help him heal more quickly means the world to us.
He Loves it!
Less gas and no more loose stools.
Thank You,
Maria Vallillo
---
Posted By
The Team at Dr. Harvey's
October 28, 2015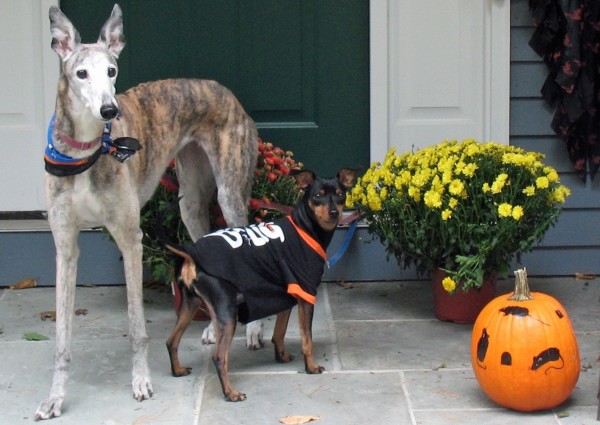 Dear Dr. Harvey,
I spoke with you on the phone a couple of months ago, about my Greyhound, Evie. We were trying to figure out whether or not she was developing Cushings Disease. We did one test and it was really a false positive. I had started her on Dr. Harvey's Canine Health-The Miracle Dog Food. My husband and I had already started seeing a difference in Evie. She was not as obsessed with drinking so much water.
The Medicine Did Not Help-But the Food Did!
My vet did give us medicine for Cushing's, which you told me to go ahead and try. You also told me to give her CoEnzymeQ10, which I did. We gave her the medicine for one month, and really saw no difference. The biggest difference in her, is your dog food plus the CoEnzymeQ10.
She is Back to Her Old Self
Evie has done remarkably well on your food. She is back to her old self at 14 years old. She went from not wanting to eat, snubbing all dog food to eat enthusiastically. She was initially apprehensive about Dr. Harveys. She now waits as I prepare her food. She is drinking normal again, and is always looking for food. She has put weight back on and her coat is beautiful. I can't wait for my vet to see her.
Now We are Feeding Canine Health to our MIn Pin too!
We also have a Miniature Pinscher, Rucker, who is 5 years old. He loves Dr. Harvey's too and his black coat shines!
Thank you so much for speaking with me. I am a dental hygienist and I tell all my patients who have pets about Dr. Harvey's Miracle Dog Food.
If I Had Only Known…
I wish I knew about your food for my past Greyhounds. I truly believe Evie will be our first greyhound to make it to 15 years old in good health.
No more processed dog food in my house!
Thank you again!
Sincerely,
The Dwyers
---
Posted By
The Team at Dr. Harvey's
September 10, 2015
It Started with a Severe Stomach Upset
I am sending you this email to send praises about your Canine Health-Miracle Dog Food
My Maggie May started with a severe stomach upset in May of this year. I had her to the vet twice with this one incident that ended up being Colitis. It was horrible.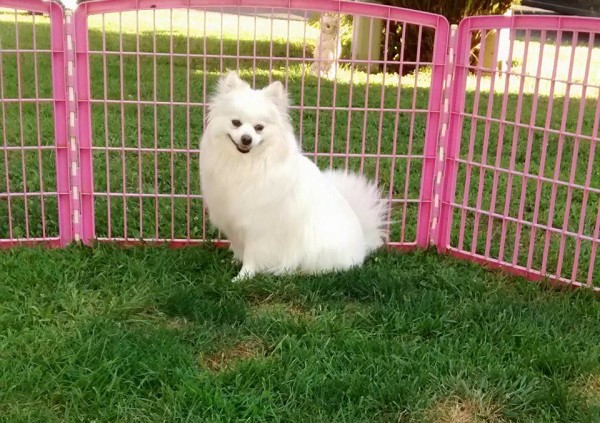 Nothing Was Helping
Two rounds of antibiotics and probiotics and it seemed like it just kept coming back. I have been a customer of Baron's K9 Country Store here in Bel Air, Maryland for 10 years. This is my second Pomeranian in those 10 and a half years. I had noticed her breath was a little stinky, especially in the mornings and also she had really bad brownish, orange tear stains, but I thought with her being white, it just came along with the territory of owning a white dog. When the stomach issue started I thought a stomach upset is not uncommon, but then the bloody diarrhea was cause for alarm and I took her to the vet.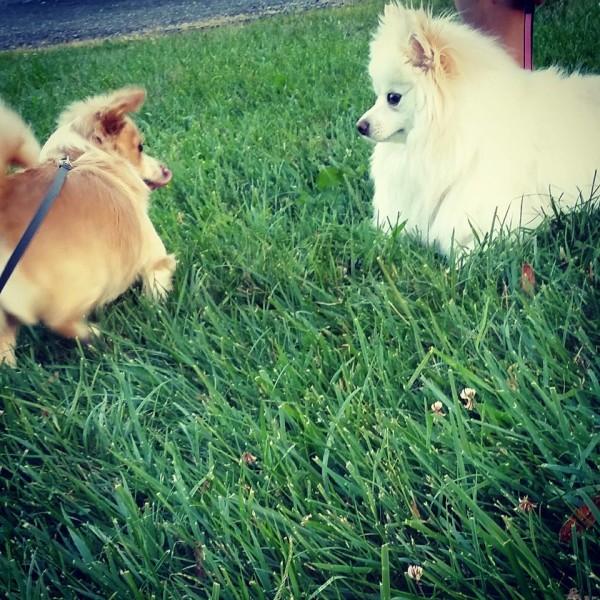 Her Colitis Cleared Up in 48 Hours!
Needless to say as soon as the antibiotics were done it started again so they resumed another course. I knew this was way too much antibiotics, but followed the instructions of my vet. In the meantime, I went to Baron's K-9, my local pet store, and mentioned what was going on. Karen, the salesperson, there recommended your food. She gave me samples and instructions. Maggie absolutely loved the food from the start and her Colitis cleared up within 48 hrs and we have not had any problems since!
No More Picky Eater, No More Bad Breath, Tear Stains Gone-Amazing!
She always picked at her food and sometimes wouldn't eat at all and now lets just say she looks forward to every meal. I break her portions down to in the morning and at night and she is one happy girl. Her whole demeanor changed and her coat got even prettier.
Her stinky breath is gone and I noticed her tear stains became clear. I've enclosed some pictures to show you. In one photo you can see her eyes are clear (after),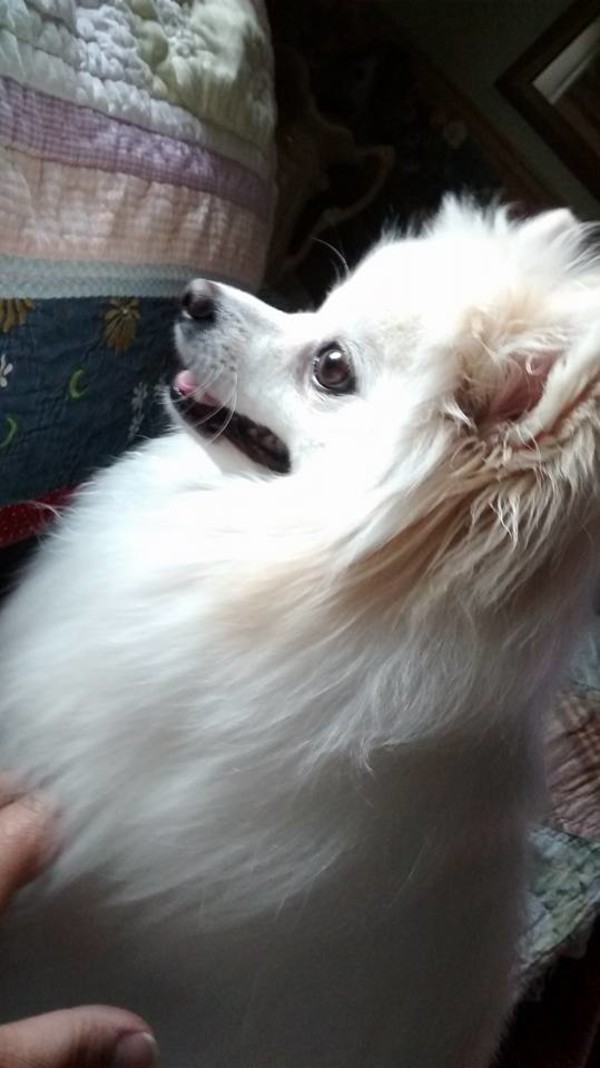 In the second photo you can see how her eyes looked with the tear stains before the new diet! (before)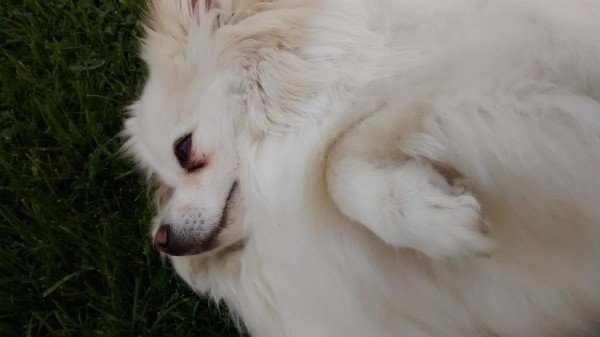 The Change is Truly a Miracle
I also bought her Dr. Harvey's Coconut Smiles and the Sweet Potate'r treats which are a major hit as well. I can't thank you enough for creating such a wonderful diet for dogs. I think yours is the best by far as far as the results I have seen before my own eyes. The change is truly a "miracle" and my girl is proof of that. Please know I recommend your products all the time. The preparation process is so easy and so well worth it for my dog to feel her very best. She is only 2 years and 7 months old and I want her to enjoy every minute of her life and be as healthy as possible. Thank you so much for your time in reading my story. I will be trying your shampoos and other products as well as I feel completely confident.
Truly Satisfied Customer,
Sheila Brown
---