Posted By
The Team at Dr. Harvey's
March 18, 2018
We Were Told To Prepare for the Worst
About a month ago my little girl became extremely sick with no warning signs, after visiting our local vet we discovered she was suffering from an inflamed liver, her kidney levels were extremely high, and she was suffering from pancreatitis. We were told to prepare for the worst being that she is 10 years old and most likely would not recover.
She Refused to Eat
After spending three days at the vets on IV fluid and medications we were allowed to bring her home but on a NF kibble diet and a ton of supplements and antibiotics. Things seemed better for a few days, but she refused to eat the hard-dry RX formula of food. For years we have fed her nothing but Blue Buffalo as I always had the perception that they were a quality food.
She Started to Relapse
After a few days of being home she started to relapse and started vomiting every time she ate and again we were told to keep feeding her the Rx diet and to prepare for the worst. I did not want to give up on my little girl, but I did not want to see her in pain either, after days of research I happened to come upon Dr. Harvey's website.
Then I Found Dr. Harvey's
I spent hours going over reviews on Amazon and Facebook and in a leap of faith I placed an order for Dr. Harvey's Canine Health Miracle Dog Food. It has been three weeks and I am happy to say that I have my little girl back, better than ever. She is her normal spunky self again thanks to Dr. Harvey's. I cannot begin to thank you for saving my Baby Girl. I truly believe if it was not for this amazing food she would not be with us today. We will continue on this diet and at this point we have stopped all the supplements the vet recommended and switched to Dr. Harvey's Kidney Health Supplement along with the Canine Health Miracle Dog Food.
Thank you for Saving My Baby Girl
I am happy to report that she is back to her old self with even more spunk then before. Thank You again for helping my little girl. Attached are a few pictures of my Baby Girl.

Baby Girl is a 10-year-old Doxin-West Highland mix, and we look forward to many happy years to come.

Thank You Dr. Harvey,
Timothy W. Gutliph
---
Posted By
The Team at Dr. Harvey's
March 7, 2018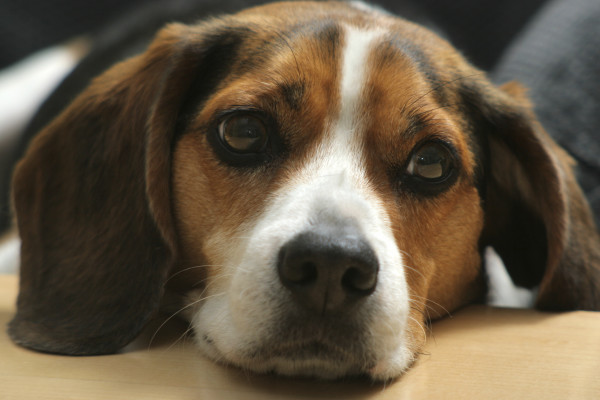 What is Pancreatitis?
Loss of appetite. Disinterest in food. Vomiting. Most dog owners have dealt with these scary symptoms in their pets at various points. In many cases, the vomiting eventually stops and meals and treats are enjoyed once again. But sometimes these symptoms aren't just a stage. Sometimes these symptoms are pancreatitis.
Just like us humans, dogs have a pancreas which aids in the digestion of foods, produces the enzymes that digest food, and produces insulin. If something happens to cause inflammation of the pancreas, the flow of enzymes into the digestive tract can become disrupted, forcing the enzymes out of the pancreas and into the dog's abdominal area. Next, the digestive enzymes begin to break down fat and proteins in the body's other organs, as well as in the pancreas. Because of their proximity to the pancreas, the kidney and liver can also be affected when this progression takes place, and the abdomen becomes inflamed, and possibly infected. If bleeding occurs in the pancreas, shock, and even death may follow.
What Are the Signs?
The two major signs of pancreatitis in dogs are, as mentioned above, loss of appetite and repeated vomiting. But other symptoms can include a hunched back, pain or distention of the abdomen (the visual cues of this are that a dog appears uncomfortable or bloated), diarrhea, dehydration, weakness/lethargy, and fever. If a dog exhibits one or two of these signs, and only infrequently, constant monitoring is key. However, if multiple signs are exhibited at once, and repeatedly, a veterinarian should be called immediately.
While there are a variety of risk factors that can bring on pancreatitis, one of the causes is a high-fat diet, especially for a dog that gets one large helping of fatty food in one sitting the other major cause is a diet that consists of only processed foods like commercial dog food kibble.
What Are the Causes?
Along with foods that are high in fat, processed foods, including all kibble, are also hard for dogs to digest, not mention processed food it lacking in adequate nutrition.
While dogs may seem to enjoy wolfing down kibble for breakfast and dinner, the truth is because their digestive tracts are shorter than ours, their pancreas must work overtime to break down processed foods, causing it to become inflamed.
Fresh meats, raw bones, organs, veggies, and fruit, on the other hand, are much easier for a dog to digest and do not stress the pancreas.
Once a dog has had a bout of pancreatitis, the chance of recurrence is high. Studies have shown that pancreatitis can lead to diabetes and in some cases cancer. Dogs with gastrointestinal issues, hypothyroidism, diabetes and epilepsy are also at a higher risk for pancreatitis.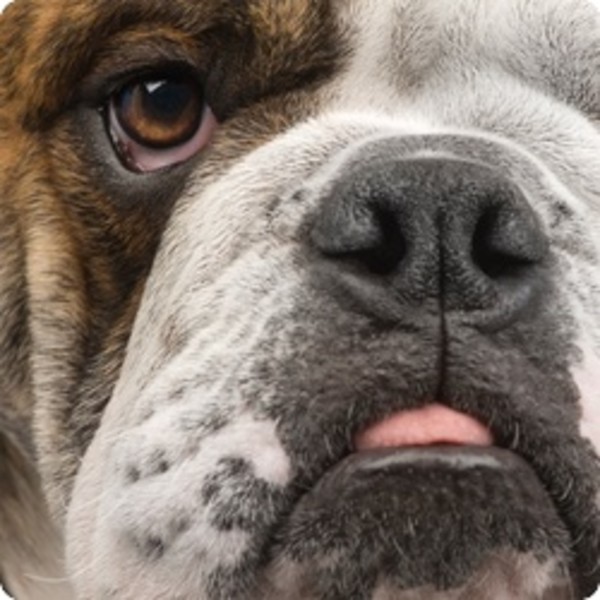 What to Do?
An pet parent's best defense against a repeat appearance of pancreatitis involves two strategies: paying careful attention to their dog for the warning signs of pancreatitis and controlling the factors they can.
Changing to a fresh, whole food diet is the very best thing a pet parent can do for any dog, but most especially for a dog prone to pancreatitis.
Meals that are made with fresh protein sources do not promote pancreatitis. In fact feeding this way can eliminate the problem permanently.
There is also evidence that feeding foods that are lower in carbs and higher in fiber can be helpful for preventing bouts of pancreatitis.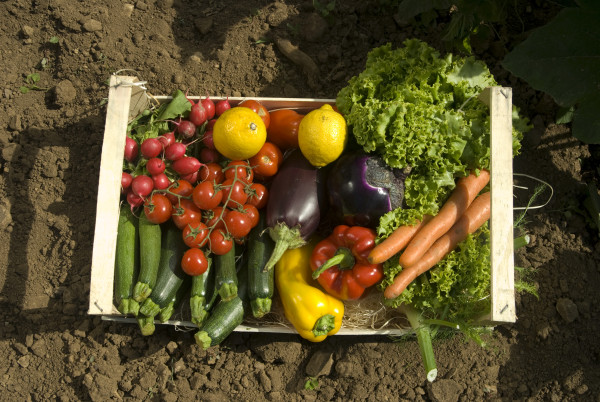 Cutting Out Fat is
NOT

the Only Answer While conventional wisdom dictates that watching fat intake is the most important thing to watch for prevention of pancreatitis, our research reveals that feeding a fresh, whole food diet and for some dogs, lowering carbohydrate intake can be as if not more important that fat intake

. In addition, daily exercise is important and when fed with a diet full of natural unprocessed food typically equals a fit, healthy pup that will not be prone to this terrible condition.. Happily, mild cases of pancreatitis usually have a positive prognosis. We love our canine companions and we want to be responsible and knowledgeable pet parents. We can help reduce the risk of pancreatitis by recognizing it if it does strike and understanding how to manage it going forward.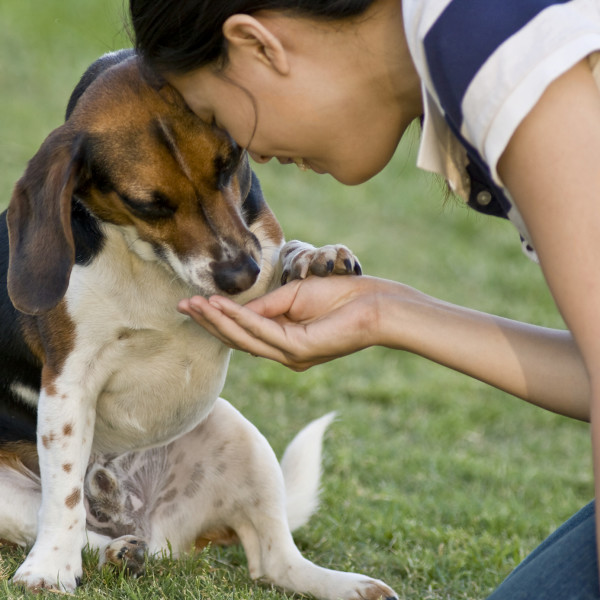 Using Dr. Harvey's Foods for Pancreatitis
All of our foods can be used to successfully battle pancreatitis. All of our foods are based using whole, fresh, unprocessed foods as the major part of the diet. We often recommend starting with Canine Health-The Miracle Dog Food. However, if your dog is diabetic, we recommend Paradigm. Paradigm is very low in carbs so it will help with blood sugar spikes and helps to prevent pancreatitis which plagues many diabetic dogs.
There is Hope
While Pancreatitis is a serious and sometimes life threatening ailment in dogs, there is hope. Pet parents who make the appropriate changes to their dog's diet have seen improvements in digestion, the relief of this ailment and many other health benefits that come with transitioning to a healthy, real food, whole food diet for their companions.
---
Posted By
The Team at Dr. Harvey's
August 8, 2017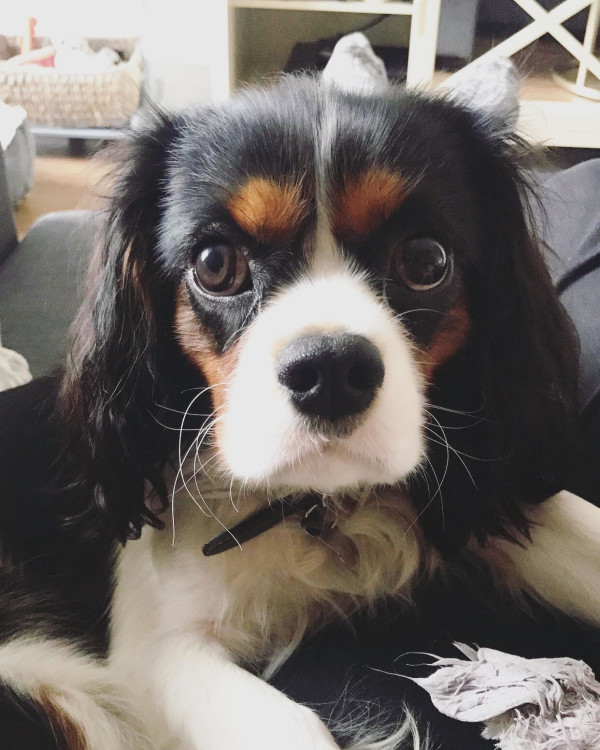 I Was Skeptical
Thank you for checking in! We couldn't be happier with the way Louis is doing since we've made the switch to Dr. Harvey's! I was skeptical at first because we have tried SO many different food options and so many medicines and Louis would still always have diarrhea.
I Almost Gave Up
I was beginning to think we'd never have a solution and he would just have to be on antibiotics long term which i definitely did not want to do.
It has been a month since we started him on Dr. Harvey's and (knock on wood) he has had solid stool ever since!! It is such a relief not having to worry about it everyday and I can tell he is feeling so much happier and healthier. He has gained the weight that he lost and barks at me the whole time I'm preparing the food he loves it so much!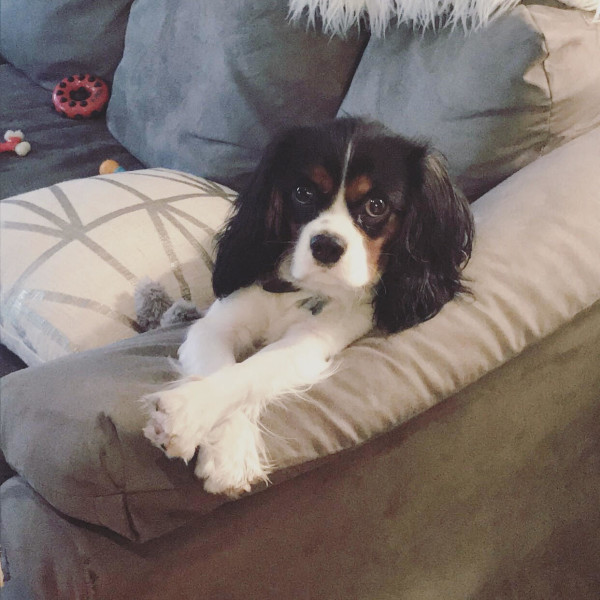 All I Can Say Is Thank You
Thank you, thank you is all I can say! I'm telling all of my dog-mom and dad friends that they need to make the switch to Dr. Harvey's. I could never go back to commercial after seeing how much healthier Louis is on Dr. Harvey's!
My Very Best,
Meghan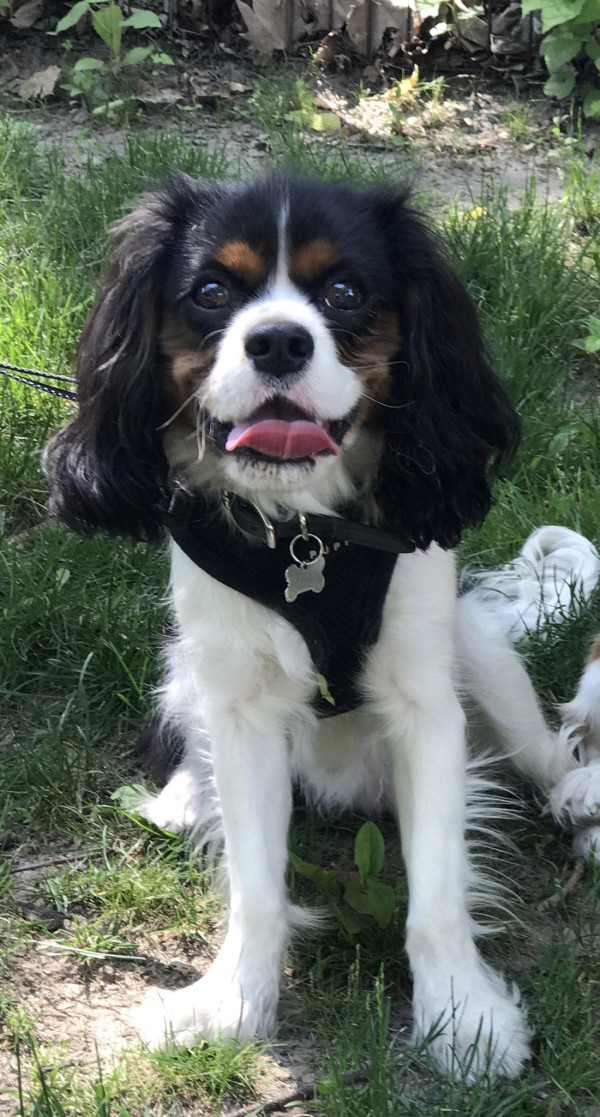 ---
Posted By
The Team at Dr. Harvey's
August 3, 2017
My Rescued Daisy Was So Sick
Hi Dr. Harvey's,
I obtained Daisy, a 12 year old Lhasa Apso, as a rescue. When she came to me, she was blind and deaf and covered with sores from her untreated medical conditions. In addition to medical treatment, I knew a most critical component in her recovery pull be getting her on a very healthy food regimen. I was already familiar with Dr. Harvey's quality, since I have been feeding it to my bird for many years as recommended by our vet.
She Loves The Food and She is Healthy!
It was a logical step to put Daisy on Dr. Harvey's to optimize her chances of recovery. She loves the food! Three months later, through a combination of good veterinary care and excellent nutrition, Daisy is a hearing, seeing, and very healthy member of our family! She has no skin problems, no digestive issues, and is growing a beautiful coat! A week ago, Daisy's former owner came to see her in a attempt to take her back. However, once she saw Daisy's improved condition and healthy regiment, she realized that Daisy was in good hands, and did what was best for her pup-signed her over to me and Dr. Harvey's all-natural diet!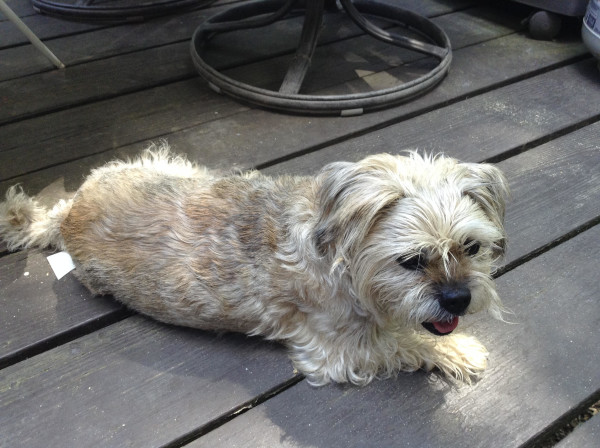 Thank Dr. Harvey
With proper medical care and Dr. Harvey's great nutrition, we expect to have Daisy around for many more years.
Thank you!
Sincerely Yours,
Linda Widdowson and Daisy
---
Posted By
The Team at Dr. Harvey's
June 29, 2017
Nothing makes us happier than when a pet parent feels compelled to write to us and tell us how their precious companion's health improved after using our food and talking to Dr. Harvey. This has to be one of our favorites. Banjo's mom, Terri, wrote to tell us about this adorable 12-year-old Shih Tzu and how he improved so dramatically after changing Banjo's diet!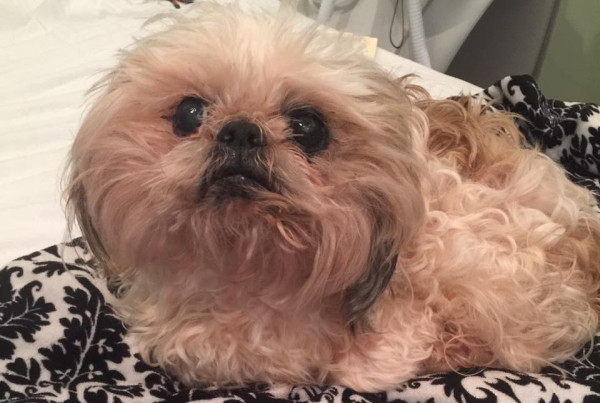 I Had to Write to You
Dear Dr. Harvey,
I have been trying to find where I can leave you reviews and I can't seem to find anywhere so I am emailing you and you can feel free to post it wherever you would like to. You have been such a help to us and we are so thankful!
Banjo's Diagnosis-Our Hearts Were Broken
Our little 12-year-old Shih Tzu, Banjo, was diagnosed with renal failure as well as anemia. Our hearts were broken and we were, of course, doing everything the vet advised us to do. He was getting worse and worse and we really felt we were a few days away from losing him. Dr. Harvey's food ad popped up after doing some research and we decided to purchase his Canine Health-The Miracle Dog Food. Our little guy loved it.
We Changed His Food and Then We Called Dr. Harvey
A few days later I decided to call and hopefully speak with Dr. Harvey himself. What a wonderful, kind man. Dr. Harvey advised us of multiple things we needed to do that our local vet had never mentioned as well as things that our vet didn't even know anything about. We made the changes immediately and Banjo started to look brighter and more alert.
In Just 6 Days He Was Back to Himself!
Within 6 days our little guy was himself again. I cannot begin to tell you how sick he was…he could hardly stand to urinate, he wasn't even holding his urine, his appetite was not good, he was incredibly lethargic, etc. After just 6 days of eating Dr. Harvey's food (he advised us of exactly how much protein to add), as well as implementing the other things he told us about and he did a complete turnaround.
It Was A Miracle
It was honestly miraculous! Now we speak to Dr. Harvey about once per week and he continues to guide us. What a blessing this man is. He has restored my faith in the kindness of people, and reminded me that there is still a lot of good left in the world.
Thank You From Banjo!
Thank you, Dr. Harvey, from the very bottom of our hearts. And if Banjo could talk, I promise he would tell you that he loves you and thank you so much!
Terri McConnell, Jason McConnell and Banjo
*UPDATE ON
BANJO

-7/9/17

This food is simply incredible . We have a 12 yr old Shih Tzu with compromised kidneys . We started him on this food , as well as a few other things Dr Harvey recommended and the change in his health and energy has simply been miraculous. I also just have to say that he is eating more now than he did before he got sick ..Dr Harvey advised us how much of our own quality protein to add . Our Banjo LOVES this food ! I can't say enough wonderful things about this food and about Dr Harvey as well.
Terri McConnell

I would just like to add that when we found this food, Banjo was so sick he wasn't eating on his own.

I had to mix this food with more water and blend it so that I could feed him with a syringe. After a few days I noticed that Banjo was licking the end of the syringe indicating that he wanted to eat this food. I mixed some up according to the directions and didn't blend it and he ate a lot! That was a couple of months ago and he is still enjoying this food and is so much better. His vet cannot believe his recovery! It is truly a miracle and we are so thankful for this food and everything that Dr. Harvey and his team have done to help our little guy get better!

Jason McConnell
---
Posted By
The Team at Dr. Harvey's
November 9, 2016
Thank you for your note!
First, I wanted to thank you for the note enclosed with the sample of Dr. Harvey's Canine Health. I was at my wit's end with Mac at that point and I appreciated the sentiment so before I even tried the sample, I went and purchased a 10-pound bag of Canine Health in the hopes that it would work!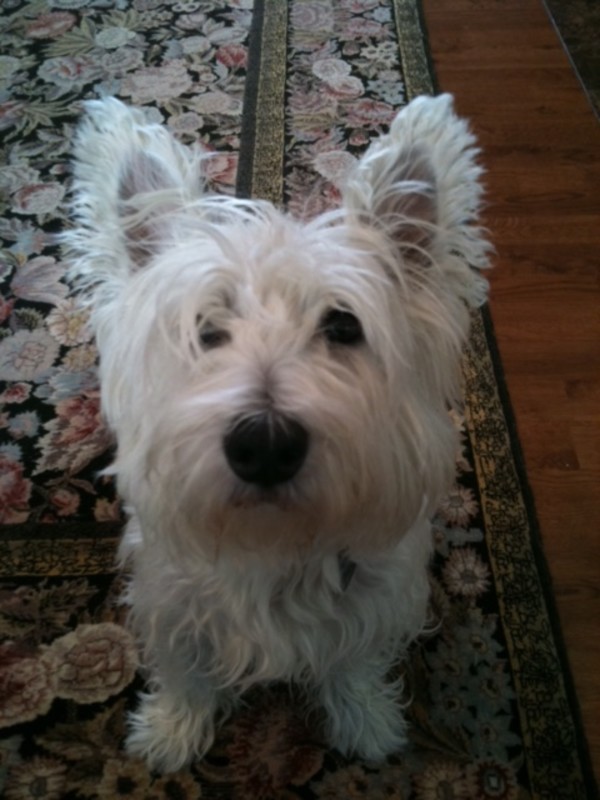 Kidney Diagnosis-Loose Stools
Since the diagnosis of Renal Disease, we've had our ups and downs. He's lost weight and he was only a 19-pound dog to start with. We give him fluids subcutaneously every other day and I had tried a homemade low phosphorus diet mixed with the Prescription Low Residue, which worked for a little bit, but he was still having problems with a loose stool and pooping in the house. On the good news side, with the fluids and the diet his kidney numbers came down. They were still not within normal range but they were better.
My goals are to first get a solid stool and then try to get more weight on him without impacting the kidney numbers.
Finally!
I switched him to Canine Health (without the protein or oil) last Thursday and I'm very happy to say that since Sunday, he's had a solid stool.
(My husband and I only seem to talk about the dog's poop anymore! ☺) He loves the food and can't wait for me to put it down, so we have no problem with him eating. He actually barks at me to hurry up and get his food!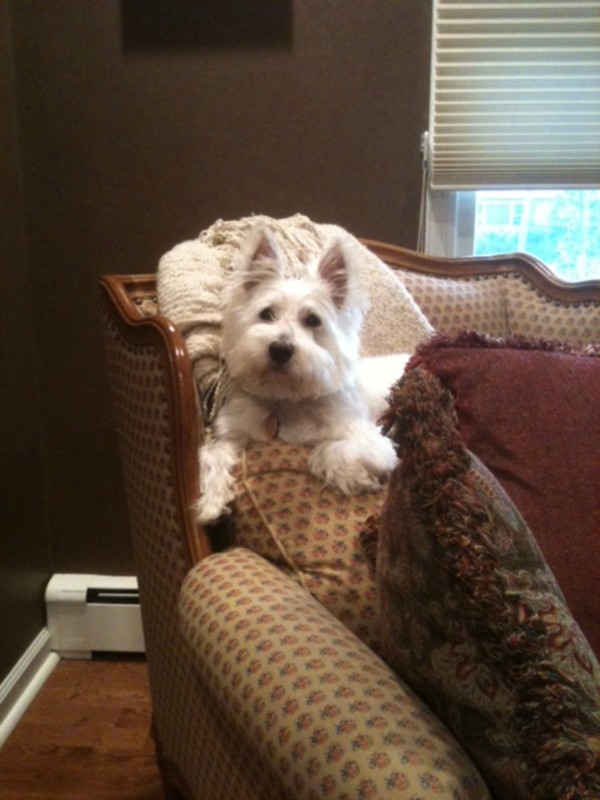 Now that I have that solid stool I'm going to see about introducing the oil and protein to the Canine Health and then try to get him off the low residue entirely.
Thank you!
Thank you so much for your interest. And again, thank you for your initial note with the sample of Canine Health, it really meant a lot to me.
Sincerely, Joanne Powers
PS…
I also wanted to mention that MacTavish seems to have more energy this past week, and I'm chalking it up to Dr. Harvey's!
You Can Get A Trial Size Too!
For More Information and To Order Your Trial Size, Click Here!
---
Posted By
The Team at Dr. Harvey's
October 13, 2016
In her own words…Thank you Rachel, for sharing Swannie's story with us.
I Was So Glad to Find Your Food
I am happy to share my dog's story on your website. It was the stories on your site and on Amazon that inspired me to give your food a try.
The stories I read on Dr. Harvey's site gave me hope. Since my goal was to get her well, the idea of feeding her a fresh, wholesome diet made more sense to me than feeding the canned prescription food.
Swannie was Diagnosed with Early Signs of Kidney Failure
My 13-year-old Corgi, Swannie, started showing early signs of kidney failure last spring. By the end of the summer, her kidney values were elevated enough to prompt my vet to recommend a change in her diet. The vet suggested a prescription food and I followed his advice. The moment I opened the first can I knew that particular food was going to cause more harm than good and began searching online for an alternative.
We Saw the Difference in Short Time
After only 8 weeks eating Dr. Harvey's Canine Health, Swannie's blood work showed no signs of kidney failure. In fact, my vet said he saw nothing on the report that caused him any concern.
Thank You Dr. Harvey's!
My girl has always been a great eater but now she absolutely loves her food. And I love knowing that I'm providing her with a diet that is making her feel better, giving her more energy, and giving us more time with her. I can't thank Dr. Harvey's enough for providing this life-giving food.

Sincerely yours,

Rachel Powers and Swannie

For More Information and To Order Your Trial Size, Click Here!
---
Posted By
The Team at Dr. Harvey's
December 15, 2015
Are you thinking of opening your heart and home to a rescue dog? Go for it!
You'll profoundly change your new companion's life – and your own!
That's what pet parent, Aidan Schroeder, did when she went to her local shelter, and welcomed two adorable rescue pups — "Salt" and "Pepper" — into her family. And to make the story even more wonderful, they're brother and sister!
However, before the trio could get settled in and start their happy new life together, Aidan ran into a serious and dangerous problem: both pups had diarrhea. She tried everything she knew to put an end to it, but NOTHING worked.
Fortunately, that's when Aidan discovered the healing power of feeding fresh with Canine Health.
Read her inspiring letter below and learn how she, Salt and Pepper achieved "peace at last"!
Dear Dr. Harvey,
Hi there, I purchased Canine Health a couple of weeks ago. I am so glad your ad popped up in front of me when it did. I wanted you to know. I wanted to share our story with you.
We Could Not Go Through a Week without A Bout of Diarrhea
I can't say enough good stuff about this food. I have two rescue pups that just turned a year old. They are brother and sister Pit Bull mixes who had a rough start to life and I assume were malnourished in the womb as well, based on their many health and emotional issues. I've had them for 6 months and through this time; we haven't gone a week without consecutive days of diarrhea.
We Tried Everything
They've been treated with antibiotics, probiotics, yogurt, pumpkin, rice water, everything the vets could think of for "shelter gut". I finally got them somewhat stable (we could go 3-4 days without an episode and the episodes only lasted a day) with homemade turkey and rice supplemented with a limited protein turkey-only kibble, but we still had issues weekly and they were always scratching and biting themselves.
We Were Also Dealing with Eye and Ear Infections
The female, Pepper, had recurring ear infections and her eyes were always goopy. The male, Salt, is naturally super anxious and skittish and when he'd get ill all over the house, he'd be even more upset by the aggravated humans cleaning up the hellacious mess so it was sort of a vicious cycle. Not a very fun start to their lives with us!
I Was Constantly Searching for Answers- I didn't Want a "Semi-Fix"
I was constantly researching what I could try and one day Dr. Harvey's food prep video popped up in my Facebook newsfeed. I went to the site and poked around. Even after reading all the testimonials, I was nervous to try something new yet again because I was spending so much on the special kibble with limited success and I really didn't want another "semi-fix".
They Love It
Looking back, I wish I'd bought the 10 pound bag the first day I saw it! I was able to switch the dogs over pretty much immediately with no ill effects. They LOVE this stuff, which is surprising because it looks like weird veggie oatmeal. But when the kettle goes on, they're glued to my side until the stuff is cooled and ready to eat.
No Diarrhea Since Day One
They've never been healthier. We've had no diarrhea since day one (and believe me, I am FAR TOO AWARE of their every movement. I'm really looking forward to new hobbies!) Their coats, which I thought were just naturally coarse and wiry, are so soft and shiny now. Pepper's ears have cleared up and her eyes are improving dramatically.
They Just Feel Better and It Shows
Their constant scratching has decreased a lot and Salt even seems calmer and less twitchy, which is simply amazing. I think it has everything to do with the fact that they both feel great and their humans are finally at ease. And they've ONLY been eating this stuff for TWO WEEKS. I can't wait to see how much better they get!
Health Really Does Begin in the Kitchen and I Have Proof
All this to say: Dr. Harvey's Canine Health The Miracle Food is truly fantastic. It cures what ails dogs, I have proof. It improves their health and well being beyond what you would expect for mere food. Health really does begin in the kitchen! My pups will never eat processed kibble again. I only wish I'd known of this food for all my previous dogs.
Peace at Last-Thanks Dr. Harvey!
You've completely repaired my household and improved the lives of everyone in it.
Peace at last.

Thank you so very much,

Aidan Schroeder
---
Posted By
The Team at Dr. Harvey's
December 4, 2015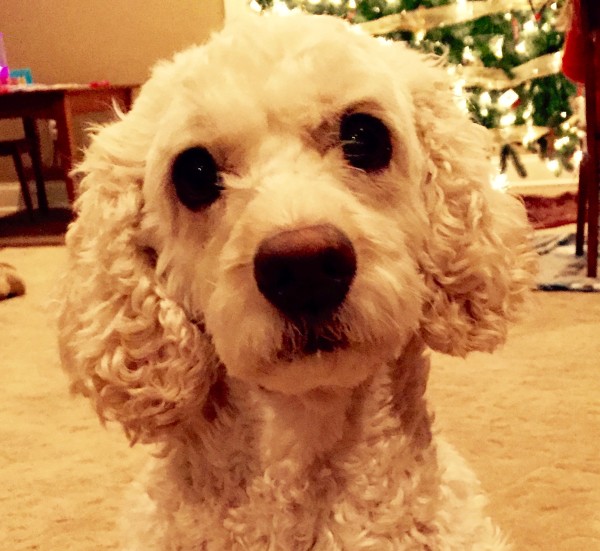 Dog mom, Amy Colella wrote to say thanks for helping her beautiful dog, Toby. We could not be happier that he is doing so well. We wanted to share her story of Toby's journey. We know that other pet parents are searching for answers to find health for their companions and we hope that by sharing these stories they will find the solutions that they need. Here is Toby's story in Amy's own words.
We heard the dreaded words, "Early Kidney Disease"
Toby is our 11 year old Cockapoo. In October of 2015, Toby had blood work done to check an elevated calcium level from the is previous lab work in March. Well, that re-check of the calcium turned into concern over his liver and kidney function. I was told to bring him that week for an ultrasound and urinalysis. The ultrasound didn't show much, however given his lab values and urinalysis I was told he had early kidney disease and should put him on a "kidney diet".
We Were Feeding "Premium" Kibble
For 11+ years I had fed this dog "premium" kibble and now I was presented with one option… give him a different kibble with lower protein and phosphate that was definitely NOT "premium".
My Research Took Me to Dr. Harvey's
In doing my own research online, I came across Dr. Harvey's. The next morning I called and spoke with a representative at Dr. Harvey's and then spoke with Dr. Harvey himself. He guided me on which food would work best and suggested a few supplements to add as well.
I Noticed the Change in Just Days!
Toby has been eating Veg-to-Bowl for about 7 weeks. I noticed significant changes within days. He was no longer licking his paws constantly and he had much more energy!
The Vet Says No More Kidney Diet Needed!
Toby returned for blood work today and his labs were back to normal ranges!!!!
Our veterinarian actually said he no longer needed a "kidney" diet.
My other dog Duncan is enjoying Dr. Harvey's as well. Duncan would walk away from the "premium" kibble and now he sits in the kitchen just waiting for his food.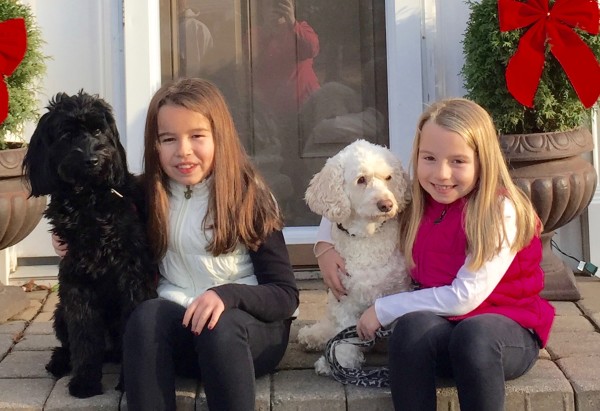 Thank you Dr. Harvey and team!
The Colella Family
---
Posted By
The Team at Dr. Harvey's
November 21, 2015
Watch the emotional, inspiring video and discover why the Martino's and Augie, their award-winning champion Viszla, trust only Dr. Harvey's at mealtime.
"We decided that we were going to do things differently if we ever got another dog."
Like so many pet parents, Jim and Nancy Martino fed their beloved Vizsla a diet of kibble. But at age 11, their companion developed canine cancer and passed away. It was a rough time for the Martino's; one that they determined never to repeat.
That's when the Martino's discovered Dr. Harvey's Canine Health — and even spoke directly with Dr. Harvey, who gladly shared his wealth of knowledge and experience. That settled it. It was time for the Martino's to bring home a new best friend. His name is Augie, he's an award-winning champion, and as you might have imagined: he's a beautiful, energetic Vizsla!
Reflects Nancy: "Before we even brought Augie home as an 8-week old puppy, we decided that this was the food we wanted to feed him."
We Loved Filming Augie
We were lucky to meet Augie's parents ,Nancy and Jim. They came to purchase food and told us their story. They told us about why they chose to feed Augie Dr. Harvey's Canine Health and what a difference it has made in his health.
It was wonderful to hear how healthy Augie is on Dr. Harvey's Canine Health and to see the proof in this beautiful dog. Nancy and Jim wanted to share their story with other pet parents. They wanted others to know that feeding fresh food has made a difference in Augie's life and how feeding Canine Health could make a difference in the lives of other dogs. They wanted to share their story with you.
Feeding A Champion
You will see how strongly Nancy and Jim feel about feeding Augie this way and how clear they are in their feeling that the reason Augie is so happy and healthy is directly related to the food they have chosen to feed him. As Dr. Harvey has always said, "Health Begins in the Kitchen!"
Such a Fun Video to Make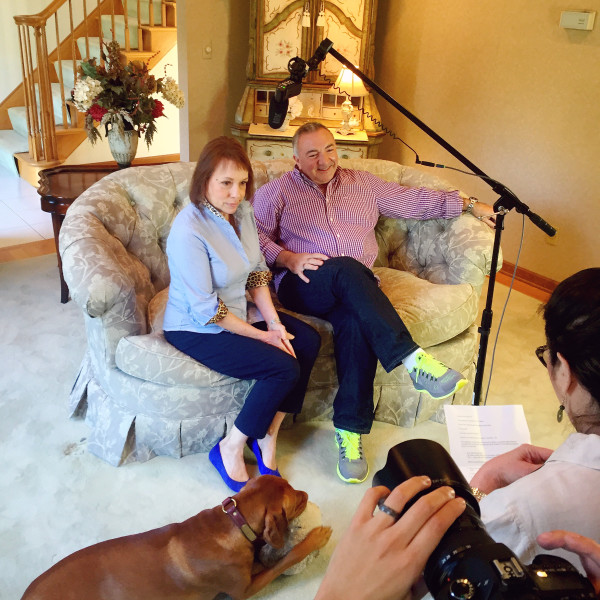 We hope that you enjoy watching this short video and that you experience some of the joy that we had while making it.
Augie is a wonderful, happy and loving dog who was pleased to let us play with him on several shoot days and let us record his daily routine.
The results are here for you to see. Enjoy!
---