Posted By
The Team at Dr. Harvey's
March 4, 2020
I Can't Say Thank You Enough
I wanted to share a testimonial with you because I am so grateful that I discovered Dr. Harveys and called you for your guidance and support to help me at a crucial time in our lives. You have truly been phenomenal I will always be thankful for your engagement, genuine support, and passion!!! Thank you!
Aspen Had Chronic Pancreatitis
Aspen is an 8 year old Golden Retriever that was diagnosed with chronic pancreatitis at 3 years old. For the past 5 years, we have been following a vet low-fat prescription diet to contend with the chronic pancreatitis. We have switched prescription foods 3 times because they seem to work for awhile and then things would go south for us.
Then She Developed Kidney Disease
In July 2019, she developed a UTI which led her into kidney disease so we maintained the prescription pancreatitis diet but her kidney lab values were compromised so it continued to spiral downward for a few months and she started to eat 1/3 of her expected daily intake coupled with cycles of not eating or less than 1/3 of expected daily intake with upswings of close to normal.
She Stopped Eating and I Panicked
She became sick in late October 2019 which spiraled into a sickness where she was on antibiotics and not eating at all for 2 day periods and down in her daily nutrition consistently. At this time, the vet asked me to consider a homemade diet with rice and chicken which followed with other recipes where I was spending a lot of money and she stopped responding quickly. This followed with a hospital visit because she was severely lethargic and not eating at all which led me into a panicked state of feeling helpless. I started down a serious path of research because I was worried this was the end! I was so frustrated, helpless, and felt so alone. Aspen would look at me and whine and stare. I was trying to hand feed her, add broth, play games with her to eat, changing food to floor to bowl, etc… I was exhausted and so was she!!!!
I Reached Out for Help and Dr. Harvey's Was There
This led us into a helpless state so I went to a local pet specialty store, Pet Purveyor in Tampa, Florida, that carries Dr. Harveys and the staff told me to check out Dr. Harveys and call for guidance. This led me to my Facebook pancreatitis support group where I searched various terms to find out how many canine parents with dogs diagnosed with pancreatitis and kidney issues were using a homemade product or specifically your brand. I saw the most reviews on Dr. Harveys Canine Health so I decided to call, because this made me comfortable since my vet does not recommend any products not produced outside of a vet product. I reached out to customer support and Lori was there to ask questions and answer all of mine. I immediately felt better because she was thorough and asked great questions and she helped me navigate this critical time in Aspen's life.
She Started Eating Again!
Aspen graduated from a state of hiding from me when she saw me with her bowl and not wanting to eat, to demanding to eat in a few short days! She wakes me up and rushes to the kitchen and anxiously waits for her food and eats every bit down to licking the bowl clean. It is so refreshing and she is so happy and her normal self and her coat looks amazing!!
And After Just 4 Weeks Her Kidney Values Are Normal
After 4 weeks of being on Dr. Harveys Canine Health, I had her lab values checked and her kidney values were AMAZING!! She went from moderate kidney disease to borderline normal in 4 short weeks!! More importantly, she is back to her spunky "self" and loves life!! I have since recommended this food to two other canine parents and they have the same response with their dogs! I cannot say enough to thank you and I fully back your products!!

Best Regards,
Bridget Mace and Aspen
---
Posted By
The Team at Dr. Harvey's
December 16, 2019
Canine Health Has Been a Godsend for My Senior
Good morning Dr. Harvey's

I'm writing this review of your Canine Health dog food because it has been a Godsend for my 15-year-old toy poodle Georgia.
She was in renal failure in August and I was researching how to help her when I stumbled across your website. I bought a trial size of your Canine Health dog food because of how picky my Georgia girl is most days. When it arrived, I made her a meal and she wouldn't eat it. I was giving her lots of treats because she wasn't eating her dog food and didn't realize the mistake, I was making with the high protein in her treats and dog food. I struggled for the next 2 months trying to get her to eat something. Her incontinence continued and she drank lots of water and didn't feel good.
She Was Given 6 months to Live
I took her back to the Vet in October and there wasn't much change in her renal function. I was desperate at this point and the Vet said little to no protein at this point. He said there's not much else to be done she has 6 months or less to live.
I was so broken-hearted thinking I would lose my sweet Georgia girl soon.
I Fed Canine Health and Was Amazed at the Difference
I took her off all treats and made her another meal with your dog food, Canine Health, and Behold! She ate it!! I was so excited. And within a few days of eating your dog food her incontinence stopped and she began to perk up with energy! I couldn't believe it! She stopped gulping water and began to enjoy our walks again. I've been amazed at the difference in her. I bought a bag of the Canine Health at that point.
I Went Back to the Vet-Praying for a Miracle!
I took her back to the Vet on December 4th and was praying hard for a miracle. Then the Vet came back in the room and showed me her lab results ALL within normal range. Her kidneys were working! I was so excited; I hugged the Vet and began crying tears of joy. I was overwhelmed with emotion. I hugged my baby and said a thank you prayer to God and walked out into the hallway. I stood there crying and noticed an older couple standing nearby crying with fur all over them. It broke my heart because I knew they had just said goodbye to their furbaby. I cried sad tears at this point for their loss. I was an emotional mess but so very thankful to still have my Georgia girl.

Thank you Dr. Harvey's!
Words cannot adequately express the gratitude I have for your company and your products. Even though I was a little skeptical when I bought the trial size I'm sold now!
Thanks so very much to your staff and Dr Harvey!

Merry Christmas,
Angie Koehler
---
Posted By
The Team at Dr. Harvey's
January 19, 2019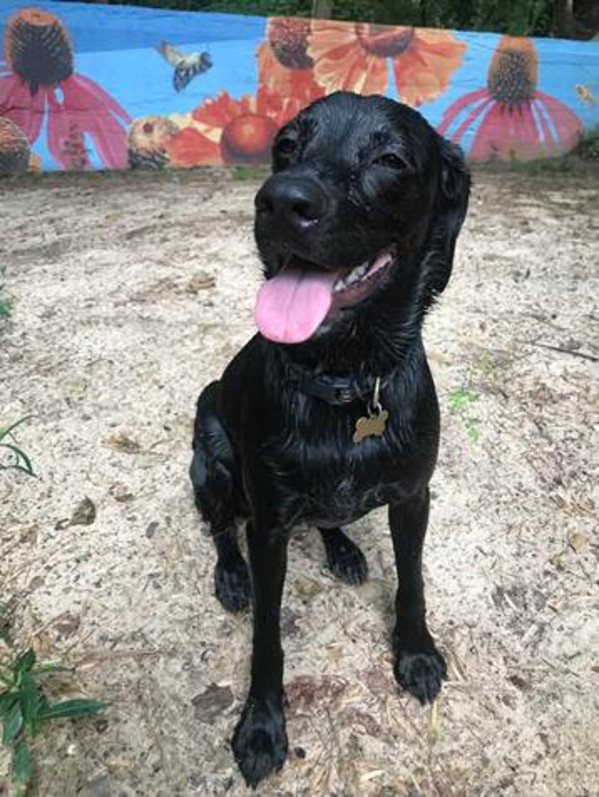 This Dog Mom is Sincerely Grateful
Dear Dr. Harvey & Team,
My dog Hampton and I want to send our sincere appreciation to you all for creating a dog food that truly has the best interest of a dog in mind.
I Tried Everything and I Mean Everything!
Hampton has suffered from chronic diarrhea since I adopted him over a year ago. I've tried everything, I mean EVERYTHING to help out Hamp – no dog food (prescription, "allergy free" or top-rated brand), medication or blood test solved the problem. Being health-conscious individual myself, I always had a feeling that homemade dog food was the way to go. After countless hours of research, I came across your brand, which I was happy to find takes out all of the guesswork associated with making your own dog food.
Diarrhea Gone!
Hampton has only been on the food for a few days and already his diarrhea is cured! I cannot even explain the feeling of joy I experienced when I saw for the first time since bringing him home a normal, healthy looking stool! I honestly didn't think it was possible – it really is a miracle!
Peace of Mind
Thank you all SO much for the tummy relief and peace of mind! I look forward to spreading the word to fellow puppy parents about this product.
Sincerely,
Nikki Ballweg & Hampton
---
Posted By
The Team at Dr. Harvey's
January 19, 2019
This Food is a Game Changer!
Beesly is loving this food!! It has been a game changer in both of our lives. He has never been a very good eater. He's 3 years old and for the past 3 years I have struggled with his eating habits and worried a lot about his health and nutritional status. I've had many vet checks and there is nothing wrong with him.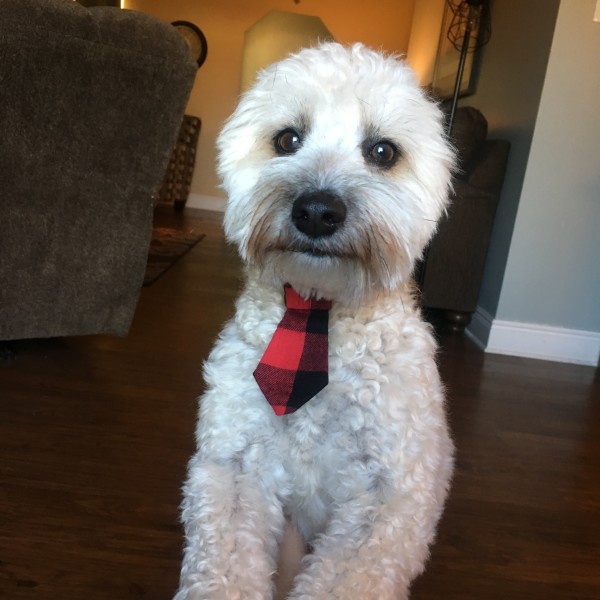 My Dog Did Not Like Dog Food
Beesly just doesn't like most dog foods and never eats the same food twice. I had tried every type of kibble, wet food, refrigerated fresh food, homemade dog food, food toppers, you name it! Nothing was working and I was starting to panic!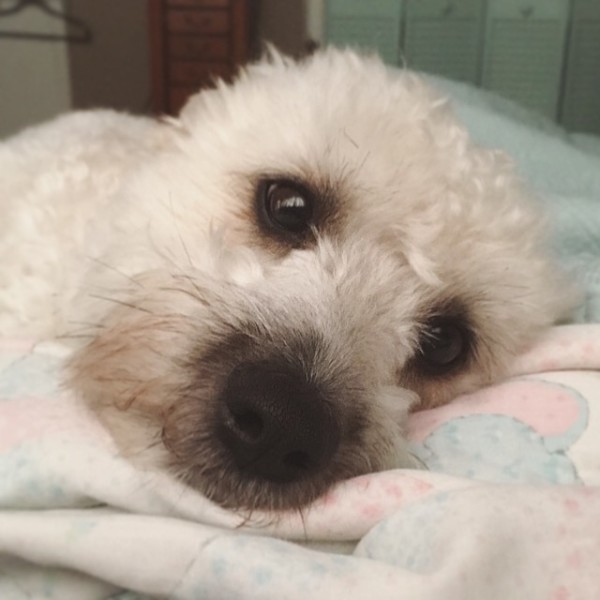 My Homework Lead Me to Dr. Harvey's
I started researching any last attempts at feeding ideas before seeking out another veterinary visit and that's when came across Dr. Harvey's on a forum for picky dogs.
I immediately ordered my sample bag.
He Fell in Love and So Did I
Beesly fell in love instantly and so did I! The first night he devoured his meal. The feeding guide is so easy to follow. I was expecting him to get tired of eating this and lose the excitement that he had on night one, but every single night for a week he chowed down like I've never seen before!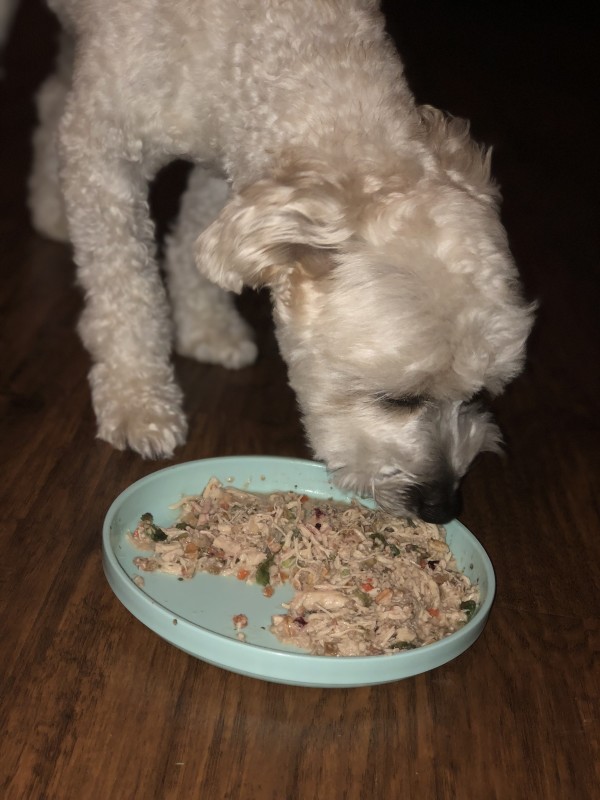 I'm a Believer Now!
So I'm a believer now, I ordered a bag and he's been loving this food for almost 2 weeks now. It's so crazy to see a dog who could not have cared less about meal time now sitting there at 6 pm letting me know he's ready for his food. It makes my heart so happy to know he's finally getting what he needs and he's enjoying it. It really is miracle dog food. I will absolutely recommend this food to any of my fellow dog parents! Thank y'all so much from myself and from Beesly!
Sincerely, Meryl Englert and Beesly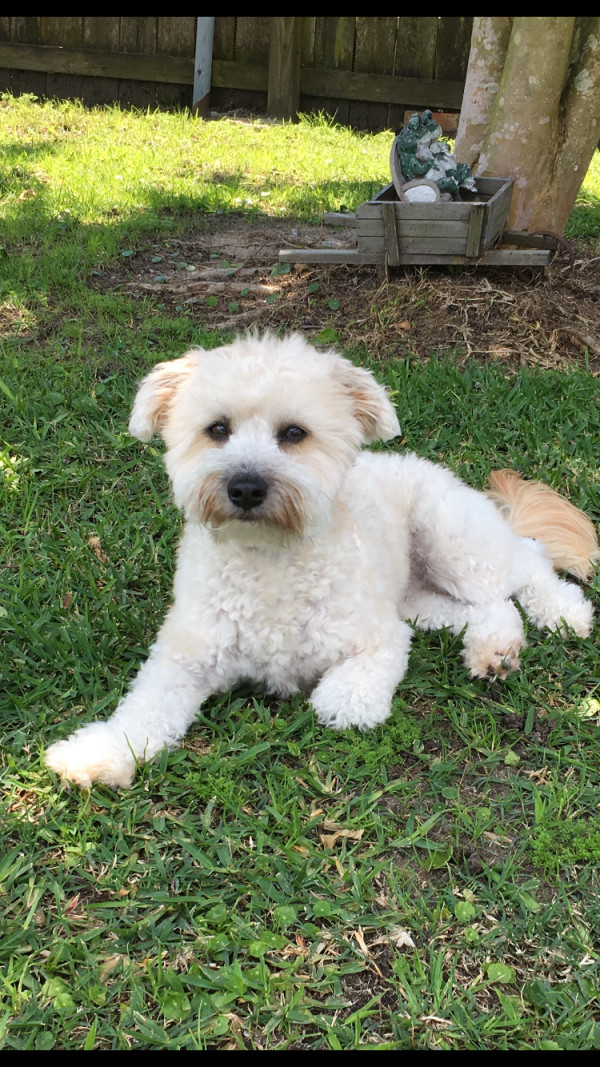 ---
Posted By
The Team at Dr. Harvey's
September 11, 2018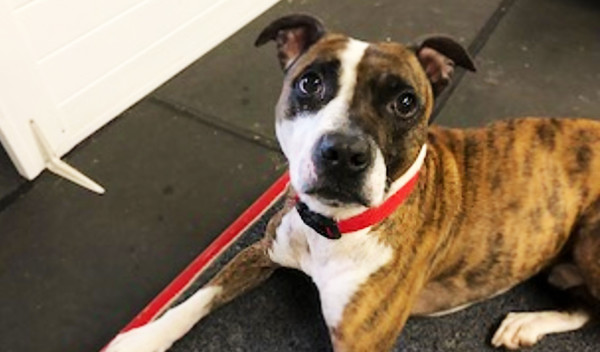 He Was Abandoned by his Owner
Bonham is a boxer/pit bull mix, approximately 7 years old.
I first met him about 3 1/2 years ago when his "then owner", was looking for some training help with separation anxiety. A very friendly dog with a ton of drive and not nearly enough stimulation to keep his mind occupied!
Long story short, Bonham's owner decided to move to Texas last December and leave him behind at the boarding kennel where I first met him. He was taken in officially by a Doberman rescue as a courtesy and I was his point of contact at the kennel.
His Digestion was a Very Big Problem
I kept getting reports from the staff that Bonham was having soft, loose & sometimes bloody stool. He would also vomit on outings we would go on, particularly in the car.
Two different fecal tests came back negative. All along I felt it was the food he was on which was kibble. Not the best or the worst. I also felt it was due to kennel stress, he had been there for 10 months!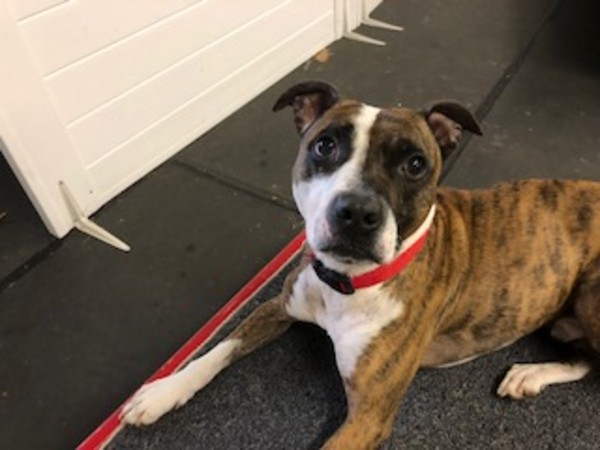 I Tried Everything and then…
Metronidazole & forti flora helped slightly & I put him on rice & ground meat. As soon as the kibble was added back in to his diet, his stool became loose again.
My friend Julie owns a holistic pet store called Doggy Dao & Cat's Meow & I always get great advice from her on nutrition. I asked her advice & she recommended Dr Harvey's.
I have to admit I didn't think of it myself but I should have. Years ago I had a Great Dane with inflammatory bowel disease & Dr Harvey's was a huge help getting Hagrid back on track with his digestive issues.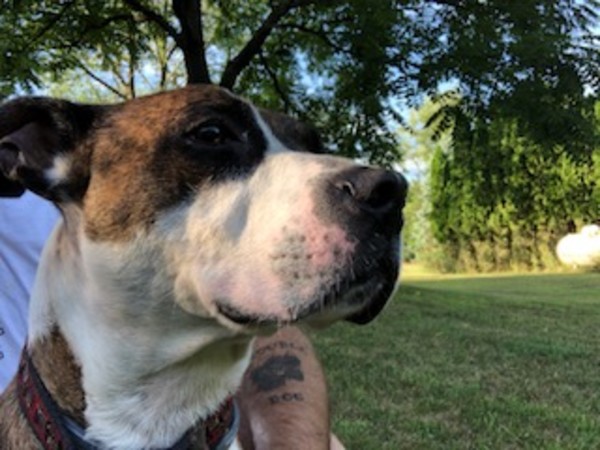 Canine Health was Recommended-The Results were Amazing!
I started Bonham on Dr Harvey's Canine Health on July 26th.
I can't believe the difference in Bonham's stool in a matter of only 6 days! It went from a loose, floppy, mucus like poop to picture perfect rock solid stool!
Bonham is Getting a New Home!
We are in the process of officially adopting Bonham & bringing him into our house to live with our other 4 dogs & 5 cats.
I can't thank you enough for the approach you take with your foods. I wish more companies did! Mostly Bonham thanks you for making his belly feel better!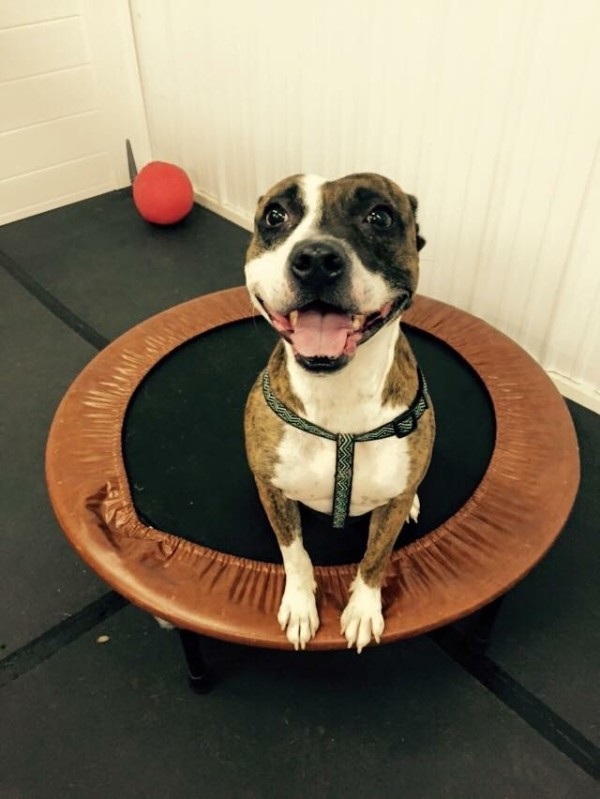 Happy Endings are the Best!
Thank you Dr Harvey & Staff!
Bonham & Bob Hafer!
---
Posted By
The Team at Dr. Harvey's
May 30, 2018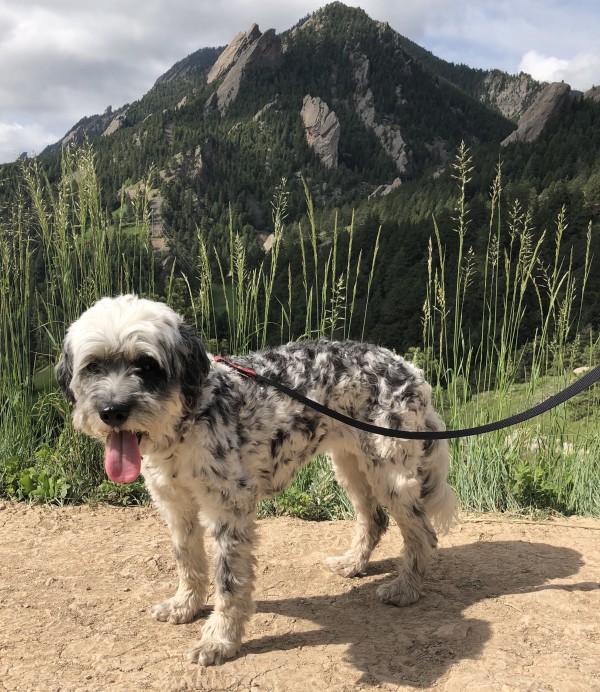 A True Miracle!
Canine Health is what I've tried so far and it has truly been a miracle. I'll be honest I wasn't expecting significant results because I had already had my dog on a homemade diet with a vitamin mix.
Better in Just One Day
However, she was struggling with chronic diarrhea for over 6 weeks and nothing I tried was helping, except antibiotics. Within one day on Canine Health she was back to normal! She has kidney so I'm going to stick with Canine Health or Veg-to-Bowl.
We Could Not Be Happier!
Please share our experience with other pet parents. We want everyone to know about Dr. Harvey's!
I only wish I had known about Dr. Harvey's sooner!

Thanks so much!
Emily Spears and Pepper
---
Posted By
The Team at Dr. Harvey's
May 10, 2018
High Kidney Levels
I just wanted to let you know how much I appreciate your food! My husband and I have a 10 or 11 year old terrier mix named Juno who went in for blood work to make sure we could put her under for teeth cleaning. The results revealed her kidney levels were high.
No Prescription Food for Juno!
The vet suggested putting her on a prescription diet i.e. Science Diet. Well, I did not want that, I have heard many horror stories about that! My fur baby's health means a lot to me. So, at the beginning we were feeding her homemade food such as turkey, broccoli and rice, but then her teeth were getting worse. We needed to feed her dry food to help remove tartar etc. So, we researched high and low for a good high quality dry food that was made in the US.
Her Levels Improved Drastically
Well, I guess that wasn't good either, because after feeding her Canine Health, her kidney levels drastically improved. She also had energy like she had when she was younger. We could tell she was feeling better! I was baffled that even with the expensive "high quality" dry food her health was declining. Not sure what it is, but Dr. Harvey thank you so much!!! Not sure what we would do without you!

Thank you!
Misty Angulo and Juno
---
Posted By
The Team at Dr. Harvey's
April 27, 2018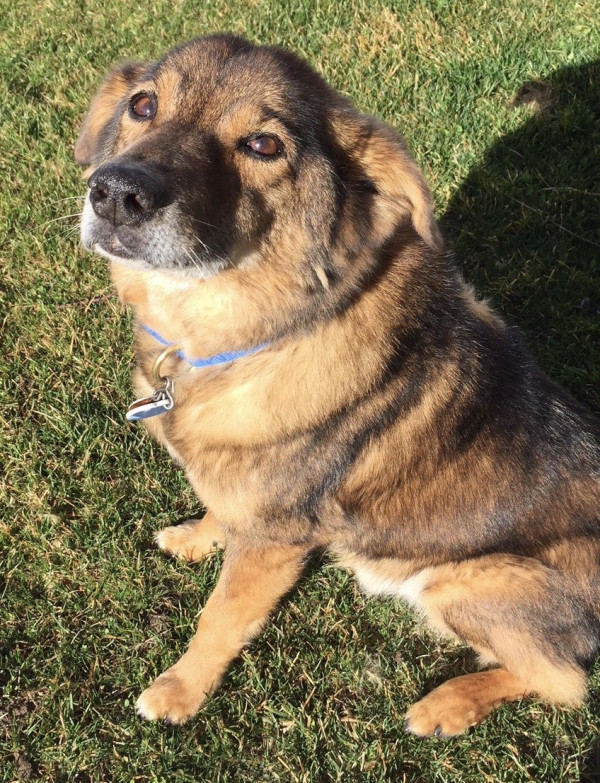 He Was Diagnosed with Kidney Disease
My fifteen year old dog, Otto, was diagnosed with kidney disease almost two years ago, My vet insisted that he needed to be on a prescription diet even though I do not like the ingredients in these diets. This diet was high in fat and he developed pancreatitis. She then put him on another prescription diet; which caused stomach upset.
So Happy I Found Dr. Harvey's
I am glad that I found Dr. Harvey's Canine Health. My dog has been on this since about August, 2016. His kidney blood test indicators stabilized while they were actually increasing on the prescription diet. His creatinine values have been steadily decreasing since he started Canine Health. Dr. Harvey remains in contact with me and has recommended his new Kidney Health supplement which I use also.
My Vet Could Not Believe His Age!
My dog loves Canine Health. He is energetic, and his coat looks great. After using this food for while I brought him to a new vet and she was really surprised that he was as old as he is!
---
Posted By
The Team at Dr. Harvey's
March 18, 2018
We Were Told To Prepare for the Worst
About a month ago my little girl became extremely sick with no warning signs, after visiting our local vet we discovered she was suffering from an inflamed liver, her kidney levels were extremely high, and she was suffering from pancreatitis. We were told to prepare for the worst being that she is 10 years old and most likely would not recover.
She Refused to Eat
After spending three days at the vets on IV fluid and medications we were allowed to bring her home but on a NF kibble diet and a ton of supplements and antibiotics. Things seemed better for a few days, but she refused to eat the hard-dry RX formula of food. For years we have fed her nothing but Blue Buffalo as I always had the perception that they were a quality food.
She Started to Relapse
After a few days of being home she started to relapse and started vomiting every time she ate and again we were told to keep feeding her the Rx diet and to prepare for the worst. I did not want to give up on my little girl, but I did not want to see her in pain either, after days of research I happened to come upon Dr. Harvey's website.
Then I Found Dr. Harvey's
I spent hours going over reviews on Amazon and Facebook and in a leap of faith I placed an order for Dr. Harvey's Canine Health Miracle Dog Food. It has been three weeks and I am happy to say that I have my little girl back, better than ever. She is her normal spunky self again thanks to Dr. Harvey's. I cannot begin to thank you for saving my Baby Girl. I truly believe if it was not for this amazing food she would not be with us today. We will continue on this diet and at this point we have stopped all the supplements the vet recommended and switched to Dr. Harvey's Kidney Health Supplement along with the Canine Health Miracle Dog Food.
Thank you for Saving My Baby Girl
I am happy to report that she is back to her old self with even more spunk then before. We have even stopped all the kidney treatments that the vet had her on and switched her to Dr. Harvey's Kidney Supplement and she has done extremely well. Thank You again for helping my little girl. Attached are a few pictures of my Baby Girl.

Baby Girl is a 10-year-old Doxin-West Highland mix, and we look forward to many happy years to come.

Thank You Dr. Harvey,
Timothy W. Gutliph

UPDATE We have had great success when the Kidney Health Supplement is added to this fresh diet.
---
Posted By
The Team at Dr. Harvey's
March 7, 2018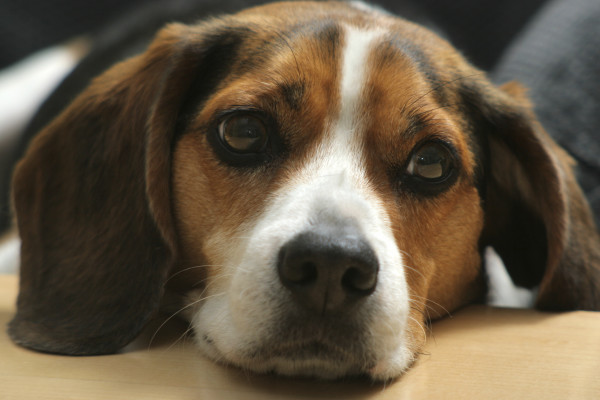 What is Pancreatitis?
Loss of appetite. Disinterest in food. Vomiting. Most dog owners have dealt with these scary symptoms in their pets at various points. In many cases, the vomiting eventually stops and meals and treats are enjoyed once again. But sometimes these symptoms aren't just a stage. Sometimes these symptoms are pancreatitis.
Just like us humans, dogs have a pancreas which aids in the digestion of foods, produces the enzymes that digest food, and produces insulin. If something happens to cause inflammation of the pancreas, the flow of enzymes into the digestive tract can become disrupted, forcing the enzymes out of the pancreas and into the dog's abdominal area. Next, the digestive enzymes begin to break down fat and proteins in the body's other organs, as well as in the pancreas. Because of their proximity to the pancreas, the kidney and liver can also be affected when this progression takes place, and the abdomen becomes inflamed, and possibly infected. If bleeding occurs in the pancreas, shock, and even death may follow.
What Are the Signs?
The two major signs of pancreatitis in dogs are, as mentioned above, loss of appetite and repeated vomiting. But other symptoms can include a hunched back, pain or distention of the abdomen (the visual cues of this are that a dog appears uncomfortable or bloated), diarrhea, dehydration, weakness/lethargy, and fever. If a dog exhibits one or two of these signs, and only infrequently, constant monitoring is key. However, if multiple signs are exhibited at once, and repeatedly, a veterinarian should be called immediately.
While there are a variety of risk factors that can bring on pancreatitis, one of the causes is a high-fat diet, especially for a dog that gets one large helping of fatty food in one sitting the other major cause is a diet that consists of only processed foods like commercial dog food kibble.
What Are the Causes?
Along with foods that are high in fat, processed foods, including all kibble, are also hard for dogs to digest, not mention processed food it lacking in adequate nutrition.
While dogs may seem to enjoy wolfing down kibble for breakfast and dinner, the truth is because their digestive tracts are shorter than ours, their pancreas must work overtime to break down processed foods, causing it to become inflamed.
Fresh meats, raw bones, organs, veggies, and fruit, on the other hand, are much easier for a dog to digest and do not stress the pancreas.
Once a dog has had a bout of pancreatitis, the chance of recurrence is high. Studies have shown that pancreatitis can lead to diabetes and in some cases cancer. Dogs with gastrointestinal issues, hypothyroidism, diabetes and epilepsy are also at a higher risk for pancreatitis.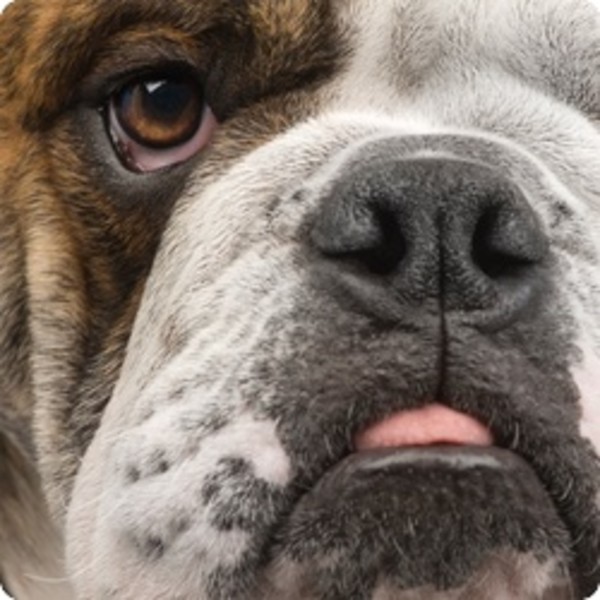 What to Do?
An pet parent's best defense against a repeat appearance of pancreatitis involves two strategies: paying careful attention to their dog for the warning signs of pancreatitis and controlling the factors they can.
Changing to a fresh, whole food diet is the very best thing a pet parent can do for any dog, but most especially for a dog prone to pancreatitis.
Meals that are made with fresh protein sources do not promote pancreatitis. In fact feeding this way can eliminate the problem permanently.
There is also evidence that feeding foods that are lower in carbs and higher in fiber can be helpful for preventing bouts of pancreatitis.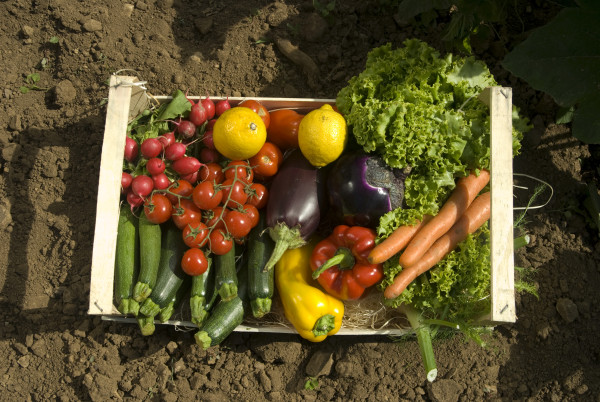 Cutting Out Fat is
NOT

the Only Answer While conventional wisdom dictates that watching fat intake is the most important thing to watch for prevention of pancreatitis, our research reveals that feeding a fresh, whole food diet and for some dogs, lowering carbohydrate intake can be as if not more important that fat intake

. In addition, daily exercise is important and when fed with a diet full of natural unprocessed food typically equals a fit, healthy pup that will not be prone to this terrible condition.. Happily, mild cases of pancreatitis usually have a positive prognosis. We love our canine companions and we want to be responsible and knowledgeable pet parents. We can help reduce the risk of pancreatitis by recognizing it if it does strike and understanding how to manage it going forward.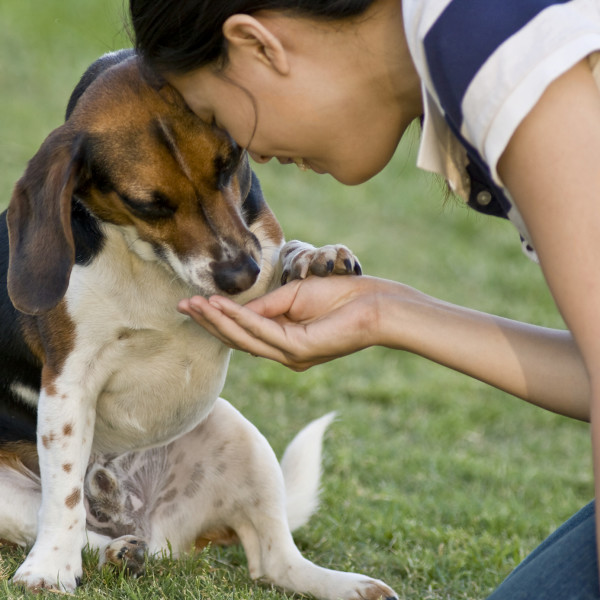 Using Dr. Harvey's Foods for Pancreatitis
All of our foods can be used to successfully battle pancreatitis. All of our foods are based using whole, fresh, unprocessed foods as the major part of the diet. We often recommend starting with Canine Health-The Miracle Dog Food. However, if your dog is diabetic, we recommend Paradigm. Paradigm is very low in carbs so it will help with blood sugar spikes and helps to prevent pancreatitis which plagues many diabetic dogs.
There is Hope
While Pancreatitis is a serious and sometimes life threatening ailment in dogs, there is hope. Pet parents who make the appropriate changes to their dog's diet have seen improvements in digestion, the relief of this ailment and many other health benefits that come with transitioning to a healthy, real food, whole food diet for their companions.
---