Posted By
The Team at Dr. Harvey's
January 6, 2016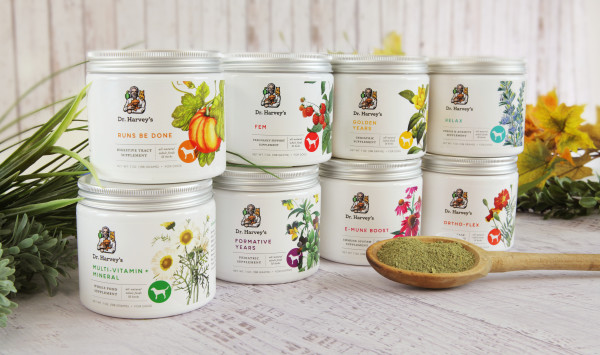 Some Things Should Change…
We felt that the start of a brand new year was the ideal time unveil the fresh new look of Dr. Harvey's line of whole food supplements!
We've not only improved the appearance, but we've added sealed bands for enhanced safety, and the "user friendly" lids are now easier to open and close.
…and Some Things Shouldn't Change!
Of course, while we've changed what's on the outside, be assured that we haven't changed what's on the inside. As always, each of Dr. Harvey's unique and proprietary supplements is formulated with highly nutritious whole foods and potent healing herbs to support your dog throughout the lifelong healthy journey: from puppyhood, through to adulthood, and onwards into the golden years. Whether the issue is aching joints, a dull coat, lack of energy or more, there's a Dr. Harvey's Supplement to help. It's wellness you can count on!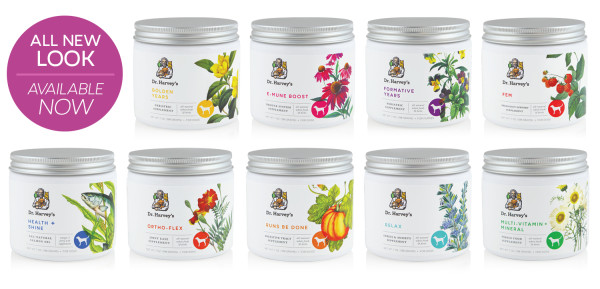 Healthy Support at Every Life Stage
Your dog is there for you, day after day. Return the love and loyalty by supporting your best friend at every stage of their journey with Dr. Harvey's Whole Food & Herbal Supplements!
Key Benefits:
• Safe All-Natural Formulations – No Drugs or Chemicals
• Easy-to-Use Powder — Just Sprinkle Daily Over Food
• Dogs LOVE the Taste – Even Picky Eaters
• Human-Grade Quality Made in the USA
• Won't Interfere with Medications/Treatments
• Made from a Company You Know & Trust!
Build Your Dog's 'Health Toolkit'
You have a health toolkit at home to enhance your family's health and wellness. Now, you can give your beloved companion the same love and care. Over the years, thousands of dogs and pet parents have benefited from Dr. Harvey's Whole Food & Herbal Supplements. Now you can too!
There is Something Else that is New!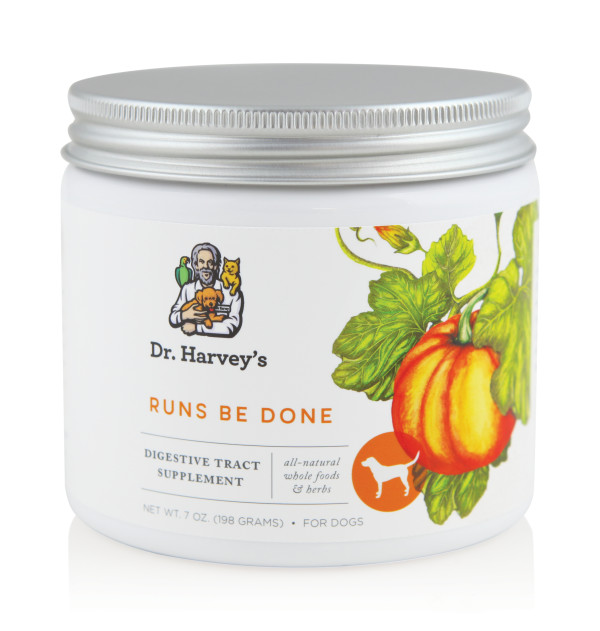 And while we're highlighting new and exciting changes, please say hello to the newest addition to our whole food supplements roster: Runs Be Done!
Runs Be Done is a "must have" supplement to safely and effectively deal with occasional bouts of diarrhea, or it can be used daily for dogs with sensitive stomachs. And unlike pumpkin that goes to waste in the fridge, you can simply store Runs Be Done in your dog's "health toolkit" until next time. There's no wasted time or money, and no mess either.
Simply put, when used together with Dr. Harvey's Canine Health, Runs Be Done is a life saver for you, your dog – and your carpet and furniture, too!